As the spring and summer seasons bring warmer weather and the opportunity to enjoy al fresco dining, it's time to enjoy seafood and champagne or – if the weather doesn't quite capitulate, at least spring dining with wonderfully satisfying seafood!
There's nothing fishy about the standard of dining you'll find at seafood restaurant and grill, Loch Fyne. Last fish pun, I promise.
The place is part of a chain – 34 restaurants in total, but we're loathed to acknowledge the fact, for fear of prejudicing the expectations the place is, we promise you, about to exceed.
The chain group was established in 1978, with our local restaurant opening soon after. As such the restaurant, on the Elton Estate about 15 minutes from both Peterborough or Stamford, is better established than most independently run restaurants in the region.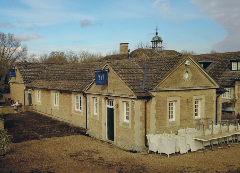 Essentially, what we're saying is don't dismiss dining in the place on the basis that it's part of a chain… because we think the place is great.
General Manager Philippa Tiffin leads a kitchen team of five people, including new Head Chef Dennis Mlinciks who was enjoying a well earned break during our visit, just prior to Valentine's Week whereupon the place is awash with Joseph Perrier Champagne, oysters, and with husbands hoping that the reputation the latter enjoys as a potent aphrodisiac has not been overstated.
The restaurant is located in the estate's former dairy, which dates back to 1901 and has won a CLA architectural award for its conversion into a dining room. The timbers which once separated cattle now divide the 100 cover restaurant into intimate small areas where couples can dine in an environment that feels more intimate, less monolithic. There are larger tables for groups of friends or family and in the warmer months – unlike during our visit when the temperature was so low you could just about freeze the roe off a sturgeon – the outdoor tables and chairs allow you to enjoy al fresco seafood and a glass of cool, crisp white wine.
The place is delightful, with stripped pine floors, plenty of wood, lofty ceilings and a large inglenook fireplace at the end of one restaurant area.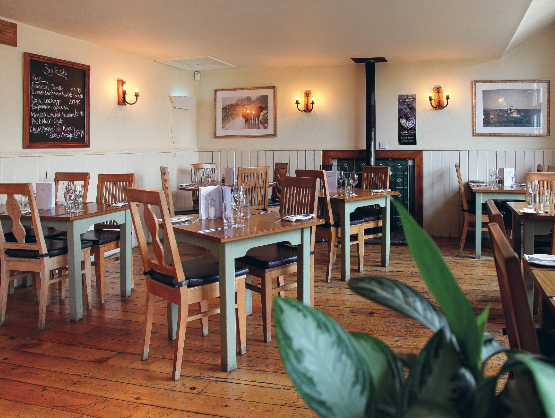 For cod's sake man; get to the menu (last fish pun, the very last, I promise); those who love shellfish will be well-catered for.
Loch Fyne, before it was a restaurant group, was a farm for oysters. Founders Andrew Lane and Johnny Noble still own the original restaurant (no longer part of the group) and still supply the other restaurants with their Highland Oysters. Choose one, six or 12 with anything from tequila & lime to lemon or tabasco.
There's a salmon platter, pictured here, for one or two, with beetroot cured, gin cured or Bradan Orach salmon, served with crème fraiche, capers etc., There's a mussel platter too, also supplied by the founders, with creamy sauces, or a tomato provençal sauce, either as a start or a main course.
There are seven starters, ten fish based mains and three From The Land options. In addition, there are four 'bespoke' dishes subtitled Fish Your Way which can be pan-fried, steamed or grilled to your preference, and alongside main courses there are eight side dishes too.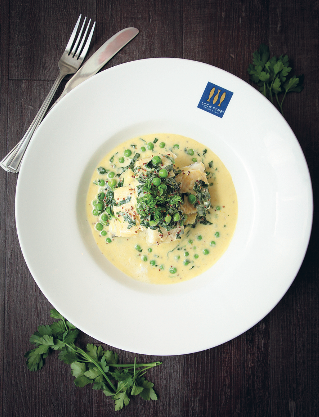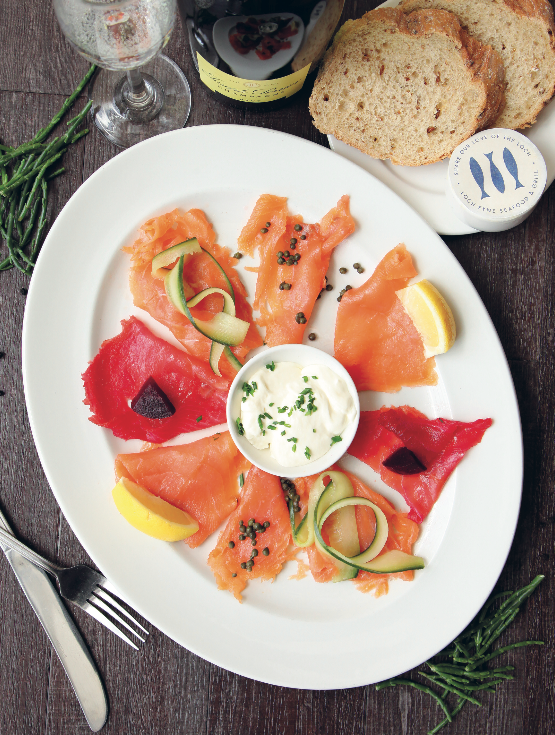 With a set lunch menu too, offering either two or three courses for £10.95 and £12.95 respectively, plus a dessert menu with eight dessert or cheese options, fans of seafood or puddings won't find themselves disappointed.
But Philippa also rather proudly recalls a number of customers that are usually timid when ordering fish who have found them- selves won over by the diverse menu and by the team's gentle recommendations.
Bread is baked in house, shellfish is sourced from the original Loch Fyne and if you've been impressed with what the kitchen provides, you can even take away shellfish and other products to prepare at home too.
Indeed, with a really great rural dining environment, a smashing team and a diverse menu guaranteed to satiate land lubbers or salty seadogs alike, a visit to the restaurant this month is a definite recommendation; you'll find that at Loch Fyne, the world is very much your oyster. That's the very, very, very last fish pun. Sorry, so sorry.