There are bad days. There are good days. And then, there are days like this one. Rushton Hall days. It's Friday, prior to a Bank Holiday and I'm being paid – actually commanding a salary – in return for the privilege of visiting Rushton Hall. Please, nobody let onto my publisher, but I'd work for free… in fact, I'd pay him to do this!
Trickling through the towns of Stamford and Oakham with their limestone architecture, then onto Uppingham and eventually Northamptonshire, with their changing architectural vernacular of ironstone, I'm minded to explain to readers why we're featuring a dining out recommendation situated neither in Stamford nor Rutland. Short answer; it's well worth the trip of the half an hour it'll take you to travel there from anywhere in this magazine's catchment area.
We hope you're not – since we've recommended the place before – but if you're still a Rushton Hall virgin, there's never been a better time to pay your first visit this month. That's because the paint is still fresh and the fine linen tablecloths still starchy on a brand new fine dining restaurant in the hotel. The Grade I listed building dates back to the 16th century and was the former country pile of Tresham – he of gunpowder plot fame.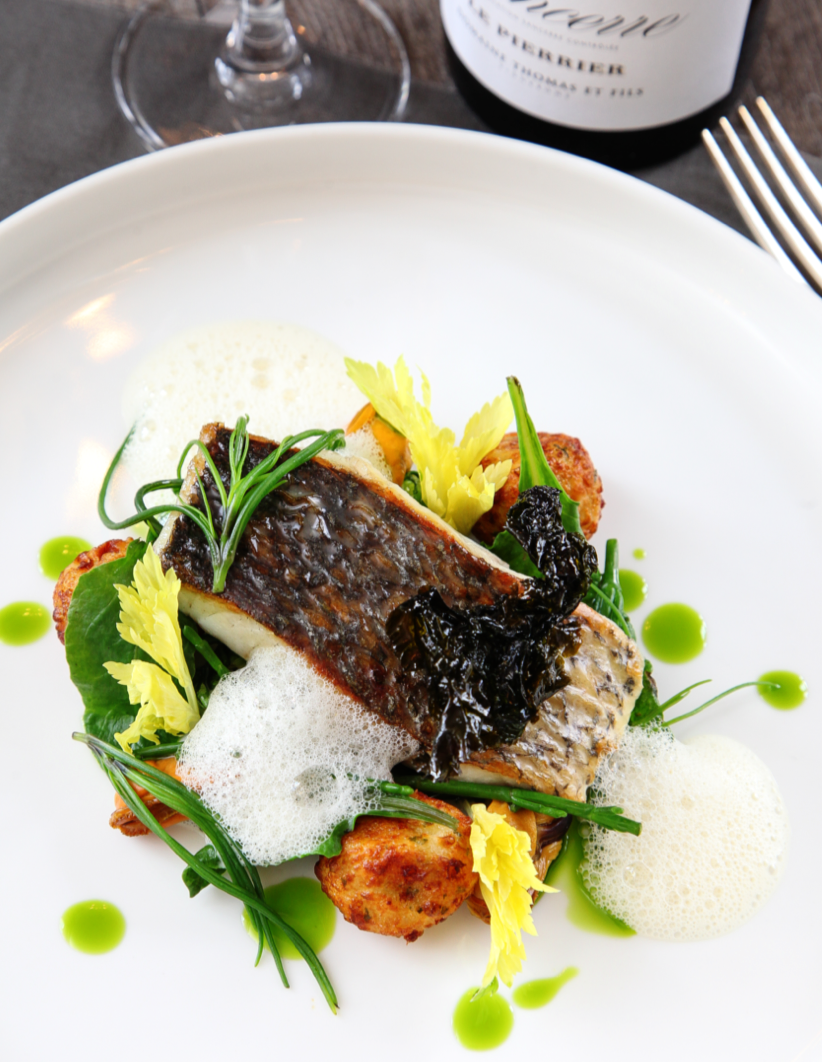 Its grand hall was the inspiration for Miss Havisham's Satis in Dickens' Great Expectations, and, set in 25 beautiful acres, the place looks lovely. It would probably be successful even if it served rubbish food… but it doesn't. It serves amazing food, as evidenced by its three AA rosettes and our enthusiasm.
Rushton Hall has invested for the future, spending about £10m on its new Orangery adjacent to the hotel. To ensure its food remained up to the same impressive standard, the hotel spent another £1m or so on a brand spanking new kitchen in a purpose built area in a former courtyard, with mod cons including induction hobs, and 'virtually water-free' dishwasher (witchcraft; it uses 'granular disks,' apparently…?).
Alongside Rushton's biomass boiler, the investment not only makes Rushton one of the most eco-friendly kitchens in the area, but also gives its 12 pampered chefs somewhere really luxurious to work their magic. Those investments have allowed Executive Head Chef Adrian Coultard to change the hotel's provision of food, and create a new fine dining restaurant. A new more relaxed menu is now served in the former restaurant, branded 1593 Brasserie.
And in the area which used to be the kitchen, the hotel has created a brand its new 25 seater Tresham Restaurant, which takes Rushton's already impressive dining to another level. Whilst daytime dining is available in the brasserie, and the hotel's beautiful afternoon tea remains available during the day in The Great Hall, the Tresham Restaurant is only available to diners in the evening from Tuesday to Saturday evenings.
This, Adrian says, gives his fine dining brigade time to recharge their batteries and survive the punishing regime of hospitality with their morale – and their creative enthusiasm – intact. There's just one menu, with five starters, five main courses and four desserts plus cheese option. Canapé-style pre-dinner 'snacks' are thrown in and the menu is offered on a prixe fixe basis, for £60/head with no supplements, specials or sides. Simple. Just like the food.
For all its fancy presentation, Adrian's cuisine is not a bombardment of flavours, but more a single ingredient allowed to do its thing with little or no other flavours creating unnecessary noise on the palate. Bread, sauces, petit fours; in house, in house, in house. All of it made by the brigade with skill and commitment.
The wine list; a veritable encyclopedia of inebriation. All is as you'd expect from one of the area's most assuredly fine dining experiences, it's just… lovely. Rushton Hall has 51 room (they're beautiful, too), plus a spa and its grounds are as fabulous as its architecture.
You could enjoy afternoon tea in the central courtyard, or the hotel's new brasserie menu… but… no. If you're going to do Rushton Hall, don't miss a trick; do it properly and enjoy Adrian and his brigade at their best. Sample his new fine dining restaurant. And whilst I'm dishing out the advice, choose a job you love, and you will never have to work a day in your life again!