Highlights
Royal Appointment: An Interview with Dr Sarah Furness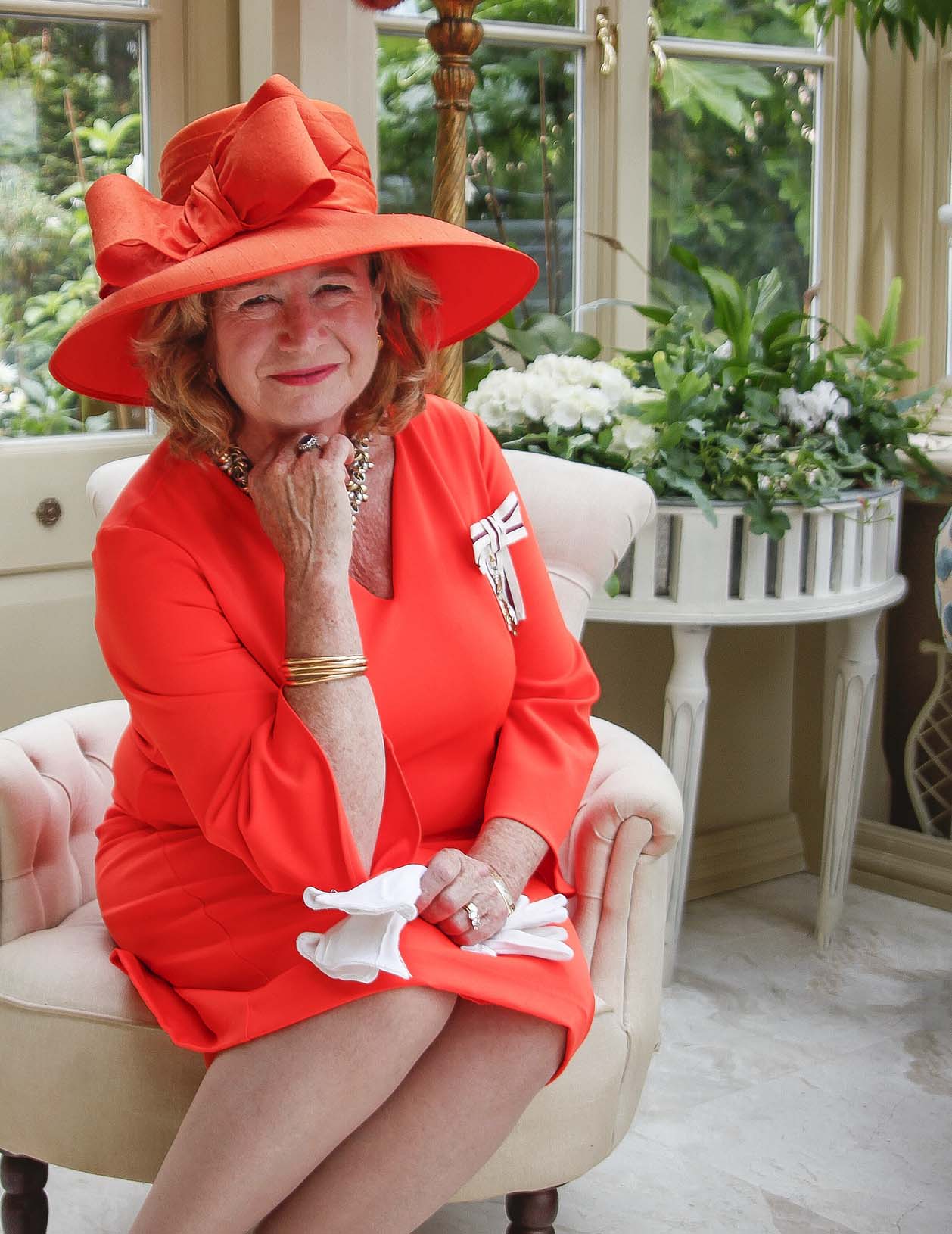 Let me begin by explaining the importance of the Lord-Lieutenancy position thanks to Sarah Furness's blog. The Lord-Lieutenant of Rutland is Her Majesty's representative within the county, and it is Sarah's first and foremost duty to uphold the dignity of the Crown. Lord-Lieutenants are not political figures. The Lord-Lieutenant has an important role in relation to local civic, business, industrial, social and community life. In particular, Sarah attempts to follow the example of the modern monarchy and provide support and encouragement for volunteers and charitable organisations that seek to do good for our local society. Sarah attends a significant number of events all across Rutland and beyond, meeting people from all walks of life. If you have an event that you think would benefit from a visit from Sarah, get in touch! I went to visit Sarah Furness at her home in Whissendine where she has lived for 28 years in the Old Vicarage, a beautiful house that she has been able to put her own touch on.
So how long have you lived in this beautiful home?
"When we moved in, we bought it off a couple who had done a bit of work, but they hadn't put any central heating in," says Sarah. You can almost see her shudder at the memory of the damp and cold. The garden wasn't established either, "We had a vegetable patch and lots of bindweed," says Sarah. "When we first moved in I'd tell our neighbours that I was a keen gardener and they'd give me this funny look as all I'd been able to do for months was spray everything with weed killer!" 28 years later and the garden is magnificent, in fact, for the last 16 years, Sarah has opened it up to the National Garden Scheme.
To go into a bit more detail, there is an enormous yew hedge that provides shelter to the main lawn in the garden that Sarah planted herself. There is also a beautiful greenhouse constructed by Sarah's very talented husband, Professor Peter Furness, a doctor. "He is wonderful to be married to because if I come up with an idea, he does it," says Sarah. "I just go 'Peter, I've been thinking,' and he does all this superb woodwork."
Sarah showed me some of the beautiful work that Peter has already completed in the Orangery and its cabinets, the windows of the greenhouse outside which reflect the structure of the church next door and the Gothic chicken coop too.
What's Whissendine like as a village?
"Whissendine is a super village, it's such a privilege to live here. We have a wonderful church right next door, St Andrew's. My husband is a bell-ringer there. I have given it a go, but it wasn't for me, it's actually quite difficult. Our daughter, Felicity, got married there a couple of years ago too. We love visiting the local pub too, The White Lion; the landlord, Chris, is a magician who is very high up in the magic circle!"
How has becoming Lord-Lieutenant affected your life?
"My husband Peter has been very supportive throughout my time as High-Sheriff. Peter helps on the techy stuff now that I'm Lord-Lieutenant, I have my own website and I'm the only Lord-Lieutenant to update a blog on a weekly basis. Peter helps me upload everything onto the website. We've been married 39 years on the 1 September. Before all this, Peter had been president of his medical Royal College and I've supported him throughout, so he said it was payback time and he's helped me in every way he can."
As we were chatting about how Sarah ended up in the position to begin with, I was amazed at just how much time she gives to the Rutland community. "I had done voluntary work in the past, when, to my surprise, I was put forward to be High Sheriff. I was terrified of public speaking, but I knew I had to at least try, these days I love it! With the High Sheriff position, you find out four years in advance and you even get to go to London for training in aspects you aren't as confident in such as the public speaking."
"It was a great surprise when I received the letter asking me to be High Sheriff. I remember it so clearly, I was heading out and I'd put all the post on the passenger seat of the car. When I stopped at Ashwell Crossing I saw a smart envelope in the footwell and thought I'd open it. It was a letter from Bart Hellyer asking if I would be High Sheriff, then the barriers came up, so I had a very excited drive to Oakham after that!"
Have you had a good time in these positions so far?
"I had an absolutely fantastic time as High Sheriff, you have no idea how much voluntary work is going on and it's lovely to offer some sort of official recognition from The Queen to say thank you for all the hard work people put in. As Lord-Lieutenant I can continue and expand on that."
"Recently, I was invited to London to meet the fellow Lord-Lieutenants at St James' Palace. We went onto a Buckingham Palace Garden party. We were invited into the Royal Tea Tent which was a real treat."
What do you do outside of Lord-Lieutenancy?
"I'm a very keen gardener, I used to run the programme for the Leicestershire and Rutland Garden Museum group and organise garden visits nationally. We have been opening our garden to the NGS for the past 16 years. The village safari supper starts here."
"I love entertaining, in fact there are 14 people coming for a BBQ this evening! I'm so busy on the computer doing admin as a Lord-Lieutenant and keeping my blog up to date, I don't have as much time to keep up with my friends as I would like. However, I do keep up with my book group with a close set of friends, it's a lovely antidote and I always keep time for that. I also like to visit Newark Antiques Fair and I'm really into artwork. In fact, local painter Alastair Adams painted my portrait." Any spare time I have I spend in the garden.
What have you been up to lately in your position as the area's Lord-Lieutenant?
"I have a great time going out to see people, I used a catapult for the first time with the Girl Guides at their summer camp recently, it was such fun! Every day is different. I went to a talk organised by our super High Sheriff Sue Jarron at Greetham Valley Golf Course not long ago. Squadron leader Martin Withers DFC gave a compelling talk. He is responsible for the Black Buck attack on Stanley Airfield in the Falklands which essentially won us the Falklands war."
"I also had a wonderful visit to the Defence and National Rehabilitation Centre at Stanford Hall. £350,000,000 has been used to provide state of the art clinical rehabilitation. It will make such a difference to badly injured service personnel. At the moment it's just the military side that has been constructed but the idea is that there will be a civilian side as well."
"It is hoped that clinical rehabilitation will be taught there. Clinical rehabilitation makes such a difference to people allowing them to return from serious injury to more normal working life. I hope that it will be something civilians can also benefit from. That's why fundraising is so important for facilities such as the DNRC."
"I think the Rutland Poppy Project is a wonderful example of the community coming together. Everybody has got involved making ceramic poppies to commemorate the centenary of the Armistice."
"Another privilege of this job which I love is having the opportunity to speak at Citizenship ceremonies. It's such a happy occasion."
What would you like to see more of?
"I'm very passionate about Resilient Rutland, for which I am a patron. The aim is to introduce resilience training and mental health counsellors across Rutland schools. Mental health is a topic that really needs more focus. As High Sheriff I realised how much childhood has changed, modern children are under great pressures – I think this project will be of great benefit.
Another project that Sarah will be working closely with is the Sir Laurence Howard Rutland Scholarship Programme. This is a part of the centennial celebrations of the founding of the University of Leicester which started as a memorial for those lost in World War I. It is one of only two such memorial universities in the world. Money for it was raised from the wealthy both in Rutland and Leicester.
The university was originally 'The Leicester, Leicestershire and Rutland College' and the aim of the Scholarship committee is to reaffirm the historical connections. If you look at the Leicester University crest it has the Rutland horse shoe as part of it. Scholarships will fund Rutland students so that there is no need for them to take on paid work during term time. Many students particularly from poorer backgrounds struggle to study and keep solvent. They have to work often in bars, or as cleaners in term time just to fund their studies. This scholarship programme will help make university life a bit easier – sadly it cannot eliminate debt, but it will reduce financial pressure.
It has been called The Sir Laurence Howard Scholarship Programme to acknowledge the enormous amount Sarah's predecessor as Lord-Lieutenant did for the county of Rutland. The Scholarship Committee (of which Sarah is the Patron) is planning a launch event this coming season for personally invited guests and local businesses from across Rutland. The event will be held at the Rutland County Showground in Oakham on November 8th in the early evening.
To follow Sarah Furness, the Lord-Lieutenant's regularly updated blog, visit: www.rutlandlordlieutenant.org.