Ladies
Moving Mountains: The Wedding of Melissa and Aaron
This month's featured bride and groom were hoping the rain would hold off for their special day… and it did. Unfortunately, the weather turned when they were half way up a mountain on their honeymoon!
Photographer: Rebekah Robert Luxury Fine Art Photography, 07736 931496, www.rebekahrobert.com.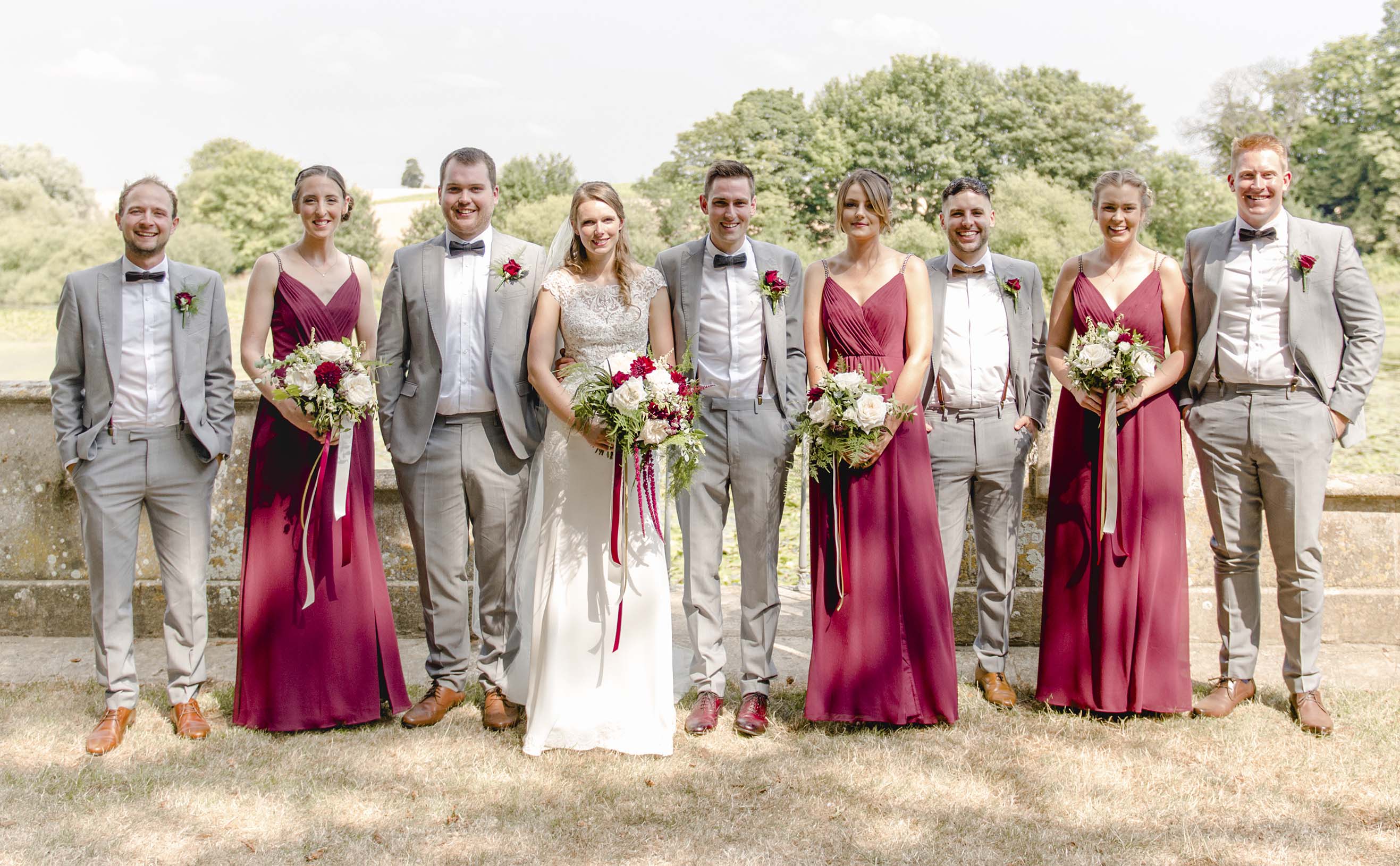 "Try not to worry." That's the advice of this month's featured bride, Melissa Hull reflecting on the secret to planning a really successful wedding.
It's good advice too, because some things just fall into place and work out for the best. Take the weather, for example. for the week running up to Melissa and fiancé Aaron's wedding, thunderstorms were forecast, and fingernails were nibbled worrying about whether the weather would capitulate.
The couple needn't have worried. Far from bringing thunderstorms, the couple's wedding day brought baking hot temperatures of 32°c when they married in July in Exton at Fort Henry.
Melissa is from Rutland whilst Aaron is from Peterborough. The two met in the sixth form of King's School as young sweethearts and have been together ever since. Melissa is a motion capture engineer and Aaron works as a chemical engineer in the oil and gas industry. His work has seen him travel all over the UK before he was finally able to base himself permanently in Rutland.
The couple got the keys to their first house shortly before Christmas and Melissa remarked that it would be nicer if they were engaged before moving in. The couple went away skiing in the new year and Aaron had planned a romantic mountainside proposal.
Unfortunately, that was scuppered when Melissa accidentally found the ring. Of course, she kept quiet about her discovery but a guilty face gave it away and Aaron guessed she'd sussed out his plan! It didn't matter; on the final night of the holiday Aaron still managed to pull a phenomenal proposal out of the bag with a sparkly ring and breath-taking views over Mont Blanc!
Wedding planning began in earnest and though Melissa and Aaron had never discussed potential wedding venues, both were familiar with the Exton Estate, where Melissa in particular had enjoyed many family dog walks and fun days out.
Fort Henry, the estate's lakeside fishing folly, is managed by the adjacent Barnsdale Lodge hotel, and Melissa describes this as a marriage made in heaven. The hotel's staff, she says, can't do enough for their guests, with service that's professional and second to none. In the baking heat and with the couple having opted for an outside ceremony, the hotel ensured a plentiful supply of water and ice to keep guests cool.
"The first decision we made though was the photographer," says Melissa. "Rebekah was amazing and has captured some really lovely photographs of us all… not just the day itself but the atmosphere and the expressions and feel of our wedding."
"We decided we wanted her, and Fort Henry with a reception at Barnsdale Lodge, and from there we liaised with both to find a date that suited everyone."
Melissa found her dress, a fit-and-flare column gown by Essence, at RS Bridal Collection in Melton Mowbray. The groomsmen wore light grey which proved a sensible choice in the heat. Aaron's mum and dad were also conscious of the climate as they battled on to create a wonderful 'naked' wedding cake decorated with flowers.
"We wanted an elegant but understated, wedding, classical but not too traditional, and above all, we wanted a really happy day celebrating with our friends and family."
The couple followed their outdoor ceremony with a champagne and canapé reception in the courtyard of Barnsdale Lodge, which would also be the reception venue.
Following the wedding breakfast the guests enjoyed a party in the hotel's barn, with dance and am dram fan Melissa's friend Sarah Bell working secretly to create a flashmob dance at the reception to entertain guests.
The couple's wedding flowers were by Colsterworth's Clare Banks, and included cream and red roses, dahlias, eucalyptus and herbs to provide a gentle scent in the bride's trailing bouquet. "Aaron and I are both in agreement that the best thing about the day was that first glimpse we caught of each other as I began to walk down the aisle."
"The ceremony was absolutely perfect, we exchanged personal vows and as we did so there were butterflies fluttering all around the flowers, it was like something out of a movie; very magical!"
Indeed, magical should be a word that every couple uses to describe their day. Rather less magical, though, was the weather when the energetic couple opted to tackle the Three Peaks Challenge on their honeymoon.
At Snowdon,  Scafell Pike and Ben Nevis wind and rain made an energetic endeavour even more exhausting.
"We'll tackle it again for our first anniversary," says Melissa. "And this time we hope we have better weather… though not as warm as it was on our wedding day…!"
Melissa and Aaron's Wedding Suppliers:
Wedding Ceremony & Reception: Fort Henry and Barnsdale Lodge, Exton 01572 724678, www.barnsdalelodge.co.uk.
Wedding Dress: RS Bridal, Melton Mowbray, 01664 668076.
Groom's Suits: Moss Bros, 0333 3206677, www.mossbroshire.co.uk.
Wedding Photographer: Rebekah Robert Luxury Fine Art Photography, 07736 931496, www.rebekahrobert.com.
Wedding Video: Zade Film, 07545 270496, www.zadefilm.co.uk.
Wedding Styling/Accessories: Lola Rose, 07944 655995, lolarose-venuedressing.co.uk
Flowers: Clare Banks, 07816 028434, www.claresweddingflowers.co.uk.