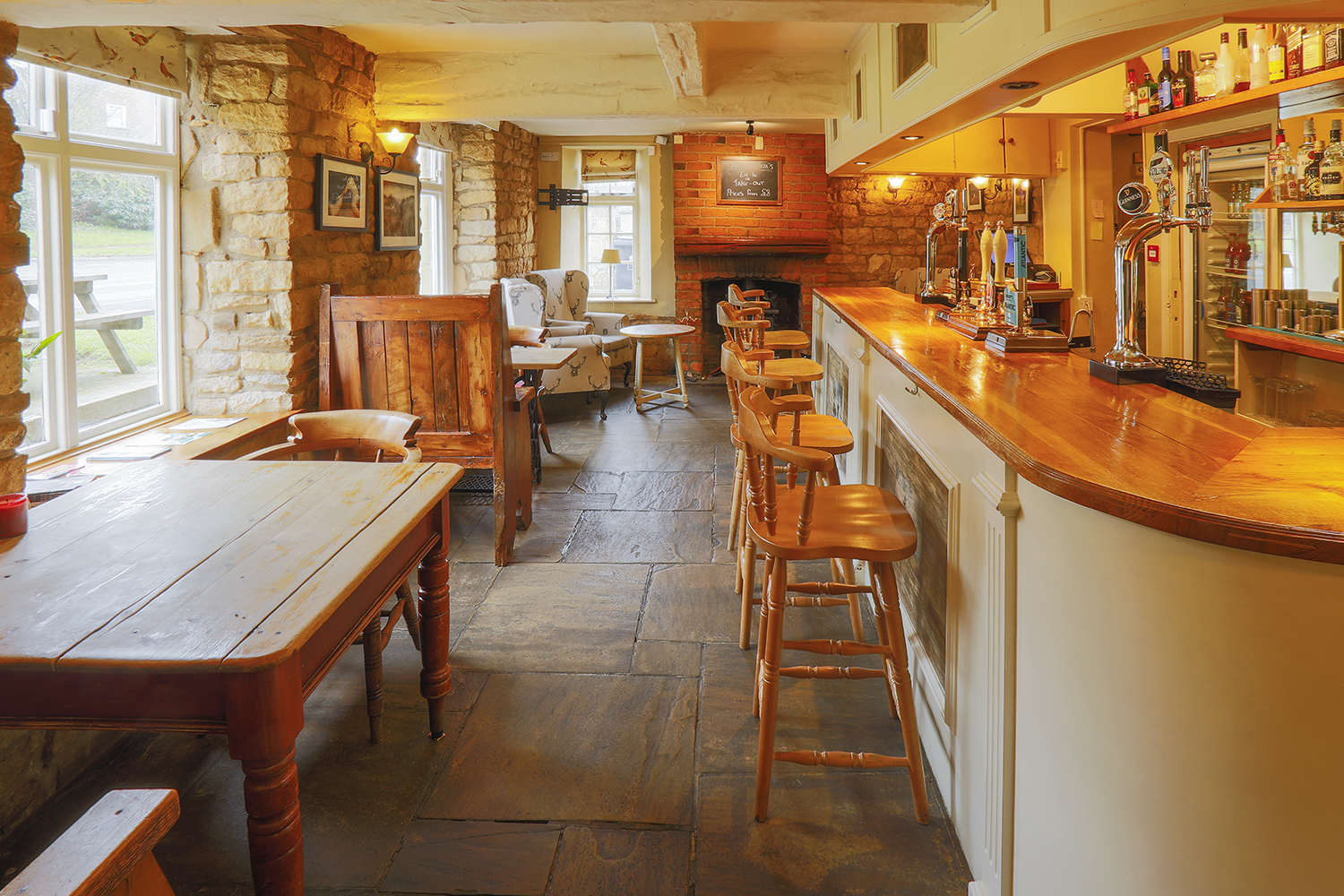 A combination of more formally presented à la carte dishes and some really enjoyable quality pub restaurant favourites combine at South Luffenham's Coach House to create a really compelling dining experience this summer…
Here comes the sun, sang George Harrison. Indeed, it was attempting to show its face during our visit to this month's dining out feature, but alas, it still managed to evade my camera. Never mind; we simply used our imagination to conjure up the requisite sunshine that would ideally have accompanied a special preview of South Luffenham chef Alec Stephens' new menus, due to reach the pub restaurant as Pride goes to press.
Alec and I share a broad consensus on food in that neither of us believes that fussiness or that inchoate quality of 'posh' necessarily improves a dining experience. Sure, a smart dining room is nice, but a really good dining experience demands not style, but substance. By substance we mean technically good chefcraft combined with consistent quality of produce knowing that using flavours with simplicity will always produce a better dish. all of this is what makes a good dish great.
Back when Alec wore a younger man's shoes, he scored some brownie points when working on the pass; that's the area where the dish is brought together on the plate before it is delivered to its intended diner. A customer's main course was almost ready when Alec noticed that the neat placement of the elements had gone awry in a culinary landslide of unctuous jus. It would do, surely, suggested the waiter. Not a chance. Alec insisted on replating the whole lot, much to the consternation of the waiter. His Head Chef approved though, and tipped Alec for great things early on in his career.
Having taken the pub restaurant over in 2017 and refurbishing its restaurant in May 2018, Alec no longer occupies just the pass, as is the norm for many Head Chefs. Instead he likes to be at the stove where his real enjoyment is, and together with his sous chef Patrick, they still very much enjoy working together to present and finish their dishes rather then designate each a section to do alone.
There's a single menu for lunchtime service and a single menu for evening service, plus a dedicated menu on Sunday for £18/two courses; £23/three courses. Also they have some great midweek offers at lunch and in the evenings, 'Twosday;' two steaks & bottle of wine for just £30 every Tuesday.
Lunchtime dining sees a number of sandwiches available, as well as à la carte dishes, whilst evening service provides a choice of five starters, six main course options and six additional grill options. During both daytime and evening service, there's also a choice of eight artisan pizzas. And that's the joy of dining at The Coach House. If you fancy something… well, fancy, it's there on the menu.
A delicious pork loin Wellington serves as the perfect example, with suet pastry instead of puff, sealed then oven baked for an amazing crust and rose-coloured pork loin. Alternatively, there's a new Roast Mallard dish, one of Alec's own creations and a personal favourite. With a confit leg spring roll and star anise infused squash, plus juniper & soy jus from the bones of the duck, it's softly oriental but without the overbearing and umami bitterness that comes from a more classical oriental dish: a gentler, more floral, less spicy way to impart a modern dish using Great British ingredients.
Equally, if you're keener on a more casual dish – albeit flawlessly executed – there's beer-battered haddock, a really good burger with brioche bun and Monterey Jack… more relaxed, but prodigiously not fast food. Alec's pizzas use the restaurant's own handmade dough, and they're stone-baked, an imperfect circle of imperfectly risen dough that's all the better for it and for the range of toppings they're offered with. The restaurant's bread? Homemade. Desserts? Homemade.
Suppliers include Price & Fretwell and Owen Taylor Butchers; responsible for the 30-day hung steaks, dry-aged over Himalayan salt blocks. Fish is from UK shores, whilst veg is from Covent Garden via Loughborough's Veg Factor.
And if you think the ingredients have provenance, wait until you catch a glimpse of the wine list. For a village pub The Coach House has some knock-out bottles. Topping out at about fifty of the Queen's pounds, we'll direct you to Fronsac Bordeaux, and a Premier Cru Moutard Chablis.
For a village pub, The Coach House's food output is really quite wonderful. if you're seeking relaxed dining in a restaurant that values satisfaction and dishes with substance and style, it's a distinct recommendation.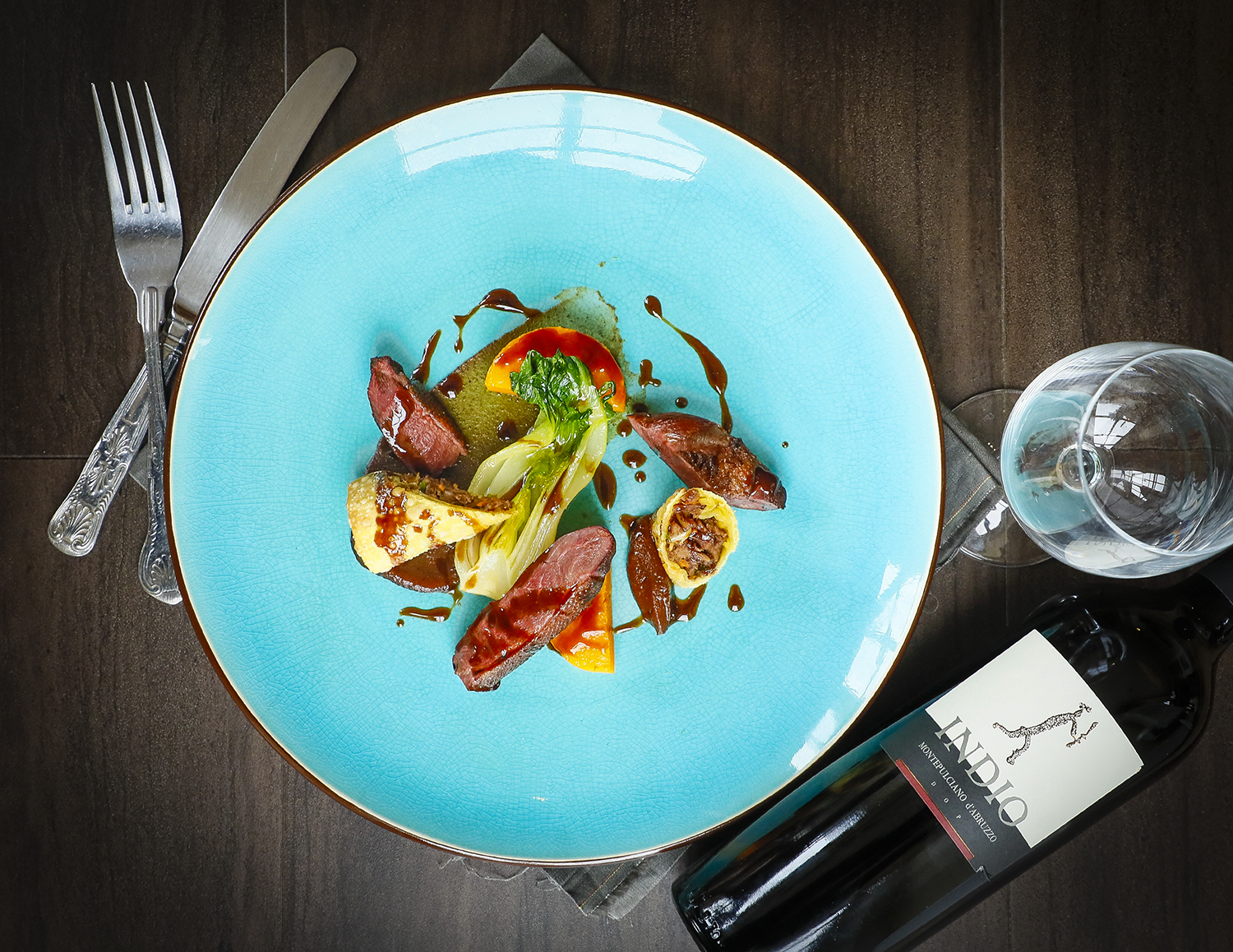 On the Menu…
Starters
Peppered beef carpaccio with heritage beetroots, croutons and horseradish crème fraiche £7.50.
Moules mariniére with white wine and garlic cream £6.50/£12.
Wild mushrooms on focaccia with garlic sauce, rocket and shaved Parmesan £5.50.
Main Courses
Pork loin Wellington with black pudding, Savoy cabbage, creamed mash, pancetta and pickled apples in cider jus £18.50.
8oz Denver steak with roast vine tomatoes, field mushrooms and dripping chips £16.
Artisan pizza eg – Maui with pulled ham hock, grilled pineapple and coriander £10.
Desserts
Raspberry pavlova cheesecake, meringue, raspberries & raspberry sorbet £5.95.
Rhubarb & custard, frozen vanilla parfait, forced Yorkshire rhubarb, ginger oat crumb, lemon balm £6.50.
Open For Business…
Lunchtime Dining: Tues, Thurs, Fri, Sat 12 noon to 2.30pm.
Evening Dining: Monday to Saturday 6pm to 9pm.
Sunday Lunch: 12 noon to 4pm.
The Coach House Inn, Stamford Road, South Luffenham LE15 8NT. Booking recommended on 01780 720866 or via www.thecoachhouseinn.co.uk.