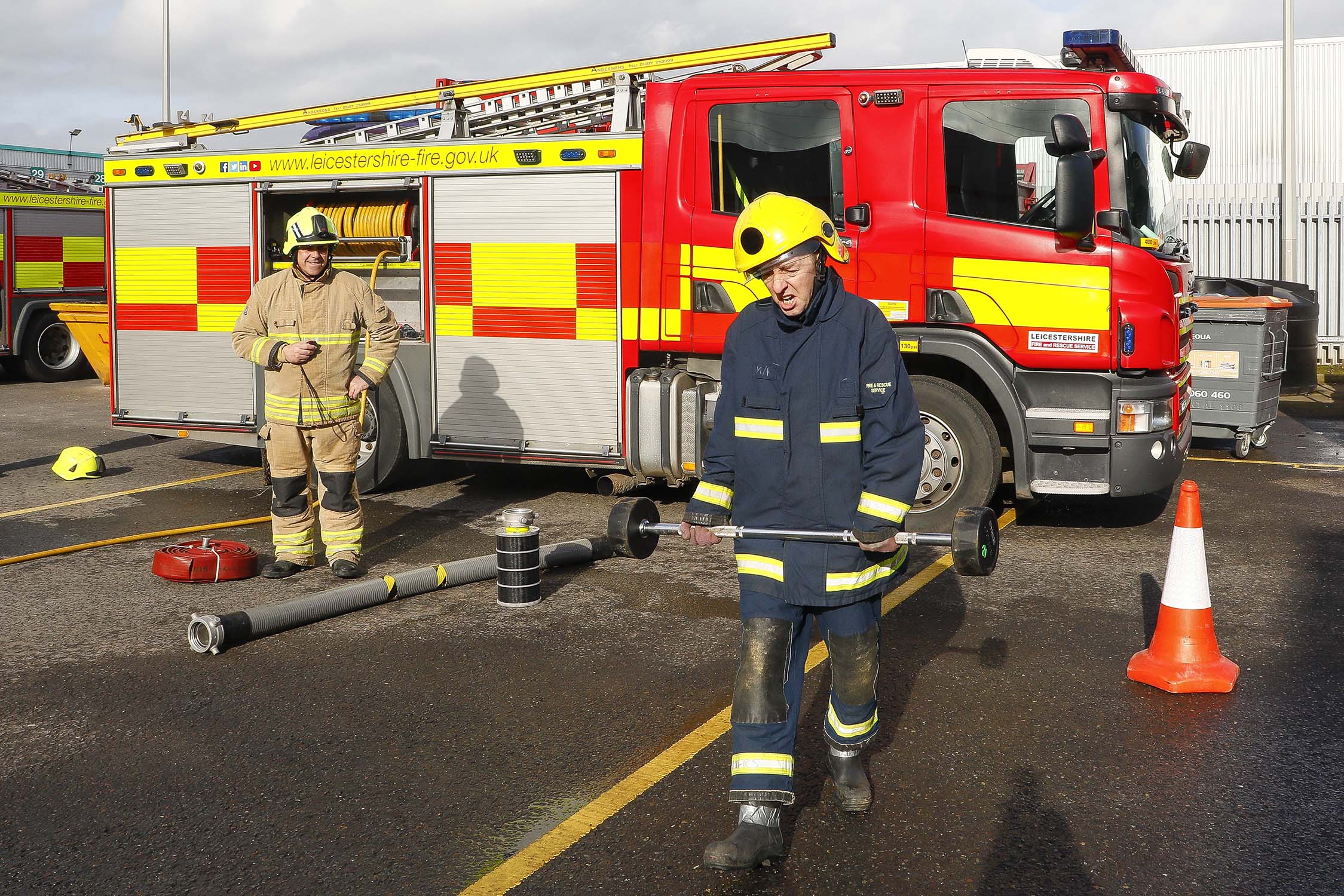 When the worst happens there's a service which is well-trained and well-equipped; a service which knows their purpose of safer people, safer places, compassion and great teamwork. To find out if we could fit into the area's remarkable fire and rescue service, we join an on-call firefighters' recruitment point of entry selection day…
"Goodbye  my love," I said as I kissed the present Mrs Davis goodbye at 7am on a bright, mild Saturday morning. "I'm leaving you as a hunky magazine editor and I could be returning as a hunky on-call firefighter instead."
"I doubt it." she replied. 'Why?' I asked, understandably crestfallen. "Because," she reasoned, "You hate heat and cramped spaces, you're terrible in an emergency, you don't like working outdoors, you can't stand the sight of blood, you're terrified of heights, you're a bit weedy and you're pushing 40."
Whilst my wife's words of encouragement brought me back down to earth, I'd be lying if I said there was any bit of that somewhat withering assessment I could disagree with. The trouble with the fire service after all, is their work doesn't just begin and end with putting out fires and rescuing kittens from trees.
I was travelling to the area's Southern Fire Station to find out more about the modern fire and rescue service, but also to find out how essential on-call crews are to ensuring Rutland's continued safety and to see if I could defy my wife's expectations and make the grade as an on-call firefighter. There's a total of 11 fire service regions, and 52 services working within those regions. There are 400,000 firefighters across the UK, and between them, the country's fire and rescue services attended over 582,000 incidents last year.
And yet, no day will be the same. Fighting fires, attending road traffic collisions (RTCs), rope rescues, water rescues, carrying out inspections, community liaison and education visits – preventing, as well as dealing with emergencies – all mean a diverse, as well as a heavy, workload. Each area is dramatically different so training, the skills required and the demand of the job at different times of the year all differ accordingly. What's more, given the rural nature of our area, it's neither possible to staff many stations scattered across the county, full-time, nor to rely on fewer crewed stations further apart from one another.
For that reason, our rural region is especially reliant on on-call firefighters, formerly known as retained firefighters. Working alongside full-time colleagues who are known as wholetime firefighters, on-call crews are an efficient way to ensure a healthy number of firefighters cover rural areas like Rutland and Lincolnshire.
Nationally, 63% of firefighters are employed on an on-call basis; whilst 37% are wholetime. In our area, a rural service with 20 fire and rescue stations strategically placed to cover a population of about 1,017,697, means the area is more reliant on the presence of on-call firefighters. Rutland's two fire stations are Oakham and Uppingham. The former runs on a 'wholetime day crewing plus' system, supplemented by six on-call firefighters and Uppingham is crewed solely with 12 on-call firefighters. Oakham has a fire appliance and a tactical response vehicle and Uppingham has a fire appliance, incident support unit and a vehicle to serve as a first responder vehicle. Stamford's on-call comes under Lincolnshire Fire and Rescue Service; other Leicestershire stations are available should they be called upon to further support, and resources are required to deal with emergencies within Rutland. That means a combination of wholetime firefighters and on-call firefighters are ready to respond to emergency incidents. Understandably, there's always a drive to recruit on-call firefighters to ensure an appropriate number of recruits can be maintained.
That's why I was travelling to Leicester – to see if I could join the service, and I wasn't alone. Upon my arrival for an 8.15 briefing, I was joining about 15 others for one of the service's assessment days. Vince Howard is a Watch Manager and On-Call Liaison Officer. Vince explained that the service also run recruitment events called 'have a go' days to encourage members of the local community to try the skills out with a series of tests. These can serve as an introduction to those who have never considered their ability or the opportunities to join the Leicestershire Fire and Rescue Service family, as an on-call firefighter before. If that inspires our local communities who have an interest, or the desire to join as an on-call firefighter, then a total of seven of those same tests are undertaken on the assessment day. My task for the day was to undertake the seven physical tests and pass them. The recruitment process sees candidates taking part in an informal interview at the local on-call fire station – a chance to find out more about the service and life as an on-call firefighter.
Next there are the seven job-related tests, followed by the point of entry tests, a more formal interview, a medical and finally a selection test. Whilst the other candidates were undertaking their initial briefing for the day ahead, I had a chance to catch up with the firefighters of white watch. The number of firefighters on shift and the shift patterns themselves also vary from station to station, but at Southern Fire Station, there are four watches with seven staff on each watch; five of whom ride out during a shout. Four watches cover the shifts, with each shift lasting from seven until seven, working for two consecutive day shifts, two consecutive night shifts, then resting for four days. The station is also home to USAR and ISAR – Urban and International Search and Rescue services. The breadth of work that the station undertakes is especially diverse.
Each of the firefighters discussed the best parts and the worst parts of the job. Each stressed that there's absolutely no 'us and them' culture between wholetime and on-call firefighters, and each spoke about what the service has given them, personally. Tellingly, each one said that if they had to live their lives a hundred times over, they'd choose to do the same job every single time. The best part of the job? "Going home knowing that you've made a difference at a time when someone is hurt or scared or in danger," was the consensus. And the worst aspect of the job?
One firefighter recalls how they were called to attend an incident where the casualty was a former school friend. Sadly, the outcome wasn't a good one, but even in such awful circumstances, to be there for somebody you know and to know you did everything you could to help them offers at least some degree of comfort.
I left the watch room and joined the other recruits to get changed into the thick, hot and quite baggy fire kit complete with helmet and boots. The first of seven challenges was one of manual dexterity. This equipment assembly test requires a candidate to follow pictorial instructions to assemble part of some hydraulic equipment, then disassemble it in less than five minutes. It's a test of attention to detail and the ability to follow instructions. Test passed with time to spare, it was on to the next test.
Our second challenge was a simulated ladder lift, designed to replicate the lifting of a fire service ladder onto the rear of a fire engine. The task was to lift 25kg from 75cm to 180cm in a controlled manner, as a test of coordination, upper and lower body strength. The test represents an ability to carry a share of a 13.5m ladder along with colleagues. So far so good, but carrying a ladder is one thing. Climbing one is another matter entirely and if the present Mrs Davis was correct about one thing, it's my fear of heights.
And so, to the ladder test, and a good way of curing acrophobia. With a safety line attached just in case there was nothing to fear and so, as required, I demonstrated the starting position of a ladder climb then demonstrated a ladder lock and leaned back without holding on, safely and securely. Then, I climbed 13.5m and did the same again, able to work safely at height, hands-free. Back on terra firma, my next task was the casualty drag. Take that, wife.
Not exactly a cryptic description of the activity, I dragged the 55kg (one metric Rob) dummy to safety within the required 37 seconds by now, I was beginning to feel a small sense of achievement, but if one thing was going to bring me back down to earth it was the innocuous sounding 'equipment carrying' test.
Pick up a pump's hose reel outlet, then run it out along the 25-metre course. Then run back to the start. Pick up two large hose reels and run back and forth with them. Twice. Grab one and hold it at chest height then run back. Drop it, then run back and forth twice. Pick up a large filter and a length of hard suction hose. Run back and forth. Twice. Run back and forth again, and finally walk the course again briskly with a 25kg barbell. And did I mention, there's five-minute time limit. My time was four minutes 37 seconds, but gosh, did I spend the next ten minutes keeled over by a fire engine in a state of breathlessness.
The penultimate test was a crawl through the station's 'rat run,' wearing a blacked-out breathing apparatus mask. With my vision obscured I had to negotiate a crawl space maze in less than three minutes, in a test designed to assess candidates' confidence, agility and strength to negotiate a crawling gallery into a confined space.
The final test was designed to challenge upper body strength, with the task of using a line to lower a 25kg weighted ladder down steadily as the crew would need to do after a shout. I was the last of the 15 candidates to complete all of the tests and with photographs taken to prove I'd completed each, I joined Vince in      the watch room.
"It was a really good day, really strong candidates," he assured us. "But we are constantly trying to improve the on-call availability within Leicestershire and Rutland. As a service we are constantly striving to develop candidates to provide a greater level of cover with willingness to train and become on-call firefighters."
I must admit to being surprised that I passed each of the tests successfully. It shows that whilst being in sound physical condition is important, you don't have to be an athlete – mere mortals like myself that can successfully pass the tests – and with no upper age limits or restrictions like height or gender Leicestershire Fire & Rescue Service actively encourages all members of the local community to consider this as a potential career pathway. It's a career open to more people than you might think. So, having passed, I must have felt pretty pleased with myself, right? No. In fact, I felt a bit fraudulent.
It's one thing to put on the kit and pose for some photographs, but quite another matter to commit to a job that can expose you to any situation at a moment's notice, day and night.
A memorial stone outside the station is a sobering reminder of the fact that whilst the profession is highly skilled and well-trained and whilst firefighters train diligently, they still deal with risky situations. But because of the awareness of the danger, risks are assessed, managed and each rescue is approached in a considered and methodical way.
Retuning to Vince, he explained in detail what it means to be an on-call firefighter, saying that on-call firefighters, who were traditionally called 'retained firefighters,' don't work full-time, but are paid to spend some periods of their time available on-call to respond to emergency incidents. Many have full-time jobs, others maybe self-employed or stay at home parents, reflecting the communities Leicestershire Fire & Rescue Service serve.
The exact times an on-call firefighter spends on-call depends on their job, home life and other personal circumstances to provide a suitable period of time to be available to attend their local fire station. On-call firefighters are alerted, then respond to the fire station by a pager (also known as an 'alerter'). Once at the station, the crews will then turn-out the fire appliance and proceed to the incident. Therefore, on-call firefighters are required to live or work near to the fire station they serve. This allows them to respond to emergencies within acceptable and strict attendance times.
Typically, on-call firefighters are employed in rural areas, in large villages or small towns. In Leicestershire and Rutland, there are on-call fire stations at Oakham, Uppingham, Melton Mowbray, Wigston, Billesdon, Kibworth, Market Harborough, Lutterworth, Ashby, Shepshed, Coalville, Market Bosworth and Hinckley.
On-call firefighters are employed and trained by Leicestershire Fire and Rescue Service. Unlike volunteer firefighters, on-call firefighters are paid an annual 'retainer' fee for being 'on-call' and they receive further pay for each emergency call and training they attend. Their role within the community – many people choose to become on-call firefighters to serve their community in which they live or work. Leicestershire's on-call firefighters are responsible for undertaking community fire safety work alongside their full-time colleagues. This involves talks to local school children, home safety checks, and fitting of smoke detectors in homes.
Some on-call fire stations receive a large number of call-outs per year, other on-call stations receive a relatively small number of call-outs. On-call firefighters receive the same service level of training, but in a modular form rather than attending training school for residential training for a large period of time. They are trained to a very high standard of first aid and trauma care. On completion firefighters will then attend emergency incidents responding from their station. Over approximate period of three-years they acquire and develop their individual pathway within Leicestershire Fire and Rescue Service to become a competent firefighter, they will intern receive a higher level of pay.
Vince added: "As well as responding to emergency calls and undertaking community fire safety initiatives, on-call firefighters attend weekly training nights of two to three hours per week to maintain competency levels. As well as this training period they must also undertake routine checks on their equipment and fire appliance, as well as test, clean and maintain the equipment to ensure it will work correctly when required during an emergency."
My aim on the day was to discover if I could become a firefighter and though the team were inspiring, welcoming and always keen to talk about a career they all clearly have a huge passion for, the reality is my experience left me feeling more in awe of them.
To give you an insight into what an on-call firefighter does, and the required strength, fitness and aptitude levels needed, the service is also running several 'have a go' days ahead of this next round of on-call firefighter recruitment. If you can't make the set days, get in touch with your local on-call fire station. You may be able to attend their weekly drill night, where you will find out more about the role and meet your potential future colleagues.
Modern firefighters face more than physical challenges. Whilst fitness is important, the characters, calmness and personal resolve of both wholetime and on-call firefighters to find the best outcome in bad situations, day and night led, me to conclude that you don't just have to be fit, you also have to be a pretty phenomenal person. And if that's you, I encourage you to have a go yourself, because we can't think of a more rewarding career, or a better team to work with.
Find Out More: If you're interested in finding out more about the Leicestershire Fire and Rescue Service, the service is open to applications for their on-call firefighter roles from Wednesday 1st May. The deadline for submitting applications is Wednesday 29th May. To apply to become an on-call firefighter you must be able to reach your local fire station from where you live or work in four minutes. You will carry a pager and when 'on-call' remain within four minutes of the station to respond to incidents as and when they happen. For more information see www.leics-fire.gov.uk /recruitment or call 0116 287 2241.