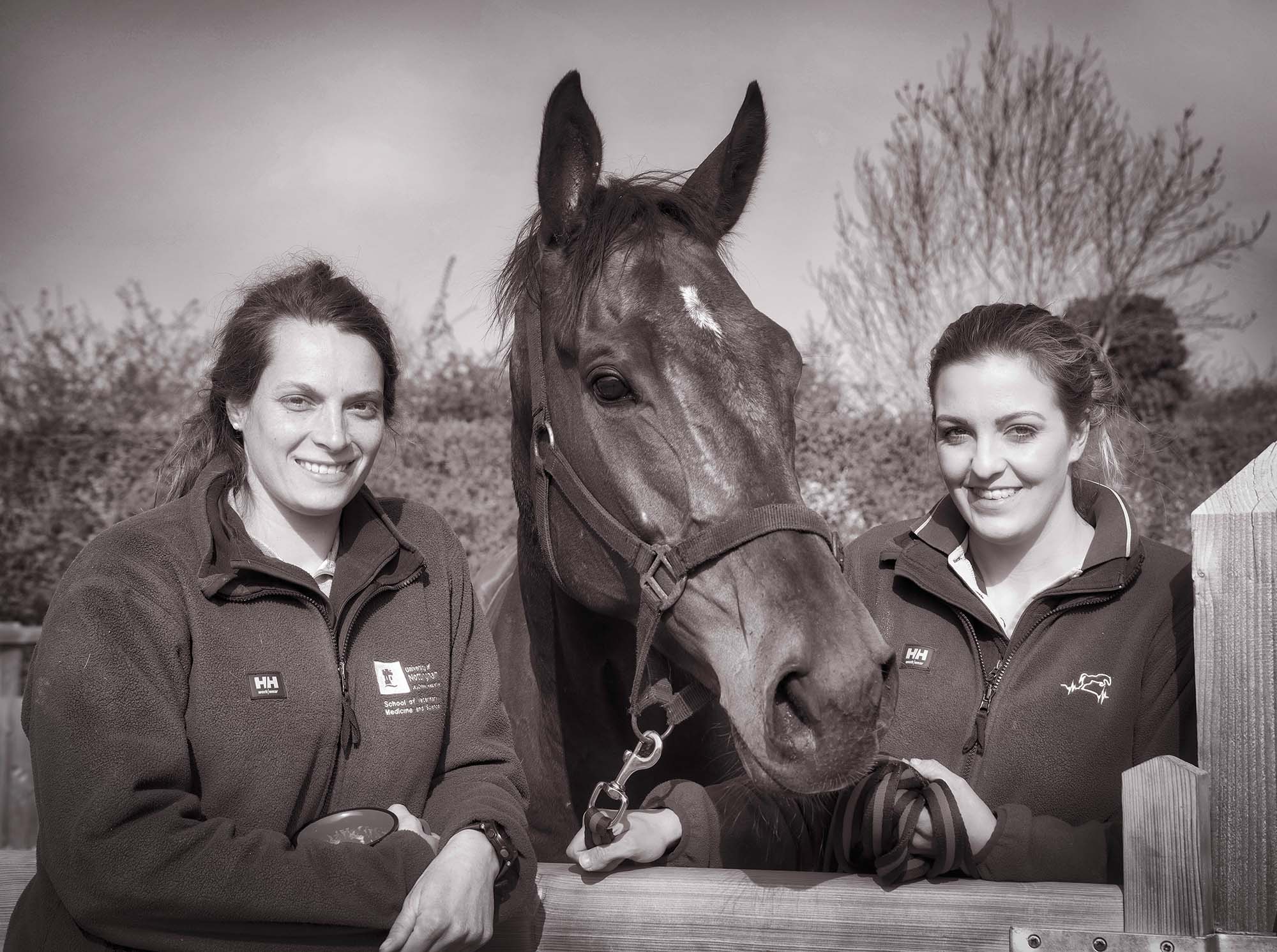 Oakham Veterinary Hospital is a centre of excellence for modern horse care. From complex surgical procedures to everyday medical matters, the team are well-versed in all aspects of the equine world. David Corfield spent a morning with equine surgeon Julia Dubuc to find out more…
Julia Dubuc has a lot of letters after her name. There's DMV, DÉS and DACVS-LA, M.Sc. plus MRCVS. That's an awful lot of knowledge and quite a mouthful in anyone's language, and this 32-year old French Canadian – employed by the University of Nottingham's School of Veterinary Sciences as an assistant professor – is blazing her own trail at Oakham Veterinary Hospital where she is one of two surgeons specialising in caring for the many valued – and valuable – horses that live in the area.
Moving here from Canada nearly two years ago, Julia quickly settled into the Rutland way of life with her two dogs, a Great Dane and a Scottish Deerhound; their similar long-leggedness is not lost on her as she walks them around the field within Oakham Veterinary Hospital's grounds.
"I came here because of the job, really," she admits pragmatically. "My father is a doctor and it was he who inspired me to look into medicine. I always loved animals and studying them seemed to be the most logical way to go. "I love the academic side," she continues, "but I prefer the fast pace of a private practice. I like thinking on my feet and love situations that happen really quickly, so I wanted to find a job that combined my interest  in research with my passion for surgery and this was the perfect opportunity."
"My typical day is one or two surgeries in the morning and in the afternoon, I give some seminars to the students, take care of inpatients and see outpatient's appointments. Some students are resident here at the hospital while they complete their internships, but most are at the University, based in Loughborough, about 50 minutes drive from here."
"All my research is undertaken at the University and I enjoy that very much. But I try and be a little bit more accessible to the students which is why I love working here because they get fantastic on-the-job training in real-life situations."
Walking around the Hospital with Julia, we look in on a few of her cases: they range from a swelling above the eye on a eight-year old Haflinger to some tiny thorns stuck deep to the skin surrounding the metacarpal bone (front leg, to you and me) of a beautiful hunter. Common enough ailments, but both requiring expert skill and precise surgery to avoid damaging vital blood vessels and surrounding tissues.
As I witness the team around Julia scurrying into action around the horse, I am immediately struck by the level of professionalism and speed with which they work.
It's truly impressive and every bit as precise as the treatment we'd expect to find in our own hospitals. And that's just the way Julia sees it too. Her career is taking her to the eventual goal of becoming a full-time professor, but she is determined to keep her hand in the practical world, too.
"While becoming a professor is my primary goal, I love working on the horses that come here. I find it hard to switch off. But I am not a worrier; I think that's quite a negative word. I keep a look out on my cases over weekends and I enjoy being part of this incredible team around me."
"I am one of two surgeons here: myself and one of the senior partners Neal Ashton. We have a good working relationship and I like that we can always share opinions and knowledge with each other – he is easy to work with and is a good part of the job here."
Based on the Ashwell Road just outside of Oakham, Oakham Veterinary Hospital is a long-established, purpose built practice, set in 8.5 acres and surrounded by rural countryside.
With extensive hospital facilities and diagnostic equipment in both equine and small animal departments, the experienced and caring teams of vets, nurses and support staff offer a complete veterinary service from routine examinations, vaccinations and visits, to specialist surgery with the very latest state-of-the-art equipment.
Julia qualified as a vet in 2013 from The University of Montreal. The following year, she completed a one-year internship specialising in equine surgery at a busy referral practice in Ontario, Canada.
In 2014, she undertook a three-year surgical residency focusing solely on equine surgery as well as a master's programme, back at the University of Montreal.
She joined The University of Nottingham in August 2017 and is predominantly based at the Oakham Veterinary Hospital in Rutland. "Just like in a hospital for humans, we have dedicated teams of nurses, assistants and interns," Julia says. "We care for animals just like we care for people."
"With regards to what I do here with the students, the goal is to make sure that they come out of the University of Nottingham to the highest standards possible and are ready to work in a real practice from the moment they leave."
"I couldn't imagine doing anything else as a profession," she admits. "It's so much more than a job. In fact, this is much more than a job. It's a life!"
For more information, visit the hospital's website at www.oakhamvethospital.co.uk.