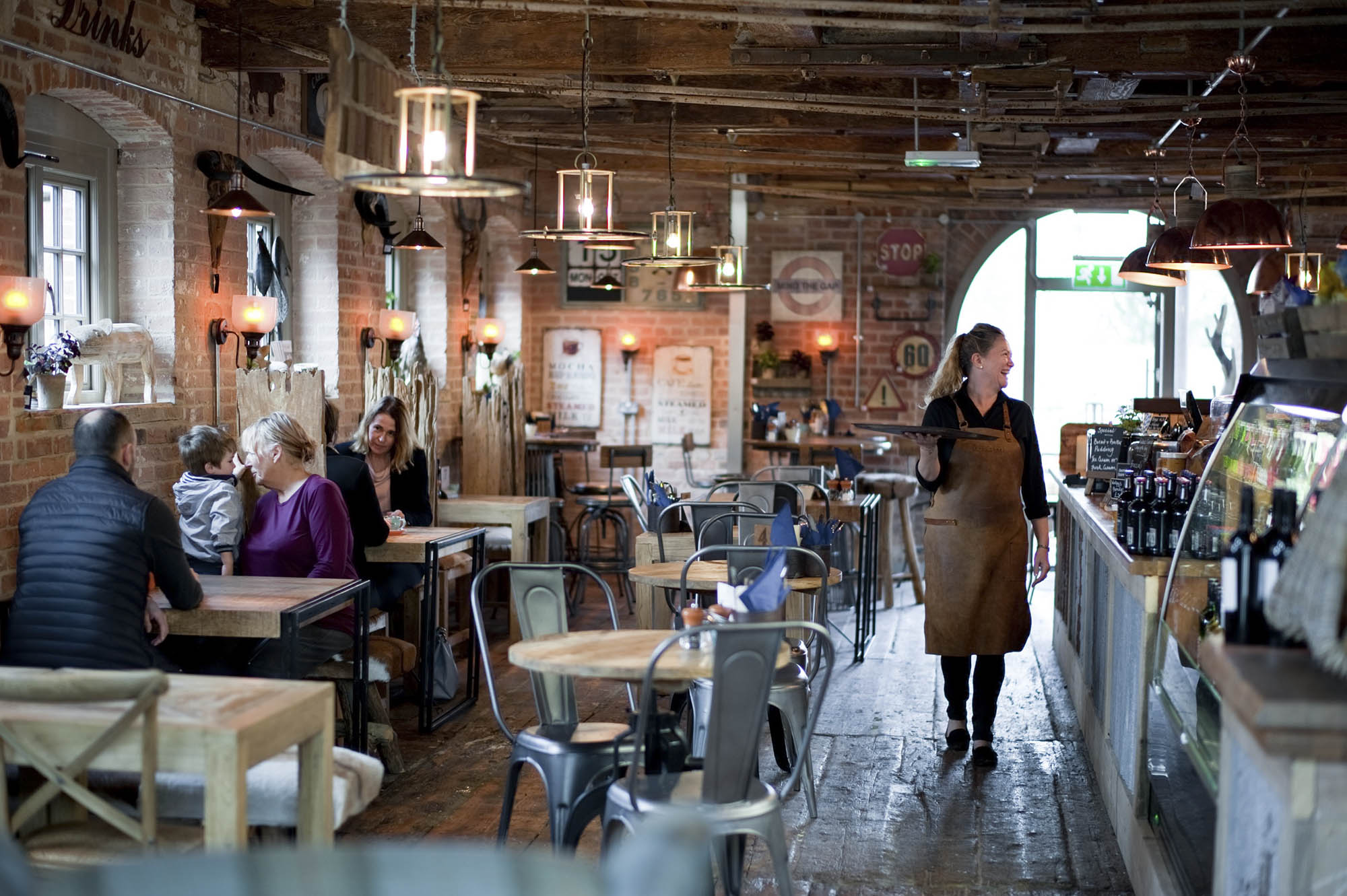 This month we're celebrating the first anniversary of one of the area's success stories as Her Grace Emma Manners, the Duchess of Rutland, reflects on the first year of trading for her £2.5m Engine Yard development. We join the Duchess to crack the Champagne corks, but first, she has some washing up to finish…
Time flies when you're having fun… or when you're stuck in the kitchen. Just ask the Duchess of Rutland, Emma Manners. For the past 12 months she's done both. It's been great fun, she says, ensuring that the new £2.5m artisan shopping village on the Belvoir Castle estate has got up to speed, although she's had to work rather hard to make the project a success, even donning a pair of rubber gloves and getting stuck into the washing up.
"It's a really personal project," says the Duchess. "Every single thing in the Engine Yard I have hand-held. Every piece of decoration or lighting, every fabric I've chosen carefully, so it's been a real labour of love."
The 15,000 acre estate of Belvoir Castle is the ancestral home of the Manners family and the present Duke and Duchess of Rutland have been incumbent since 1999. Adjacent to the Grade I listed 450ft tall castle, which dates back to 1799, is The Engine Yard.
This collection of former workshops once housed a cutting edge 20-ton beam engine to pump water from Holwell Spring in Woolsthorpe to supply the castle with fresh water. The technology soon fell into redundancy, the site itself became scruffy.
Enter the Duchess with her characteristic big ideas to transform the site and in 2014 the area was cleared as part of a £2.5m restoration project designed to create a local community centre – a sort of new village for the Vale of Belvoir when traditional villages and market towns are ailing amid out of town superstores.
"Our idea at the Engine Yard is that it's the people's yard. I want it to be inclusive, to be for the community and I want to know what people want to see here. I want the whole community to be able to come here, relax and enjoy the space."
"With the loss of villages comes the loss of communities; neighbours. I'm hoping that everyone here will help to create a community to replace those lose villages. Creating a village community for Belvoir will take it back to about how it was three or hundred years ago when there was an ancient market site here."
"Of all the jobs I've done getting the site up and running the best one I've done is washing up at The Fuel Tank! I love it. I'm the best washer-upper they've got… honestly. You can ask Chef Karen! Everyone mucks in, there's no hierarchy, this is everyone's Yard!"
The site opened in September last year with five or six retail units, and now there are in excess of 12. Celebrating the development's first anniversary of the site is a Festival of Game event which runs on 31st August and 1st September.
A year on, and with the recent launch of The Balloon Bar, Belvoir Castle's Engine Yard is now a smart shopping destination for  an impromptu Saturday afternoon sortie.
With plenty of shopping for the family, for the home and for the garden, plus several options for dining and enjoying a drink, it's easy to see why the Duchess is proud of what the team has created.
"The Engine Yard has come 180 degrees in a year.  It's building a lovely community with loyal customers who come to meet for a coffee, catch up with friends or work online."
"There's lots more happening with the opening of the Balloon Bar and a busy events calendar but there's still plenty of space and scope for further development. Anyone approaching me with good business strategy or their own brand that they wish to develop, we still have units that we are looking at growing."
What's at The Engine Yard?
Premium shopping, food, drink and entertainment…
Belvoir Casa: Boutique Hair and Beauty Salon in the former wheelwrights' and painters' workshop. belvoircasa.co.uk
Cherizena: A family run business selling an extensive range of single origin and blended
coffee and teas. cherizena.co.uk
Cocoa Amore: Producing chocolate sustainably, and delivering a unique experience at popular chocolate-making workshops. cocoa-amore.co.uk
Crafts 4 Kids: Family run boutique with a wonderful selection of children's toys including fun educational toys. crafts4kids.co.uk
Jorge Artisan Foods: Specially sourced favourites including antipasti, olives, chutneys, tapenades, pasta and sauces. jorge-artisan-foods.co.uk
Little Skiers/Little Surfers: Specialist ski/surf wear for active kids, chosen from the best brands around the world. littleskiers.co.uk, littlesurfers.co.uk
Margo & Plum:Timeless decorative interiors and homeware to make your house a home.  margoandplum.co.uk
B JewelleryOpening as Pride goes to press, B Jewellery is a luxury retailer specialising in bespoke jewellery designs. Fronted by designer Belynda Faulkner, her shop at the Engine Yard offers a range of stunning jewellery collections, custom designs crafted by hand. b-jewellery.co.uk
The Country Victualler:Renowned for delicious hams, award-winning pies, pâtés and smoked meats.
The Duchess's Gallery: The Duchess of Rutland's first Gallery, inspired by her love of the outdoors.
The Fuel Tank: The two storey café, which seats 80, featuring an outside terrace and patio.
The Idle Mole: Independent garden centre with gifts and homewares. theidlemole.co.uk
Wellness Wagon:Broad range of holistic therapists, chosen for their expertise in delivering relaxing treatments.
The Balloon Bar: Enjoy hand-crafted cocktails and mocktails, specifically created for the venue. engineyardballoonbar.co.uk
Rowland Watson Gunmakers:One of the country's oldest gunmakers with a proud legacy stretching back three centuries. www.rowlandwatson.com.