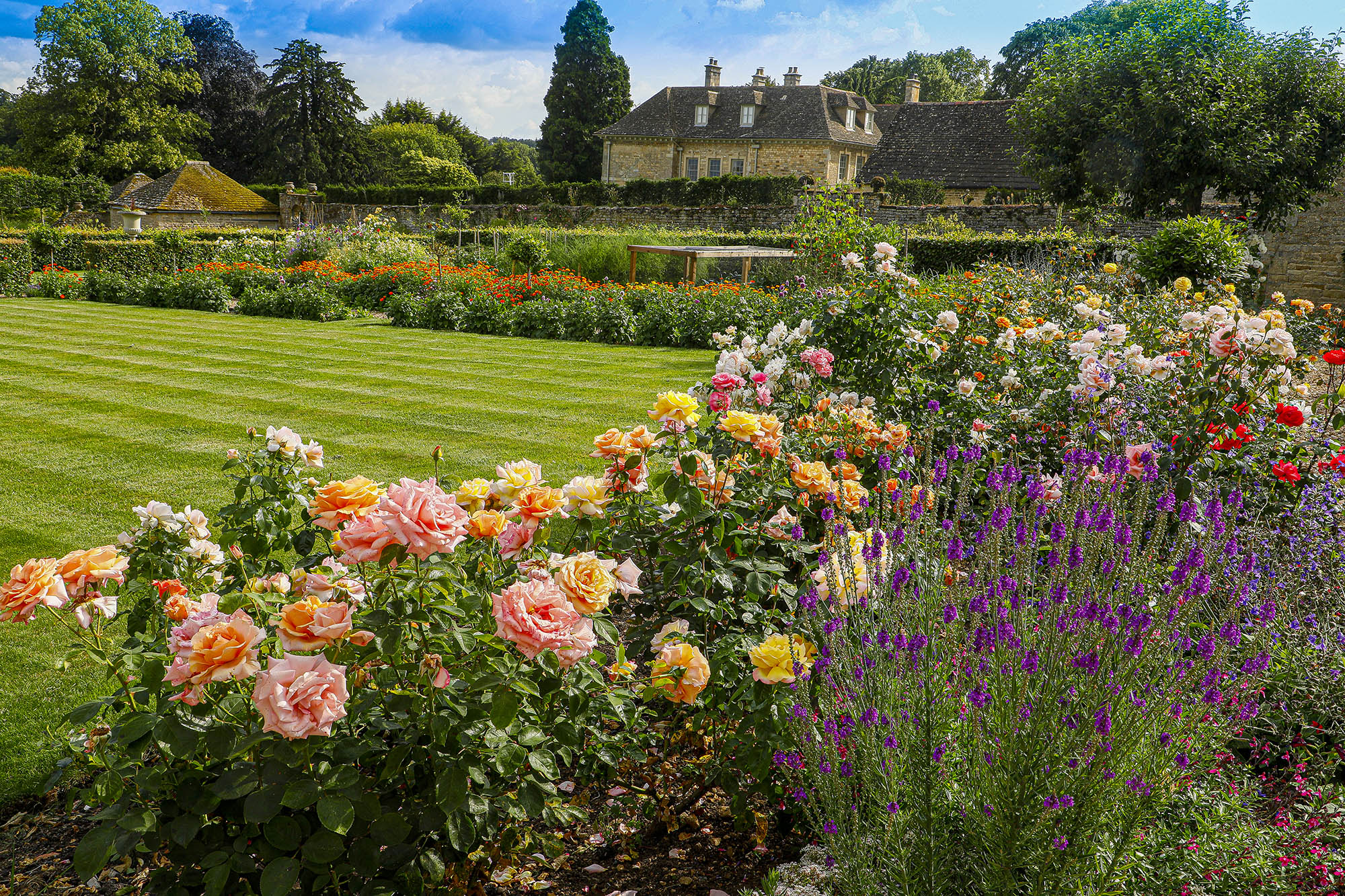 This month we're taking a peep within the walls of the four acres of formal gardens at Empingham's Prebendal House, home to Matthew and Rebecca…
Do dogs speak in different languages? Bark in Spanish? I'd eyed-up the perfect photo of gardener Sam Pond's Beagle/Cairn cross, peeping around a wrought iron gate with a border of colourful delphiniums in the background. But it was no good. Despite my endeavours to wit canine-coercion, Pedro wasn't having any of it.
"You have to speak Spanish to him," said Sam and went back to tending the hedges and borders of white Macmillan roses that flank the walled garden of Empingham's Prebendal House, leaving me to muse on whether he was pulling my leg or whether man's best friend really is bilingual… or just stubborn.
The mutt wasn't playing ball, but the garden – and the weather – was. Rebecca and Matthew purchased Prebendal House over three years ago, undertaking a two year renovation project on both the house and garden. The garden is four acres, with a further 35 acres of pasture surrounding it.
Matthew continues to inform us that the property was once part of the Normanton Park Estate and was once an agricultural concern. From looking at previous Ordiance Survey Maps it also had an orchard area planted in the 19th century and a fish pond fed with a natural spring.
An interesting aside is the family's belief that the 19th century author Anthony Trollope has stayed here. Two of his nieces rented the property for a short while, and Anthony mentioned Rutland and Empingham within his novels, clearly knowing his way around.
"The house was built in 1688 and the aim was to re-establish an 18th century style of garden in sympathy with the property," says Matthew.
"This is achieved by the large formal 18th century south facing walled garden which is Grade II* listed and incorporates brick lined walls made from local stone. It's a very traditional and clever way of reflecting the heat perfectly, helping to grow plants and flowers which thrive in warmer climates.
Rebecca and Matthew have made the garden child-friendly, removing a big old pond to create a sunken garden with a more modest water feature, a firepit, Japanese acers and at least ten varieties of salvias – somewhat of a speciality for the garden.
The walled garden features a mix of David Austin roses, cut flower beds and a vegetable patch with sweet peas. There's a yew border adjacent to the main lawn too with myriad colours and wildflowers.
"We wanted the walled garden to look really traditional and to have a vegetable area and a market garden providing fruit and cutting flowers and a production area with glasshouses," says Matthew.
"The formal borders surrounding the house has a topiary theme throughout with borders and pleached hedges that transition into the parkland where we've tried to ensure plenty of wild flowers. The intention is that there's something of interest within the garden all year round from spring to winter."
"We've a natural spring and two wells so we do not need to worry too much about coping with drought."
"Sam works on the garden , and we're lucky; he's a talented, formally trained first class gardener. We held a recent Open Garden event and 380 people attended."
"Sam is great, not least because he thinks ahead about and makes plans for the garden a year in advance. It's important not to neglect planning amid ongoing work – there will always be something to do and things always will get in the way, but by being organised and not too ambitious for any one year, you can add to the garden bit by bit."
Beyond the formal areas of lawn which replaced a large swimming pool, happily, Matthew and Rebecca have created an area of formal lawn immaculately kept by Sam,  but they have also maintained a few areas that are a bit more wild and wonderful, with some wildflower-friendly wild grass areas kept shaggy to attract bees and butterflies.
At the bottom of the garden, overlooking pasture, is an area with a contemporary teardrop shaped cocoon hammock – an enviable place to read overlooking a statue of the previous owners' horse.
Another impressive string to Sam's bow is his ability to make and maintain dry stone walling. That'll come in handy down through the years when seeking to maintain the beautiful stonework in the garden as repairs become necessary.
Sam's talents are huge; he's done a superb job maintaining but also creating a vision for the future of the garden.
Together with Matthew and Rebecca's efforts, this is one Rutland garden which will doubtless look marvellous now but will evolve for years to come too.
Once I could be sure Sam was safely out of the way and wouldn't laugh at me and with Pedro still keeping an eye on the photographer, I attempted dialogo con el perroonce more.
"Hola, perro! Siéntate!"Sure enough, straight down on the grass. Well I'll be damned…