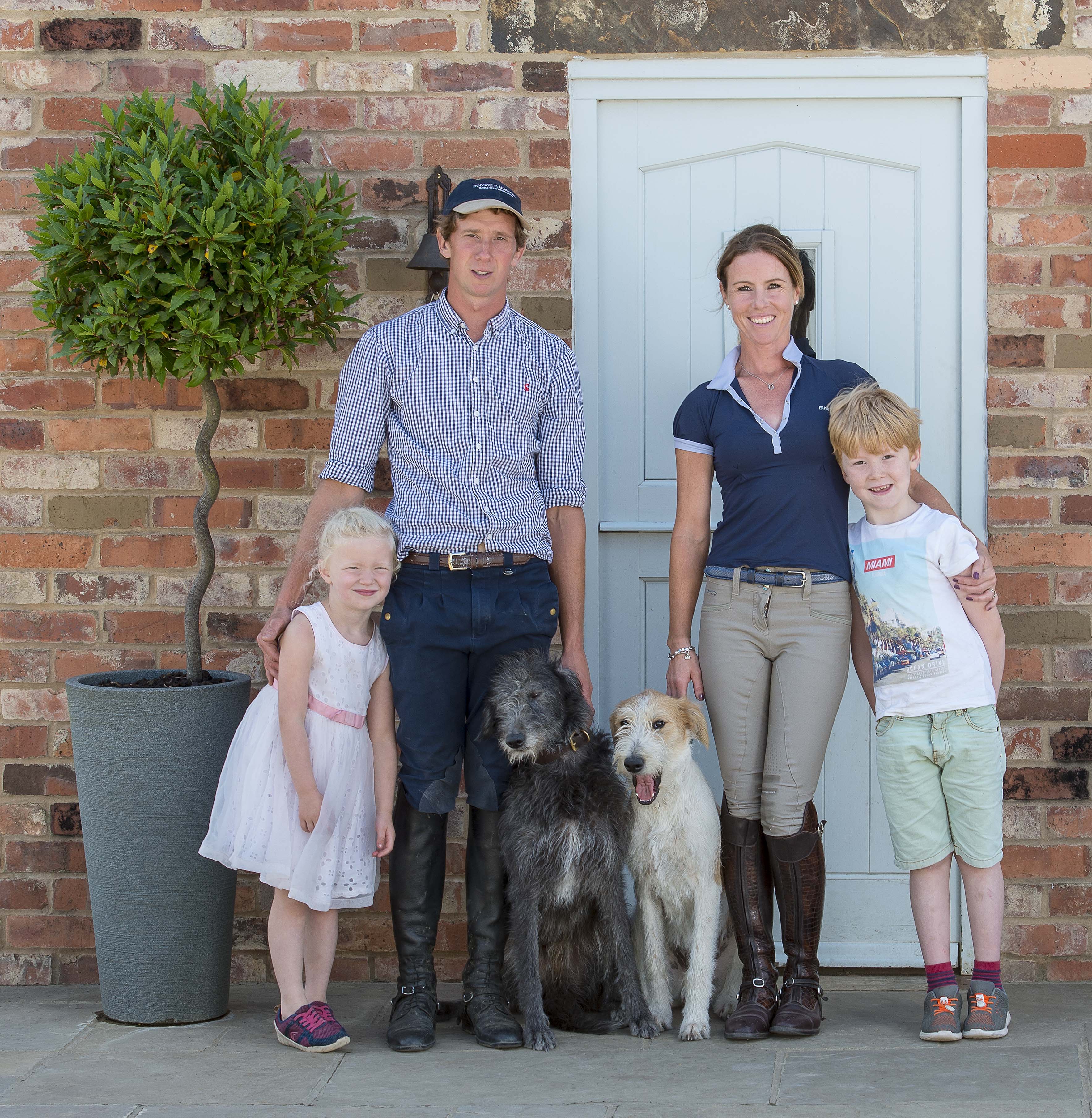 To keep up with these Joneses, you'll need to be a very competent rider indeed, because husband and wife team Richard & Victoria are kept very busy, travelling internationally to compete in the world's top equestrian competitions…
Words: Carissa Smith. Images: Deanne Ward Photography and Julie Priestley.
Keeping up with the Joneses takes on a whole new meaning if you're in Rutland. That's because husband and wife dream team, Richard & Victoria Jones, travel the world and derive the best from their their top flight horses as the owners of Team Jones Equestrian, based in South Luffenham.
We caught up with the family pre-Burghley to find out what drives them to compete in some of the toughest eventing fixtures the world has to offer, like the five-star FEI Burghley Horse Trials.
In recent years, Richard has become known as a top international eventer, being placed in the top ten at Burghley and at Blenheim in 2018. Victoria, meanwhile, is also going from strength to strength, building her international dressage career. Together they make up somewhat of a dream team!
Both Richard and Victoria have grown up around horses and have always had a profound fondness for riding. Unsurprisingly, when we had a chat with Richard he was training a horse as we spoke.
"My mother always carted me around pony clubs when I was younger, and I was a member of the Cottesmore Pony Club, he says. "I have always had a love for horses and for riding first, with the competitive side always coming second. Although I am now becoming a very competitive person given the type of events we're competing in – the stakes are now rather high!"
After leaving school Richard left the county and trained with Dane Rawlins in East Sussex to get a better foundation in dressage – and that's where he met Victoria. The two then moved back to Rutland to set up their own eventing yard at the age of just 20.
Richard currently events successfully up to 5* level and is an accredited UKCC level two coach. Competing prolifically at all levels, Richard's most successful horse of recent years was his super-talented  Highland Ford. Together, Richard and Highland Ford were also selected as reserves for the World Equestrian Games in Normandy, 2014. Richard currently trains no fewer than 12 horses for eventing with his two current top rides being Alfie's Clover and Kilballyboy Bob.
Both horses are exceptional athletes by the thoroughbred sire Tajraasi, that Richard has produced carefully and successfully through the ranks. In 2018, Alfies Clover was placed 7th both at Bramham CCI3* and Burghley CCI4*, whilst Kilballyboy Bob was 4th at Blenheim in his CIC3* debut. The British Equestrian Federation selected Richard as one of five event riders for the UK Sport World Class Podium Potential squad for 2019-2021.
"The past 18 months have been hugely rewarding for myself and Alfies Clover, so to be recognised with a place on the GB long-list is a thrilling outcome as we work towards even greater results," said Richard. "This represents an exciting next chapter and yet another opportunity to represent Great Britain on the international stage, following our selection in January for the World Class Programme Podium Potential eventing squad for 2019-2021."
Victoria also competes very successfully in dressage at Small Tour level both Nationally and Internationally. Additionally, Victoria is a highly skilled dressage coach at all levels, training an array of dressage and event riders.
Victoria has competed for Great Britain as a Junior and Young Rider, including competing at the European championships. After taking a break from dressage to raise two children, Victoria had a fantastic return to competition three years ago with two horses, Tijis H and Wiepke II. Victoria won several events and was selected to compete for Great Britain internationally at Small Tour Level both home and abroad. In 2018, after a change of horsepower Victoria won the Advanced Medium at Bury Farm High Profile on 74.7%.
Victoria now looks after five horses and we have been told that she has some up and coming young superstars waiting in the wings which we will see very soon. Owning and running Lowland Farms is a demanding job and includes a lot of hard work and multi-tasking, Richard tells us; "I am currently training 12 horses for events and riding all day every day…!"
"Now is one of our busiest times but it will quieten in the winter. I currently ride and train up until 2pm most days and then I teach in the afternoons. Teaching is something I enjoy doing and I like to do more of it, in between competing."
A new cross-country training field has been recently added to the facilities at Lowlands to enable training youngsters and established eventers alike. In addition to training on the cross-country field, Lowlands Farm also host regular clinics with some of the UK's leading riders and coaches, including Piggy French, Emilie Chandler, Mark Kyle, and many more.
Sponsored by leading feeds manufacturers Dodson & Horrell, sports photographers Julie Priestly, artist and photographer Deanne Ward, and IBA International media relations consultancy, the Joneses have some great backing, and are reaching stratospheric degrees of success in eventing, making them a great duo to keep up with… if you can!