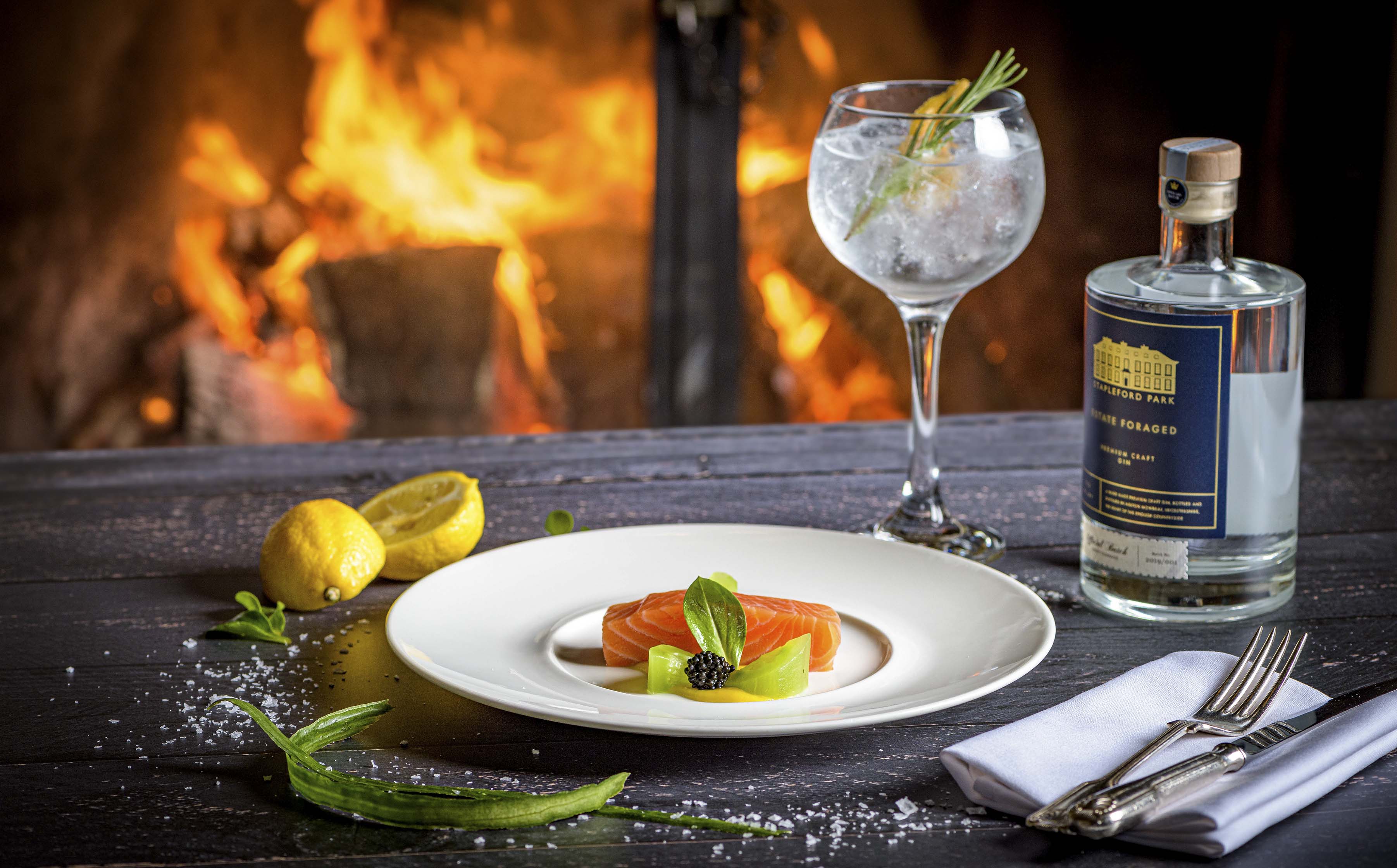 This month Rob Davis begrudgingly shares Stapleford Park with those seeking beautiful dining in an exquisite setting. If there's one New Year's resolution you'll find easy to keep, it's a pledge to visit this 500-acre, four red star, country house hotel…
A little fantasy is harmless. In fact Albert Einstein himself once said that 'fantasy is everything, since imagination is the preview of life's coming attractions.' One particular fantasy I enjoy every time I visit Stapleford Park is the one where I'm returning to my own private country residence, rather than a four-star Grade I listed country house hotel, set in 500 acres of parkland.
Crunching up the gravel driveway through Capability Brown landscaped grounds to the mansion's front door, I imagine it's mine all mine, and that my chauffeur will open the car door and my personal butler will welcome me home and take my top hat (yes… I wear a top hat in all of my fantasies. What of it?).
The reality, unfortunately, is that Stapleford Park is rather more open to the public. Its 55 bedrooms, its Grinling Gibbons dining room and terrific menu, its library, lounge, its private dining rooms, that health spa tucked away in the stables, and its championship golf course are not 'mine all mine' but are in fact, available to anyone fortunate enough to know of its existence.
The place dates back to 1066 with later additions in the 1500s, 1600s, 1700s and 1800s.  It was the home of the Gretton family for much of its life but was purchased by larger than life Chicago born restauranteur and hotelier Bob Payton in 1988.
Deciding that Stapleford rather than his native US city was 'his kind of town,' he relocated and embarked on a huge refurbishment and threw the doors open not just to guests, but to names like Wedgwood, Turnbull & Asser and Crabtree & Evelyn to help with the redecoration. That's in between purchasing the Criterion in Piccadilly and misguidedly attempting to open a chain of fish and chip shops in the states… unsuccessfully, given a transatlantic tendency towards food philistinism.
And so, from the late eighties, yours truly was forced to begrudgingly share Stapleford Park's dining experience and its trappings with other diners.
During the day you'll enjoy the Drawing Room with its – I hate the phrase but it's quite applicable – quintessentially English soft furnishings, huge vases of flowers, mullioned bay window and afternoon teas.
In respect of the latter, there's a dedicated afternoon tea menu with plenty of variation including a children's version, a vegan one and a traditional version with optional Champagne.
During daytime service there's a bar lounge and brunch menu in addition to afternoon teas. Sunday lunch service provides a dedicated menu with beef striploin – not sirloin – duck fat roasties and proper big fat Yorkies.
Private dining takes place in rooms like the vaulted Old Kitchen, with room for 36 diners or the adjacent Billiard Room or Harborough Room for parties of up to 25.
Once you've enjoyed an aperitif and the odd canapé in the library bar, diners are invited through to the Grinling Gibbons dining room. It's named after the Dutch master of wood carving and is suitably grand and comfortable. Evening dining provides guests with a choice of the à la carte menu with seven starters, seven main courses and four desserts. There's also an all singing, all dancing, all amazing tasting menu, too.
With 500 acres surrounding the estate, Head Chef Tony Fitt and his brigade can forage for ingredients like wild garlic and mushrooms. Other local suppliers are used where possible too, from Belvoir Ridge Creamery which supplies Colwick cheese, and Bloomsbury Bakery.
Other local suppliers allied to Stapleford include Brentingby Distillery which has recently allied with the hotel to create a bespoke gin utilising botanicals foraged from  around the estate.
The hotel has also formed a partnership with Maison Gardet and will be launching a bespoke house champagne as Pride goes to press. Something to celebrate, plus an appropriate fizz with which to toast the news.
A little fantasy, then, stirs the spirit, but not as much, we conclude, as a visit to Stapleford. The place itself might be grand but beauty isn't skin deep. Service, the choice and quality of dining and the general feeling of hospitality are all flawless. It really is better than even a furtive imagination's fantasy would suggest.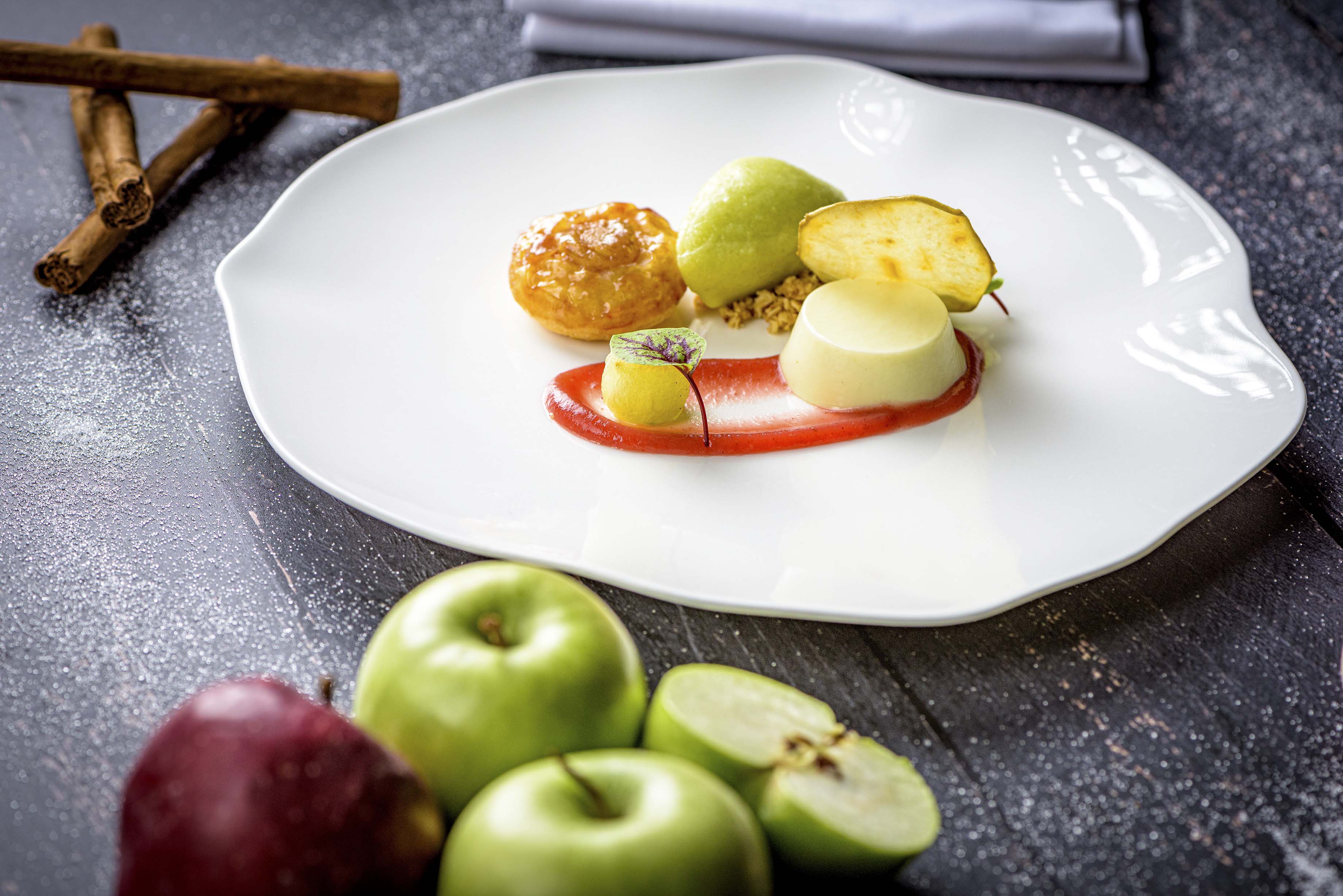 On the Menu…
Starters
Cured salmon, Brentingby gin lemon purée, cucumber and Avruga caviar £11.
Squab pigeon, pancetta, and sweetcorn pearl barley £11.50.
Main Courses
Loin of venison with sloe gin and blackberry glaze, pressed potato, artichoke & parsnips £31.
160g Hereford beef fillet, braised short rib, wild mushrooms and butternut squash £32.
Creedy Carer duck breast with burnt onion purée, pumpkin and spinach £28.
Poached halibut with watercress, mussels and charred leeks £29.50.
Desserts
Assiette of apples from the estate (tartin; sorbet; panna cotta) £11.
Clementine bread pudding, cranberry and white chocolate ice cream £11.
Selection of cheese, £16.
NB: Featured dishes are subject to change.
Stapleford Park Country House Hotel, Stapleford, Melton Mowbray, LE14 2EF. Call 01572 787 000, or see www.staplefordpark.com.