What could be better than an unexpected opportunity to escape for the evening with the present Mrs Davis? How about a great escape to a splendid new dining out recommendation? Visit The Griffin Inn at Irnham before word gets out!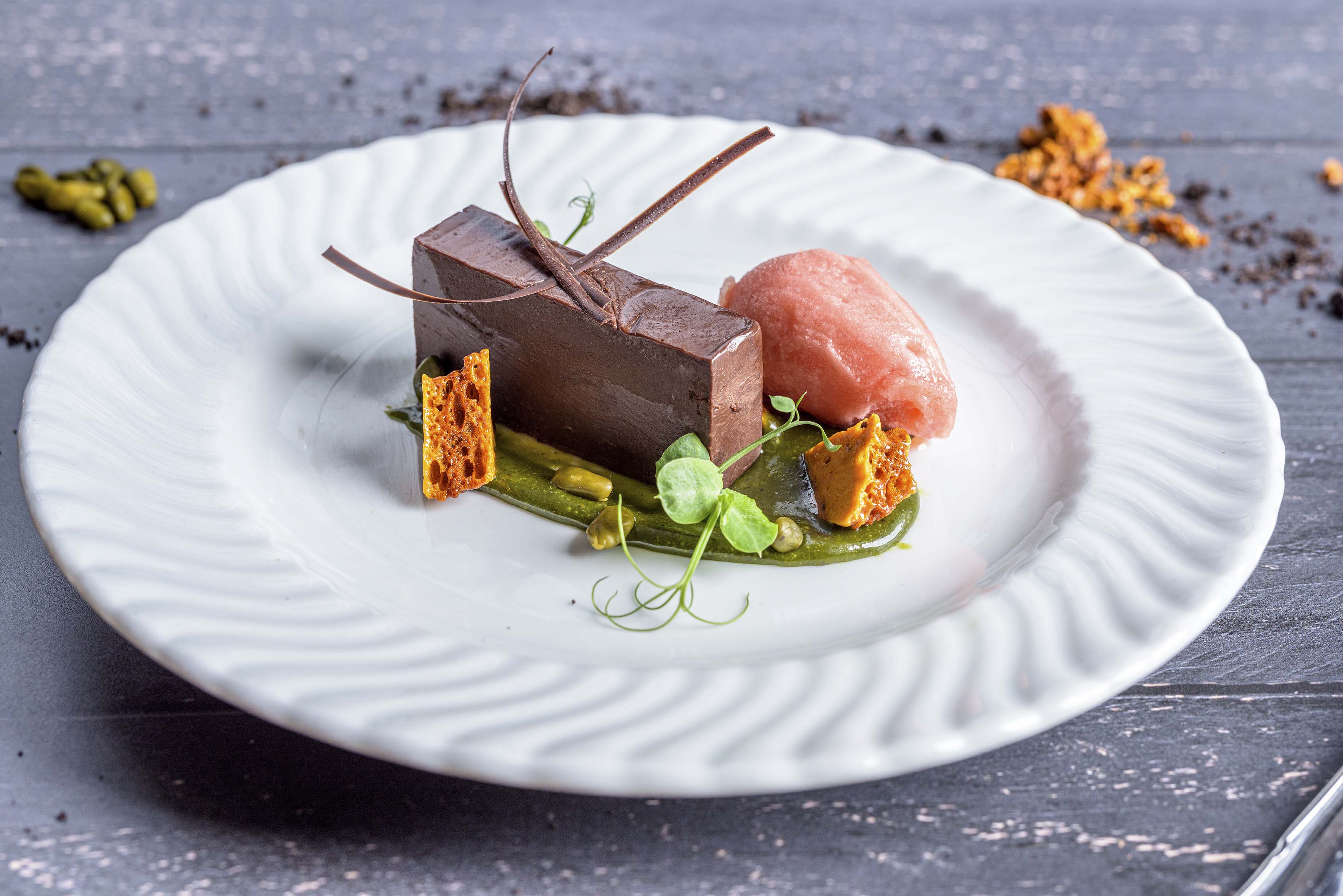 It's The Great Escape! "We're unexpectedly child-free!" said the present Mrs Davis. Flee, quick, before our extemporary babysitter changes their mind. But where to? It's mid-week, it's already dark and I need to pull out of the hat a stellar dining out tip-off quick smart, to make the most of this impromptu date night. This was the perfect opportunity to try the newest pub on the local dining scene… and boy oh boy we weren't disappointed!
The Griffin Inn is a pretty stone pub equidistant between Oakham, Stamford, Bourne, Grantham and Sleaford. It's located in the beautiful stone village of Irnham, a 2,000 acre farming  estate which has been in Sir James Benton-Jones' family for five generations.
Sir James – Jamie – was warned not to try and take on a pub, but happily, he threw caution to the wind. He reasoned that if he's to preserve the Griffin's status of 'pub as a hub' he needed to step in and install a really good chef. This he found in Michael Prescott, previously of the Cholmeley Arms and Belvoir Castle where he served as private chef to the Duke and Duchess of Rutland. Leila, Jamie's wife, was the inspiration behind taking back the pub, and has to be credited with tastefully decorating it while retaining its original charm.  Incidentally she is also doing a brisk trade in weddings at the family's home, Irnham Hall.
Meanwhile, a builder by trade, Jamie enlisted local tradespeople who gave the pub a lick of paint, installed a new commercial kitchen and replaced all of the pub's furnishings, with something new and a little more contemporary creating a really nice rustic dining environment that feels smart and comfortable but relaxed. Two further bedrooms were created making six large ensuite rooms at their disposal.
Together, the Griffin Inn team have done a great job of making the locals feel valued and at home here, while simultaneously offering a warm welcome to all Irnham Hall's wedding guests. This creates a nice 'cozy village pub' feel to the place even if you don't live in the village. But at the same time, Michael has created a great menu which is well-considered, comprising food that tastes great, looks lovely and basically just works well in every respect.
Happily, The Griffin Inn addresses two personal bugbears of mine. I don't like extensive menus. I'm of the opinion that a chef's flair can be measured by their willingness to put as few dishes on a menu as possible, confident that one will still appeal. The evening menu has five starters, six main courses and three desserts – five if you count the extensive homemade ice-cream or sorbet options and cheese board. Lunchtime dining sees just two starters, two main course options and two desserts, for £13.75 or £17.95 for two or three courses respectively. A dedicated lunch menu takes care of Sunday roast for £14.95.
Another aspect of The Griffin Inn I love is the fact that dishes are served on these odd little discs of white porcelain. Not a bread board, slate or a plant pot stuffed with chips in sight. Clever… as though plates were somehow the natural object on which to place food.
Chef Michael comes from a farming family and prior to working for a professional chef, fell in love with food watching his mum cook a Sunday roast. To that end he's as passionate about quality ingredients, as the estate is about high-welfare farming. The estate is already yielding  beef, venison and pheasant, whilst Michael and Jamie have established a garden with herb beds, which they plan to rely on heavily in the future to grow their own produce.
Other suppliers include 30-year old Grimsby-based fish supplier Moorcroft, Bassingthorpe who produce milk from their 200-strong herd in the next village and sustainable veg producer Kale & Damson.
The restaurant's bread, sauces, ice creams, sorbets and the truffles served with coffee are all made by Michael in house… with skill and with passion. Front of house is slick and friendly too, thanks to a team headed up by Michael's wife Natalie. Even Jamie gets behind the bar to pull the odd pint, so your real ale could be served by a bona fide Knight of the Realm!
For a curmudgeonly Editor the wrong side of 40, child-free and with a latent wild side, the  chance of a night out with the missus is a rare treat, and it deserved a decent restaurant.
But to describe The Griffin Inn as merely decent would be a severe understatement on my part. It's a great looking place, with great service and great food, a dining experience executed brilliantly and smartly presented.
Miraculously, for a restaurant and a team so well-reconciled, at the time of writing the place has been open a mere 11 weeks, so it's still relatively unknown. Our advice would be to book in early because, alas, once word gets out, we can see the job of securing a table soon becoming very tricky indeed!
On the Menu…
The Griffin Inn at Irnham
Starters
Confit duck leg, roasted vegetables, sweet potato, port £7.25.
Lemon and ginger tea cured salmon with cucumber and horseradish £6.95.
Main Course
Glazed pork belly, champ mash, apple chutney, crackling and sage £15.95.
Duo of Irnham Estate pheasant breasts, fondant potato, cauliflower textures and blackberries £15.95.
10oz Sirloin steak, (cooked to your liking) roast vine tomatoes, field mushroom, black garlic butter £19.95.
Wild Mushroom and truffle risotto, crumbled feta and herbs £14.95.
Desserts
Cherry and almond tart, berry compote, Amaretto ice cream £2.25.
Chocolate ganache with pistachio, honeycomb and blood orange sorbet £6.25.
Orange and Cointreau Creme Brûlée, Butter Shortbread £5.95.
NB: Featured dishes are subject to change.