Highlights
Say Hello to Rutland's New MP Alicia Kearns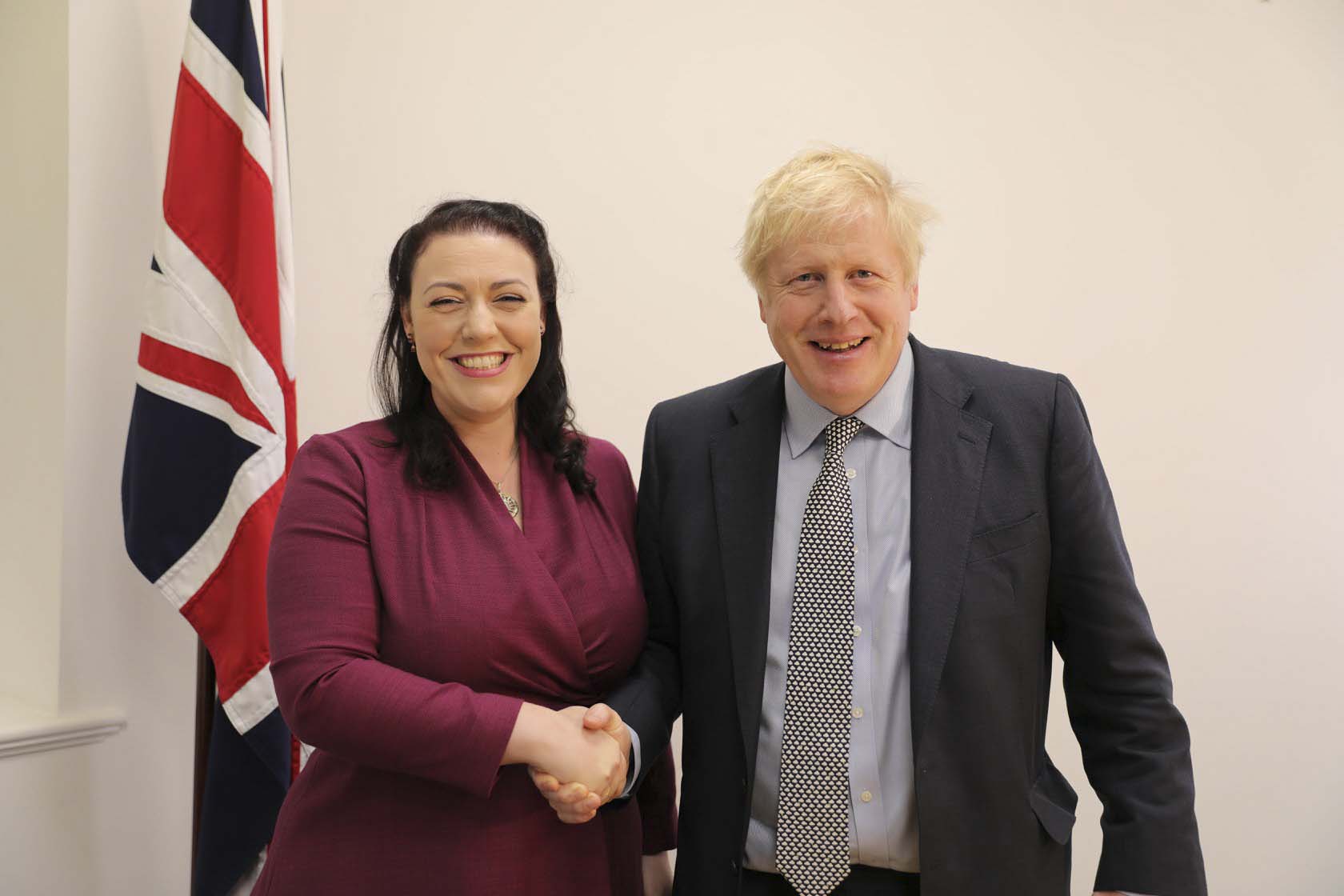 The first day in a new job is always a pretty daunting prospect, but imagine walking into The House of Commons as one of the recent General Election's intake of 106 new Conservative MPs. Imagine doing so, too, following the 27-year legacy of Sir Alan Duncan. Thankfully, Alicia Kearns is up to the challenge and is loving her new role as parliamentary representative for Rutland & Melton…
Do you remember your first day at school? A sprawling labyrinth of classrooms and corridors to negotiate; older kids all much more comfortable with the savoir-faire of timetables and lunch hall etiquette. Perhaps that's what it's like on your first day in the Commons. To know for sure, it's worth having a chat with one of the newest members of the house, Alicia Kearns.
When Sir Alan Duncan decided not to stand in the 2019 General Election, the Rutland & Melton Conservative Association needed a new MP; one to succeed a 27 year legacy of success in one of the 15 safest Tory seats in the UK. You'd have to be pretty brave to step into the role but as Alicia is finding, it's worth the courage.
What was it like stepping into the Chamber for the first time?     
It was indeed like your first day at school… but imagine going to school with the whole world watching you! I was one of 107 new Conservative MPs stepping into the Commons for the first time and with such a decisive victory nationally, and particularly in seats historically held by other parties, there was lots of attention on us. One of your first engagements is to make your maiden speech which should be about eight minutes long and should be about your constituency, your priorities and the work of your predecessor. That was nerve-racking!
When did you start working in Westminster?        
I graduated from Fitzwilliam College in 2009 with a degree in social and political sciences. I worked in crisis communications initially in the private sector then as a civil servant. I joined the MOD to lead the department's response to the Scottish Referendum Campaign, and later the Foreign Office as the Counter-Daesh Unit. I've advised more than 70 governments on how to defeat ISIS and led interventions in Lebanon, Syria, Iraq and across the world, also managing crisis responses during incidents from conflicts in the Middle East issues to prison riots to nuclear leaks in the UK.
How did you become an MP?          
In 2016 I decided that rather than being a civil servant I wanted to move into politics. Working in the civil service you're apolitical, so to commit fully to party politics I left the service.
It takes around a year to become an MP candidate in the Conservative Party and we're slightly different in terms of our processes, in that the party has a Parliamentary Assessment Board which assesses you in a process that's about six hour long following your initial application. You have to pass a number of 'exams' – written ones and also tests of leadership, motivational skills and public speaking.
Successful candidates go onto the Approved List of Parliamentary Candidates Register. When a seat in a constituency becomes vacant, the Local Conservative Association can invite a number of candidates from the list to a local interview and choose their preferred candidate to represent their constituency.
That's what happened when I stood in the 2017 General Election in the traditionally Labour-held London borough constituency of Mitcham & Morden in South London, and in November 2019 when I represented Rutland and Melton.
What experience did you have of the area?
My Great Grandfather was born in Oakham in Rutland, but I'd only ever spent time here on holiday with my husband and son. Having discussed the next steps of my career with my husband we both knew that if I was going to represent an area, I would move there to fully commit to it, and my husband had always hoped I would get the chance to represent Rutland and Melton. The fact that Rutland is such a great place to live made the decision to move to the constituency very easy.
I was invited to the Cattle Market in Melton on Friday 8th November 2019 along with two other candidates to be interviewed by 250 members of the local Association. Voting – and being told the result of that vote – takes place on the same day, so at least you're not left in limbo, and very happily, I was chosen to represent the area.
What happened next?          
Five days after selection I moved to Langham. I started campaigning in the best way I thought, which was to spend as much time as possible speaking to constituents. I hadn't met Sir Alan Duncan when I was selected. I didn't want to come to the area with any preconceptions and thought it was better to hear directly from people on their own doorsteps. He has been good enough to lend me an ear since and he's been really kind and respectful, offering me his experience and advice.
I spent about 10 hours a day speaking to people and the overriding issue of the election was obviously Brexit. Both those who voted to leave and those who wanted to remain just wanted to 'get Brexit done.' I'm delighted with the fact that we've delivered on that pledge.
Were the other priorities?    
Yes, and interestingly those were varied across different areas of the constituency. In Melton for example, the provision of new GP services was a concern. In Rutland the farming community wanted a commitment that they would be supported in a post-Brexit economy. Road safety was also a concern – especially the A1, A606, A607 and A52 routes. Rural crime was an important issue too, and so that set out my local priorities and gave me a really good idea of where my local commitments should be.
How did you feel on election night?
I didn't quite believe it. The whole party had a stonking victory and I was delighted to win a majority of nearly 27,000 votes – 36,500 votes in total and a 62% share. I've always been cautious about polls and by 10pm I realised that it was definitely happening.
Someone asked me if I'd come down from cloud nine… I think I was so cautious about keeping my expectations in check I hadn't allowed myself to even get to cloud nine! I was exhausted, giddy, but delighted and perhaps a bit daunted too. And tired. Very tired, having been running entirely on adrenaline throughout the day!
How did it feel to walk into Parliament?     
I'd been into Parliament a number of times, but this time it was different. Suddenly you feel the weight of responsibility on behalf of your family and your voters. As an MP you also have access to other parts of the estate and to the Chamber itself, and walking into the Commons really brings it all home and gives the place a totally different feel.
What happens as a new MP?           
There's no grace period. The Clerks of the House provide quite a long briefing on parliamentary etiquette, how the Chamber works and the ins and outs of parliamentary procedure. It's by no means a comprehensive guide but enough to stop you embarrassing yourself at least.
There's a New Member's Reception Area in which the House and Independent Parliamentary Standards Authority brief you on things like payment of salary, security, IT equipment, and things like your car parking space. You're also allocated a peg in the cloakroom… just like in school!
All of that takes place on the Sunday, then you've just overnight to get adjusted before you start work on Monday morning!
Where in the parliamentary estate is your office?
Having started work on 13th December I didn't get my office until late January, about the same time as my team joined me. I've two people in Westminster to help with correspondence and three more people who work part time to help in the constituency.
My Westminster office isn't in the oldest part of the building, but it dates back to about 1888. It's a nice old building but not gothic like the Palace of Westminster itself. I must have drawn a short straw because rather unfortunately it's eight minutes exactly from the Commons. Someone has actually timed it and determined it's as far away as it can be located whilst still leaving sufficient time to run to vote in the house when the division bell rings. I didn't realise that running for Parliament was to be taken so literally… I really do have to run, at full pelt, to make it in time.
I've got a nice view of the Thames and I'm lucky to have a window, but the office is definitely not snazzy… there are lots of draughts, even more mice and the whole place is in a bit of a sorry state. My colleague's office, though, was the old photocopying room so we're all in the same boat!
What's it like in the Commons?       
Smaller than it looks on TV and very austere with lots of gothic architecture. There's a definite whiff of old wood covered in beeswax and aged leather. It's a bit like the smell of the inside of a classic car, minus the petrol.
There are all sorts of funny traditions like bobbing… it's faintly ridiculous but you have to bob up and down to try to get the Speaker's attention. There's all sorts of rituals and traditions.
It's important to learn the constituency that each MP represents and to address them as 'The Honourable' or 'The Right Honourable' accordingly… it's a faux pas to get it wrong. It's actually quite difficult to hear your name being called following a successful bob as microphones and speakers can be turned on and off and you almost don't expect to be called to speak amid all the competition for the chance, though the speaker is phenomenally fair.
One other thing about the Commons is that the green leather seats are not very well padded. They're incredibly uncomfortable, especially after sitting on them for hours… I'd advise anyone considering going into politics to bring a cushion!
Do you see much of the Prime Minister?    
Yes, he works among us. But it becomes less surreal as time goes on. The first time he was there in the voting lobby was quite strange but he's very kind and makes conversation and acknowledges you when you walk past. Surprisingly, The House can be quite an egalitarian place and you can quite easily be sitting next to him during a tea break, in which case it's probably wise to offer him one of the good biscuits. But though MPs refer to one another by on first name terms when we're not in the Chamber, he remains the exception and is always referred to as Prime Minister.
What have been your experiences of speaking?     
The maiden speech was quite daunting but I'm getting my feet under the table now and feeling more comfortable with speaking in the Chamber. This week [3rd-7th Feb] I've successfully asked for the Prime Minister's support for a new GP surgery in Oakham, called for a transparent food supply chain post-Brexit and about the importance of support for small and medium-sized food producers too.
What are your priorities now?         
I've an office and a team now, so I can concentrate on maintaining a balance between representing constituents on issues like local healthcare, improvements to the A1 and ensuring our agricultural and food industries are supported post-Brexit, plus there are national and international issues to be involved in, like supporting the Foreign Office in its amazing work and ensuring they're sufficiently focused and equipped.
This year will of course also see us securing a trade deal with the EU and ensure that we continue to negotiate a trade deal that works well for Britain and our European friends.
And away from work?          
I'm really lucky as my husband Jon works in London so he joins me there with our son. Coming back to Rutland each week is real treat, and we're having a lovely time exploring all of the great countryside, shops and restaurants around here.
I love both dogs and cats, and I've fostered cats for Battersea before but I don't have any at the moment as it's not practical given the hours I work, but perhaps in the future I'll give a stray a home in Rutland… shame really; I could do with the talents of a good mouser in London to keep my office from being overrun with mice!
And finally, best and worst bits so far?       
Best? Having the chance to spend time in Rutland and Melton, meeting real people and learning about what I need to do to help improve an already wonderful area. Worst? Nothing so far, it's all been very positive. Although, you're never far from a reminder that constituents come to an MP when they've nowhere else to turn and need help. That's humbling, but it's why I choose this career and its why as MPs we can never let down the people that have entrusted us with their votes.
See www.aliciakearns.com.