The decision to invest in quality is rarely one we regret. And for Rutland designer Zoe Gibson, the creation of a range of high quality belts and buckles ensures her customers enjoy a product which will last for years and become a go-to accessory that doesn't just languish at the back of your wardrobe… buckle up, as we join Zoe as she test drives her autumn and winter collections!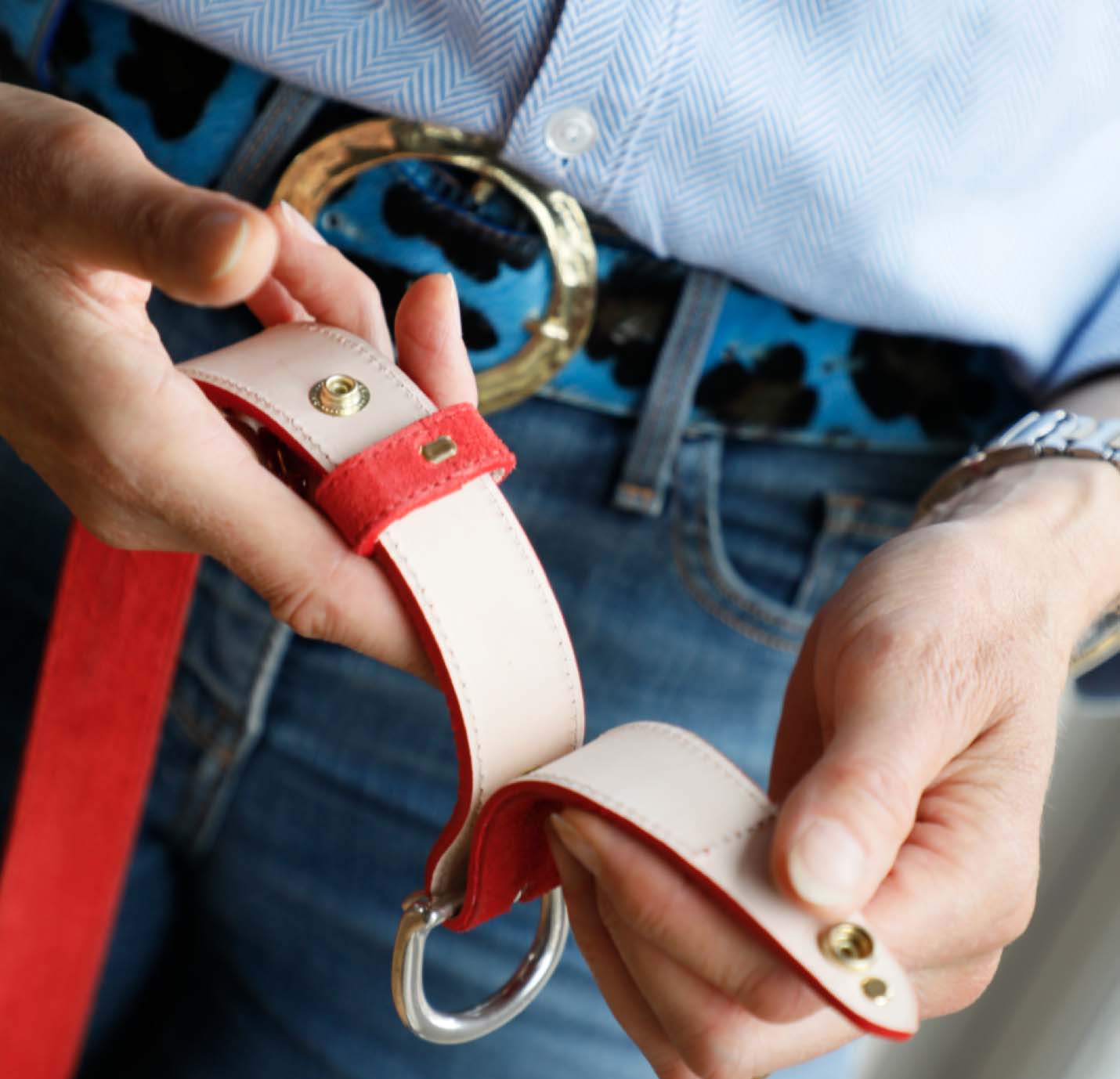 Rutland's Zoe Gibson is buckling up for a test drive. But she's not testing a sports car… Instead, she's trying out a new range of buckles for her leather belts. "It's not just a case of creating something that looks nice," she says. "For me, wearing a potential new design for a couple of days gives you the opportunity to find out how it sits against your body, how heavy it feels and to ensure it doesn't scratch or poke."
The designer and founder of Peachy Belts, has a real appreciation for quality, and cautions that not all leather belts are created the same. However, she also acknowledges the importance of value, and for that reason she has designed and created her own range of belts and buckles which not only look good, but can endure years of wear, with a system that allows buckles to be interchanged.
"I moved to Rutland having lived in Suffolk and then worked in London.  I set up wholesale for the company RM Williams and travelled around the UK."
"Over the years I've learned to spot a product that's made well, using good materials, versus something that looks OK – and perhaps carried a premium price label – but still doesn't represent good value, either because of the quality of the material or the limited wear that you derive from it."
Zoe takes inspiration for her ranges from a number of sources – she'll see something out on a walk in the countryside, gain an idea from fashion magazines or just create from her own imagination and some freehand sketches. Some designs may look good but their practicality has be considered too.
So, as well as wearing potential new designs herself, Zoe also drafts in friends and family to try them out, including her 23 year old daughter Harriet and son Hamish who models the men's belts.
Meanwhile, her idyllic studio, in a converted barn in Knossington is also home to husband Rupert, who is a professional photographer, which proves very handy when producing product shots or when modelling shoots are required to show off new collections!
"When I came to start my own business it had to be predicated on quality and value, which doesn't just mean pricing something at a higher level than other products on the market, it means ensuring that someone will come to depend on that addition to their wardrobe. The more use somebody gets out of something, the better an investment it represents."
"I was always drawn to belts, really for the same reason. These days jeans are worn more often than ever, so a good quality, well-fitting pair is another example of a good value addition to your wardrobe."
"Ordinarily my summer is busy hosting and attending events. These days it's easy to trade online internationally, just from a studio in Rutland, but though that's commercially convenient it's also quite impersonal. Belts are accessories that women like and choose simply on the basis of their appearance, but I've a slightly more forensic interest and I agonise over quality and versatility. Not everyone would want to foster quite such an in-depth consideration as I do, but I hope the result is a product that you'll reach for in your wardrobe time and again and get a lot of wear out of."
"The addition of a really nice-looking, good quality belt can make – or break – the look of a pair of jeans, and it can change your overall look quite dramatically. So, it seemed to me that if you could encourage someone to purchase a couple of really good quality belts, then change their look with versatile interchangeable buckles, then those products could form a new brand built on both quality, and on good value too."
"After a few prototypes, I managed to create a belt system that used a couple of poppers to release the buckle, enabling the overall look of the belt to be changed in less than a minute. The next challenge was to find a supplier of leather that could provide the quality that I was looking for."
"I found that Italy provided the best and most consistent quality of leathers but I wanted to use a UK and ideally local manufacturer.  I have found a great company just 6 miles from home (or in Uppingham) who have produced lovely belts for over 70 years.  There is a huge benefit to talking to the people who produce the belts to ensure that the designs work from a manufacturing perspective, and to check that I am using the right stitch and edge colours for each design."
You'll have heard the expression 'full grain' leather. The term describes the use of the entire thickness of the animal's hide instead of just a 'veneer' of leather from a so-called split-skin product. Also in mass-market fashion operations the phrase chrome-tanning describes a process where chemicals, acids and salts are used to prepare the leather. The eponymous chrome is used because of its ubiquity, speed and cost, but a byproduct is a toxic slurry and a product which can smell 'chemical-ey.'
Instead, Zoe's products employ the artisanal process of vegetable tanning which utilises chestnut, oak, wattle and other naturally derived products to yield a product that's naturally supple, carries with it that beautiful leathery scent and also gains a good-looking patina over time.
"Each process is designed to suit a certain sector of the market," says Zoe. "It would be difficult to achieve the throughput that the fast fashion market needs without the use of quick industrialised processes that chrome tanning utilises."
"But happily, we've the luxury of using a better, but more time-consuming process to make sure that our designs will last longer and achieve real suppleness over time, lasting for years."
There are a remarkable 1,500 different combinations across Zoe's ranges, with a core range of three different widths of belts; her 20mm width range is ideal for small belt loops when you need function to keep your trousers up, to avoid that 'baggy bottom' look.
30mm belts and 40mm belts can accommodate Zoe's interchangeable belt buckles and are designed predominantly for trousers and jeans respectively – though personal preference also plays a part in how prominent the belt itself is. "I also realised that whilst belts are predominantly used for jeans and trousers, they can also be used to improve the way a dress fits, too," Zoe says.
There are roughly 20 colours to choose from in the range, with suedes, plane and embossed leathers that have a crocodile or ostrich print stamped onto the leather – these are extremely popular as they are more interesting than the smooth leathers.  The super shaved cowhide leathers add texture and have a hairy finish.
Zoe's belts are available in two-inch increments, from 22" to 44" in length. Each has seven holes, so Zoe advises a length that allows the wearer to use the middle holes.
"In terms of colour, customers tend to fall into two different groups, those who wear mainly blues / blacks and greys, and those who wear browns / tans / beiges.  Colours that can work on absolutely anything are tan and mink – very useful!"
Zoe has designed around 80 different buckles, with versatile twist or knot designs in a single colour for more or more elaborate designs. There are snowflakes and flowers, some which incorporate gemstones and some which feature Swarovski crystals or pearls.
A recent success has been two-tone mixed-metal buckles which are especially ideal as they can simultaneously suit both silver and gold jewellery.
"A belt is a classic accessory and your eyes are immediately drawn both to the belt and its buckle, rather than the jeans you're wearing," says Zoe. "So quite aside from the practicality of having a really good quality belt that you can style according to where and how you're wearing it, you can also get away with wearing a less expensive pair of jeans and 'dressing them up' with a really good belt, so in that respect, our range represents better value too," says Zoe.
We have also just produced a belt bag, a great solution to my overstuffed back pockets and my loath of carrying a bag!  You can attach it to your belt, wear it across your body or attach a wrist strap, so it's a really useful and attractive item made from the same leathers as my belts.  I love new products that may appeal to my customers… I am just having two really funky dog collars made up for my photo shoot which will be fun!
"I've had some really lovely feedback so far and it's so nice to be able to position myself within the fashion industry in a way that keeps the design process authentic, renders them high quality, and ensures they're a good investment!"
Peachy Belts are available by calling 01664 454994 or online www.peachybelts.co.uk.

Some of Peachy Belts's range.