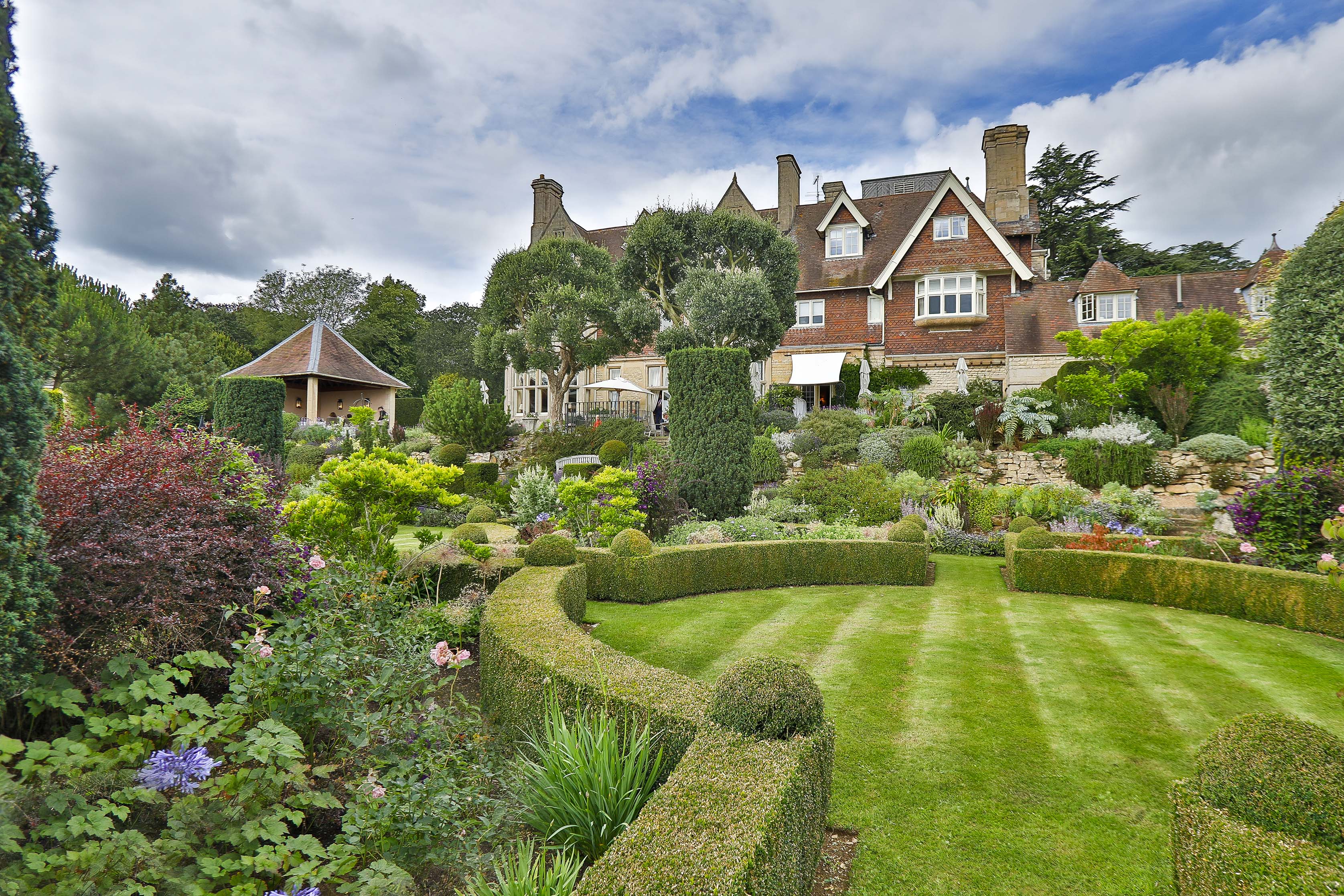 As the country's dining rooms once again open to guests, it would be nothing short of a sin not to visit Hambleton Hall for belated 40th anniversary celebrations. Still a super experience; still eminently welcoming; still offering peerless gastronomy…
It's tricky to write about Hambleton Hall. For a start, residents of Rutland & Stamford would have to have been living under a rock for the past four decades to remain oblivious to its omnipresent reputation. Secondly, there are few superlatives which do justice to the warmth of the welcome, the quality and creativity of the hotel's dining experience or the look and feel of the place. Finally, the hotel counts consistency among the many secrets of its success. And so, unusually within the hospitality profession, there's never a new Head Chef to introduce or new menus to reveal – especially as the menus change on a daily basis anyway.
That doesn't mean that Hambleton Hall is stale, however. The place forever thrives and improves upon its already impeccable reputation and has done so ever since its opening in 1980. On the 1st September my own personal odometer will tick over from 40 years to 41 years of age. Hambleton Hall and I are, in that case, very nearly the same age. Rather like good wine – but unlike good men – the hotel has gently evolved and improved over 40 years, becoming ever more graceful  with the skilful leadership of owners Tim and Stefa Hart alongside folk like Head Chef Aaron Patterson, GM Chris Hurst, Restaurant Director Graeme Matheson and Sommelier Dominique Baduel.
A celebratory lunch on 1st July was due to take place at the hotel so friends, family, staff and alumni could raise a class to Hambleton Hall's milestone. Covid-19 put the kibosh on that, which is a huge shame. Instead I joined Tim Hart for lunch shortly after the hotel reopened, albeit with fewer bedrooms in service and guests upholding social distancing by enjoying their pre-lunch drinks on the terrace.
Tim was sanguine about the necessity of postponing celebrations and assured me that plans for a belated celebration were afoot. Usually when visiting Hambleton Hall it's to cover a social event for the magazine. As such I find myself hovering awkwardly in the corner of the room with a camera, awaiting a gap in conversation, so I can pounce upon some poor unsuspecting group for a photo. Tim & Stefa, meanwhile, are usually found greeting guests, democratically dividing their time equally among them.
It was therefore rare, but joyful, to have the chance to monopolise Tim for a couple of hours to talk about… well, anything and everything really. We did rather put the world to rights… And quite aside from a really enjoyable conversation, on a great many topics, there was the dining experience itself. The view over the water from Hambleton Hall's terrace is super, and the gardens are immaculately tended. Over drinks and amuse bouches diners study a daily changing lunch menu, personalised and presented on a pretty watercolour background.
The hotel's Lunch for Less menu is priced at £34.50 or £43 two/three courses, with two options per course. Meanwhile the à la carte menu, £83 or £103 three/four courses with a choice of four dishes per course.
There's no avoiding the fact that to dine at Hambleton Hall carries a premium, but it also represents excellent value. The price of each dish reflects the huge labour that is invested in their creation. A brigade of 16 chefs is necessary to ensure each dish looks flawless and each intricate element is created with technical proficiency and creative flair.
I enjoyed Ham Hock Raviolo with Parsley Velouté followed by Loin of New Season Launde Farm Lamb. Each plate is delicious, but also saturated with colour; herbs, flowers, ingredients with their vibrant colours all intact… right down to the blush of pink in the raspberry and white chocolate soufflé, my third course.
Aaron grows many elements for the team's dishes in his kitchen garden and bread is created by the hotel's own bakery just down the road. The team is assiduous, too, in sourcing the best ingredients, locally where quality permits, otherwise from places like the Isle of Skye, home to arguably the best twice-dived scallops.
White-glove service from the front of house team is impeccable but really warm and composed. Together with a pretty dining room and the beautifully tended 17 acres of grounds, the entire Hambleton Hall experience is flawless, from first impressions to my doe-eyed burble of post-prandial joy.
40 years in the making and Hambleton Hall can still boast one of the best dining rooms not just in the area, but in the UK. Well done, congratulations to the whole team, and my thanks for a wonderful experience!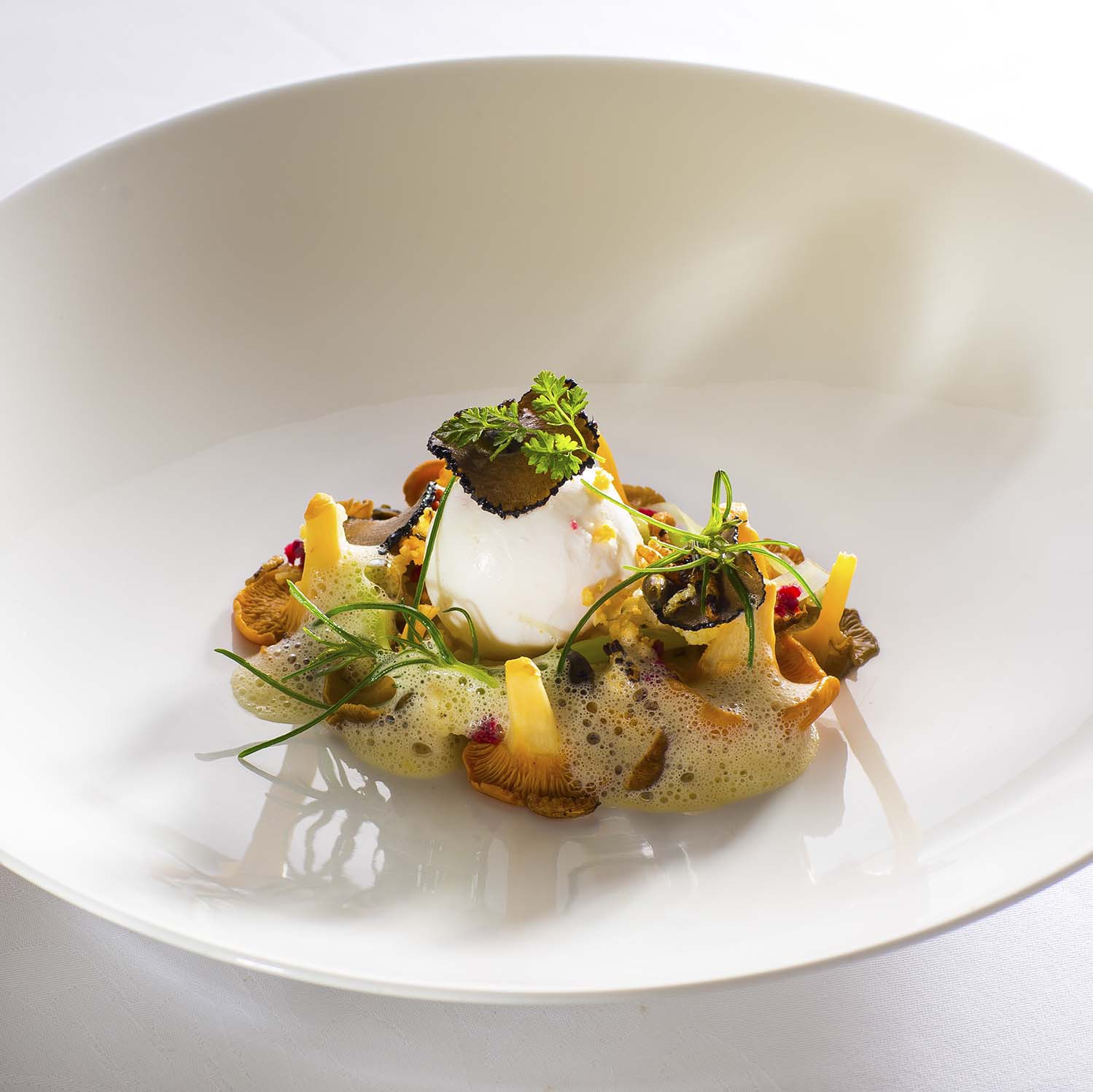 On The Menu
Starters:
Ham hock raviolo with parsley velouté.
Fricassee of girolles with broad beans, Iberico ham and confit egg yolk.
Main Courses:
Roast guinea fowl with pea and mint risotto and grappa sauce.
Poached fillet of sea trout Niçoise, prawns and bouillabaisse sauce.
Loin of new season Launde Farm lamb with rosemary purée, confit garlic and lamb belly.
Roast Merrifield duck with peanut purée, napa cabbage and lime leaf sauce.
Dessert:
Raspberry and white chocolate soufflé.
Lemon tart with rhubarb sorbet.
English strawberries with elderflower and Sablé Breton.
Terrine of peach and raspberry with crème fraiche ice cream.
NB: Featured dishes are subject to change.
• Hambleton Hall is situated on Ketton Road, Oakham LE15 8TH. Call 01572 756991 or see www.hambletonhall.com.