Highlights
A Very Happy Christmas from The Very Revd Chris Dalliston
2020 has been a challenging year for all, and as it approaches its end, Christmas could seem a bit more flat than usual, with fewer of the usual celebrations and a more low-key feeling. But, says the Dean of Peterborough Cathedral, The Very Revd Chris Dalliston, there are many reasons to be positive about 2021 and the hope it can bring. Here, Chris presents his Christmas message to our readers on behalf of the Diocese of Peterborough…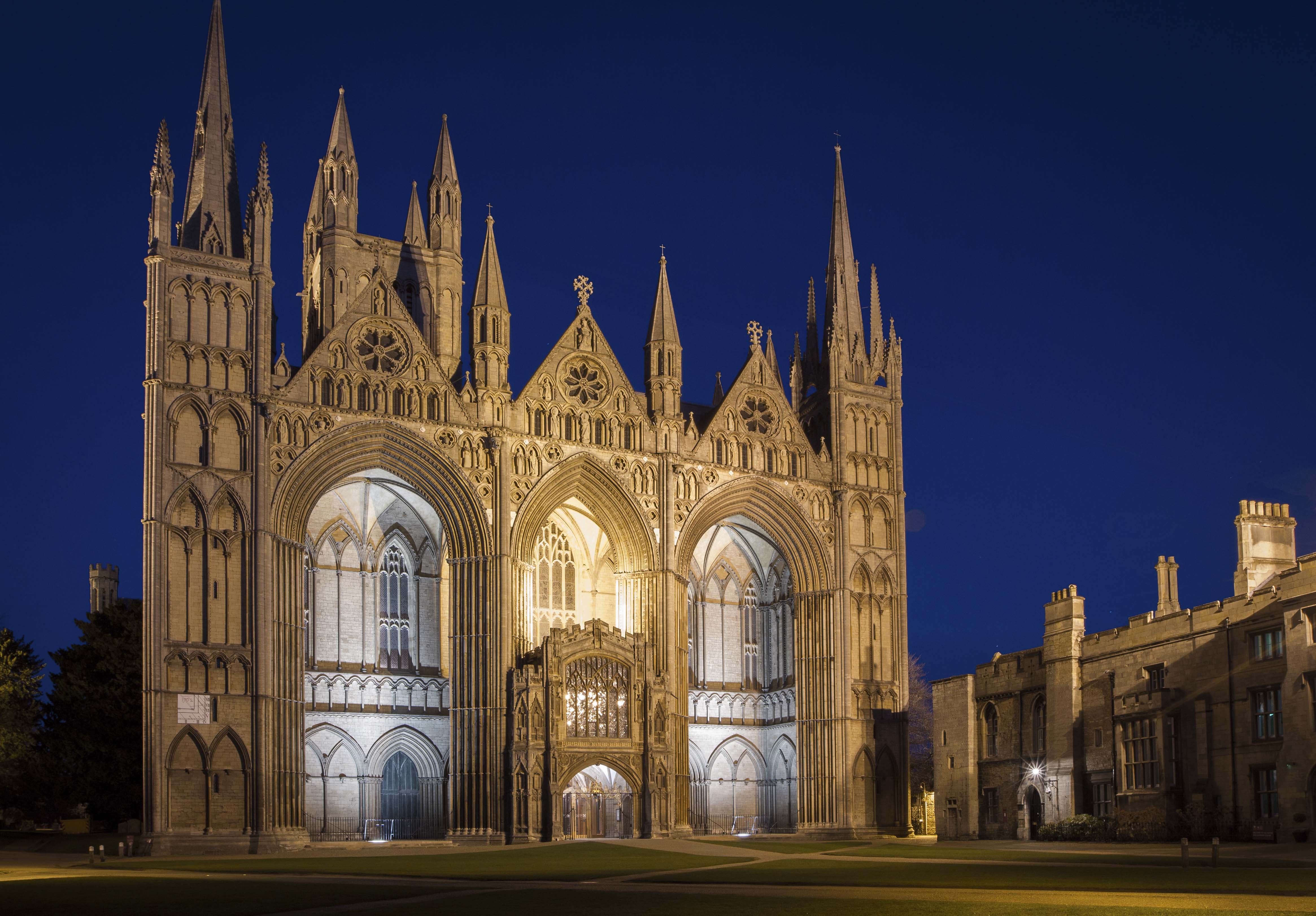 Undoubtedly, 2020 has been a rotten year. Apologies if that seems uncharacteristically pessimistic, but this has been a year of disruption, set to culminate in a festive season lacking the usual joie de vivre. Celebrations will be limited to fewer people than usual and festivities like office parties and New Year's Eve black-tie balls have been curtailed. That doesn't mean, however, we can't find comfort and joy in the festive season, indeed, it could be that with the season set to be less busy than usual, it's a more concentrated celebration of Christmas, with more of the peace and good will, and fewer of the obligations we feel the need to fulfil in the run up to 25th December.
Peterborough Cathedral is the Cathedral church for Rutland, and the Diocese of Peterborough as a whole. It is, of course, usually open for business throughout the year, though like all churches was forced to close at the peak of the pandemic. But over Christmas the building enjoys a special relevance as a place of celebration and joy; ecclesiastical and otherwise.
Similarly, The Church of England is a backdrop against which our lives are set, and even if we're not seen in church as often as we might be, Christian events in the calendar, like Christmas, ensure that the Church can provide a sense of continuity and hope for everyone, regardless of their religious persuasion or even their lack of same… and who doesn't need hope in their lives as we reach the end of 2020?
The Very Revd Chris Dalliston was installed as Dean of Peterborough in January 2018 and for nearly three years, he and his team have worked hard to make the Cathedral as inclusive as possible not just for residents of the city, but for the Diocese as a whole.
You've been at Peterborough Cathedral for nearly three years now?      
Yes. I'm actually an East Anglian by birth, so this is a bit of a homecoming for me. I studied History at Cambridge before I took a job at the Ford Motor Company in 1978.
The role was one of Industrial Relations – it would now be known as Human Resources – but it was certainly an interesting time. It was during a period of industrial unrest, with a lack of unity between workers and management, so it was an interesting time helping to find ways through the conflicts.
Did your faith help?  
Absolutely. I can't remember a time that I didn't have my faith. My parents weren't religious, so it was perhaps the most low-key teenage rebellion that I began going to church. Particularly when I was in Cambridge, I was exploring what my life was going to be like and achieving a growing conviction that I wanted a career helping people. The Church might seem an unlikely next step from Ford, but there are common strands.
I was working with both managers and the workforce and trying to bring an ethical perspective to the environment we were in. It certainly helped me begin to see how people think and react and how good communication can help to make things better.
When did you make the transition to ministry?     
I attended Theological college in Oxford from 1981 to 1984 and was ordained in Chelmsford where I completed a curacy and was then Chaplain to the Bishop. After four years as a parish priest in East London, I spent eight years in Boston before venturing up north to Newcastle as Dean of England's most northerly Cathedral.
There were some really exciting thing happening in Newcastle, it was a flourishing environment and we shaped an exciting project with the Heritage Lottery Fund called Common Ground in Sacred Space. I wasn't looking to leave but I was asked to apply for the position of Dean of Peterborough Cathedral and was installed in January 2018. I was thrilled to come here; to this fabulous Cathedral and a part of the world closer to my roots and heart.
What was the remit of your appointment? 
The Cathedral at the time was in a difficult situation financially. The role of Dean is to lead the Cathedral in delivering the Bishop's ministry, but beyond that the Cathedral can be many things; a heritage attraction, a cultural centre, a place for pilgrims and tourists and of course, above all, a place for prayer and worship.
Above all it's a place for people, but ensuring that people can enjoy it means maintaining the fabric of a very old, very complex building, ensuring that its finances are sound and managing or working alongside not just 50 full and part time members of staff but anything up to 400 volunteers too.
Those people are incredibly important to the building and from working hard in the office to ensuring the gardens continue to look beautiful to helping to lead our worship, each job helps to ensure the future of Peterborough Cathedral as a place for future generations to enjoy… the Cathedral's beating heart is worship but it can fulfil many other roles in the city, and that's why we want as many people as possible to enjoy the building, as often as possible.
What do you love most about the role?      
St John's Gospel makes reference to 'living life in all its fullness,' and that's what the Cathedral and the role is all about; helping to bring people closer to God and make life a celebration. Being around people is always a joy and even amid lockdown we've had one or two weddings that have been deeply meaningful and joyous even with the restriction on numbers.
The Cathedral can also be a playful place as much as a solemn one. In 2018 we hosted Luke Jerram's The Moon and welcomed Tim Peake and the Soyuz Capsule. Then in 2019, 37,000 people visited us to see Gaia, a 1.8m downscaled recreation of the Earth. The Cathedral is a super space for those sorts of exhibitions, they speak of the big issues facing humanity and everyone is able to appreciate them, irrespective of faith.
Christmas is another special time when people recognise the role that the Cathedral can play in celebrating the season, and though things will be a little different this year it will still be a place of comfort and joy.
How will Christmas look this year?  
Magical. One of the joys of the season is that even people who don't consider themselves especially religious, are yearning for meaning and for hope and for peace – and our role is to speak into that need over the festive season.
We'll be hearing our choir performing Christmas carols and anthems, but as a congregation we won't be able to join them and sing along. That's a real shame and I'll miss that greatly, but perhaps we'll be able to hum gently behind our masks!
Christmas time usually sees thousands of people at our various services, but social distancing means that's limited to around 300 people this year. So the building will have a slightly different feel, but we're hosting a greater number of services for fewer people so that as many as possible will be able to experience something of the peace and joy of this season Many people are grieving or exhausted and need to find space to reflect and celebrate.
What do you think Christmas 2020 will teach us?  
I think it'll remind us that we take so much for granted. It'll teach us the value of peace of mind, and make us realise that health and family are more important and more meaningful than all of the preparations and obligations we would otherwise be consumed with. I hope that this year we'll worry a little less about finding the perfect gift and preparing the perfect Christmas Day lunch, and instead just enjoy spending time in each others company; doing less and enjoying more.
What does Christmas look like for you?      
On Christmas Eve we host our daytime and Midnight Mass services. The Cathedral will also welcome visitors to our services on Christmas morning and then our afternoon service too, so I don't stop until about four in the afternoon. Personally, when I was growing up, we had a tradition of not putting up the Christmas tree until 24th December, so that will happen a day or two before Christmas in the Deanery.
Given our other duties (my wife is also a priest in the diocese) our Christmas meal happens a little later than most households, and it's a bit of a feast of two parts as our daughters are both vegetarian. We all enjoy cooking together so both the turkey and the vegetarian options should, I hope, be delicious! After that, like most people I'll be enjoying a little Christmas television – and maybe some board games with  the family around us!
What does 2021 hold for the Cathedral?     
Like many people I hope that it will afford us all a little normality once more. We're planning our January service commemorating the burial of Catherine of Aragon in the Cathedral and later in the year we're planning another very special exhibition. The Cathedral will host T-Rex: The Killer Question in July and August 2021 which is a touring exhibition from the Natural History Museum featuring a life-size animatronic T-Rex, some 12 metres long and five metres tall! That's not something you see in the nave every day!
Also, during the summer months we're hoping to host live music or theatre in the cloister gardens for visitors to enjoy in the fresh air. Our full schedule is yet to be confirmed but we're anticipating a great summer, subject of course to the nation's health. Of course, the Cathedral will continue to host weddings and worship, with the whole community welcome and visitors can continue to enjoy the building's architecture and history throughout the year.
Do you have a Christmas message for readers?      
Part of delivering the Christian message is our care of everyone in our communities, irrespective of faith. We work to support a number of charities, not least those working with the homeless, especially against the backdrop of something as wide-reaching and disruptive as Covid. Now more than ever, we're here to support everyone so we hope you'll join us this season.Even a simple act like lighting a candle in your local church and spending a few quiet minutes in a peaceful space to remember a loved one can provide an enormous sense of comfort.
Any final thoughts?   
I think this Christmas the necessity of protecting ourselves, our loved ones and our communities from Covid may mean celebrations are a little more muted than usual, but we can find comfort in the story of the Birth of Jesus and joy in one another's company.
We can still give thanks and we can be grateful for the chance to enjoy thoughtfully chosen gifts, sharing a festive lunch with all the trimmings and take in a movie on TV or Netflix! Normal service will resume shortly, but in the meantime, deck the hall with boughs of holly pull a cracker, wear a silly paper hat and have a super time!
The Very Revd Chris Dalliston is Dean of Peterborough Cathedral, which welcomes the community during the festive season, for a full programme of music and worship, see www.peterborough-cathedral.org.uk.