It's nearly New Year's Eve, and traditionally this is the time we look at ourselves and wish we were different. But what if we didn't? What if we looked in the mirror and liked what we saw? Emma Beaver is the personal shopper and stylist determined to make sure that people are empowered by their wardrobe, not intimidated by it…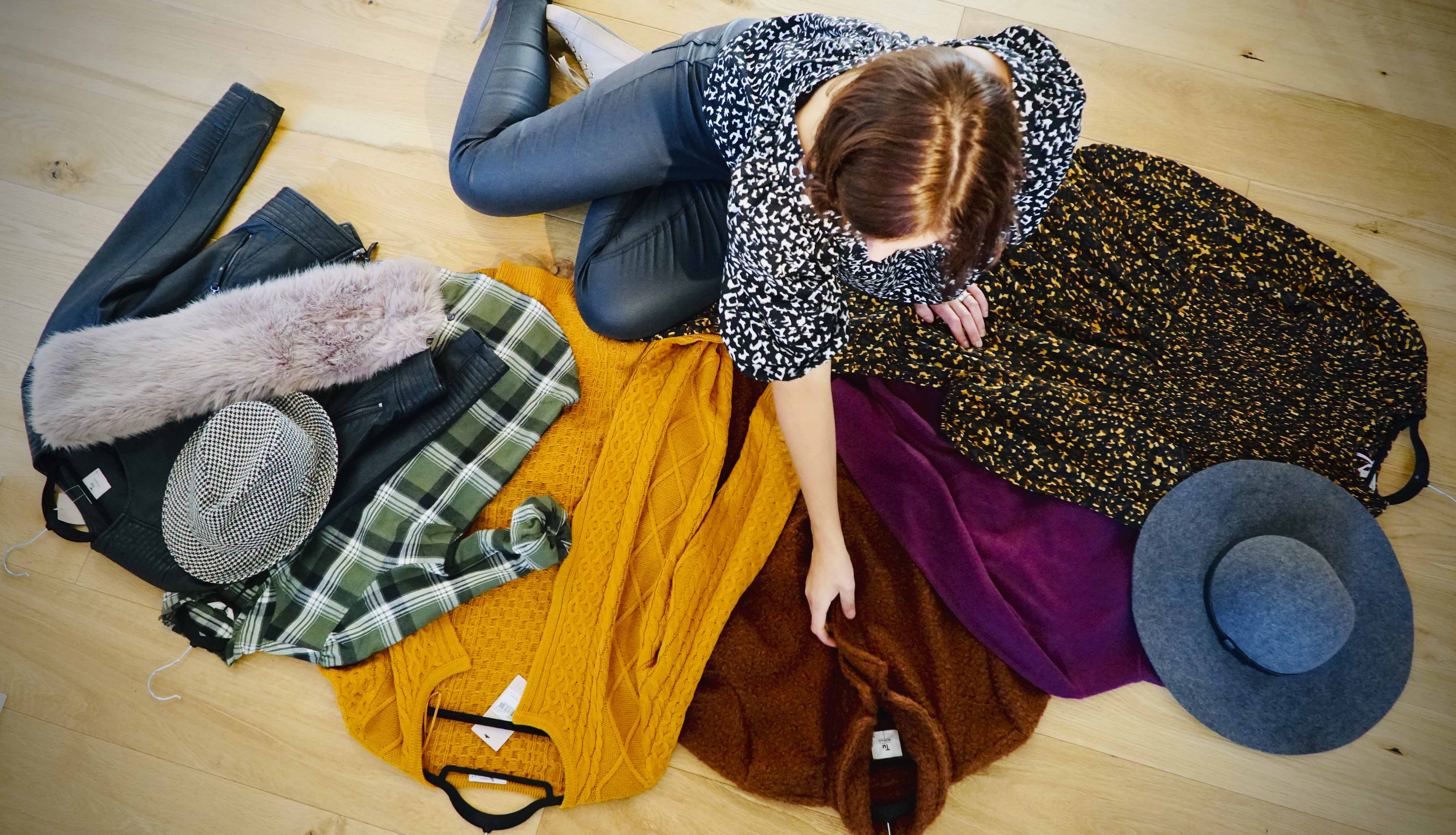 Hands Up if there's something about yourself you'd change. Everyone now has their hands in the air, I'd have thought. Some marketing, after all, is predicated on creating problems to solve. Fine lines and wrinkles? Try this face cream. Lifeless hair? We've a conditioner for that. Looking a bit last season? Here's this season's collection…
That's a cynical position, but only to a certain some degree. Whilst treating ourselves to some decent cosmetics or a trip to the hairdressers or embarking on a shopping spree can be a pleasure, traditionally there's been great pressure on women especially – but everyone generally – to pay attention to their appearance, historically by undermining our confidence in it.
But the fashion world is changing. And now, making people feel bad is a recognisably poor way to market a product. Empowerment replaces intimidation, and nobody exemplifies that more than Emma Beaver, the area's personal shopper and stylist, whose mission statement is to make everyone look good and feel good irrespective of their body or their budget.
What Emma doesn't know about fashion isn't to be known. That's because for over a decade she has worked at the heart of the industry, as a clothing designer and buyer at many different price points with the industry, happily watching the fashion industry slowly becoming more virtuous.
Emma's experience, however, has also ensured she's armed with a working knowledge of the tricks of the trade within the industry, and so she has amassed a wealth of insider information which makes her insight into your wardrobe and the way you shop absolutely invaluable.
So this month, to ensure you feel warm and fuzzy when you open the wardrobe door – instead of deflated and intimidated – who better to ask than the very person who has traditionally been competing for your clothing spend?
What's a fashion stylist?       
It's somebody who can give objective and honest advice to help you dress better, quicker and easier. It's someone who will make you feel good, regardless of body shape or the budget you have available for your wardrobe.
What were your earliest memories of fashion?      
I knew I loved fashion from the age of nine or 10. One of my earlier memories was watching The Clothes Show with my late mum. It was presented by Selina Scott and Jeff Banks, and I remember it seemed very glamorous, with catwalks and models.
It was a programme very much of its time, when fashion was allowed to be elitist and special, with some very severe looking models. Today's market is more characterised by inclusively and the democratisation of fashion, along with concepts like sustainability and ethical production. Nonetheless it did inspire me enough to enrol at the London School of Fashion which was a wonderful experience. I was just a stone's throw from Oxford Street and Bond Street. I was right in the heart of fashion industry… and I loved it!
What was your big break?    
My degree was a four-year course in Fashion Management, and included an education in the role of business and the supply chain in the fashion industry as well as considering the design of our products.
During my sandwich year I worked at Debenhams as a trainee buyer. It was about 2006 and I would work alongside Jasper Conran or John Rocha; huge names in the industry. After that I went to work at Next, which has been one of the most consistently successful and well-regarded retailers across the UK.
A coveted job?          
The recruitment process lasted two days and it was rigorous. There are only 30 or so places which open up each year and there are thousands of applicants not only because the retailer is so big and respected, but because the company is brilliant at educating its team. Next has a 'buying school,' which is essentially a post-graduate on-the-job education at the UK's most successful retailer.
I worked on everything from ladieswear from 2008-2012 to nightwear, beachwear, jewellery, lingerie, and HGS (industry-speak for hats, gloves and scarves!) so I gained a huge amount of experience in all of the main areas of retail fashion and absolutely loved my time there.
Where did you go next?       
I was holding out for a job at Joules because it's a great British brand, I loved their products and their story. Recruitment for the role I wanted was put on hold for a few months so I spent some time working for the George label at Asda, which was interesting because I saw a difference in the approach that a supermarket retailer has to a fashion retailer and I got to experience a different price point in the market. It would be easy to dismiss supermarket fashion as cheap and functional but actually the George brand always strives for quality and it's very well made for its price point.
My persistence paid off though and four months later I was offered the position at Joules that I'd been coveting, and after a short while I became the ladieswear buyer for the brand.
What was that like?  
Again, its was a completely different corporate culture, but every bit as brilliant as I had hoped. Tom Joule and some of his family were involved in the day to day running of the company and there's a real close knit, welcoming feel to the place.
It's less corporate, more like an extended family and it's design-led, where talking about stunning prints and beautiful colour every day for hours on end is very normal! It was really good fun and even as a buyer I had more input into the structure of our ranges, but I also worked alongside some amazing creatives who would look out of the office window, see sheep grazing in the countryside in this wonderful pastoral landscape, and then design the most incredible floral prints.
And then you worked with Yours?  
Yes, a similar-sized company to Joules, it was started in a similar way with one person identifying an opportunity; a local man who was a market trader in his early career and now has the largest market share in the UK for plus-size clothing and 165 shops.
The company specialises in clothing from sizes 16-40 and I spent nearly five really good years there from 2015. It's a really progressive retailer and our 'fit models' were larger than the rest of the industry which gave us a really good insight into how to design ranges which flattered larger busts or fuller figures.
As a company it has always been good at being faithful to its market and serving that market to the best of its ability, with good designs and good quality products. It's a textbook example of what a good retailer should do.
Are plus-size fashions a new industry consideration?        
For a number of years the average dress size in the UK has been 16, but typically the 'fit models' right across the industry are a size 12. The keenness to reflect real-world body shapes and to make people feel good about their bodies is just one way the industry is changing for the better, alongsidesustainability, ethical manufacturing and ensuring quality at every price point.
How are new clothing ranges designed?     
To some extent, new trends trickle down from the catwalks of high-end designers. They can have the longest lead time due the design process and complexity of the garments and the rest of the industry to some degree takes its inspiration from them.
Seasonality, the catwalks and broader trends in consumerism all might influence in terms of the tone and mood of a new collection but industry influences like fabric fairs and yarn fairs – typically taking place in Italy – can also contribute ideas. This is often where the creatives from the top design houses will go to get inspiration for colour or texture. Add these to changes in socio-economics, art, lifestyle etc., and fashion trends are born.
How does a trend become a product?         
Generally a buyer or a designer will identify a commercial opportunity in a trend and a collection is created accordingly. So if a trend for next winter is identified – let's say, mustard colours – the higher price-point manufacturers will follow that trend. After top-end design houses, brands like Zara might have something ready for market in size in four to six weeks after the public sees it on the catwalk; a retailer like Next follows three to six months later and then retailers who target an older customer roughly a year after the trend's catwalk appearance.
Buyers influence designers to create a sort of shopping list for their collection, so a retailer's spring and summer collection might necessitate, for instance, eight long-sleeved dresses, 12 short sleeve dresses and six sleeveless dresses, plus t-shirts, jackets and so on. A number of items are designed by the retailer and these are created in sample forms by the factories that would make them. Next there's a trip to the factory.
What happens there?
Trips to factories are necessary and a fascinating part of a buyer's job. Of the samples in your collection, you'll look at the samples created, tweak the fitting, size and details of each item and 'rack up' your proposed range, negotiating prices as part of the process.
That eventual choice will be made and shipped back to the UK for you to present to your retailer's management and when they're signed off you'll book in your range and give the manufacturers your order.
How many of each item is made?    
That definitely depends on the brand and the price point of each item. Your anticipated best selling pieces might be produced in quantities of 15,000 units, but a 'halo piece' which will feature heavily in the publicity for your range might be produced in quantities of 'just' 3,000.
How much does an item cost to make?       
Taking a shirt as an example for a mid price point high street retailer, manufacturing costs – material and labour – might account for £5-8 of the cost. It'll take another 50p to get that item back to the UK on a boat, plus another 60-90p in duty. China's duty amounts to around 12% for some items, and a few years ago Bangladesh dropped their duty to 0% in order to stimulate growth. Certainly you end up with a shirt in your warehouse for under £10.
Then there is the running of the shops, paying staff, the head office costs, warehousing, distribution, marketing etc., so the actual profit per item sold to the retailer is very small.
But there are economies of scale in the industry. A small independent manufacturer might put in an order for a 500 run of garments whilst Primark might have a 50,000 manufacturing run for some items.
Does expensive mean a better garment?    
Buyers always want to make their clothing last but there's always the pressure of a price point, and the public are aware that quality is always commensurate with a product's price point.
There are more labour-intensive and less labour-intensive ways to make something, better and poorer quality fabrics. That plays a part. But some cheaper clothing is better quality and some expensive brands are poorly made… it's persuasive, but not a hard and fast rule. That's where smart shopping – and my keen eye – can be useful.
What is interesting is that factories usually work for customers across a whole range of price points. In one factory I visited, a supermarket's ranges were being produced on the ground floor, an independently owned High Street fashion firm's products on the second floor and on the top floor, Burberry products were being made. As workers become more skilled at their jobs, they work their way up in the company, literally and in terms of their wage.
Will we always have cheap clothing?          
So-called fast fashion – produced quickly and sold cheaply by retailers such as Primark – is incredibly popular. Consumers will always want cheap clothing no matter how wealthy they are, because we all need a wardrobe of basics for when we're walking the dog or doing the gardening.
But consumers are much more acute as to the implications of international supply chains today and aware of issues like the amount of water needed to manufacture a pair of jeans or the need to ensure fair working practices and living wages. To accommodate those standards there will need to be a slight shift in manufacturers' business models.
We will still have cheap clothing in the future, but my prediction is that fashion from retailers like Primark will rise by a pound or two to ensure ethical practices are maintained.
I use Primark as an example, actually their business practices are good and as a retailer they're popular.
Their products are manufactured very well, especially at the price point they sell at, and on a recent trip into the city I saw people queuing to go into Primark but not to enter John Lewis, which I think says something about its popularity.
What about the ethics of selling fashion?   
Good body image is now recognised across the industry and fashion is rightly seen as something that should empower you and give you confidence, not something you should be judged on. There's no such thing as the wrong shaped body or having too small a budget to look good.
Retailers recognise this but still consumers need to have confidence, especially women. Without being genderist, it's women, for the most part, who still find their confidence can be made or broken by their choice of outfit, which is a shame.
Is that where a stylist comes in?      
Absolutely. There have been books and magazine articles written, TV shows filmed about how to dress… but it's such a personal journey, so emotional and individual, that only a private, one-to-one consultation can work effectively to give someone guidance and inspire confidence.
What does a stylist do?        
There are all sorts of reasons someone might get in touch. Sometimes it's a consultation for a one-off outfit – for a wedding for example – or for a wardrobe refresh, or for the creation of a new capsule wardrobe or a complete style overhaul.
Sometimes there's a trigger. It could be that they've just come out of a relationship, changed their job, the onset of menopause, even… usually it's something that's related to someone's confidence, as much as their wardrobe.
It starts with a phone call and an informal chat, I've a questionnaire too, which I ask my clients to fill in. It usually takes an hour, but it's fun, too. I advise them to sit down and make the time over a glass of wine or a coffee.
After that the service is really personal. I can visit them at home, look through their existing wardrobe, create a 'love this' rail and a dump bin. It usually takes several hours but it's amazing how a fresh look at your wardrobe can help you to rediscover pieces you already have and use them in new ways.
What happens then?
We put a client's wardrobe back together, usually organising it by theme – casual, work, formal – and by colour. From that we can really analyse where there are any gaps in the wardrobe, and together create a shopping list of anything that's missing.
Are there usually fashion 'staples?' 
Everyone is different but a good pair of comfortable, well-made jeans, a white blouse that fits well, nice knitwear and a good coat are items that everyone should have. The secret is knowing how to buy well.
How do you do that?
I've the ability to look at an item with a forensic eye, knowing what stitch has been used, whether there are any weak points in its creation.
You don't have to spend a fortune to choose something of really good quality, but buying well is something that someone with experience of design and manufacturing within the industry can help with.
And you end up saving money?       
Most of the time – especially if I'm doing my job correctly – the cost of my consultation is offset by the fact that together, my client and I can buy better and get more wear from each purchase. You'll be amazed how many unworn items with their labels still on can be found in ladies' wardrobes. I aim to make myself 'cost neutral' and ensure I save clients money in the long run.
Do you shop with clients?    
Most of the time, in fact, I shop alone but on their behalf. I'm quite disciplined so it's a faster way to get around places, clients don't spend their time in changing rooms and I can really focus on what they need.
I always agree a budget with a client beforehand and I always pick up, say, a size 12 and a size 14 for a particular item, sending back the poorer fitting option.
That way they're not under pressure to try things on quickly in a tight changing room which can lead to 'making do' with something.
How much do you aim to purchase?
That depends very much on the client's needs, their budget and their lifestyle. As a rule I think eight pieces plus whatever the client has in their wardrobe already should yield about 18 outfits.
Then it's back to the client's house?
We can try on items in the privacy of a client's own home, which is always a better option, they can see how they look in their mirror with their lighting.
The change in posture as someone tries on an item or a combination is a very telling sign they are happy with how they look and seeing this feels great and is really rewarding. The idea is empowering someone and showing how to make the most of their body and their wardrobe.
Do you also advise on accessories? 
A good belt is crucial, as are items like scarves and jewellery. Handbags tend to be personal, but yes, accessories are important. Underwear is super crucial so that's integral to the whole skill of personal styling, but having worked in the underwear trade at Next, I've a very good eye for a correct fitting bra. Owning two or three really good fitting bras is, again, really important.
What style advice do you have generally?  
We all make impulse purchase and most of us come to regret them. Buy well and buy quality is a good rule of thumb. But above all, nobody ever shows you how to shop, and the only advice most women expose themselves to is the well-meaning opinions of friends who might be more tactful than honest, or glossy magazines.
A professional wardrobe consultation will yield not just better items in your wardrobe, but the confidence to wear them knowing that someone has given advice that's objective, honest and in your interest.
And final words?       
Looking good and feeling confident is not a privilege, it's a right. Irrespective of your body shape or your budget you can – and should – look great and feel great too. And that's exactly what my advice is based on, every single time.
Emma Beaver is the founder of Well Dressed, providing styling and personal shopping services to help you achieve a better wardrobe and dress with more confidence. Emma's services start at £50 (styling for a one-off event) to £150 (for the creation of a capsule wardrobe) or £350 (for a complete style overhaul). Call 07871 274993 or see www.iamwelldressed.com.