If 2020 has shown us anything, it's that heroes working in the NHS are constantly under pressure to deliver world class healthcare and compassion often under extreme circumstances. Artist Tom Croft was acutely aware of the fact, and launched the Portraits for NHS Heroes campaign. Rutland artist Tina Firkins was one of thousands who responded…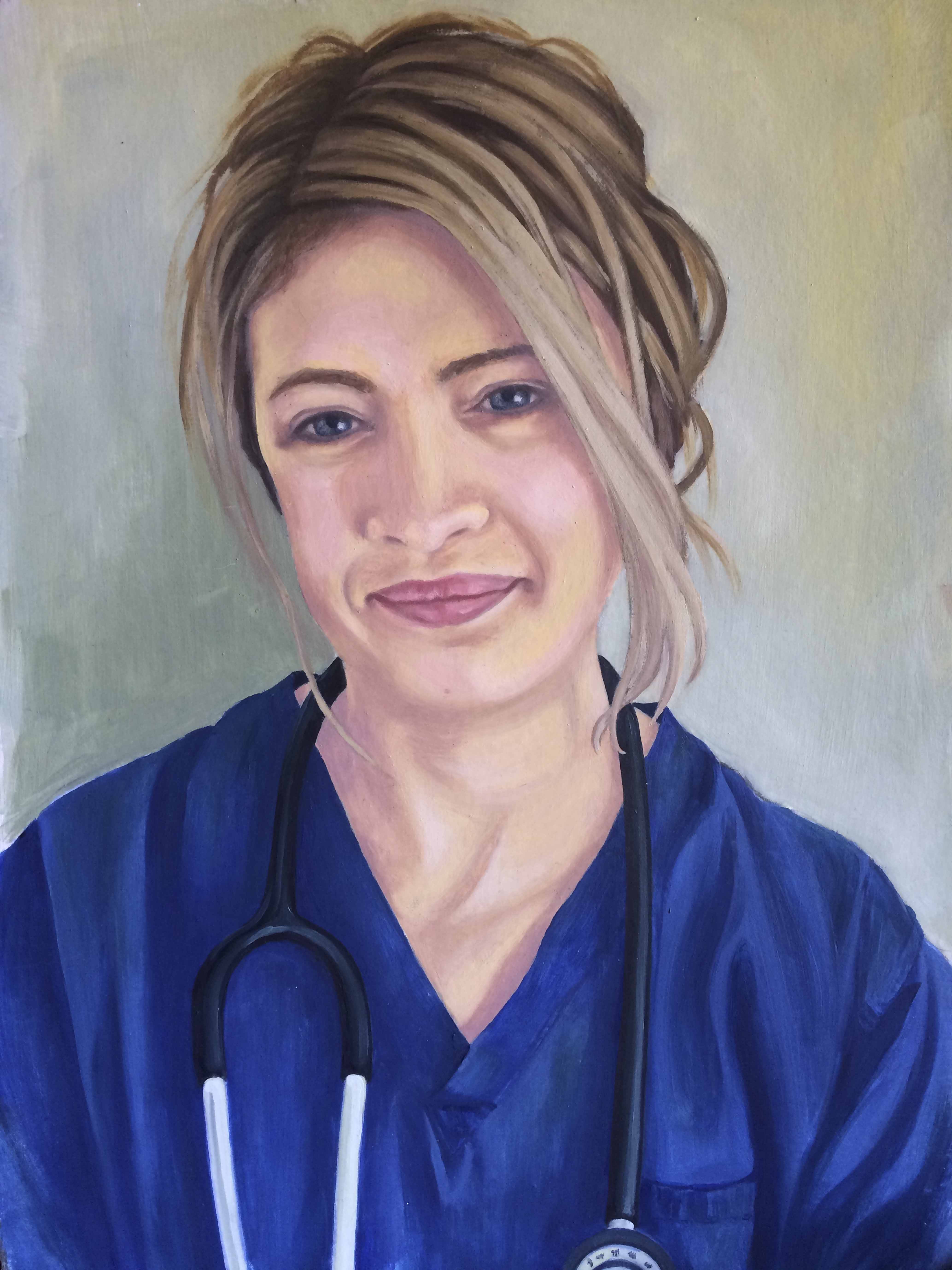 It's Difficult To Find any joy in the difficulties that 2020 presented, but if there's a single glimmer of positivity to come out of a disruptive year, it's the renewed appreciation that the country has for the NHS. Often, when we consider or discuss the NHS, its as a single entity. But the NHS is not an entity in and of itself, but rather a complex, sprawling organisation with, at its extremities, hard-working people. That's why, in March 2020, artist Tom Croft appealed to fellow artists to create portraits of NHS heroes amid Covid to show the faces behind the fight.
One of those artists was Rutland and Stamford's Tina Firkins, whose gratitude for the hard work of individuals in the NHS led her back to a long-time family friend who was delighted to have her portrait painted as part of the project. What Tina did not realise, though, is that the portraits would later be added to a coffee table book comprising 350 images of NHS keyworkers.
"I was raised in Sussex and schooled in Brighton, then at Worthing Art College," says Tina,  speaking from her Rutland home. "Having studied Theatre Design I spent a decade working in regional theatre, as well as London, including productions for the National Theatre and the Royal Opera House."
"Generally I'd paint theatre backdrops using theatre emulsion which is flatter and has higher pigmentation to ensure bold colours under stage lighting. The largest backdrop I created was about 25 metres wide. It was for the stage production of The Rise and Fall of Little Voice and featured black and white images of culturally significant women – Marilyn Monroe; Judy Garland; Billie Holliday."
"We relocated from Sussex in the late 1990s when I became the artist in residence for Northampton's Royal Theatre and my husband Gary worked as a journalist for EMAP in Peterborough. We moved first to Broughton and then to Stamford which was a convenient commute from both locations."
"We moved to Stamford in 2002 and enjoyed 16 happy years there, meeting Becca Burney, whose portrait I would paint for the Portraits for NHS Heroes project and eventually for the book."
"Becca's mum Helen was also a nurse and living opposite the family I came to know them well. Becca was our first babysitter following the birth of our first child Holly in 2002, and we soon came to trust her."
"The whole family has the values of the NHS running through them. They're so kind, caring and hard-working. Becca is really organised and so delightful."
"At the time she was studying in sixth form in Stamford and is now a Senior House Officer at Rotherham General Hospital."
"In recent years I've begun working in the theatre again and I've been commissioned to paint portraits of clients' homes, and to produce work to sell at craft fairs. I've also discovered lino printing and enjoy creating botanical and natural subjects but also local scenes like Fineshade Woods and pretty villages like Morcott and Ketton."
"With an interest in art I also follow portrait artists like Thomas Croft on social media, which was where I first heard about his Portraits for NHS Heroes project."
"The government locked the country down to restrict the spread of Covid in March 2020," says Tom. "As a painter I am used to spending time working alone in my studio so assumed this wouldn't be too much of a change to my normal routine, at least work wise."
"I like some background noise to work along to, so my brain is partially on the process of painting but with some white noise too, to distract me from doubt, so I usually have the radio on."
"Unlike, say, Brexit which totally dominated the news at the time, there were at least other news stories around and live sport, music and theatre to punctuate it. This was one event though, globally, totally relentless, bleak, scary and completely tragic. If we were lucky enough to make it through the physical threat and dangers the economic impact would be devastating for everyone. I listened to too much rolling news to be healthy for me."
"I couldn't find any focus in my work because frankly it seemed completely pointless in the grand scheme of things. I did take some comfort though that I wasn't alone – other artists I spoke to and followed on social media seemed to be struggling in the same way."
"So I thought about it. What is the point of a portrait? It is an artistic representation of somebody, in my case a painting or drawing. Ideally with a good physical likeness. Then if it's a good portrait it can go deeper below the surface and say more about the subject than just a snapshot. Unlike a selfie that is just a split second in time."
"Done well it can be a more considered overview of them as a person and give a sense of the essence of who they really are. Character and personality can all be captured or referenced in a successful portrait."
"In the past portraits have been seen as a status symbol, or produced to celebrate  someone, mark some significant achievements, milestones and potentially to elevate that person in the eyes of others."
"A portrait is a permanent physical record of someone's existence. It also immortalises people, as the portraits are likely to last far longer than the subjects."
"So who should be immortalised today? The people who line the walls of galleries and have future generations look back on are the people who really made a difference and stepped up, in our latest darkest hour."
"The people who put self interest and self preservation to one side and literally risked their lives knowingly on a daily basis for our well being. The NHS workers. Absolutely."
"So I posted a video on Instagram saying I would like to paint a free portrait to the first NHS Key Worker to contact me."
Tom was inundated with requests from NHS workers touched by the offer. He appealed for other portrait artists to contribute to an online exhibition which would eventually comprise nearly 800 different portraits. One of the artists keen to contribute was Tina, who had the perfect subject in mind.
"For a milestone birthday I was celebrating, I had booked myself onto a portraiture course," says Tina. "That was cancelled which was a shame as I was really looking forward to working in oils and to learning portraiture. Instead I decided to contact Becca and ask if I could paint her to contribute to the project and happily she love the idea."
"Becca sent me a few photos to work from. There were some with PPE on and others without. I wanted to paint the face behind the mask so that Becca's personality could come through, but I liked that in the image I chose to work from she was wearing her scrubs and had her stethoscope around her neck."
"I created a few preliminary pencil sketches over the course of about three hours and then started work in late April. I think I've put about 50 hours into the portrait in total, but over about a month or so."
"On one day I painted all day. I was home schooling at the time so to dedicate that much time to it in a single sitting was unusual but I was 'in the zone' and I was working on Becca's mouth which I really wanted to get just right. The eyes were the hardest part and I think I painted them several times."
"The Healthcare Heroes exhibition went live in the summer and is still visible via the Google Arts & Culture website (at artsand culture.google.com/project/healthcare-heroes)."
But unexpectedly in August I was told that my portrait of Becca has been selected for inclusion in a new book that would feature about 350 of the images in the exhibition."
"I was absolutely thrilled and when the book was published on 12th November both Becca and I were so proud that she has been included! We should all take pride in all of the NHS's brilliant and professional people," says Tina.
"It's a collective effort of many individuals and sadly some of those who have had their portraits painted and are included in the book have since died of Covid, so to put faces to names and to show the very people on the front like, caring for us all is, I think, so very important."
Find Out More: Tina Firkins is a Rutland and Stamford based artist who is currently accepting commissions for portraits (www.tinafirkins.co.uk, tina@tinafirkins.co.uk, 07903 720097). Tina's oil-based portrait of NHS keyworker Dr Becca Burney of Stamford can be seen in the Portraits for NHS Heroes book, published by Bloomsbury which will raise money for NHS Charities Together. It's available in hardback at www.bloomsbury.com, for £22.50 and comprises 350 portraits, with 224 pages.