Dance your winter blues away with Strictly Come Dancing champion siblings, Kevin and Joanne Clifton for a lovely evening of song, dance and memories!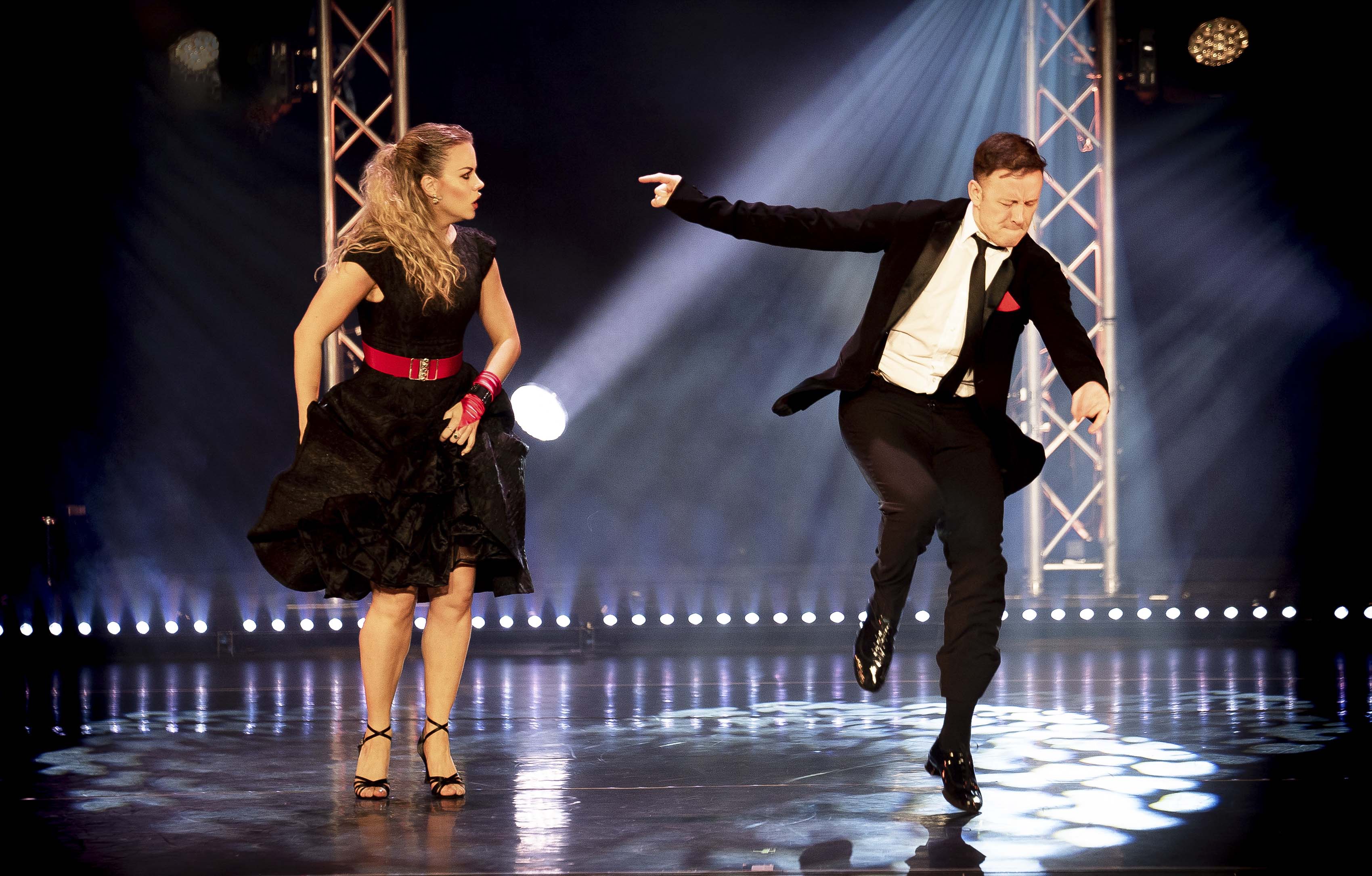 Sibling Rivalry? Well, not quite, but the friendly competitiveness of brother and sister dancers Kevin and Joanne Clifton is at least enough to provide a sparky dynamic for an evening of song, dance and laughter. You'll know both dancers from the flagship BBC programme Strictly Come Dancing.
Kevin's dancing career began long before he found fame on Strictly. Known by Brucie as Kevin from Grimsby, he did indeed grow up in the Lincolnshire town, born to ballroom dancing world champions Keith and Judy Clifton. Kevin was Youth World Number One then four-time British Latin champion, and upon his retirement from competitive dance in 2007, he was ranked the seventh best dancer in the world.
In 2010, he shimmied into musical theatre, appearing in Dirty Dancing The Musical,   where he enjoyed steady work prior to auditioning for Strictly in Series 11. Kevin would go on to dance on the show from series 11 to 17, lifting the glitter ball and taking first place with partner Stacey Dooley in his penultimate series.
Joanne is the younger sibling by just a year, and has been a British Champion five times as well as a Professional Ballroom European Champion in 2012 and Professional World Dancesport Games Champion in 2013. Around the millennium, Karen moved to Bologna to train with Italy's largest dance school, Team Diablo.
After working with Kevin for the Burn the Floor Dance Company in 2014 she also turned to musical theatre and played the titular role of Millie in Thoroughly Modern Millie as well as Alex Owens in Flashdance and the eponymous Marilyn Monroe in Norma Jean the Musical.
Karen began joined the professional dancers of Strictly for series 12 and 14, meaning a few nailbiting nights for Keith and Judy. But what of the two siblings themselves, and rivalry…?
Tell us about the Show…      
Kevin: Well, we're heading out on a new tour that's been specially devised and produced for a socially distanced audience. It's called An Evening With Kevin and Joanne Clifton and it's unique as it features a brother and sister with a bit of sparky sibling rivalry – all good natured – adding to the fun.
Joanne: We were originally due to tour together for the first time earlier this year in the world's leading ballroom show, Burn the Floor. but unfortunately, due to the Coronavirus pandemic, the tour was unable to go ahead. That tour has been successfully rescheduled to 2021, but Kevin will now be headlining it without his sister, as my prior commitments mean I'm no longer available.
Have you worked together before? 
Kevin: We have danced together before, right from being small children. Hailing from a successful dancing family – mum and dad are former World Champions – we've numerous competitive Ballroom and Latin dance accolades between us including World Champion, British Champion, European Champion, and International Open titles.
Joanne: We have also both lifted the highly sought-after glitter ball trophy on the hit BBC show Strictly Come Dancing; Kevin won in 2018 with Stacey Dooley, and I won in 2016 with TV presenter Ore Oduba. An Evening With will give audiences a glimpse into the our dancing lives, from young children growing up in a dancing family, to the successful performers we are today. It will, of course, also serve as a bit of a reflection of our time on the show!
How did the idea of a show in front of a socially-distanced audience come about?        
Kevin: Our producers stayed optimistic the whole time throughout lockdown. Rather than bin our current show – Burn the Floor – altogether, they kept following the guidelines with an attitude of 'what can we do?' When it became possible, it just became about making sure it was safe and everything was in place for a tour to happen. Me and Joanne jumped at the chance to get out there again.
Joanne: Kevin and I have always wanted to do a show together, so it was such a shame that we couldn't do the big tour this year. We recorded an album together, so I think the producers were like 'well, let's do a mini tour with all the songs from the album on etc!' and we jumped at the chance.
Are you excited about the tour and what are you looking forward to most about it?     
Kevin: I'm just so excited to be back in a theatre with an audience. It's the energy created between performers and the audience that I get such a buzz out of. I did my first 'in-person' audition since lockdown for another musical a few weeks ago and it really hit home how much I've missed performing with, and for, other people.
Joanne: So incredibly excited! I think just getting in front of an audience again, albeit socially distanced, just the thrill of it and with my brother!
What can the audience expect from the show?      
Kevin: This year me and my sister made an album of songs from Burn The Floor, past and present, so think of this like an album tour. It will be a more intimate show with us singing songs from the show, dancing, telling stories from our careers and taking questions from the audience.
Joanne: There'll be songs from our album, stories and dances. We have our dance partners too (we'll be a bubble), so we'll be doing dances separately and together.
How did you feel when Burn The Floor 2020 tour had to be postponed? 
Kevin: We've wanted to do a show together for so long. Obviously the 2020 Burn the Floor tour was supposed to be that show, but Covid put a stop to that! We were mid-rehearsals when lockdown started, so we were all in great shape and raring to go. The show was shaping up to be incredible with a lot of new choreography and ideas, so obviously I was gutted when we found out it would have to be delayed. But as things stand we are going out next spring, although Joanne is already committed to something else, so unfortunately she can't do it. That's why 'An Evening with…' will  be so special, as we may never get to tour together again.
Joanne: I was so gutted. The show was ready! It was the first time I got my passion for ballroom dancing back in an extremely long time, and the cast were incredible! I was so looking forward to it. Unfortunately, I already have some commitments for next year which means I can't do it.
What impact has Covid had on you?
Kevin: We all miss performing and producing live shows and it is great to be able to get back on stage. But we also know people's health and safety is paramount. Myself, Joanne and our producers feel a responsibility to the theatre industry to help rebuild audience confidence, so that one day theatres will be full again.
Joanne: Hopefully it will be the perfect show to lift people's spirits, too… both after a long chilly winters and after Covid. We'll be singing songs from our CD, sharing stories of our dancing lives, and performing some favourite ballroom and Latin dances with their professional partners. It's a lovely 'feel good' show!
And it's a great way to support a local venue?       
Kevin: Yes. We feel this is a great way to support The Curve, but also venues across the country, as well as provide work for freelancers from the theatre industry who have had limited support. The aim is to boost audience confidence levels so that they feel safe to come to a theatre and watch live shows again. It also gives venues the opportunity to perfect safe social distancing measures.
What are your earliest memories of dancing?        
Kevin: Our first competition when we were really young. We were the only ones in our age group, but we were too scared to dance on our own so they had to bring an older couple onto the floor. When they gave us a first placed trophy we thought we had beaten them!
Joanne: We have a video of our very first competition! Four and five years old. We won! But we were the only ones in it. We were so proud of ourselves.
Were you competitive siblings when you were younger and if so, are you still now?     
Kevin: It's funny, when we were younger I was really competitive and Jo was very passive. Now it's switched the other way. Jo is super competitive and I'm a lot more chilled.
Joanne: We've swapped! Kevin was so competitive as a child and I was so laid back! Now it's me! That's why I loved it when I beat him on Strictly!
Why are shows like Strictly so captivating?
Kevin: The greatest thing for me about Strictly is having the chance to inspire other people to dance and get involved in what I have dedicated my life to. I get enormous pleasure out of watching the celebrities improve and love the dancing. Also, getting messages from people watching the show saying how they have been inspired to take up dancing.
How intense is it, training the non-professionals?
Joanne: The training can be very demanding physically, but also emotionally. They are putting themselves out there in front of 10 million people, live, every weekend, well outside of their comfort zones and I applaud them for it. Although it can be very enjoyable it's not easy for them at all.
We are working seven days a week on Strictly. Four of those days are taken up with training the celeb to get the routine together, then there's rehearsal day at the studio, a live show day and then choreography day… if you make it through to the next week!
Strictly Theatre Co., presents An Evening with Kevin & Joanne Clifton on Monday 8th February, at The Curve, Leicester. Tickets £10-£35, call 0116 242 3595 or see www.curveonline.co.uk.