For Kay Johns, home is where the heart is… or rather, where the art is. From her studio in the village of Threekingham near Bourne, Kay and husband David delight in taking their work on the road, even if 2020 was a little bit different…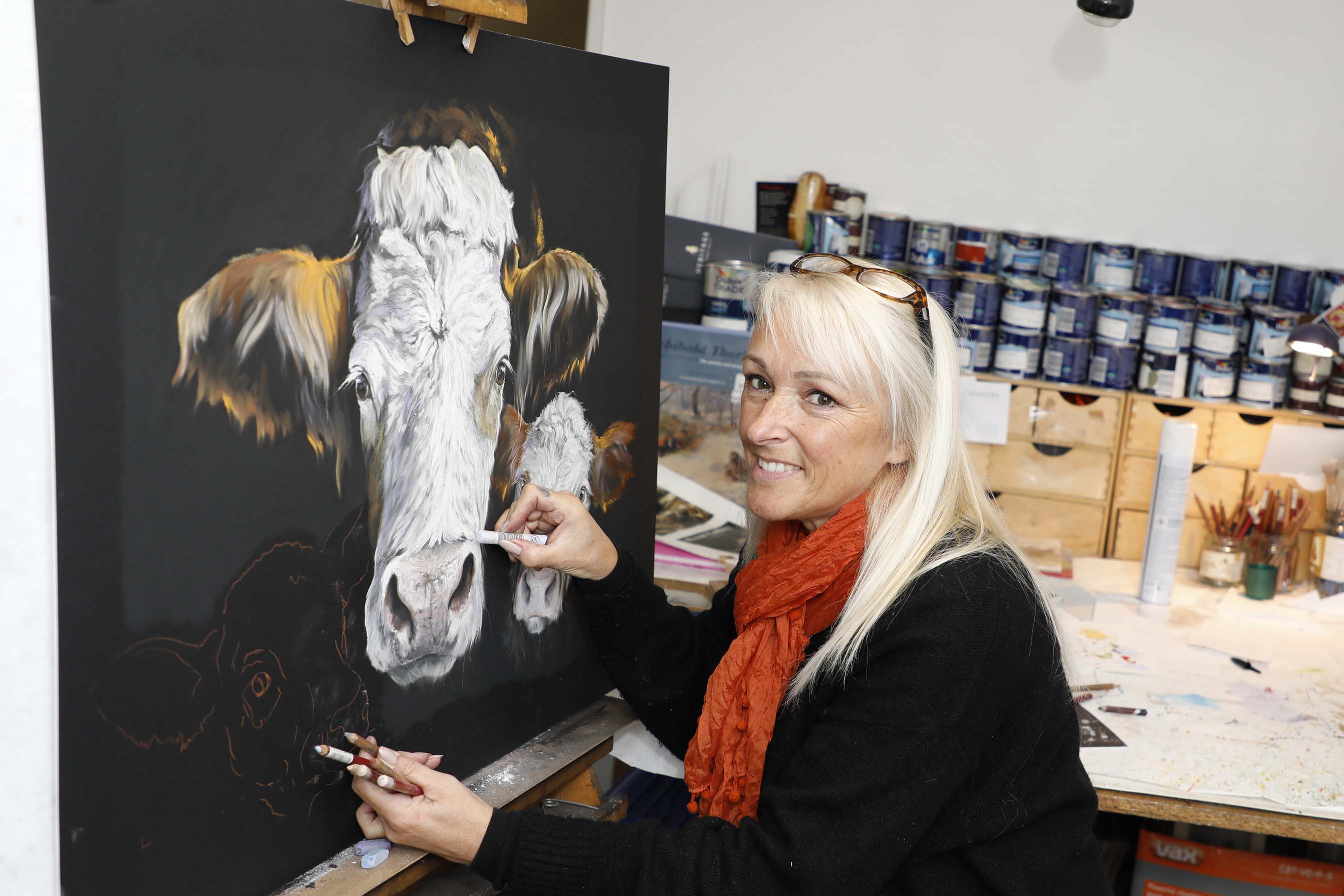 "I'm really obsessed," says Kay Johns. "Honestly, I'd go crazy if I didn't paint every day." We're in her studio on the first floor of her farmhouse, as she works on another canvas.
It's a misty old morning, but that lovely flat diffused light is ideal for painting… which is why husband David and I have to drag Kay, kicking and screaming, from her easel to have a chat!
Prior to my untimely interruption Kay was face-to-face with a mouse… not in the house, thankfully, but on the canvas. Kay's work almost entirely consists of the kind of British wildlife we know and love; hares, foxes, pheasants, mice… though the odd jungle animal has wandered past Threekingham in recent years, affording Kay the chance to paint elephants and giraffes as they graze the Serengeti-like landscape of Sempringham fen.
Her work is utterly magical, absolutely full of character and an unequivocal joy to look at. I'm no expert and I'm certainly no artist but I have spent a good deal of time puzzling over what makes Kay's work so instantly likeable.
All I can conclude is that quite beyond the technical quality of her work, Kay has an uncanny knack of understanding the subject anatomically and appreciating each animal's character.
"Any artist that tells you they don't research an animal's physiology online is probably a fibber," says Kay. "But the best source material for an artist is observing an animal for yourself in its natural habitat. We go on lots of country walks, and I find myself just watching each creature's mannerism."
"I don't work from a photograph, I take a creature and imagine it in a setting, giving each one an expression that's commensurate with its character. If something about an animal's position or expression isn't right, you'll know it. You might not necessarily see what's wrong, but you'll know that something isn't quite right."
"Even subjects like dogs are so different from breed to breed that it's important to observe and understand their character. A Spaniel might look explosive; a Labrador might look faithful; a Dachshund might look highly strung."
"If you don't capture that, you haven't done your subject justice," she adds.
Ordinarily you'll find both Kay and David pretty elusive, since their specialism is taking Kay's art on the road. Happily they've been a little more available this year to those in the county, and have been able to enjoy raising Kay's profile right here in Lincolnshire instead of doing so outside the county at the 40-odd shows they attend each year.
Ordinarily Kay reveals a new collection every January, and has recently created a range of greeting cards including Valentine and Mothers Day cards. This year though, she's planning to release new artwork throughout the year, creating a compelling reason for regularly checking her website.
David left the RAF in 2005 to take over his parent's business, selling artwork at country shows and craft fairs. Kay meanwhile had always enjoyed painting but instead threw her creativity behind upcycling furniture. Their eyes met across a crowded showground where both were exhibiting – separately – and the rest is history.
The two worked together selling artwork from other artists but when Kay's work started to make an appearance in the marquees they set up, she soon became the flagship 'artist patron.'
Today, the two exhibit at Agricultural Shows and Game Fairs throughout the UK for eight months of the year and now have two units; a Mercedes Actros and a Mercedes Atego lorry – the former an 18 tonne unit purpose-built for the couple by Mercedes – with the couple's 40ft windproof marquee, and about 500 examples of Kay's artwork on board. The couple set up a complete mobile art gallery wherever they go, with LED lighting, carpeting and enough room for the very many fans that Kay has.
Happily, Kay and David are really democratic when it comes to art, and believe that Kay's work should be enjoyed by as many people as possible.
The couple have prints, some limited edition work and exclusive original pieces too, with sizes ranging from unframed prints of 15cm square to framed pieces well over a metre in width. Accordingly, you can enjoy a giclée print for less than £40 or invest in a hand-finished original piece, framed, for anything up to £5,000.
Kay produces both white work (slightly quirky style) and also a classic grown-up scenes with the subject set against a black background, which really creates a dramatic look.
"Every single piece begins with a walk around the Lincolnshire countryside," says Kay. "Living here you can be just 10ft away from a fox cub, like a voyeur who enjoys the privilege of watching nature right before your eyes. There's nothing like it."
"I sketch all the time and the sketching process can often take as long as the painting itself. I work in fine black pen once I've a few ideas in mind and sometimes I overlay different versions to perfect a composition."
"Once I'm happy I complete a final trace and then photocopy it onto acetate, then use a projector to overlay an image of it onto my canvas."
"I work on mount board because it has a lovely flecked texture and I usually work larger than the intended prints are to be."
"I always start with the eyes as they're the most important detail, and they're really crucial to capturing an animal's expression."
"I then work around the eyeline and outwards, darkest tones first. It takes anything up to six or seven layers of painted fur to achieve the depth and realism I love, and I often take a step back to look at a piece not close-up as an artist, but from slightly further back, as the viewer."
"Gouache has a wonderful depth of pigment, enabling white to paint over black unlike standard watercolour. I guess the whole painting process can take anywhere from 2 to 50 hours depending on the size and complexity of the piece. I tend to work on two or three pieces so I can allow one piece to dry whilst working on another."
"From that we scan and digitise the artwork then decide which sizes we'll produce or whether we'll keep it as an exclusive original. I'm pretty prolific but I can sometimes sit on a proof for days before deciding. If and when we do produce prints, we've a state of the art nine-colour large format digital printer which can output colour corrected giclée prints on lovely 315gsm artist soft textured art paper. I often finish work with gold acrylic flecking which is a great way to emphasise movement and to add an intrinsic, hand-finished individually unique value to a piece."
David, in addition to being a first-class logistics man, is also an expert framer. Ordinarily his entire year's work consists of providing reprographic services to the business – printing and scanning – as well as framing work either to order, or as stock to take to shows.
One side effect of a slightly reduced number of orders from shows this year is that David has been able to accept framing commissions for customers' artwork and memorabilia. Ordinarily the team are too busy and have to politely decline such work, but with thousands of combinations of mounts and frames, if you've a piece that needs displaying, or a piece of artwork that could benefit from modernising, David is certainly the guy you should have 'in the frame.' As it were.
Meanwhile, Kay returns to her easel and puts the finishing touches to a painting of a fieldmouse – a creature proving popular with customers right now – its cheeky expression makes it seem so real I could almost hand it a chunk of cheese. It's alive with character… like the Lincolnshire countryside itself, and just like Kay's artwork!
Kay Johns is the Lincolnshire artist based at The Event Gallery in Threekingham, which offers viewing by appointment. For more information and to view Kay's work, see www.theeventgallery.co.uk or call 01529 240529.