Sir Laurence Howard KCVO OBE is the subject of a new documentary created by Rutland filmmaker Barbara Keene. The film celebrates one of the area's most dedicated and committed advocates of education and justice…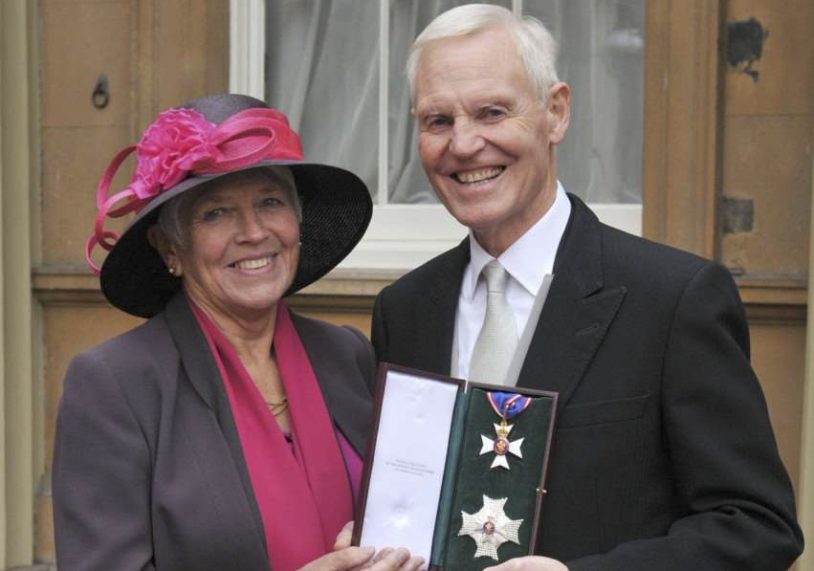 He can only be described as a true English gentleman. Those are the opening lines to a new documentary created by filmmaker Barbara Keene. The documentary's subject is Sir Laurence Howard, KCVO OBE, a former university lecturer, magistrate, Lord Lieutenant and namesake for a scholarship at his alma mater – The University of Leicester – which this year celebrates its 100th anniversary.
Contrary to the opening line of the film though, there is another way to describe Laurence; a bit bashful. "I was a bit apprehensive about being the subject of a film. Like most people, an awful lot of my life is very ordinary but other parts are a little less ordinary. It's those which have been picked out and put in the film."
"I was approached by Barbara whose previous work included The Forbidden Royal Romance, which records previously untold stories about the greatest 20th century romance between Edward VIII and Wallis Simpson that led to the abdication of a king."
"She's a wonderful filmmaker and works with photojournalist Peter Butler, so her production values are really great, very professional."
"I was still a little reluctant but when Barbara suggested that any proceeds from the film could go towards the Rutland Scholarship named after me, which was established in 2018, my arm was twisted enough for me to go ahead".     Central to Laurence's life are two themes. The first is a belief in justice, as one would expect given that he served as a magistrate from 1979-2003, plus being chairman of the Central Council of Magistrates' Courts Committees and later  served as Lord Lieutenant of Rutland – a role historically responsible for the militia and for delivering local justice through the magistrates' courts.
"As a magistrate, I was enormously fortunate to be mentored by Sir David Davenport-Handley who was chairman of the Rutland Bench for 26 years. He was an absolute gentleman and I've always tried to be as generous with my time and energy to try to do as much for the community as he did."
The second of Laurence's beliefs is that all young people should be able to reach their potential, and that lack of material possessions in someone's youth should never be a barrier to achievement and for this, himself, he has his parents to thank.
"My sister and I grew up in semi-rural Surrey countryside, my father Harry Howard was an insurance agent, mum was a housewife. Though we were never a well-off family our parents always did their best for us and encouraged us to do well."
"I'm hugely grateful for their outlook on life and the belief they instilled in us that we should seize every opportunity that education provides."
"From Surrey I moved to Nottingham to attend university and study animal physiology and from there to Leicester where I read for a PhD in neurophysiology from 1967-1970. Physiology has always held a fascination for me and I was helped by some outstanding teachers and supervisors. Most of the research in those days had a strong medical bias and it was a natural move for me to then take up a post-doctoral fellowship in multiple sclerosis at Leeds Medical School".
In 1974, Laurence was appointed lecturer in physiology at the foundation of Leicester University's new Medical School where he stayed until 2006. At the same time that he took up a teaching role, Laurence and his wife Christine and family moved to Whissendine where they still live today.
Involved with a number of charities in the county, Laurence was a member of a small group of Rutlanders helping to set up a scholarship for Rutland students at the University of Leicester to commemorate the university's foundation 100 years ago. His successor as Lord Lieutenant, Dr Sarah Furness, persuaded him that because of his long association with the university that the scholarship should bear his name.
"The University was founded in 1918 with just 11 students and two members of staff, and accepted its first students in 1921," says Laurence. "It was founded as a memorial to the First World War, intending to be a living memorial to honour those who made sacrifices during the Great War."
"The scholarship is designed to help facilitate the education of students who have faced specific challenges, from financial hardship to health problems, or to help students who have made sacrifices as carers or achieved success in their communities."
"So far, one scholarship has been awarded and funding is available for another with the new intake of students in the autumn."
Omit the following paragraph. "The first scholarship was awarded to Toby Williams on the same night that the charity was launched, and we've been offering assistance to students during lockdown but were prevented from offering a full scholarship. Happily the funding is there for the award of our next scholarship which we hope will be announced in November."
During his tenure as Lord-Lieutenant Laurence was a trustee of both Oakham and Uppingham schools and he remains committed to the importance of education by his continued involvement with Catmose College which he had the tremendous privilege of opening in 2011.
He also served as Honorary Air Commodore of 504 Squadron Royal Auxiliary Air Force at RAF Cottesmore and RAF Wittering, a role which, he claims, gave him great pride in the work of the Reserve branch of the Armed Forces. He is also President of the Rutland Historic Churches Trust and the Leicestershire and Rutland Community Foundation which has been immensely busy helping small voluntary organisations during the period of lockdown.  Chairmanship of the Council of Peterborough Cathedral and President of the Rutland Agricultural Society complete his current portfolio of duties. In respect of the latter he says that he hopes the Society will soon be able to announce the programme for the Festival of Food and Farming which will take place at the Rutland Showground on Sunday, 11th July.
"It's Rutland's sense of community that remains so central to why we all enjoy living here. It has such a strong sense of identity and heritage. We're all determined to look after one another and there's a wonderful body of people in the county committed to that in every respect. Education is important and if we can help young people to reach their potential, irrespective of their background, I think that's a great achievement; something we should all be proud of working towards."
Portrait of a Gentleman DVD: Barbara Keene has created Portrait of a Gentleman, a documentary about the life and career of Sir Laurence Howard KCVO OBE. Each DVD or USB-stick copy is £15 with proceeds from sales to the Sir Laurence Howard Rutland Scholarship foundation. Call 01572 787459.