A new series of podcasts created by Her Grace the Duchess of Rutland reveals the story behind some of the UK's finest stately homes. From heritage to housework, stonework to statues, forestry to finances, running a country pile is a vast undertaking, but one that's tremendously rewarding too…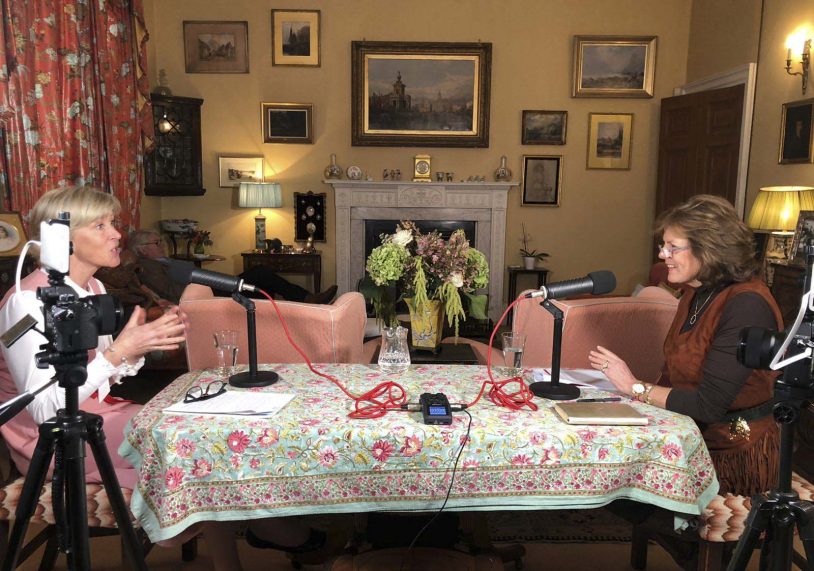 With great romance comes even greater responsibility. Not to mention a vast amount of windows to clean. For those of us living in properties possessed of more conventional scale, the idea of moving into a castle seems too surreal to countenance.
But upon her marriage to the 11th Duke of Rutland at the age of 36, Her Grace the Duchess of Rutland, Emma Manners, found herself moving into a property surrounded by 15,000 acres, with 2,500 windows that needed cleaning and no fewer than 356 rooms that necessitate a regular whip round with the hoover and the periodic attention of Mr Sheen.
The Duchess's excitement must have been tempered by more than a little trepidation as she suddenly became custodian of the Grade I castle in the Vale of Belvoir and its 15,000 associated acres. Management of the estate's 300 rental properties alone creates a business of significant size.
Meanwhile, the associated responsibilities of heading up the Castle's weddings and events; overseeing its shooting parties and forestry operations, not to mention developing new revenue streams (such as those from The Engine Yard, the retail village which opened in 2018) all mean that running a country estate is a vast and diverse responsibility.
In the first episode, the Duchess reveals that one of her new butlers was overheard saying to another member of staff early in her tenure as her new responsibility was dawning: "I wonder if we've broken her yet!"
Nope. Not a chance. In fact, she remains the queen of the castle, never mind the Duchess, as smart and good-humoured as she is resilient and canny. We assume that butler in question hasn't enjoyed such longevity in his role and was hoofed out before he could say 'Will that be all?'
In other words, those expecting living in a castle to constitute a fairy-tale happy ending may in fact be a little dismayed by the ensuing financial responsibility… not to mention the amount of dusting that needs to be done.
That's not to say, however, that it isn't a pleasure. It's just a pleasure tempered with the need to practice considered custodianship in order to preserve the property and its estate for future generations.
"It's a buzz and a burden; delight and drudgery… with a lot of window cleaning thrown in for good measure!" says Emma. Ultimately, it's fascinating, too, and that's the premise of a new series of podcasts presented by the Duchess which offers an intimate fireside chat with the ladies who run some of the UK's finest country houses.
The Duchess moved into the property in 2000. She became and remains the UK's most canny aristocrats and has transformed the estate enormously by sensitively making the most of Belvoir's opportunities without over-commercialising it or turning it into some kind of fairground.
"The ladies I've spoken to report the same feeling of responsibility, the same pleasure and the same determination to preserve their precious properties for our future generations. The recordings offer a real insight into what life is like as the custodian of a stately home.
"The idea came from my eldest daughter Violet. She's currently studying towards a degree in Business Studies at the University of California in Los Angeles. She was feeling really nostalgic for England and her American friends were all amused and in awe that she lived in a castle back home. Violet insisted that our experiences as a family and the experiences of others in a similar position would make a fascinating series."
"That was about 18 months ago, and during the first lockdown I began approaching people I knew to invite them to contribute to the series, initially with mixed results.
But once more contributors had heard their peers' contributions prior to the podcasts' release – and perhaps identified with their thoughts – more and more women came on board to talk about their role running and preserving stately homes."
The Duchess now has a series of 10 episodes of her podcast for release from February, each having a duration of 40 minutes with a new episode published once a week. Then, in summer, an additional 10 new episodes – the second series – will also be released, too.
"40 minutes is the length of a TV drama, but cutting into that time is visuals without speech, shots of scenery and so on. By contrast the format of a 40 minute podcast is quite speech-intensive, so there's a lot of content in each episode. But because the format is a fireside chat in one of the drawing rooms of each property, there's also a relaxed fireside feel to each episode."
"That's nice for the listener but it also allows the ladies who feature in each episode to impart quite a lot of their thoughts and quite a lot of information about the property so compared to the snippets of social media content or the headlines on your phone, they're quite rich and informative but also quite intimate and friendly."
"The other element of the series that I'm quite proud of is that they're honest. I'd say that three quarters of the ladies we've interviewed have married into aristocracy. When that happens the fairy-tale – living in a castle – becomes a rather more nuanced outcome."
"I grew up on our family farm in rural Wales and I'm the daughter of a Quaker farmer. I met my future husband, David Manners, the 11th Duke of Rutland, at a dinner party. Having trained as an opera singer at the Guildhall School of Music and having worked as an interior designer, I was then thrust into the role of custodian of one of the nation's great treasures, a Grade I listed castle with over 350 rooms. Suddenly I was responsible for the day-to-day running of a country estate, quite in addition to the raising of five young children."
"It sounds exciting – and it is – but there's no training for the role, nothing to prepare you for the experience. And the to-do list in such a role is as diverse as it is exhaustive. Country estates are expensive to maintain and to turn into sustainable operations. Monetising them is necessary to cover the cost of their upkeep but repairs or renovation of a heritage building can be very complicated."
"At the same time, you can't turn a stately home into a funfair. Part of the responsibility is preserving the property or the estate's character. Equally you want to open the place to visitors to experience and enjoy, but you have to mitigate the effect that hundreds or thousands of people's footfall could have on the property or its grounds."
"More fundamentally too is the mundane, day-to-day work. We've mentioned that small matter of 2,500 windows to be cleaned, but minor jobs like keeping on top of the dusting and vacuuming become an enormous undertaking even with good staff such as we have."
"All of that responsibility, plus a broader need to respect the architecture, to promote the history of the property and celebrate its heritage suddenly all fall to its custodian. I've really enjoyed hearing first-hand what has inspired our ladies to follow in the footsteps of all their forebears and take care of their properties."
"We hear tales of architecture, art and treasures, stories of the upkeep of each of our properties' grounds and gardens… there have even been a few ghost stories which have come to light during our recording."
"It's a very personal series too, which reflects the hard work and dedication that the role necessitates. Not everything I've tried to do on the estate and in the castle has been a success. We refurbished The Manners Arms and tried to establish it as a pub, restaurant and 10-bedroom country B&B, but the challenge was enormous and it didn't go well. But for every difficulty there's a success."
"The project I'm most proud of is the establishment of the Engine Yard in 2018. It's now home to 20 businesses, all of which are thriving. It's also a place that the whole community can enjoy visiting. It's a real pleasure to spend time there in the summer and I enjoy seeing families and locals enjoying good food, shopping and just spending time in the sunshine, shopping for shrubs and plants to take home and grow."
"Lockdown has meant the development hasn't seen as much footfall in 2020, but we're anticipating that it'll be really popular this summer and we hope to open a new Duchess's Parlour serving afternoon tea, truffles and patisserie."
"We're also hoping to be able to offer our yurts and tipis for those seeking a staycation in a really nice setting. And more immediately, in early April subject to lockdown, we've been working with our designer Charlotte Lloyd Webber – who works with other properties like Castle Howard – to create a beautiful looking easter egg hunt with a twist; hunting for rubies, not eggs!"
"Against the backdrop of the castle and its estate has been the fact that Belvoir Castle has always been our family home. The boys are 16 and 20, and our three girls are now aged between 22 and 26. No matter where they're studying or working they always return to a place that's a family home as well as a stately home, and I love it when we're all together, laughing and talking and enjoying a meal around the table. I've always tried to ensure that same sense of warmth and family togetherness extends to our visitors' families too, across the castle, the Engine Yard and the estate more broadly."
"In the future our children will have the same responsibility as my generation to look after the property and make sure it's a place for everyone to enjoy. I'll try to impart all of the knowledge and experience I've gained, but they'll inevitably have their own energy and their own ideas to contribute too."
"And that's the wonderful thing about caring for a stately home. It's also the theme that runs through the podcasts: preserving the past and adapting it for the future, leaving behind something wonderful for future generations."
"I'm eager to share just what remarkable women are at the helm of the stately homes around the UK and the work they get up to behind those doors as custodians of British heritage. I know all too well the hard work it takes and the work we do day-to-day to achieve and maintain the delicate balance between preservation and transformation."
The Duchess of Rutland's podcast, Duchess, produced in conjunction with One Fine Play, is available from the usual sources, including on streaming service Spotify. For more information on Belvoir Castle see www.belvoircastle.com or www.engineyardbelvoir.com.