It takes an artist to design something beautiful for your kitchen, but it takes a mum to design something that lasts, standing up to the rigours of family life. Local designer Sophie Allport's new collection, Home Grown, is inspired by her love of gardening and growing her own vegetables at home, and we think they look really great!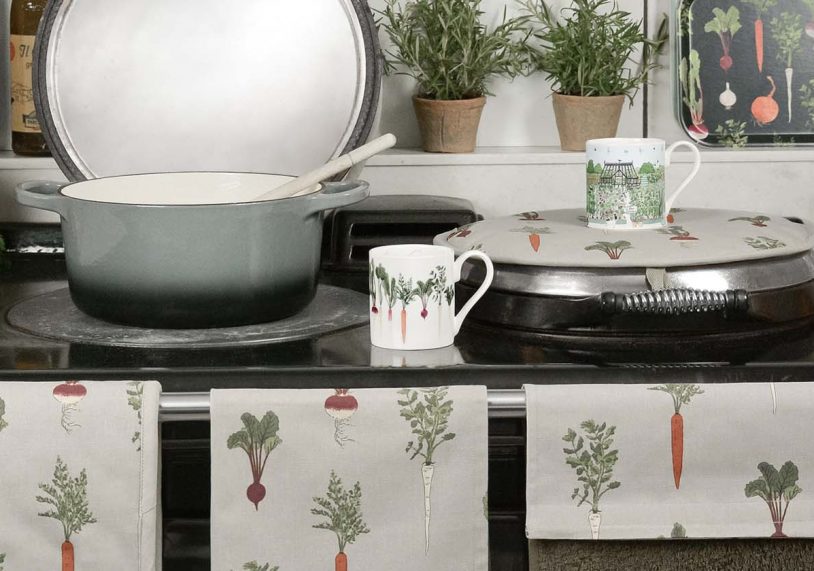 'Have nothing in your home that you do not know to be useful or believe to be beautiful,' said William Morris, he of the Arts & Crafts movement and the busy-looking textiles. Quite right, too. Sophie Allport, based near Stamford, is of course an artist, and perhaps the best-known of all homeware designers. Her work is unmistakable in its style; cheerful and brilliant.
But Sophie is also a mum. And that means she recognises the importance of her products not just looking beautiful, but proving themselves to be useful and resilient. It's all well and good producing a range of kitchen linens or crockery which look great, but if they fail to stand up to the rigours of family life, they'll only fulfil half of the designer's remit.
And that's why Sophie's work, her range of products, remain so popular. Not only are they a stylish addition to any kitchen, they're also top quality, designed not to be left on the shelf and used 'for best,' but to be used day in, day out; to endure endless dishwasher cycles or tussles with the washing machine and tumble drier; to suffer the bumps and bangs of clumsy kids and haphazard husbands.
It's little wonder then that Sophie had to relocate the business into their current 35,000sq ft space in Bourne in October 2017. The company now has 68 members of staff, 50 different designs, and 3,000 different lines to accommodate and 2,000 stockists internationally to keep happy. It's a business that has grown terrifically well since Sophie and her brother Jem founded the company ten years before in 2007.
"We were raised in Potterhanworth – a little village in Lincolnshire – and I attended Lincoln Minster School before moving to pursue a Graphic Art & Design degree at Leeds Metropolitan University."
I left in 1994 and moved to London where I met my husband Chris," say Sophie. "I loved to paint and would take on the odd commission to fund my way through university."
"I even sat on pavements in central London sketching and selling the odd piece to tourists. That was in-between trying to get my work in front of illustrative agents and publishing companies. I had a friend who worked at the Country Living Show and in 1996, she asked me to be a demonstrator. I produced a few cards to sell at the show and it all began from there."
"Eventually they were selling before I'd even produced them, and I was picking up work in advertising. One of my most memorable early commissions was for Harrods and they used my illustrations in their window displays. Working from the spare room of my London home I began producing a few mug and card designs of my own."
"In 2004 our father suffered a stroke. We're a close family and it felt like our world came tumbling down. My brother Jem and I were devastated. It acted as a catalyst to set up our family business and so Sophie Allport Limited was born. And then the world… just… exploded!"
"I'm still the creative element behind the business and Jem is happy to be behind the scenes but honestly, he's terrific. I can't sing Jem's praises enough. His role in the finances, logistics, sales and distribution of our ranges enables me to just concentrate on what I love… creating beautiful products."
Despite the company's growth, Sophie still designs her ranges as she always has, never designing for a particular market or with commercial interests in mind, but sitting in front of the wood burner in her kitchen with the dogs at her feet and a mug of coffee.
The company is still able to ensure that the dogs and children or the Aga that you see in Sophie's marketing images are those of family or friends, and that when Sophie extended her product range to include pet collars, leads and pet toys, their own dogs took a starring role.
Sophie's beloved Mable is a renowned destroyer of dog toys and so she was also keenly involved in testing each of the new products to destruction, ensuring their ability to squeak wouldn't peak after a bit of roughhousing… or perhaps that should be ruff-housing?
Other more recent additions include hand lotions and soaps for your cloakroom – sold exclusively through Sophie Allport's Stamford & Bourne shops and via Waitrose – plus bedding, cushions and throws.
Also new for this summer is a range of t-shirts and pyjamas and adorable bibs and swaddle blankets for babies.
Sophie has launched five new collections for spring and summer 2021, the Multicoloured Hearts collection, which launched in time for Valentine's Day and Mothering Sunday this year; Bees Teal, which is a extension to her ever popular Bees design; Giraffe which includes a donation from sales to the Zoological Society of London (ZSL).
Bears & Balloons features adorable animals and a range of baby grows and lunch bags for children, and Dalmatian features spotty dogs and navy teal background.
The final collection launching this summer, Home Grown, the one we've featured both here and on this month's front covers.
"The collection features our favourite seasonal vegetables, including parsnips, carrots, turnips and beetroot on a pale linen or dark green coloured background," says Sophie. The range includes plenty of excellent gift ideas for gardening enthusiasts and those who love their wholesome veg."
Naturally, Sophie's linens are still made from 100% cotton, and the brand's mugs are made from fine bone china. But she has also introduced lots of new products from stoneware mugs, jugs and bowls to new bags and accessories. All will stand up to daily use and will continue to look great year after year.
"If there's one value, one philosophy that underpins what we do it's family," says Sophie. "We're a family business, making products for families, and despite growing as a business, we still have the feel of being an extended family here too. We want to remain faithful to that ethos forever."
Find Out More: We've teamed up with Sophie Allport to offer a 15% discount for our readers throughout May. Use discount code PRIDEMAY21 at the checkout when you shop at www.sophieallport.com, alternatively, you can call 01778 560256 or visit their Sophie Allport shop on Stamford High Street or their Bourne Outlet on Spalding Road.