That old Athenian lush, Euripides, declared that 'where there is no wine, there is no love,' well, there's plenty of love across the undulating landscape of the Hanwell Wine Estate, as a dedicated team of grape-fondlers caress their crop and prepare for a busy season validating exactly why English wine is so popular. We join Helenka & William Brown just ahead of English Wine Week – from Saturday 19th to Sunday 27th June – to raise a glass to their craft. Cheers!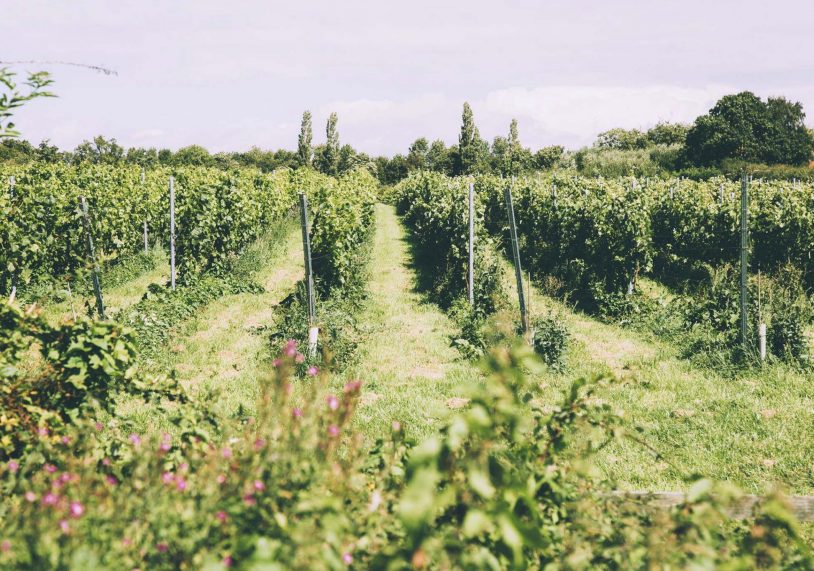 I really do love the French. Their sexy sounding accordions, phallic Parisian towers, cream-laden calorific food, and their bombastically protective approach to their language – Proust's À la recherche du temps perdu weighs in at a mighty seven volumes and 4,215 pages, or 1.2m words. It all points to a nation reeking of garlic and self-confidence. They're a glorious diametric to the self-effacing English.
But of all the things the French hold dear, their place in the world as a nation of viticulturists and winemakers is what they remain most well-known for, and most fiercely protective of. In the 18th century, after what seemed like a lifelong Gallic dominion over the industry, the first commercially-minded vines trickled across the Atlantic and under the soils of California's Nappa Valley. 250-odd years later, in 1996 Australia and New Zealand's place in the world of wine was also cemented, for instance, with the establishment of Winemakers' Federation of Australia.
Shuffle down the supermarkets' aisles – heaving with their mass-market plonk, shipped over in tankers and bottled here in the UK – and you'll soon see that everyone's having a go at making their own wine. So far, though some nations may have achieved at least a couple of favourable examples, nobody has quite made a dent in the cachet or the cultural capital that French wines and winemakers possess – particularly fizz from the appellation of Champagne.
But slowly, that's changing, especially in respect of the monopoly that France has always had on sparkling wine. And England's own viticulture is gradually experiencing a windfall as a result. It's hard to find any positives in climate change; globally we've all come to accept that we have to temper the modern lifestyles we've adopted which are slowly smothering our planet, to what would ultimately be its death.
However, Les Rosbifs have observed that global warming has increased our own country's temperature by about 1.5°c over the past couple of decades, and that means our climate (particularly in the south of England) is now commensurate with the temperatures and conditions that were once prevalent about, oooh, 400 miles south (Empingham to Èpernay via Calais), in the Champagne region.
Not a bad stroke of luck for our region's winemakers – albeit bittersweet, given the severity of climate change. We now have the ideal climate in which to grow the three grape varieties blended to create Champagne – Pinot Noir, Pinot Meunier and Chardonnay – right here in the UK, and that's why English wine is becoming absolutely brilliant.
Naturally, winemakers like Helenka Brown of the Hanwell Wine Estate are capitalising on the fact, but before the family raises a glass this summer, there's a bit of work to be done.
"We're actually second-generation winemakers," says Helenka. She's in the sunshine shortly before Easter, taking a break from mowing between the rows of vines and ensuring their canopies remain nice and neat."
"The land is characterised by rich soil of around six point seven pH, with a 12" layer of loam and clay underneath, ideal for viticulture."
"My parents, Tony and Veronica Skuriat, settled in the area in the late 1960s and took on an old property with a dilapidated greenhouse in which there was a single vine that we discovered was from a cutting of the 250-year old 'great vine' at Hampton court palace, planted by Capability Brown."
"A fascination with that vine led my parents to plant a vineyard, Eglantine, near Loughborough. They planted in 1979 and by 1984, they had won international awards for their wine. That was when the idea of English Wine was a novelty, though."
Today, it's an industry that has seen cross-channel smirks quickly turn to uncomfortable shuffles in seats as the sovereignty of the continental monopoly on the world's quality sparkling wines has shifted to the other side of the water.
Helenka works in IT and husband William works in broadcasting, taking feeds from various broadcasting sources and outputting them to news TV channels to make sure we see the right one on our screens.
Both are quite techie jobs, but this month they'll be swapping computer screens for secateurs and a mower in advance of June, by which time the current spindly and sparsely covered vines will instead be lush with deep green leaves and heaving with grapes.
"They're like triffids in June, growing really quickly. We have to keep the canopies between vines separate to ensure we can access them during harvest and we have to watch out for weeds which will compete for the soil resources."
"My parent's vines ripen slightly earlier but because we're growing the three grape varieties  used to create champagne we harvest in late October."
"Each of the three varieties ripen at slightly different times, and have slightly different characteristics. Pinot Noir is supposed to be a bit of a diva, but honestly it thrives here."
"Harvest time is a thing of magic. Its hours are quite civilised too, since we harvest on sunny days and we have to wait for the sun to burn off the dew before we start work, usually at about half ten in the morning."
"We finish harvesting by four, and once all of the grapes have been sent to the winery about 10 minutes down the road, and pressed, we treat ourselves to a glass of wine in the field which helps to remind us that the final product is all worth it! That also means that from vine to press takes just a few hours, ensuring each of our wines are made from a very fresh harvest."
"We've a team of around 10, and though our day jobs might be completely different, we all become pickers when it's harvest time. Knowing when it's the right time to begin harvesting is a matter of picking, tasting and testing the grapes with a refractometer, which tests sugar content by passing light through a prism."
"We harvest by hand, it's a case of snipping off each bunch of grapes and putting them gently into a bucket which empty into picking boxes for transfer to the winery, in batches of about 350kg."
"That quantity is, by happy coincidence, roughly the same amount that the pick up truck can transport and that the press can hold."
"We whole-bunch press, meaning everything goes straight in, stalks and all. The press gently squeezes the grapes, the highest quality juice runs off first, this is used to make sparkling wine."
"A higher pressure is then applied and that juice runs to a second tank to make still wine. Pretty much everything about wine production is nuanced right down to the pressure you use to harvest the juice."
"By making fine adjustments to the press you can actually determine which part of the grape the juice is obtained from."
"A lower pressure pressing takes the juice from around the pip, and is preferred for sparkling wine, whilst a firmer press provides the juice for still wines."
Once pressed, Helenka's father Tony shares his winemaking skills between his own vineyard and Hanwell Wine Estate. Tony blends juice from each of the three Hanwell grown grapes – Pinot Noir, Pinot Meunier and Chardonnay prior to a first fermentation over winter.
Through a combination of wild yeasts, the three grape varieties that the vineyard grows each have a sufficient amount of natural yeast on the outside of the grape to avoid the necessity of adding additional yeast during the first fermentation, after which a cuvée or assemblage is produced.
The second fermentation is a characteristic of the méthode champenoise which sees the wine bottled and aged on the lees prior to its yeast being self-digested (a process known as autolysis).
Finally, the removal or disgorgement of the remaining lees results in a sparkling wine which is Champagne in all but name – since, by law, that wine-making region is geographically protected.
By UK rule, a 'quality' English sparkling wine must have rested on the lees for a minimum of nine months but Helenka and William's wines are typically between three and five years in the making.
There is, of course, a great deal more to the process than space allows here, but that's not a bad thing, because the best way to appreciate Helenka and William's wine is by trying it for yourself. And that gives you a good excuse to continue your education in person with a visit to the vineyard.
"We offer tours and tastings, which are popular with around 3,000 people each year," says Helenka. "We're already receiving a number of bookings this year, because understandably, people are keen to be able to go out once again, to feel the sun on their back and a gentle breeze, to enjoy pretty scenery and big blue skies. That's exactly what we can offer and we top it all off with a tutored wine tasting."
"Many people drink wine and perhaps understand a few things they've picked up along the way, but there are so many experts with such strong opinions, and winemaking is a mix of science, art and nature. It's a hugely complex subject. That's why a visit in person can help you to see first-hand exactly what goes into wine – figuratively and literally."
"It's a way to enjoy good wine in a relaxed and informal way, adding an extra dimension to the pleasure. The tours are also available as gift vouchers, which is a much nicer gift than just handing over a friend of family member a bottle… why not go a little further and give them a fuller experience?"
"We have a few craft workshops on site as well and each year we try to combine artisan crafts with wine. Our flagship event, the Handmade Craft and Wine Fayre, takes place on 30th May, which used to coincides with English Wine Week, although that has now become a larger national event which takes place from 19th June."
"We also have a wine shop – a physical one and one that's online, providing national delivery – in which we sell our own wines, currently these include a Dry Rosé called First Love, and Rainbow's Reward, our 2016 vintage quality sparkling wine."
"The shop also allows us to act as ambassadors for other English winemakers. We stock our parents' wine from the Eglantine estate, and other guest wines from places like Rothley in Leicestershire."
"We can no longer think of English wine as a novelty or a curiosity or a footnote. It's here, and it's very good indeed, thanks partly to the change in climate and but mostly to the dedication and skill of our growers and winemakers."
Other countries are producing wine in huge quantities. Italy is the most prolific wine producing nation, with an output of 4.25m litres. France, Spain, the US and Australia are the next largest producers, in that order, and the top five nations collectively account for about 14m litres of world production. A world average per country is 481,000 litres.
England, meanwhile, produced 10.5m bottles in 2019 still ahead of those plucky grape-fettlers in Tajikistan or Syria, who each produce just 100 litres each. But this isn't about quantity. It's about quality and provenance.
As a much smaller island we're limited by the quantity of land available for the viticulture, as much as we've been limited by climate in previous years. But now, we're no longer limited by the weather or by a lack of knowledgeable winemakers like Tony, and Helenka & William, each of whom is investing in England's winemaking future.
Celebrating local food and drink – and producers – is always something we're keen to do. But this month, what could be better than learning more about wine with a visit to a vineyard a little over half an hour from your home?
A visit to the Hanwell Estate allows you to enhance further the pleasure you derive from wine. It will also yield the opportunity this summer to enjoy what the industry is slowly acknowledging are world-beatingly great products! We'll definitely raise a glass to that.
Find Out More: Hanwell Wine Estate is located 30mins from Oakham, LE14 3QG. The vineyard provides guided tours and tastings by appointment, lasting two  hours, from £19.50. The Estate will also host its Wine & Crafts Festival on 30th May. Call 01949 81393 (it's a short number!) or see www.hanwellwine.co.uk.