Going on holiday somewhere in the UK this summer? Relaxing in the garden? Then you'll need a good read. And if you only digest one book this summer, make it this one! Sir Alan Duncan is the former MP for Rutland & Melton, caught in the eye of the storm of Theresa May's government and Boris Johnson's transition from Foreign Secretary to Prime Minister. His brand-new political diaries In The Thick of It, are an honourable, savage, hilarious and brilliant literary dissection of the political elite!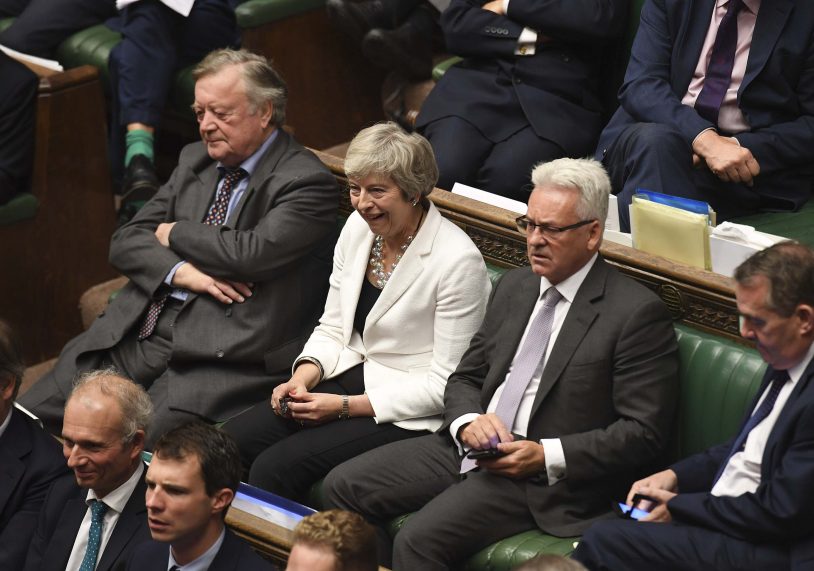 It's a great shame that I don't believe in reincarnation, because I now know exactly what I'd like to come back as; Musca domestica, the common housefly. Whilst their lifespan may be a modest 28 days, that should be just enough time to position myself on a wall in Boris Johnson's sitting room, as he sits down with a glass of whisky and a copy of Sir Alan Duncan's political diaries. From that vantage point, I could gleefully witness the fallout.
"I had a frank relationship with Boris, and with other frontline politicians around me," says Sir Alan. "Our newspapers can provide an account of events, but the feeling of the time – with all its uncertainties and the lack of hindsight – can only be captured in a diary, with its capacity to reflect an unfiltered account of events, unvarnished."
"My motivation for any criticism of anyone at the time was a government or a politician underperforming or behaving badly, so the driver of creating a diary was simply catharsis."
"The pettiness of poor decision-making and the strutting of tiresome egos are a constant frustration for someone working in government. The only way to 'keep calm and carry on' was to write it all down. Using my pen or keyboard I was able to 'rage at the page,' to download and vent my feelings."
"Right from when I first found myself working in high level politics, it was so engaging that I decided to diligently create a diary that I could look back on in years to come. I didn't want to forget anything," says Sir Alan, and takes up the story in his own words.
When did you decide to publish your diary?           
I never intended to publish these diaries, but by chance I found myself working in the middle of one of the most disrupted periods of Parliament. I met, by chance, Martin Redfern of literary agency Northbank.
It was 2019 and as conversation turned to talking about working amid a unique period for UK politics, he asked if I kept any notes for an autobiography. I told him, truthfully, that I kept diaries but had no intention of publishing them.
He was suitably excited by the prospect though, and became an enthusiastic champion, helping to develop the pitch for a book, securing a publisher and offering some wise comments on the themes that most deserved exploration.
How did you create the final manuscript?  
I began with notes and my appointment diaries, and I was also fortunate enough to have the assistance of Dr Nigel Fletcher, a Conservative political adviser from the days when the party was in opposition. He set about the task of rifling through the archive to locate original diary entries, appointment cards and correspondence, then cross-referenced these for accuracy, detail and context.
We worked with Arabella Pike and a team at HarperCollins – Arabella has a reputation for being the best in the business and she contributed not just ruthless professionalism but also fun and mischievous laughter.
Our copy editor Peter James demonstrated commendable attention to detail and his colleague Iain Hunt organised proofs, whilst Jo Thompson selected photographs and ensured they were cleared for publication from a copyright point of view.
We began with 300,000 'raw' words and took out repetition – plus some things I thought were too gossipy – but also material which was deemed too sensitive. In the end we had 180,000 words, which is about 512 pages worth of finished manuscript. As a former minister, I then had to submit it to the Cabinet Office for comment.
Such publications need to adhere to The Radcliffe Report of 1976, which states that whilst a minister should be free to use their own ministerial experience to give an account of their work, publication remains subject to redacting matters pertaining to national security and international security, and to maintaining the working relationships on which our system of government is based. This process did take some degree of negotiation, and took up considerable time, but we managed to navigate this tricky territory.
In the book's introduction you remark with 'cool hindsight' that some comments might be 'unfair or ungenerous.' Will you have any trepidation, seeing it on the shelves, and do you fear a phone call or text from anyone in particular? 
My motivation for any criticism of someone in the book was only ever frustration over bad behaviour or substandard actions when decisiveness, objectivity or responsibility were needed. If there's one slight pang it's reserved for Theresa May. Her premiership was a cauldron of bubbling fury and we never knew her as a Prime Minister during 'normal service,' only assessing her in a time of Brexit and the schism it created.
Among my contemporaries, when I studied at Oxford, were Philip May and Theresa Brasier  (soon to be May). I have known Theresa for 40 years and I enthusiastically backed her leadership campaign. I earnestly hoped that she would be a success in Number 10.
As time went on my disappointment and frustration at her some of her shortcomings as a politician spill out into the diary, sometimes harshly. She was steadfast but not decisive. She was decent, honest, hard-working. And she didn't have an ego, but ironically that was her shortcoming; she needed more ego.
What about Boris?    
Boris is a completely different matter. Much of the attention the book receives, I suspect, will focus on the unsparing criticism I level at him in its pages. People may think that this book is just another salvo in an ongoing personal vendetta. No.
The truth is that my relationship with Boris was always perfectly friendly, and whilst in the Foreign Office we did generally get on well. I came to respect his unique qualities as a politician, but I often despaired at his lack of seriousness and his refusal to apply himself properly.
But Boris is no fool. When he really focuses on a particular issue, he can be genuinely impressive but I was angered by his nakedly ambitious manoeuvrings for the leadership.
That question of loyalty to our colleague, undermining the Prime Minister, was a source of that tension between us. It's undeniable that he brings a rare energy and a spark to politics, but that spark too often lit a fuse and ignited an unplanned media explosion.
That personality, though, had a strength that could galvanise the nation's character. That's a powerful element in his work, and it was – or still is – potentially very positive, especially as Covid-19 came to displace Brexit as the main issue for the country.
We've exchanged a few text messages since I left in July 2019. For instance I expressed that when Cummings went in November 2020 it was good news. I don't think Boris will mind that I talk about him in the book. There's a degree of ego in play here, and I think he'd prefer being talked about – even in uncharitable terms – than to be ignored!
The other acknowledgement I'd make is that prior to July 2019 we were living with the legacy of Theresa May's decision to call a General Election in June 2017. That was a decision that resulted in the government limping along with a small majority. Boris's subsequent election reinjected authority into the party's legitimacy, which made it possible to effect real changes and gave it the ability to be decisive once more.
The last diary entry is dated 31st January 2020. Brexit Day. And the date that the first two Covid-19 cases are reported. Did you leave politics at the right time?   
Yes, I got out at the right time. But not because of Covid-19 or Brexit. Westminster, today, is dominated by a younger and very ambitious generation of politicians. There are 24-hour news channels, there's social media and your profile – your celebrity – is a big constituent to your success.
There's a lot of jostling among a little group of about 30 people with lots of internal sharp elbows. It's unseemly, and it takes the focus away from deeper thoughts and consideration of policy. Number 10 has now become a place of PR, not policy making.
How do you think Brexit has been handled?           
In respect of Brexit, many at the time expected me to be a fervent advocate of leaving. But today's world is markedly different from 40 years ago. Markets are globalised, sophisticated.
Technological advances, too, have been staggering and countries across the globe are more linked and interdependent. Turmoil for any one country has consequences for another.
The lure of Brexit was that it would deliver for the country a tidy alternative to EU membership; that it would empower our economic prospects and that we'd be insulated in the world from global difficulties. It would 'solve immigration' and 'allow us to prosper as an economy untrammelled by others' rules.' The trouble is, I didn't (and I still don't) think that's true.
Much has already been written about the turbulent period in UK politics prior to Brexit and the likely consequences. Perhaps my perspective in the book can offer some additional insight.
There was a rational and pragmatic case to be made for leaving the EU but few bothered to make it. Instead, we faced a huge barrage of populist nonsense, emotive plaudits and downright lies; we ended up instead with a 'barrage of Farage.'
Brexit was seen as an article of faith instead of a diplomatic and public policy challenge, leaving no room for reasonable solutions. Toxic stalemate was the result and even today the reconciliation – of a false prospectus with hard truth – seems further away than ever.
My despair, as I watched this play out, is evident in the book. I was in the peculiar position of being Minister for Europe, but simultaneously of having no direct role in negotiations with the EU. I was a bystander in the drama, unable to be directly involved.
And simultaneously, I was faced with the challenge of loyally supporting the government and backing the Prime Minister, Theresa May, whilst avoiding conflict with my immediate boss in the FCO, Boris Johnson, whose position as an advocate of Brexit was less than straightforward.
Any negative effects of Brexit – any economic pain – as a result of it will no doubt be disguised as the consequences of Covid-19, because it's difficult to correctly or accurately separate and attribute the cause to either.
And Covid-19?           
Covid-19 remains something that we have to continue to address, not just nationally but across the world. In this country, there have been both relative failures (the procurement of PPE), and successes (like the vaccination rollout, which has been very well managed).
Are you happier as a result of stepping back from politics and returning to the private sector?
I began my career in 1979 working as a trader of oil and refined products, initially for Royal Dutch Shell. If you think politics has changed between 1992 (when I left the private sector to become MP for Rutland and Melton) and today, well, the energy sector is even less recognisable.
There are some big themes in the industry, and the implications of them will reach well beyond how we fuel a car, or heat our home, or how we generate power.
I spent a good deal of time working in the commodities industry, and now those same companies are investing a huge amount in renewable energy.
The firm I work for has invested over $1bn in renewables alone, conscious that a move towards technologies like solar energy isn't just a matter of ensuring it remains a part of the energy sector, but also in ensuring the survival of the planet itself.
There's an economic constituent to the transition towards renewables as well. Over the next five or 10 years we'll be trading with countries like China, which is still building new coal-fired power stations.
It's likely that they'll have a 'dirty' but cheap manufacturing base, whilst countries favouring greener energy will offer 'cleaner' but more expensive manufacturing bases.
The countries we trade with, and the matter of where all the products we buy (or their components) have been manufactured, will have a global economic and environmental implication.
But companies which have historically traded in fossil fuels have already become a driving force for a future of clean energy – part of the solution, not the problem.
My own experience working in that sector – prior to politics – gave me a deep personal understanding of oil trading, international relations and politics everywhere from Singapore to the Middle East. That was very useful to the country throughout my later political career. It also underwrites why it's a good idea for MPs to come from different sectors, backgrounds and careers – and to bring that experience into politics – instead of only ever being engaged in politics.
Do you still enjoy life in Rutland?
During the last year I've spent 95% of my time here in the county. I've been a 'lucky lockdowner' living here in Rutland, not in the middle of a locked-down city. The move out of politics and back into the private sector was a deliberate step back.
I've had to be responsible for both national and international political issues, every day of my life, for three decades. So over the last year, it's been restorative to keep to myself, and to focus on home life with my partner James and our cockapoo, Noodle.
I felt it would also be respectful to stay out of politics to give space to our new MP Alicia, as she began her work in the area. I wished her well upon her appointment, and I think she's doing a really good job for the area.
And finally… what about the real Downing Street catfighting, between Number 10 and the FCO?        
Larry – Chief Mouser to the Cabinet Office and the present incumbent of the Prime Minister's residence – is still tackling the rodents in Number 10. Meanwhile in the FCO we had our own cat, Palmerston, who retired from politics in August 2020, a couple of months after I did. Maybe for a different reason… maybe not?
There was a lot of aggro between the two. Perhaps it was because Palmerston was  defensive of his colleagues, maybe because Larry had such a strong personality?
Pets imitating politics?         
I couldn't say. Palmerston was popular in the FCO and enjoyed his favourite spot on a comfortable armchair in the ministerial office, well-respected by his colleagues. But in that office, there was only ever one boss.
And that's Noodle?
Noodle! As a former Westminster Dog of the Year, his charisma and his authority was absolute. On a number of occasions, he and Palmerston would go straight at one another in the FCO, but usually they'd be able to put their differences aside.
And that's politics for you. There's always scope for robustness, but at some point, you've just got to stop growling at one another, focus on getting on and just… do what's right.
Hopefully the book gives a candidly reported, unvarnished flavour of the moment, observed first-hand and reported immediately. It was a unique and important time in our country's history and its recording deserves that much.
Some of the juicy bits: Sir Alan Duncan on…
Boris Johnson: "A clown […] an embarrassing buffoon […] an international stain on our reputation […] ill-disciplined, shambolic, a shameless clot."
Boris Johnson (again): "An egotistical showman who just doesn't know how to run and motivate a team around him."
Boris Johnson (last one, promise): "I despaired at his lack of seriousness and refusal to apply himself properly, because he's no fool, and when he focuses on an issue he can be genuinely impressive and a good politician."
Jacob Rees-Mogg: "A cheap nationalist with faux manners and an ego the size of a planet."
Theresa May: "Gangly, no poise or presence. Charisma bypass, no personality. She's the only credible game in town but there's not much there; I despair."
Tony Blair: "He loves having his fingers in Middle Eastern things. But I always feel it's more to make money than to make peace."
Priti Patel: "A complete and utter nightmare, the Wicked Witch of [her constituency] Witham."
Michael Gove: "Unctuous freak, wacky weirdo."
IIn The Thick of It, by Alan Duncan: A Life In Politics
IIn The Thick of It is the private diaries of Sir Alan Duncan, MP for Rutland and Stamford from 1992 to 2019. Alan served as a frontbench MP and worked closely with David Cameron, Theresa May and Boris Johnson in the FCO. His diary spans the period from 2016, when he worked alongside David Cameron, to 31st January 2020; Brexit Day, and the day which also saw the first two cases of Covid-19 in the UK. It's now available priced £25/hardback, 512 pages, under HarperCollins imprint, from all good local bookshops.