It's the six month anniversary of the area's newest local radio station's creation. This month we're speaking with Rob Persani – synonymous with radio in the area – and fellow presenter Laura Ray to reflect on what happens next to broadcasting in Rutland & Stamford…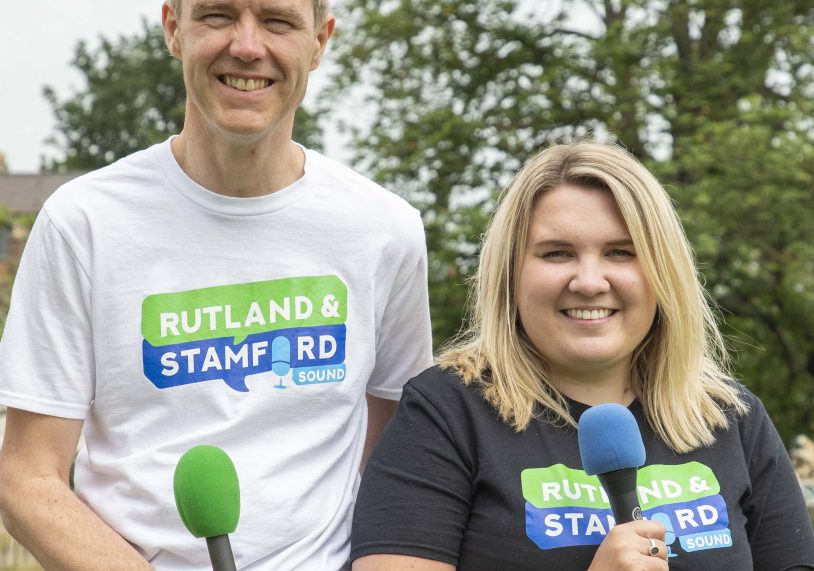 Play Rutland & Stamford Sound. That's not an instruction to you, the reader, or rather it is – vicariously at least – but it's more a request directed at my smart speaker. Sitting there innocently in the corner it's revolutionising the way we listen to radio, now responsible for facilitating 40% of our new local radio station's audience.
And it's not the only change to the airwaves of Rutland and Stamford right now. September will be somewhat of a watershed moment for the team behind Rutland's newest sound. We met Rob Persani and fellow presenter Laura Ray in Stamford's Cosy Club. Rob and I, especially, are kindred spirits in that we're both married to our media, as well as our respective wives and families.
Pride Magazines established Lincolnshire Pride in 2002 and Rutland Pride about 10 years ago, so I've been a magazine editor longer than I've been a husband or father. And so it was with a huge amount of empathy, for Rob and his team, that I followed the news that the Rutland Radio brand established in December 1998 by Rob and others was lost following the takeover of the station by Bauer Media's Audio subsidiary and rebranded Greatest Hits Radio.
"I was born in Staffordshire, rather than here in Rutland or Stamford," he says. "I knew I wanted to be on the radio since the age of about 14, and so I jumped at the chance to work for Radio Cracker. I was volunteering at the temporary station, which broadcast for three weeks prior to Christmas as a fundraising station to address third world poverty. Right from that experience I was hooked on the profession."
"I worked on Cracker in 1991 and 1992, and with that work experience I went off to pursue a Media Production degree in Farnborough. Then, after completing my studies, I spent a couple of years freelancing before I saw a job advertisement in June 1998 for positions in one of three new stations that the Lincs FM Group were due to launch in Worksop, Hinckley and Rutland."
"The job asked you to specify where you'd prefer to work. My father enjoyed sailing and model aircraft, so I was familiar with Rutland already. I moved to Rutland and began working for the station when it was granted its permanent license from December 1998."
Rob became synonymous with radio in Rutland and Stamford, right up until May 2020 when Bauer made a decision about the station's future.
The sale had been proposed in February 2019, but was subject to an investigation by the Competition & Markets Authority, keen to determine that the company's acquisitions wouldn't create a monopoly. Alongside Rutland Radio, around 60 regional stations were subject to Bauer's acquisitions, predominantly across the Wireless Group, UKRD Radioworks, Celador and the Lincs FM Group.
"We were under embargo and we were all working remotely, so in addition to being apart from existing colleagues we were also just discovering what the changes would be, and I was working to offer support to those who were facing redundancy."
"It's important to say that at this point that Bauer isn't a bad company, it's a big company. It made a business decision, and without emotion, there was a commercial justification. There was nothing wrong with the decision, it just wasn't what I wanted."
"A number of staff from the stations were offered employment elsewhere in the company, at regional hubs, so I could have gone to work in London or Manchester for example. But it would have meant leaving Rutland, and I really didn't want to do that."
"At the same time we were all desperate to be honest with the listeners and admit that we were grieving for what amounted to be the impending changes to the radio station that we knew and loved in its present form, but we were also required to promote the changes in the manner that Bauer as the station's new owner wanted."
As Rob pauses, I recount a similar story about David Green. David was my old university flatmate, a radio boffin from York, who worked for Minster FM prior to its sale to Bauer. In the same way that I have a passion for print, so too did he have a passion for radio, and in the same way that I worked for Pride Magazines for the thick end of 20 years, David worked for his station for the same period. I tuned into his last broadcast, and listened as his voice cracked when he was saying goodbye to his listeners.
The grief was not just for the loss of the station but for the changing trend of radio to economise, rationalise and to broadcast not local content but national content with regional insertions.
Midday presenter Laura then delivers what was an off the cuff remark but actually proved to be the killer quote; a really profound statement about why the changes were bad not just for the individual stations but the culture of UK radio.
"You've got to live the life of the listeners," she remarks. "You can't report on an area or reflect its character or culture without really knowing it."
Local radio had always employed local journalists on the ground, with weather and traffic reports originating from each station's offices. The new model of output from the stations aggregated into Greatest Hits radio would see big name DJs like Simon Mayo and Pat Sharpe delivering either national or multi-regional output, interspersed with locally-centric feeds like news, travel news and local adverts, each played out to their respective stations. That means ostensibly local radio that's actually more akin to a national broadcast, but with the odd local insertion into its output.
"Rutland County Council recognised that there would be a loss of community connections," says Rob. "The new model of radio would provide soundbites from the council but it wouldn't reflect local issues like a truly local station. This was also problematic as Covid was becoming a part of our lives. It was a time when the Council would need to reach out and communicate with locals even more than usual. Rutland County Council, our MP – people like Oliver Hemsley and Alicia Kearns – were all supportive of a feasibility project to assess whether an alternative was viable. The council invested £50,000 into the project, believing it to be important for Rutland's communities."
"The first stage was an exploration of feasibility, which saw us working out technical feasibility, engaging volunteers and forming a board. In October we sent out a survey and had 1,100 responses which gave us really good feedback about what locals wanted from their station, as well as what name the new station could adopt."
"I think there were five or six different suggested names – Osprey Radio, Welland Radio, Horseshoe Radio – but Rutland & Stamford Sound reflected that both places were equally important to us."
"We established a not-for-profit community interest company and appointed six board members. Today there are four directors and two advisory committee members. I'm the only employee, and we sought volunteer presenters who felt they could engage with our listeners and the community, as a whole. We began broadcasting six months ago on Friday 5th March and we were delighted with the feedback and the support we received right from the beginning."
"Technology has changed the industry, making broadcasting more democratic. In the past, you'd need to apply for an FM licence and you'd send your broadcast signal from the station to the transmitter. Today, our output is to an external streaming company which hosts our broadcast."
"So we don't necessarily need to adhere to Ofcom practices, but we've chosen to do so in order that we could apply for a broadcasting license in the future, even though it's not currently a requirement for internet radio. That means we adhere to broadcasting codes, obey guidance on election coverage and so on, maintaining our professional standards as we always had to do at Rutland Radio. That would be useful if, in the future, we apply for a DAB license."
Rutland & Stamford Sound currently has an audience of about 10% of the population of Rutland and Stamford, and that's assuming just a single person is listening to each device. That's a huge audience for a smaller, not-for-profit and relatively new station, considering that BBC Radio 2, the nation's largest and most-well funded station only has about a quarter of all listeners in the county.
But though Rutland & Stamford Sound is currently broadcasting, it still remains in the second stage of its feasibility assessment. September sees the date when a decision must be made on its permanent future.
"No decisions have been made yet," says Rob. "We either stop broadcasting – hopefully, that's not what will happen – or the decision is that the station can't support employment in which case it will be a station of volunteers. Alternatively, we continue as we are, with perhaps one or more full or part time employees, and we operate commercially either as a not-for-profit organisation or a conventional company."
"One thing that Covid has proven is that people can contribute to the station from home. The people hosting our shows now are broadcasting from home with laptops, a decent microphone and an internet connection. Their shows can be broadcast live or pre-recorded. Technology has dramatically reduced the amount of equipment needed, and from your computer you can play out jingles, adverts, news and weather content and so on."
"When I present the breakfast show it's live, but from the back bedroom in my house in Stamford. The fact that we don't need dedicated studios is a significant financial advantage to the station."
"The changes extend to how people listen to the station as well as how we broadcast it too. Because we output to the internet, we can gain very precise information about how people are listening and actually, 40% of our listeners now are accessing the station through smart speakers – an Alexa, for example."
"We've had absolutely tremendous support from communities in Rutland and Stamford, and from advertisers too. People can advertise, donate, contribute as volunteers… it's never been easier or more rewarding to become involved in a station that is, after all, supposed to be by – and for – the people of Rutland and Stamford."
"And of course, we've not yet been able to exploit the technology we have available to us. We haven't been able to go out and about in the community yet, but as events return to the calendar and things begin to open up again, all we need is an internet connection and we can go out into the community to broadcast and be closer to our listeners than ever."
"In other words there's so much potential for the station and so many ways that we can build on the success and the good feedback we've had so far. We're optimistic about the future and about providing a radio station that keeps us connected to our listeners and our listeners connected to their communities."
"We'll have to see what happens with the station moving forward but the response we've had in our first six months has been really great, and we're feeling really optimistic about being able to provide good quality local radio content for the people of Rutland and Stamford."
For more information and to listen online see www.rutlandandstamfordsound.co.uk.