There's 'multum in parvo' as far as England's smallest county is concerned. For a time Rutland was incorporated into its much larger neighbour of Leicestershire, but the plucky county has been described as 'a scenic slice of Middle England bursting with things to see and do.' That's reflected in a new book, The 50 Gems of Leicestershire & Rutland in which local author Michael Smith highlights some of his favourite places from both counties. Michael has selected those locations and sites which give the visitor a real flavour of the area, pick up his book for more of the same!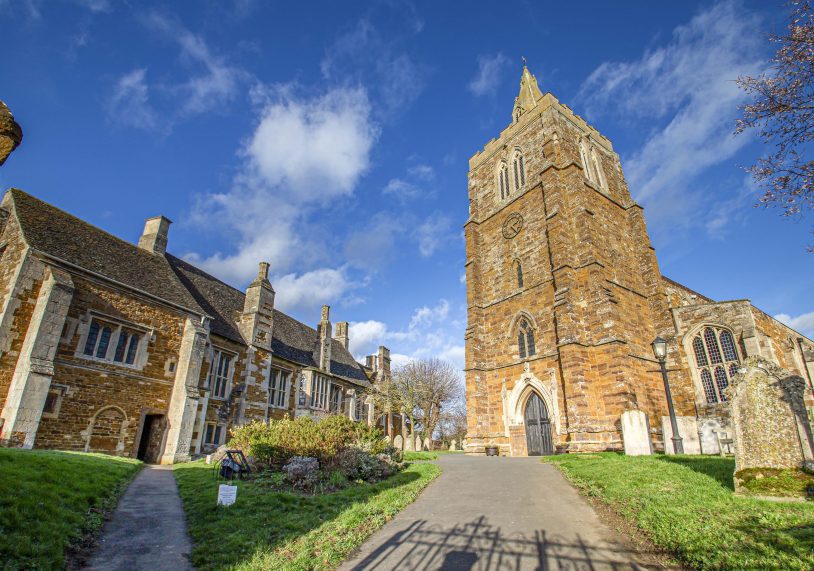 Hallidays Folly
Halliday's Folly in Greetham is the former home of a stonemason that was given its nickname by local people over a century and a half ago. It was built in 1850 by Thomas Charity Halliday whose stonemason's business was involved in the repair and restoration of churches throughout the area.
He was a man who might be accused of bringing his work home with him, for he was in the habit of returning to Greetham with fragments of medieval masonry which he used to decorate his workshop and thus advertise his business. Today this might be regarded as architectural salvage!
The building has now been converted into a pair of interconnected holiday cottages which can be rented out by visitors to the area. Greetham also boasts other interesting and historic buildings including the church, an eighteenth-century inn (the Wheatsheaf) and a rather unusual well.
Uppingham School    
Uppingham School was founded in 1584 by Robert Johnson, the Archdeacon of Leicester who also established Oakham School in the same year. The original schoolroom in Uppingham churchyard is still owned by the school and is a Grade I listed building. It was originally a typical small-town Tudor grammar school where the teaching focussed on Latin grammar, religious education, arithmetic and occasionally history and Greek.
It changed little over the years but was transformed by Edward Thring, the great Victorian educator who became headmaster in 1853. The school that he inherited had only two masters and around thirty boys. In the space of just thirty years, he rebuilt the school, creating not only improved boarding accommodation for the boys but also a chapel, laboratory, workshops, a museum and a gymnasium.
In academic matters he ensured that the boys studied not only the classics but also mathematics, modern languages, music and practical subjects. He also believed that the development of character was as important as the development of intellect.
He had a huge influence on the development of public-school education and went on to found the Headmasters Conference. The buildings he created still form the physical core of the school. The school itself is private property but many of the Victorian school buildings are clearly visible around the town. Perhaps the most impressive is the tower and porter's lodge on High Street.
Lyddington Bede House        
Hidden away in the tiny village of Lyddington, the Bede House dates from the fourteenth century and was originally one wing of a rural palace belonging to the rich and powerful Bishops of Lincoln. They came here to enjoy the hunting, but as it was located close to the centre of the diocese it also became an important centre of ecclesiastical administration. The original structure was built on the orders of Bishop Burghersh.
It was a substantial and stately building comprising a number of rooms including a hall, great chamber and presence chamber where the bishop held court and greeted important visitors.
A private chapel was provided where the bishop and his attendants were able to attend Mass. There was a magnificent formal garden and the bishops also created deer parks, pastures, orchards and fish ponds to provide food for themselves and their retinue. All this changed with the Reformation. The house was seized by the king's commissioners in 1547 and it became a private dwelling.
It later passed into the hands of William Cecil, Lord Burley. It was his son, Thomas, who founded an almshouse there called the Jesus Hospital. It seems likely that some major restructuring work took place at this time with much of the original palace being demolished.
In a document dated 1601 provision was made for twelve poor men, two poor women and a warden. They were provided with blue gowns and black caps and received a stipend of two shillings and four pence as well as an allowance of pit coal and wood for fuel. In return they were expected to undertake some useful handicraft work and attend religious services on a regular basis. The organisation and administration of the house changed considerably over the years but the building remained an almshouse until the 1930s. Lyddington Bede House is in the care of English Heritage and is open on a regular basis. One of the rooms has been reconstructed as it might have been in the nineteenth century. In addition to the Bede House the adjacent Church of St Andrew is also of interest. This too dates from the fourteenth century and contains a medieval wall painting which was uncovered in 1937. This is believed to depict King Edward the Confessor dressed in an ermine cloak and holding an orb.
Rocks by Rail 
Rocks by Rail Living Ironstone Museum was previously known as Rutland Railway Museum. It has been described as a gem for railway and history enthusiasts and aims to preserve and operate industrial locomotives and mineral wagons as well as a wide range of related artefacts. The museum site covers an area of around 19 acres and depicts a typical quarry system when both steam and diesel were widely used.
The museum is home to over twenty steam and diesel locomotives in varying stages of restoration. These include two locomotives built by the Andrew Barclay company which are used to provide rides for passengers on open days. On these occasions, visitors travel on one of three authentic brake vans.
On some occasions these trains are hauled by diesel locomotives with names such as Betty and Jean. Probably the most interesting and popular exhibit is the steam saddle tank locomotive named Singapore. This was constructed in the Tyneside works of Hawthorn Leslie & Co. in 1936 and was delivered new to the Royal Navy dockyard in Singapore. It was captured by the Japanese when the base fell in 1942 and the shrapnel damage it sustained is still evident. After the end of the Second World War it returned to Britain where it was put to work at the Chatham dockyards in Kent. After being retired from service it was eventually acquired by the museum and became the first working locomotive in the collection. It is supported by the Far East Prisoners of War Association and is a registered war memorial. There is much to see and do at Rocks by Rail. As well as enjoying a train ride, visitors can explore the Simon Layfield Exhibition Centre where many of the locos and rolling stock are stored. On 'Driver for a Fiver' days, held on certain Sundays during the summer, visitors get the chance (under supervision) to take a diesel locomotive for a trip down the line and back to the platform.
In this new book, local author and historian Michael Smith highlights some of his favourite places from both counties. He has selected those locations and sites which give the visitor a real flavour of these shires at the heart of England. Michael Smith was for many years Vice Principal of Castle Donington College and now lives in Ashby de la Zouch where he is Secretary of the History Society. He's also a successful author, with ten previous books to his credit. Paperback, 96 pages, 100 illustrations, £15.99. See www.amberley-books.com.