Together with the hospitality sector, the performing arts industry has had it tougher than almost any other industry when it comes to enduring the pandemic. Thankfully, Curve in Leicester is now open again, as safe as can be and with a brilliant programme of autumn productions…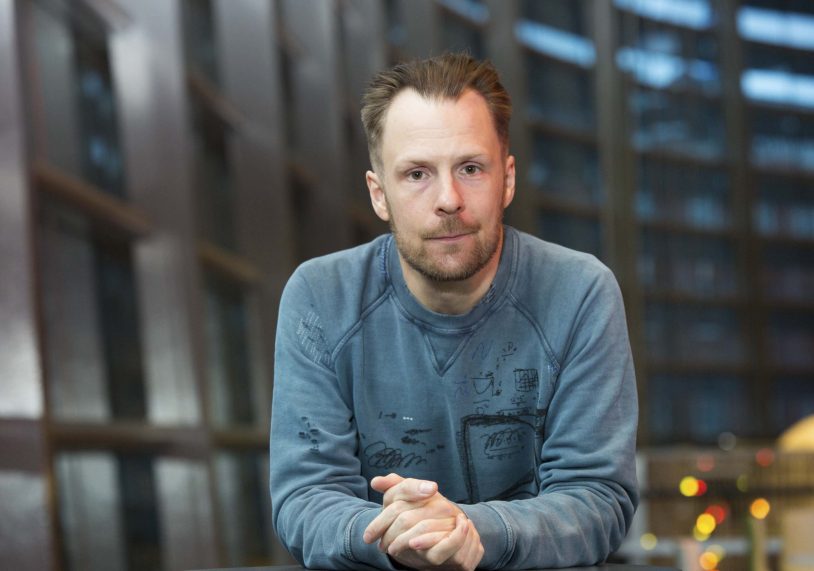 It's a vast space. Over 900 seats worth of giant auditorium, tumbling down toward the stage, a huge place for world-class productions and the best talent in the performing arts sector. At the moment it's near silent, except for a soft murmur from the ventilation fans.
Later though, as the audience begins to take their seats for that evening's performance of Grease: The Musical, the hum will be replaced by a cacophony of anticipation, and then as the lights are lowered, by the familiar soundtrack of the musical score with which we're all so well-acquainted.
"I don't really like it like this," says Nikolai Foster showing off the £61m theatre, which opened in 2008 and whose productions are enjoyed by an audience of 750,000 every year at Curve and on tour. "It's too quiet like this, I much prefer it when there are rehearsals going on, or crews working away on sets, or big audiences and productions taking place."
It's been too quiet for too long, and though as an industry the performing arts sector has received support from the government amid Covid, only when shows can resume and auditoriums can again be full will theatres like Leicester's Curve begin to properly recover and put a dreadful couple of years behind them.
Nikolai says the theatre was his sanctuary from a young age, and his own experiences have made him determined to offer the same emotional, intellectual and cultural home to other young people, and to communities of all ages across Leicestershire, to give them the same opportunities and the same enjoyment he's enjoyed during his career.
Why does theatre mean so much to you?   
I was born in Copenhagen to a Finnish mother and to an English father who was very abusive and violent. As a family we moved back to the UK when I was young, thinking it might make our lives better which, of course, it didn't.
Living in Yorkshire in quite a working class area, school was quite tough and when I joined the school's theatre group, it was a sanctuary from home and from school life. It was inclusive and supportive and wonderful.
I joined The Drama Centre in London – now incorporated into Central Saint Martins – and studied alongside Michael Fassbender and Tom Hardy, initially with the intention of becoming an actor. But seeing incredible talent around me, I felt a bit overwhelmed!
So your original career aim was acting?      
Another of the theatre's former students was Sir Anthony Hopkins who (very) allegedly took inspiration for his portrayal of Hannibal Lecter from one of the tutors there. That same tutor would conduct a cull each year, which was always very brutal.
I faced his wrath and was on the cusp of being chucked out when I blurted out that I'd stay and pursue stage management and directing. It saved my skin and I'd already been producing whole plays – writing, directing, getting to grips with stage management and lighting and so on – so I found a new fascination with being behind the scene rather than on the stage.
In fact, when I did find myself on the other side of the curtain again, I realised just how much I loved being involved in productions instead of performing in them.
I've never forgotten what a difference theatre has made to my life, and whatever we do here, it's always with a view to making people feel as included and fulfilled as it first made me feel.
When did you come to Curve?         
I joined about seven years ago, having already worked as a freelance director. Curve is incredibly well-regarded in the sector; it's well-respected. I work closely with our Chief Executive Chris Stafford and host weekly programming meetings with the team.
For any given week we could host any one of two or three shows, so we're fortunate to have our pick of a number of productions. Consequently we're able to maintain a dynamic, diverse schedule of really high quality productions and pick the cream of what's available at the time to really push forward and ensure there's something for everyone here, every season.
But we're also fortunate to have our Made at Curve team which has a huge breadth of skills and can incubate local talent both on stage and backstage. We have a thriving youth theatre plus Curve Associates to call on too; theatre experts, choreographers of dance, choirs, writers… there are so many people who can infuse our productions with locally-nurtured talent, in addition to our own in-house creatives.
What facilities are there at Curve?  
We have our 900-seater auditorium with its proscenium and over 150 flying bars, all computer controlled. That means we can host technically sophisticated show and not have to limit our creativity for practical or logistical reasons.
There's a studio too, which can also be configured to host anywhere from 100 in a cabaret-bar configuration to about 400 people in a theatre configuration. We've five rehearsal rooms as well, the first two of which can also be used for smaller performances or events. For a large theatre, we also have smaller or more configurable spaces too, so as large as we are, we can also 'shrink down' to wrap around events and productions of any scale. In addition, we've a recording studio, paint frames for creating sets, and our own costume workshop.
How has Covid effected Curve?       
The theatre is owned by the Leicester Theatre Trust, which has about 10 trustees at any one time. About 20% of our income is via The Arts Council England and Leicester City Council, but the remaining 80% is all derived from ticket sales. That means we've lost 80% of our income during Covid.
We were grateful of two Cultural Recovery Fund Grants totalling about £1m, and for the Furlough Scheme too, as we employ about 90 full-time members of staff.
It has been heart-breaking, and as we emerge from Covid, our bank balance is still depleted but we're still here and we're determined to look after our audiences, host our productions and to get back to normal.
What about the theatre industry generally?           
The performing arts industry is hugely fragmented, consisting of many freelancers and professionals with very niche specialisms which are threaded through the industry like a spider's web.
Because of that, there are tens of thousands of small companies that are heaving under the strain of having no work. That's why it's so important to the industry that we can get back into our theatres and recommence our programme of shows and productions. It's also essential for the UK's cultural industries, beyond the enjoyment that our audiences can take from a visit to see one of our productions.
So, this season?         
Well, those familiar with Curve will know that the building is modern, very well-ventilated and there's room for social distancing when you're enjoying a pre-show drink or passing through the foyer. We've introduced 'ticketless ticketing,' and our new thermal cameras take your temperature as you enter the theatre so we believe we're as safe as possible and able to offer our visitors as much peace of mind as we can.
A stage manager is always health and safety aware – it's part of the job – and they always have to be super-organised, so those two qualities translate very naturally into creating a safe theatre for our audiences.
And this season's shows?     
We've had our pick of the very best shows and September alone has some really phenomenal performances. Without really meaning to, we've created a season which values and reflects a theme of inclusivity, starting with one of Tennessee Williams' most blazing masterpieces Cat on a Hot Tin Roof.
From that point, we thought it was important to inject some colour and fun into the autumn, so we're hosting Priscilla: Queen of the Desert, which is joyous, iconic and just spectacular.
The fun continues with Everybody's Talking About Jamie which comes to Curve from the West End as part of its first UK tour. It's about overcoming prejudice, stepping out of the darkness… it's just a feel-good musical that's upbeat and brilliant.
We're also welcoming My Night with Reg, which has just made its debut in London and is set in 1985, similar in contrivance to Channel Four's recent It's A Sin.
September ends with another production so fresh it's still pre-Broadway in age, but it has already been nominated for multiple Olivier Awards. Six is a musical retelling of the story behind Henry VIII's six wives, but with an infusion of 21st century girl power ideology.
And looking further ahead? 
We're renowned for our pre-Christmas productions, and this year we've been absolutely blessed to have been given permission by the rights holders for a Made at Curve production of A Chorus Line.
Set in the theatres of New York in 1975, it was written and choreographed by Michael Bennett using recordings of testimonies from real Broadway dancers. In a sense it's a part-autobiographical insight into theatre.
I suppose it's a love letter to Broadway – and by extension, to theatre itself – which is upbeat, and celebrates in this context the return of theatre's availability to our cultural lives.
It'll be one of our flagship productions, similar in scale and production values to 2019's West Side Story. Made at Curve productions typically involve a cast and crew of a hundred people, and the quality of the productions reflect that. I really don't believe you'll see anything better anywhere in the West End.
There's no doubt it's an important production for us. It represents a return to doing what we love and doing what we do well. Zoom meetings and working remotely are not commensurate with the practicalities or necessary creativity of producing really great shows, and so we're all very keen to get together again and show audiences just how good Curve, its talent, its creatives and its team members can be.
Any final thoughts?   
Theatre has incredible power. Emotionally, intellectually, and culturally it can be really involving and really bring people together when it is done well. It's so important to support your local theatre, and to support an industry that can be so positive and can help us all to feel good in a post-pandemic era when nerves are shot.
And that's why we're here. Everything we do is about creating a high quality, inclusive and enjoyable experiences for our audiences and for those involved in our productions.
To find out more or to book tickets for the above performances, call 0116 242 3595 or see www.curveonline.co.uk. Curve is based on Rutland Street, Leicester LE1 1SB.