Two Rutland farmers have been – quite literally – carving out a niche for themselves since May 2020 by planting 8,000 pumpkin seeds. This year will be their second harvest so if you've a youngster in the house, it's time to create a cheerful carved pumpkin, grown in Rutland, ready for Halloween!
Images: Lizzie Rees, 07951 030114, www.shootitmomma.co.uk.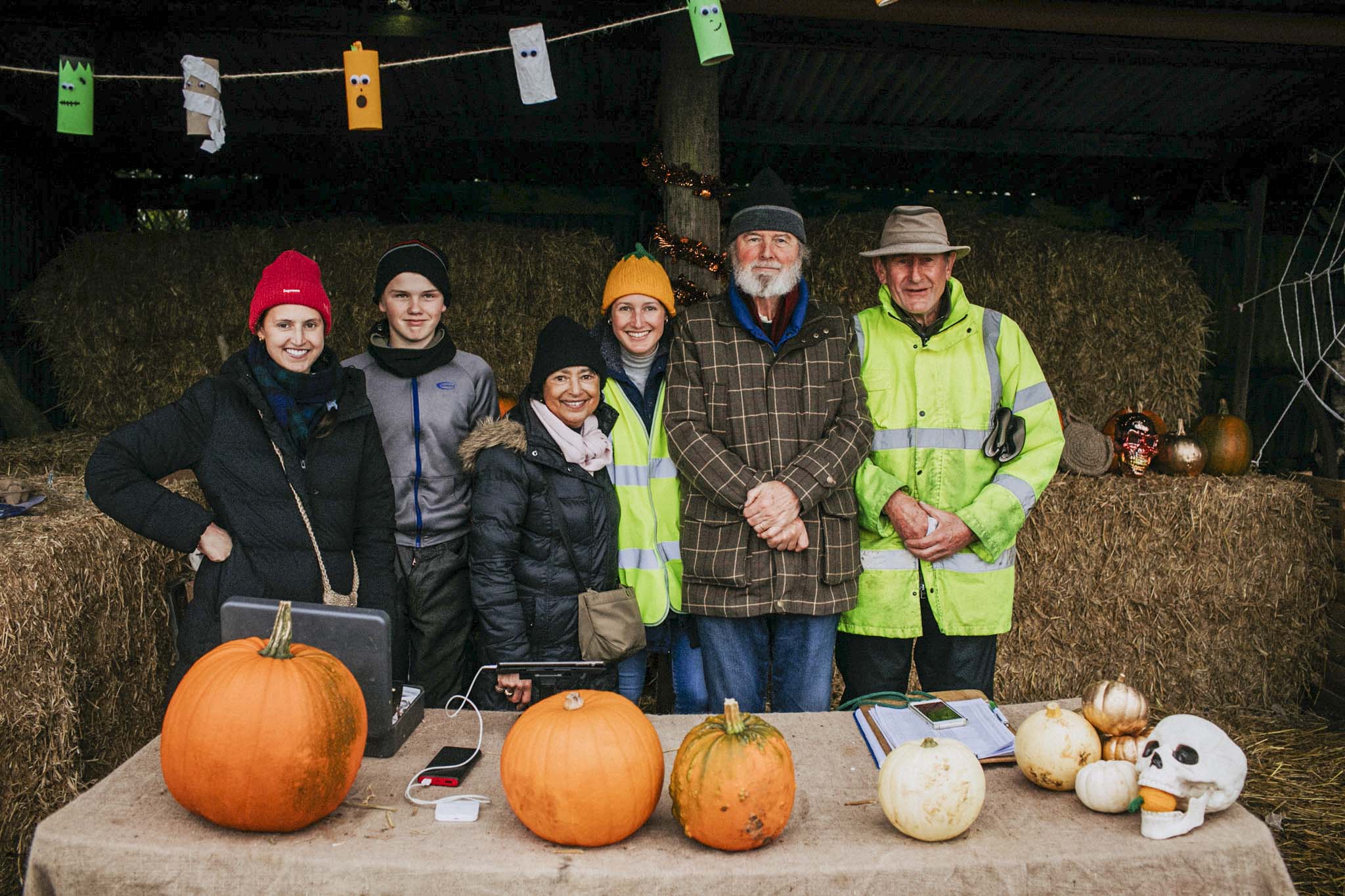 It's an essential part of childhood. Pick up a pumpkin as Halloween nears, scoop out the inside and have a go at carving a scary – or perhaps a silly – face and pop in a tealight. Good old fashioned family fun! Each year the UK dedicates 3,523 acres of land to growing pumpkins, which equates to 14,972,750 of them, and a yield of up to 4,000 pumpkins per acre, variety dependent.
Back in May of 2020, Rutland's James & Peta MacCartney were thinking about their crop rotation and realised that the addition of a pumpkin crop would add much needed nutrition for their cereal and silage rotations.
James' family farm, Flitteriss Park Farm, near Oakham, comprises about 500 acres, some tenanted and farmed in house. With 500 ewes and 150 head of cattle, pumpkins would command a comparatively modest amount of space; about four acres. But that was still sufficient for the planting of about 8,000 pumpkin seeds, on a field adjacent to James' sister Abigail's business, Live Lab, which provides grain, feedstuff and soil analysis to support the merchanting and brokering industries. The family's first harvest was a real success, ticketed to control numbers because of Covid, but with all of those tickets selling out in just six days.
For their second year in the pumpkin business, James has increased the number of seeds sown for 2021 to 15,000, and hope that'll yield 10,000-12,000 pumpkins. They were sown a little later this year because of the weather.
Incidentally, if you're wondering if it's simply a case of cracking open a pumpkin and planting the seeds in the ground, we have to report that it's rather more involved than that. Last year a few of the pumpkins remaining in the field were left for the sheep to munch. Whilst they passed the seeds, none of them germinated and so to yield a decent crop of pumpkins, your only real option is to purchase commercially treated seeds.
Last year was especially dry, but that was fine as pumpkin plants have long, deep roots. The weather this year is producing a good uniform crop of miniature Jill be Little's, small white Casperitas, knobbly and warty Knucklehead pumpkins, and your traditional carving varieties like Wicked and Early King. The Early King can reach up to 12 kilos in weight, so they really do require a wheelbarrow to be carted around!
As harvest approaches, James & Peta check their crop and once ripe, they roll each pumpkin off the vine which enables the plant itself to get started rotting back into the ground – feeding back into the soil all that lovely nutrition – whilst the stalk of the pumpkin fruit itself dries out and leaves that lovely woody handle to lift up the lid of your hollow, carved out pumpkin, ready for a little tealight.
Our top tips for carving? Many of the kits that supermarkets and some garden centres sell are horribly cheap, so robust tools should be used at the very least. However, for less labour and more precise carving, the best tool to use is a Dremel or a similar implement. With more control you'll be able to carve the most elaborate shapes and designs to put your neighbours to shame.
Incidentally, on the subject of aesthetics, some growers are also producing 'designer' pumpkins such as one Lincolnshire grower, David Bowman, who has successfully managed to train his pumpkins into moulds resembling Mickey Mouse's round head and ears, shipping them off to Disneyland in Paris.
As for the contents, a pumpkin and venison tagine or pumpkin and lentil soup are winter warmers, rather better than the usual suggestion of pumpkin pie… and they'll prove sufficient to put a smile on your face, as well as the one on your hollowed-out pumpkin!
Find Out More: James and Peta MacCartney are the founders of Rutland Pumpkins, based at Flitteriss Park Farm, LE15 8DF. Call 07849 029198 or see www.raddlemans.co.uk.