As Pride goes to press, champagne corks – as well as popcorn kernels – will be popping as two Rutlanders wait to hear if their vision to create Rutland Kino, a new cinema in the county, will finally come to fruition. This month, we're getting the inside story on a golden opportunity for the silver screen…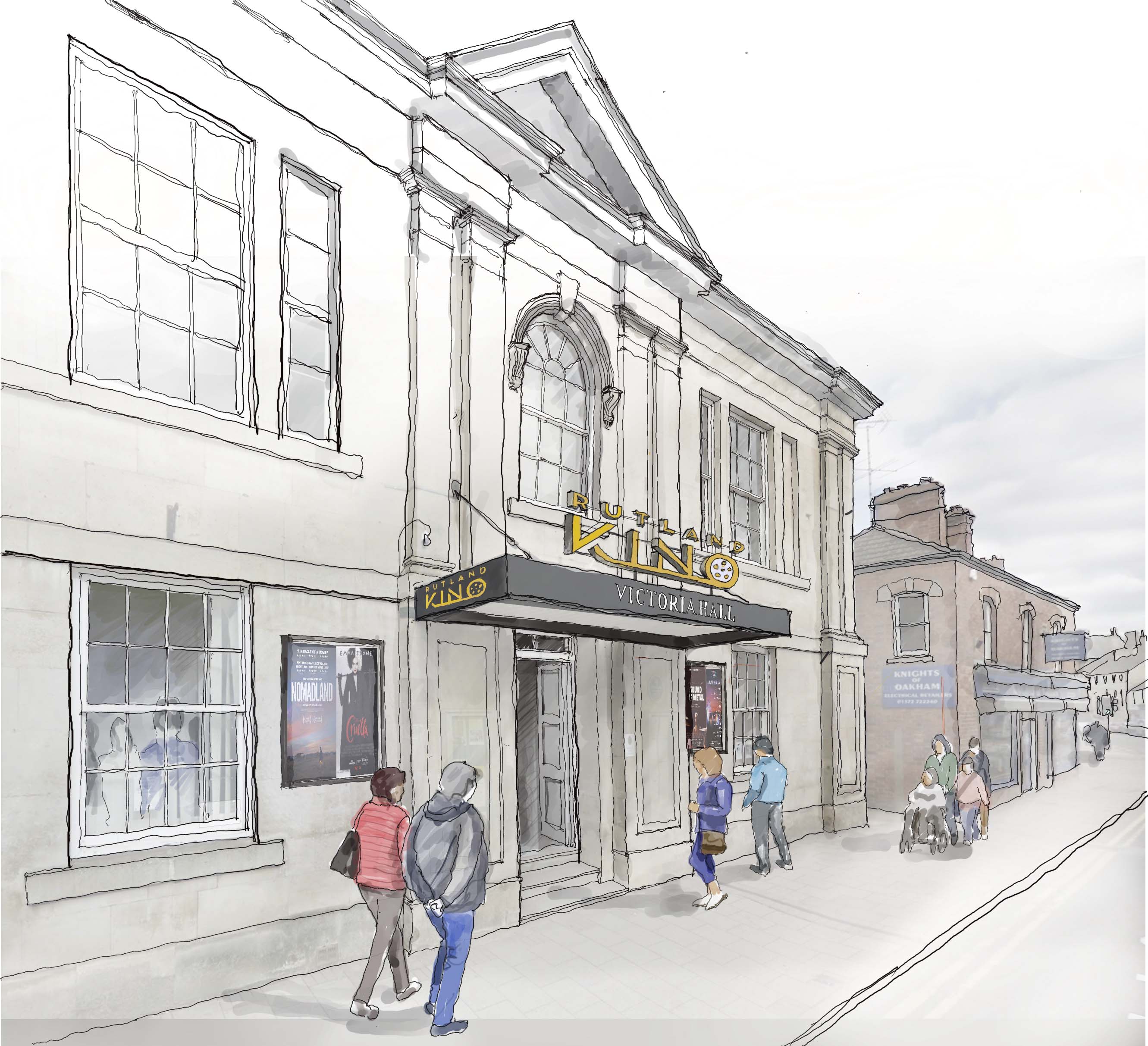 Genevieve Margrett reckons that 'going to the movies' is one of life's profound pleasures, and she and Andrew Robinson – another Rutlander who's keen on the cinema – are addressing the lack of a cinema in the county with their plan to open the Rutland Kino boutique cinema in Oakham. In true cinema tradition, it should be a 'happily ever after' ending, following a five-year effort to bring a dedicated cinema to Rutland after an absence of nearly 40 years. So, why's it taken so long?
Genevieve & Andrew aren't just a couple of locals who fancy creating a cinema. Genevieve has over 15 years in communications, having worked in marketing and publicity for BAFTA and its subsidiaries like Albert, an environmental organisation funded by the industry itself which is seeking to decarbonise the film and TV industry. She also has experience working in the hospitality sector with a stint as marketing manager for Harvey Nichols' OXO Tower Restaurant.
With an initial idea, and a possible site in mind for a cinema, Genevieve put out feelers on social media, and one of the respondents was Andrew Robinson. Andrew was about to retire as CEO of Harkness Screens, manufacturers of the screens that films are projected onto. Adding technical knowledge to Genevieve's marketing expertise, the two set about assessing the viability of bringing a cinema to Rutland.
"We discovered there was really strong local demand, not just for the creation of a cinema in Rutland, but also for the type of cinema we envisaged. In the 1990s the rise of the multiplex 'saved' cinema from the decline of the previous 30 years. But these large, generally out-of-town cinemas, mainly targeted the younger demographic with blockbusters, and sold overpriced popcorn and cola."
"Our vision was a cinema which offered the technical sophistication to do modern blockbusters justice, but also a town centre location, so that other businesses located around it would benefit too. The idea is that, before or after enjoying a film, you could enjoy shopping, have a meal or go for a drink. Rutland Kino will have its own café bar, which will serve good wines, cocktails and a food offering geared to cinema-goers. Our ambition is to sell over 1,000 tickets a week so there will be plenty of additional 'footfall' to benefit other businesses."
"As well as a large screen for 'mainstream' releases, we also wanted a second screen to provide us with further capacity and the ability to host other productions that are sometimes overlooked by multiplex cinema chains. So, we have in mind including seasons of 'classic' films; arthouse cinema; the screening of children's films as well as streamed productions from the National Theatre and opera houses."
"We want to create something for everyone in the community, not just for those who want big budget films. Although we will primarily be operating a cinema and an associated café bar, we also want to include space that could accommodate local live music or art exhibitions, to extend the remit into other areas within the arts."
"Four years ago, the idea of Rutland Kino was well received locally with positive comments on social media and directly via our website."
"Investors, too, were keen and we quickly found ourselves gaining interest and potential sources of finance for the project. We had a potential location at the Oakham Baptist Church, and it was really looking promising. However, the church has been unable to relocate and so progress had stalled until recently, when we were approached by the trustees of Victoria Hall on Oakham's High Street."
"In between, we looked at many sites in Oakham, and also considered Uppingham, but cinemas have quite specific requirements, and nothing was right until we started to look into the possibility of using the town's Victoria Hall."
"The business model of the cinema industry is quite simple. An independent cinema like ours buys films from a distributor like Independent Cinema Office, one of the best distributors for independents – responsible for bringing about £6.5m of box office revenues to small cinemas each year – and that distributor in turn would 'book' films from larger distributors or from the filmmakers directly."
"It's a case of determining what your audience will be and ensuring profitability of ticket sales over the cost of renting films. Being an individual cinema, we'd have the ability to give screen-time to smaller independent films which are sometimes overlooked by multiplexes and chains."
"Our costs to convert the Victoria Hall will be in the region of £2m, which sounds a lot but there are many technical issues to address when converting an existing building into a state-of-the-art cinema. We've already obtained commitments from potential investors of about 70% of our target as we move into the detailed design phase of the project, which is the next major financial commitment."
"The Victoria Hall is a beautiful building and the ballroom on the first floor is a good-sized space to accommodate our main screen with 89 seats and the second screen with 30 seats.  The upgraded ground floor will accommodate the café bar on the right and the space on the left will give scope for other community activities.  The cinemas themselves will also be available for private hire when not showing films by community groups, individuals, or businesses."
"We're working with Stefanie Fischer of Philip Meadowcroft Architects, which is a firm of architects specialising in both historic buildings and cinema conversions. They've a brilliant working knowledge of historic buildings, and their suitability for conversion, and will ensure that as well as creating a cinema, we will also retain as much of the character and as many of the Hall's original features as possible."
"Stefanie also has a really good knowledge of the technicalities of creating a cinema: knowing what's necessary to bring a good picture and good sound with comfortable seating and good sightlines to the cinema. Access for the disabled is also hugely important and both screens and the café will be well adapted for wheel-chair users."
"We still have over £500,000 to raise and we are seeking more investors. We have a detailed and well-researched business plan for those who might be interested. Rutland County Council will consider our planning application on 19th October, which will be an important milestone. Beyond that we've a number of reasons to feel optimistic."
"Firstly, we've already secured a substantial part of the funding necessary to proceed. Secondly, we've made a good case for the how the building can serve as many people in the community as possible and how it can increase footfall in Oakham and help the economy, post-pandemic. Finally, according to our anecdotal evidence, the project is extremely popular with locals who want Oakham to gain its first dedicated cinema since the 1980s."
"Overall, it feels incredibly positive and we're hoping that we can begin construction work in early spring with an opening date late in 2022. That means this time next year we could be getting ready to put family favourites on the big screen of Oakham's very own boutique cinema at Christmas: It's A Wonderful Life, Love Actually… or my personal favourite, Home Alone!"
Find Out More: For more information on Genevive and Andrew's  Rutland Kino boutique cinema project, see www.rutlandkino.co.uk.
How to screen a film: 100 years of cinema and storytelling…
The earliest cinemas debuted at the turn of the 20th century. The Lumière brothers had already shown their first projected film in Paris. Early films focused on novelty, not narrative. One screening, for example, showed a steam train moving towards the screen, viewers screamed and tried to dive out of the way, convinced that the train would come out of the screen.
From about 1905, cinema moved more towards narrative. US Director D W Griffith introduced parallel stories which the narrative would cut between. 1915 introduced soft focus to indicate beauty – for stars like Mary Pickford – and the coloured tinting of black and white films was introduced around 1920. Ground-breaking early films included F W Mernau's vampire film Nosferatu and Fritz Lang's sci-fi film Metropolis.
1927's The Jazz Singer brought synchronised dialogue, and though there were early experiments with colour, 1937's Snow White and 1939's Wizard of Oz introduced proper colour to films.
The latter begins as a black and white movie, turning into colour when Dorothy lands in the colourful – literally and narratively – land of Oz.
Cinemas boomed from the 1930s, right into the new wave/art house movements from the 1950s, with France's François Truffaut (A Bout de Souffle, 1960) and Jean-Luc Godard (Jules et Jim, 1962) leading the way for other movements, like art house in other countries like Italy (Fellini's La Dolce Vita in 1961 and Zeffirelli's Romeo & Juliet in 1968).
From the Blaxploitation subculture of the 1970s and sci-fi blockbusters of the 1980s, to computer-generated effects in the 1990s, cinema has never lost its appeal. But for all its narrative evolution, the system of projection remains the same.
Today, a projector is still used, albeit one with lasers instead of conventional lamps for greater precision and contrast. Meanwhile modern screens have evolved to provide richer, sharper colours. Sound technology, too, has evolved to direct sound systematically around a 3D space to give a more immersive experience.
The comfort of cinemas has improved enormously and seats have evolved to give more space, to recline and in some cases to include special effects such as vibrating, rocking and wind and water effects.
What has changed fundamentally is the means of getting films to the cinema in the first place. Gone are the days of loading film reels into projectors. Today's films are downloaded electronically using a code or 'key' that includes agreed details about which screens a film may be shown on, on which dates in a particular cinema. Computers then stream the film straight to the projection system.