It's a jewel in the crown that is Uppingham, and finger's crossed, 2022 will bring a whole year of uninterrupted trading for Laura Totten and the team. A menu of relaxed, feel-good dishes will lift your spirit right through winter and into the spring and summer months at The Crown…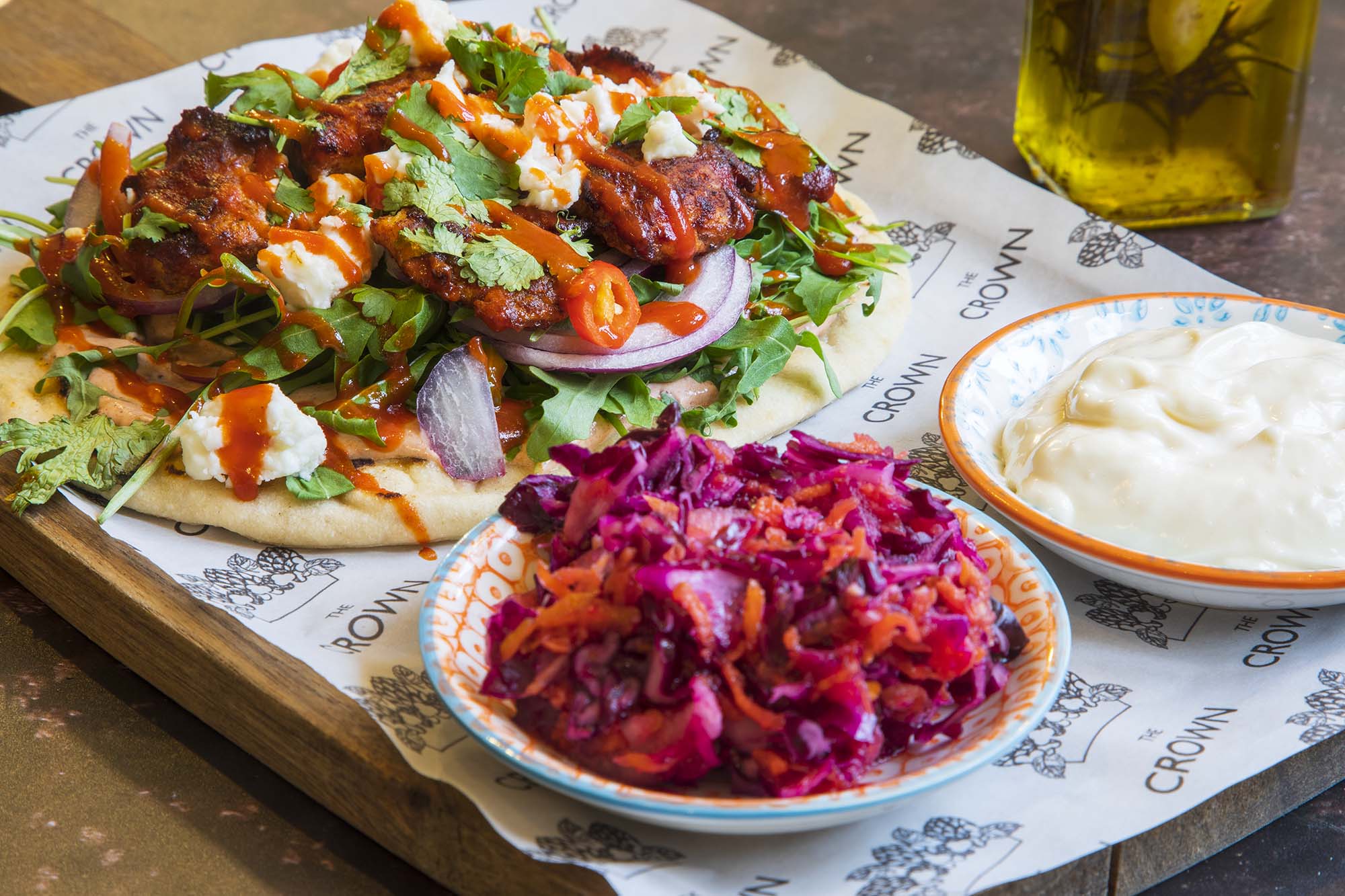 Are you the superstitious sort? Then touch wood, keep your fingers crossed, hang up that horseshoe (there's a few kicking around Rutland) and clutch that four-leaf clover close to your heart.  With a new year comes renewed optimism that the dreadful virus will abate and we'll be able to enjoy a more normal spring and summer.
Also hoping for a bit of normality in 2022 is Laura Totten, publican at The Crown in Uppingham. It's difficult to believe, but the place has been a fixture on the High Street since July 2020,  but despite that, the place hasn't had much beyond six months of continuous trading what with the disruption that the hospitality trade has been subject to ever since she renovated the Grade II listed ironstone pub, which dates back to the 1570s.
"With a degree of luck, 2022 will be a full year of trading," she says. "That means it'll also be our first proper Mothering Sunday,  our first Bank Holidays and a first complete summer opening our doors to locals."
There are signs that things are picking up. During our visit, Laura has just enjoyed brisk trade during the town's pre-Christmas late night shopping event, which she says was a huge success. That evening many locals came to enjoy a drink and some expressed their joy as discovering The Crown for the first time, and though the feedback was very favourable indeed, it's certainly taken long  enough to become established in the town.
"The town has a character and a charm and a personality which belies its size," she says. "It was horrible when Uppingham School and Uppingham Community College students were studying at home, the place felt like a ghost town."
"Now it feels more like proper Uppingham once more, with lots of people  around and a real nice feel. I think it's telling that despite its small size the place feels once again like a successful thriving community, albeit one still recovering from the consequences of Covid."
Accordingly, Laura wanted to create a place commensurate with the feel of Uppingham. That means traditional, comfortable, friendly and welcoming.
"There were fish 'n' chip shops in the town, fine dining opposite at The Lake Isle, but there didn't seem to be anything in-between."
"What we wanted to create is somewhere that was sociable and relaxed, where families would feel welcome and where you can sit with lighter dishes and graze over a few drinks with friends."
"We are fortunate to be affiliated with Everards of Leicestershire which means that we can bring their locally brewed and ever popular Tiger to Uppingham, along with the rest of their range.  They also give us access to other microbrewers that work with them such as Lincoln Green and Titanic so we always have a great line up of real ales on the bar"
"In terms of food, we offer a range of flatbreads, hand-stretched stone baked pizzas, tapas and salads, which are ideal for casual dining, sharing and grazing… in other words, sociable relaxed and enjoyable dining."
"We believe in embracing the season in terms of food, and whilst we're looking forward to spring, we're by no means out of the winter months yet, and that's reflected in our specials too, which at the moment include a really hearty leek and potato soup with warm crusty bread."
"There's a baked Camembert on the specials menu too as well as chorizo and bean stew. All three are real good hearty winter dishes and they're served in the bar in front of a big open fire. It's really cosy!"
Speaking of cosy, visitors to the town also enjoy the availability of one of half a dozen beautifully refurbished rooms. Wonky walls, exposed beams and wood panelling around the old window are brought right up to date with modern panels of feature wallpaper or murals, whilst plump pillows are smothered in smooth white linens and thick quilts. Bathrooms are all brand new, and there's a sense of proper individuality to each of the rooms.
"We're keen to ensure that there's a good provision of food and accommodation for those visiting Uppingham, but also to make sure we look after locals."
"Our Sunday Lunch menu is now available, and that's based on the same principles of quality and good value with three courses, good side dishes of beautifully prepared vegetables and winter puddings served with cream or custard, real people pleasers!"
"We don't really feel like we've shown off the place to its full potential yet, but already we've had some fantastic feedback, so we're hoping that with a year of trading under our belt in 2022 we'll be even more firmly established in the town."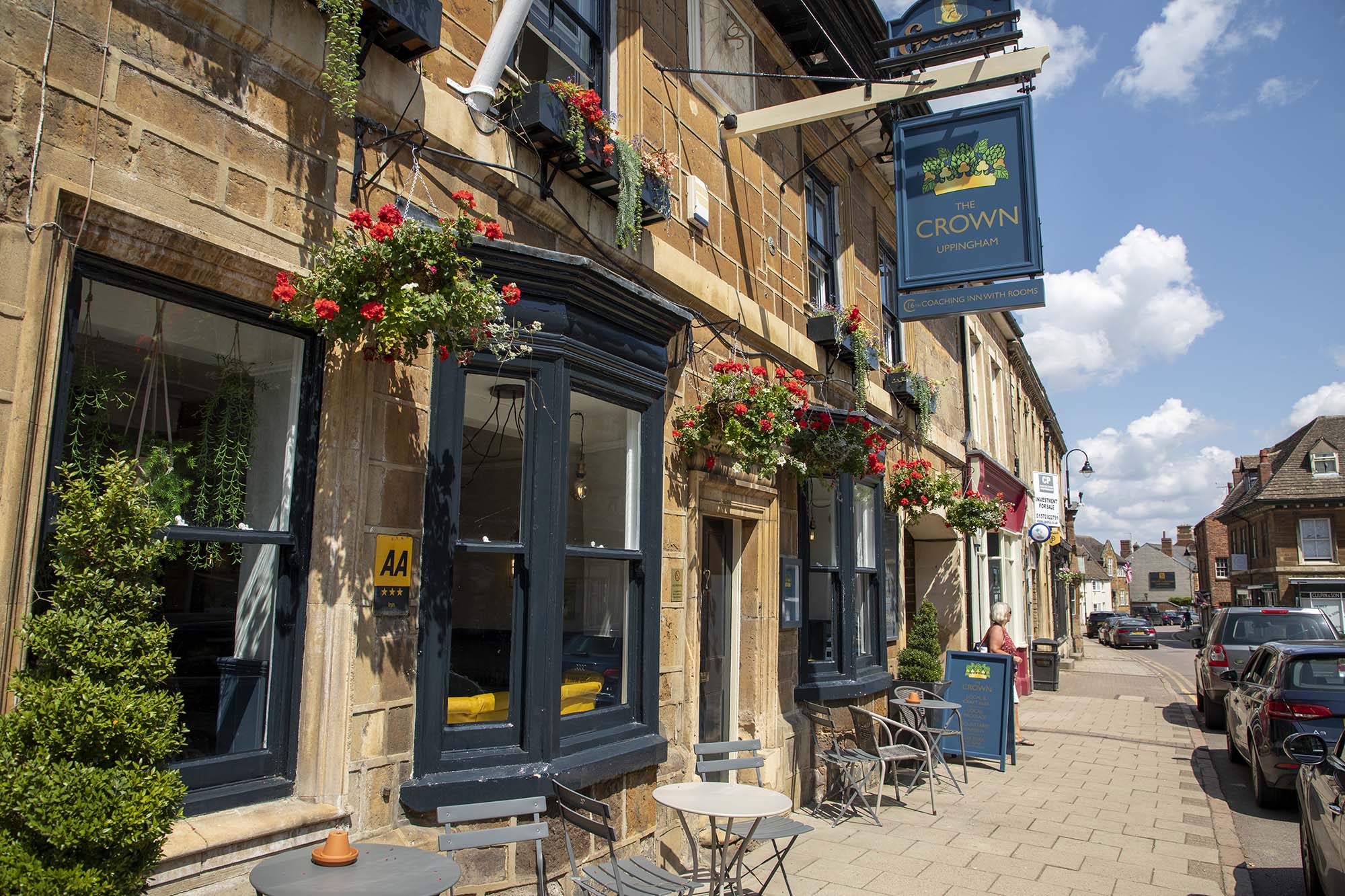 On The Menu
Crown Pizzas
The Rutland Red, fior di latte mozzarella, Rutland red, Manchego and Long Clawson blue, £10.95.
Athenian, with Souvlaki chicken, green peppers, black olives and feta on a rich tomato and  fior di latte base, £12.75.
Flatbreads
Tandoori chicken flatbread with marinated chicken breast on a bed of tandoori yoghurt, rocket and pea shoots with sriracha plus feta and chillis £11.75.
Honey halloumi flatbread with chunks of honey marinated halloumi with black sesame seeds on a sweet chilli sauce with rocket and pea shoots £11.75.
Sunday Lunch
Roast beef with mustard crust, Yorkshire pudding, sage and onion stuffing plus roasties £10.25.
Sticky toffee pudding or chocolate sponge with custard or cream £5.95. 
NB: All menu items are subject to change.
The Crown, High Street East, Uppingham, LE15 9PY. Call 01572 822302 or see www.crownuppingham.co.uk. Booking strongly recommended, opening times are subject to change.