The folks at Rutland's slaughter-free eco-dairy, Ahimsa, believe there's a better way to produce milk. As we consume 14bn litres of the stuff every year, we should probably take note… which is why this month, we're paying a visit to a very different kind of farming operation…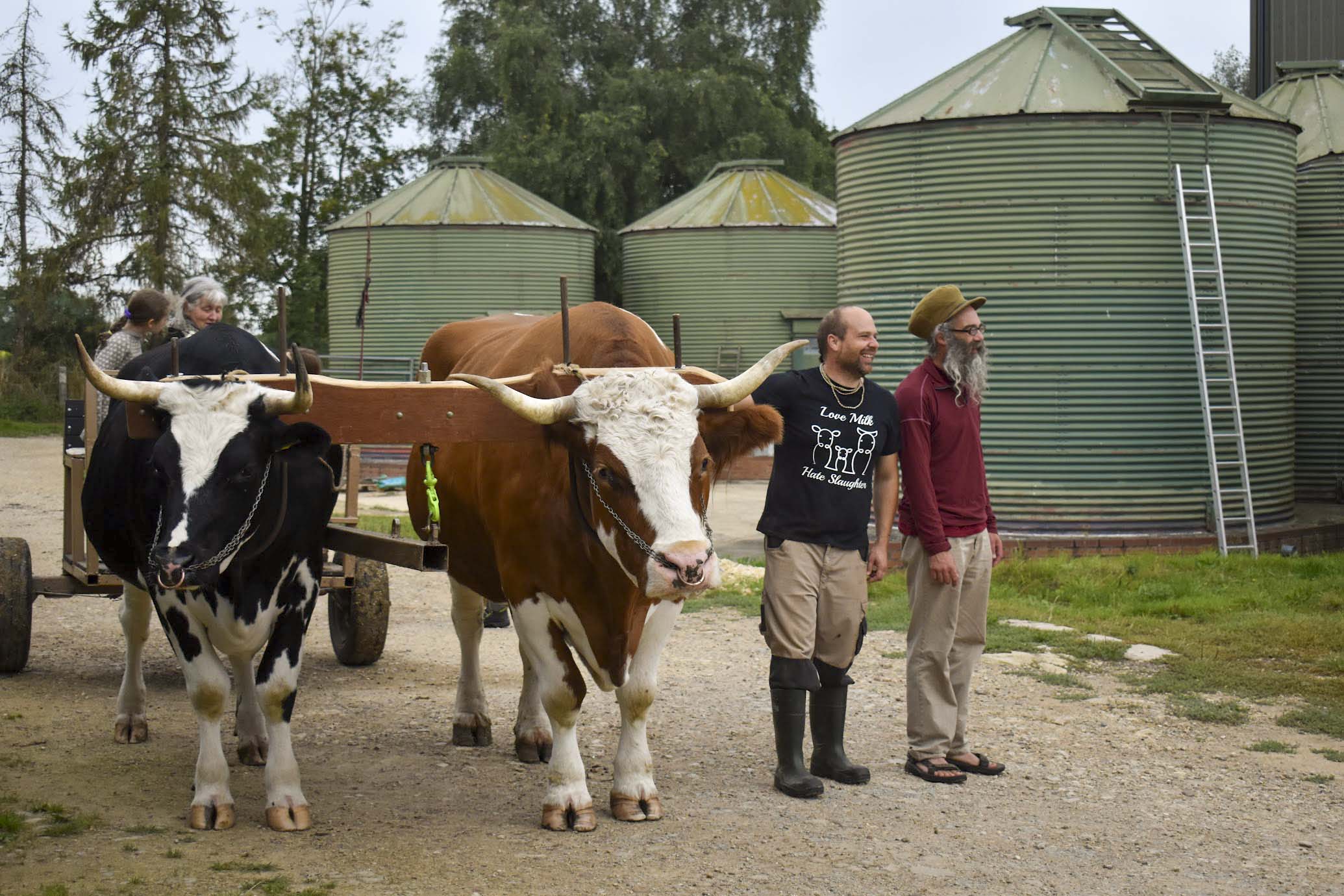 Sometimes, the best thing to be is… different. Sometimes people, companies or entire industries can become mired in convention when, in fact, innovation is needed instead. Milk may be one of our grocery staples, but as farming has become more mechanised, and as the dairy industry has seen the emergence of behemoth farms, somehow dairy farming is neither more humane, nor as profitable as it once was, either. And the milk itself? Thin, not very creamy, processed and very… ordinary.
Failing both farmers and consumer, the entire dairy industry needs a (milk)shake-up, and we reckon the folk to do it are the founders of Ahimsa. These local advocates of slaughter-free started on borrowed land at a farm in Kent, but moved to land they purchased in Rutland in 2016 with milk produced in accordance with principles of non-violence, and aside from the ethical constituent, it is a very good product.
Director Sanjay Tanna founded Ahimsa 15 years ago with a desire to offer consumers ethical high-welfare slaughter-free milk.
Today, he and his team have succeeded in crafting a business model which they say is viable for communities, and to prove it they're already selling their milk in Rutland and London, with a further 600-odd customers on the waiting list.
That's impressive, but even more so as their milk retails at about £4/litre. That's about four times the price of supermarket milk, but the demand for it proves that the consumer is absolutely willing to pay more for high-welfare milk.
"We founded Ahimsa and spent the first few years campaigning, and seeing if there was a demand for slaughter-free milk if it costs more than £3. We opened our small dairy operation in 2011 with just six cows."
"The early days were funded by a pay-it-forward campaign, with customers paying for their milk sometimes two years in advance. We then acquired 72-acres of land at Wing on which our 40 cows, including our milking herd of around 12 cows lived."
April 2021 saw the acquisition of 40 more acres in the Chater Valley on the site of a former equestrian centre, which is now used as a visitor centre and a facility for educating other farmers and smallholders in the model that Ahimsa has created. That model advocates a different approach to dairy farming – one that is characterised by high-welfare and slaughter-free policies.
Conventional dairy farmers have increased the size of their herds, supplemented arable-derived pasture diets with mass-produced feeds, mechanised their milking operations, and formed co-operatives. The result? A year or two ago, they were pouring milk down the drain, unable to make a profit from it.
And so, the idea of doing what Ahimsa advocates – scaling back production and embracing traditional farming methods; keeping a dairy cow for her 18-year average lifespan rather than just her five or six productive years; keeping the oxen instead of selling them for meat, relying on arable pasture rather than mass-produced feeds – would seem even less viable from a commercial farmer's point of view.
Against conventional wisdom in the industry, though, Ahimsa is doing very well both in terms of its own viability and as a model for other farmers and smallholders to follow suit. The dairy has formed a partnership with Little Bytham based farming family the Turners.
"We were seen as cranks by the industry at first," says Tanna, "but not anymore. We're not the new boys now, and we're much more widely accepted when we turn up to events like January's Oxford Real Farming Conference. One of the earliest people to express an interest was John Turner. The family are fourth-generation farmers whose daughters decided to follow vegetarian or vegan diets. Suddenly the family beef farming operation seemed at odds with their lifestyle, and together we started to explore and refine the methods we'd been advocating."
Our next project is to put the oxen to work on a small corner of the Turners' arable land. There's a real symbiosis as the boys, as they move across the land drilling crops into the soil, and as they drop manure, that material has an almost signature microbial composition that's unique to the soil which results in noticeably stronger quality crops.
The farmland that the oxen work will be used to produce oats for our own brand of Ahimsa plant-based oatmilk. The Turners organic farm also produce heritage varieties of wheat, and interestingly, it's the only land in the UK we know of that produces organic marrowfat peas, some of which are exported to Japan for the production of wasabi. As part of the crop rotation, the oxen, the girls (including the milking herd) graze the top quality organic pasture exclusively with no need for commercial feed.
Whilst the boys are at work in the arable fields, the girls of the milking herd are milked twice a day, usually by hand. At the moment with one of the cowhands having hurt their hand, there's a small portable machine that's lending a hand for milking, but ordinarily, the physical milking helps to slow down the operation and make it less mechanised.
"Milking by hand allows you to build a relationship with the cows, to look out for illness and to have that contact with the animal," says Tanna. "We milk directly into a bucket, which is poured into the churn and then it's taken to the micro-dairy on site. We mostly offer our milk raw – just bottled and refrigerated – but also provide pasteurised milk too, for those who prefer it."
"It's creamier – you can see that in its viscosity – and because it's not been homogenised the cream sits at not only at the top of the milk, but is throughout the whole bottle! We also produce cream and offer a semi-skimmed milk as well. We've a small cheese-making operation, too."
The dairy has a local round which currently takes in Oakham, Manton and Wing. It's also sold down south where Ahimsa's operation is already familiar to those at Queens Park Farmers Market. Some dairies have begun to offer milk vending machines which are essentially big fridges with dispensers, but for the moment, Tanna prefers the idea of having face to face contact with customers, although they do like the idea that customers can bring their own, reusable vessels rather than relying on single-use plastic.
Ahimsa is also working with PhD students from UCL in London to create a biodigester system which can utilise methane to produce hot water for the processing unit. The idea is that each element of the operation is as sustainable as possible.
"We don't want slaughter-free farming to seem like something at the fringes of the dairy industry," says Tanna. "And actually, it's practical and viable and it's good for consumers and the animals, and for farmers too. Our operation makes sense to us, and so the next consideration we're keen to address is that of certification so that our model can proliferate throughout the industry."
Ahimsa says it has a very good working relationship with Defra, who are very interested in what the operation does. But current farming policies and guidance are designed to reflect conventional farming operations. To truly embrace slaughter-free, high-welfare dairy farming,
Sanjay and his team, and their other Ahimsa partners are keen to table a framework and tie that into the programmes of education they are creating – one being their Future Farmers course for 18-35 year olds – so that the farm's principles aren't just applied lazily as a marketing boast to anyone selling milk for a premium price, but are applied consistently and completely. The farmers are also keen to offer a transitioning model for existing dairy operations, and to offer certification in the future.
It's taken 15 years to prove that the model Ahimsa proposes is commercially viable, but it's an approach worth exploring, certainly, because dairy products are consumed by 98% of the population with the average person consuming 144 pints of milk a year.
Given that milk is one of the most commonly purchased products in our shopping basket, nobody could argue that we owe it to ourselves, to the planet, and most importantly to the UK's 1.84m dairy cows to produce the best quality milk, as sustainably and as humanely as possible.
Find Out More: Based in Wing and at Chater Valley, see www.ahimsamilk.org for more information on the dairy's high welfare operation.