A new general manager, a new menu, a revised drinks offering, plus an outdoor restaurant with bar, barbecue and pizza oven… expect big changes and great times just in time for The White Horse at Baston's 10th anniversary…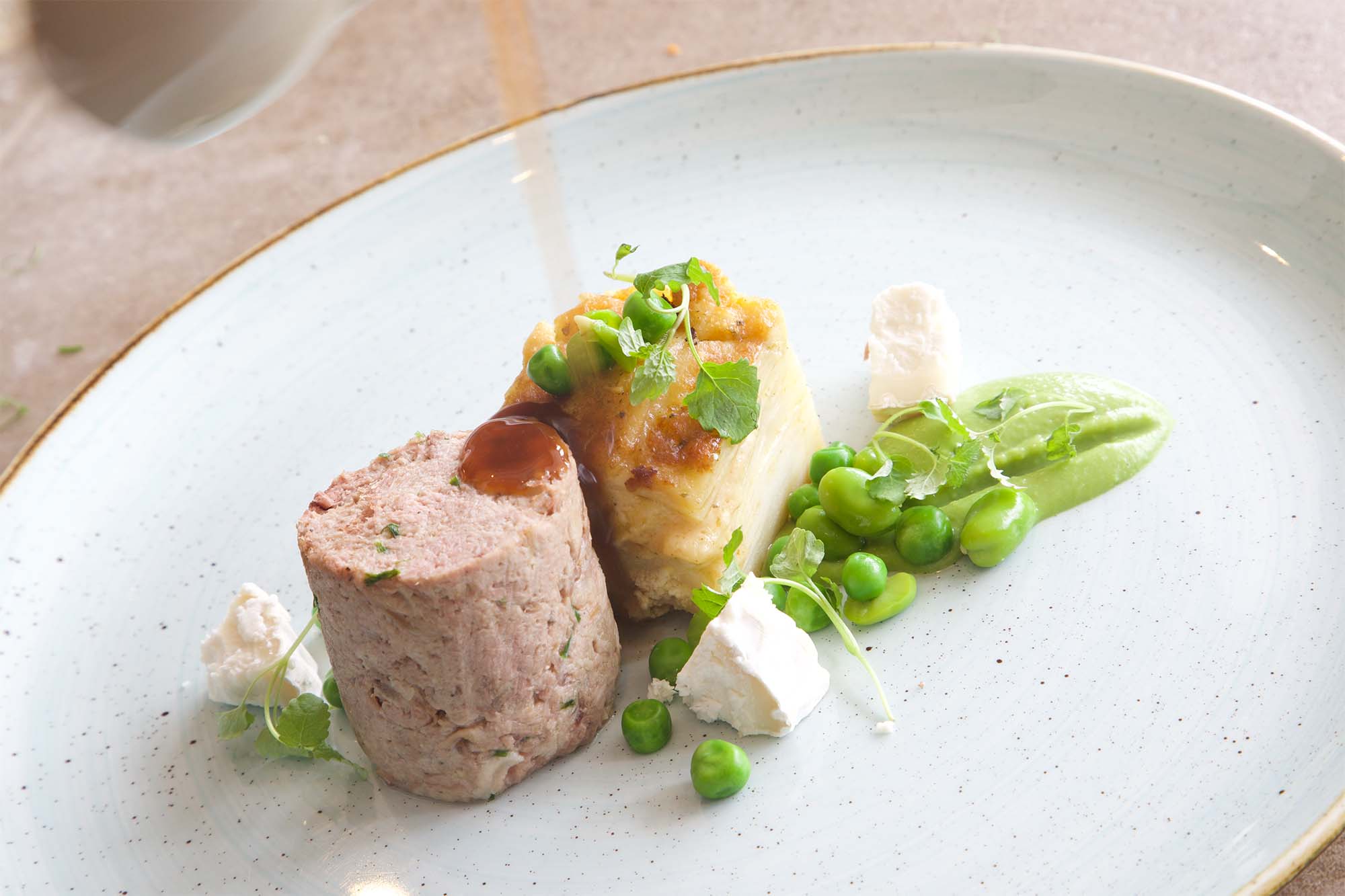 The White Horse has it all. Well… very nearly. Good food and a newly redesigned menu? Check. A revised offering of drinks, with premium wines, ales, cocktails and soft drinks? Check. An interior with bags of character plus a really nice garden area with outside bar? Check. Californian climate? Ah.
Still, new GM Simon is at least bringing a little bit of Hollywood to the area just in time for the pub restaurant's 10th anniversary. Having previously lived in South Africa and Hollywood, working along The Strip, he recalls that one of his most popular offerings to customers was a simple but insanely popular frozen banana, on a stick, dipped in hot chocolate and covered in nuts. It'll debut in the garden of The White Horse this summer too, alongside an outside barbecue menu and pizzas.
All we need now is for the Great British climate to capitulate with decent weather. Hoping for Californian levels of sunshine may be a little hopeful, but don't worry, the place still has plenty to offer, whatever the weather. As part of its 10th anniversary celebrations from 6th-10th July, the team has a range of events planned, from a delicious Hog Roast Party with Anniversary Ale from Nene Valley Brewery to live music supporting local charity event Baston Beats Simon arrived at The White Horse via Hambleton's Finches in spring. He and the team have since restructured The White Horse's menus, revamped the entire drinks menu.
As Pride goes to press, they're also awaiting delivery of their stone pizza oven for the pretty, family-friendly garden which provides comfortable outdoor dining even when the sun goes down. Currently, a single menu will run during daytime and evening service, comprising four or five starters, main courses or desserts each, plus sharing boards and a selection of classics to include dishes like rib-eye steak and a robust burger with all of the trimmings.
Highlights to look forward to include sea bass en papillote, plus a French dip sandwich with smoked brisket and a gravy dip as well as poutine – a dish of Canadian origin which features French fries served with cheese curds and gravy.
Both are more relaxed examples from the new menus, but The White Horse will continue to offer its super à la carte dishes, which are beautifully presented, from our starter dish of a ham hock Scotch egg to our main course of ballotine lamb shoulder. We were also fortunate enough to sample a couple of desserts; rhubarb & custard, and gooseberry & elderflower millefeuille.
Fresh – not frozen – fish is delivered directly by Marr Fish each morning, butchery is provided by Bourne's Alec Day, and the fruit and veg supplier is Accent Fresh. A keen kitchen gardener, Executive Chef Ben Clark has also established a kitchen garden on the parent company's farm and will soon be growing as much of his own produce as possible. Adam bakes his own speciality bread, creates his own ice creams and sorbets, and makes all sauces and desserts from scratch.
On the drinks front, the White Horse will continue to offer three real ales from local breweries such as Grainstore and Oakham Ales. Cocktails, meanwhile, will now be provided by Bottle Proof, which are hand-crafted and pre-mixed with top quality spirits, ready to be served in a jiffy: cocktails without the travails. The White Horse's offering of soft drinks has also been given a makeover. Out go the usual offerings from multinational brands and in comes a range of artisanally produced pressés from Belvoir, fruit drinks from Cawston Press, authentic fruit juices from Eager and James White.
It's worth mentioning too that the pub restaurant really is part of the community, contributing to local groups like Baston Cricket Club and Stamford AFC, plus mental health charity Don't Lose Hope, whilst owner Jo bakes each of the cakes the pub offers with morning coffee from home. This is a place run with love and with community in mind. Hopefully one of the best compliments we can give The White Horse is the fact that it's the perfect village pub and a great restaurant too.
I feel deeply jealous that its locals live within staggering distance, but even if you live a little further it's definitely worth the journey. From great drinks to brilliant food, smart spaces – both indoor and outside – and a lovely friendly atmosphere, we reckon it has it all. Never mind that it's located near Bourne, rather than on the Hollywood boulevard. To us, The White Horse is a bona fide A-lister.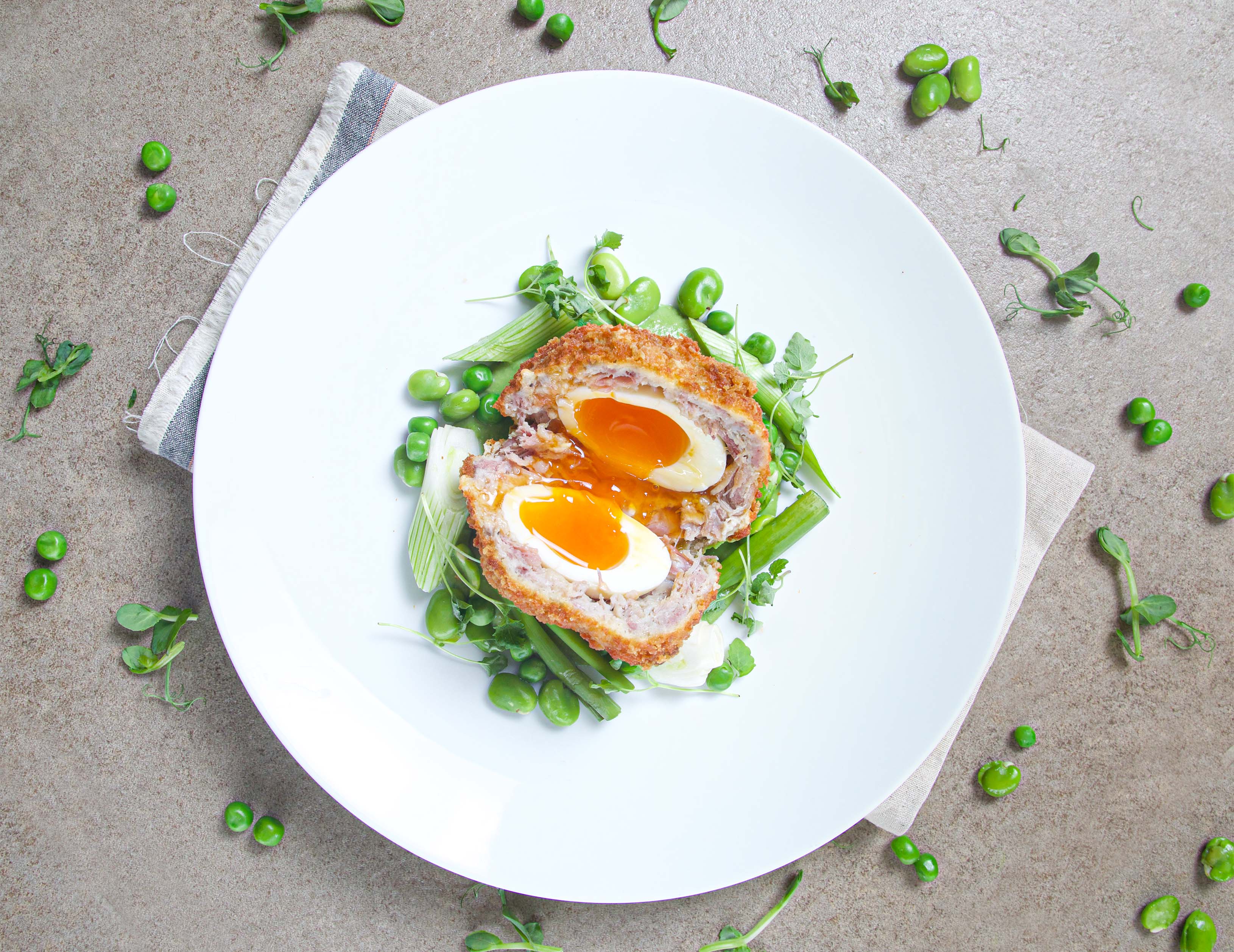 Starters
Ham hock Scotch egg with pea velouté, spring onion and broad bean, £8.
Dill-cured mackerel with rhubarb and ginger ale bread £8.
White Horse corned beef with wild garlic emulsion, French breakfast radish and crostini, £7.
Main Courses
Ballotine lamb shoulder with goat cheese potato, pea, broad bean, hispi cabbage and lamb jus £16.
Chicken breast with wild garlic mash, chard, asparagus and chicken jus, £16.
Thyme-cured pork chop with chorizo and borlotti cassoulet £15.
8oz sirloin steak with grilled tomato, mushroom, crispy onions and chips £25.
Battered fish and triple-cooked chips with tartare sauce, pea purée and curry sauce £15.
Desserts
White Horse rhubarb and custard with Yorkshire parkin, poached rhubarb, nutmeg custard and rhubarb sorbet, £7.
Gooseberry and elderflower millefeuille with puff pastry, gooseberry compote and elderflower crème patissiere, £7.
Dining Out at… The White Horse, Baston, Bourne
The Pitch: 18th century country inn nestled between Bourne and Market Deeping providing really satisfying quality pub restaurant dining,
Opening Times: Tues & Wednesday 5pm to 10pm; Thursday 12pm to 10pm; Friday & Saturday 12pm to 11pm; Sunday 12pm to 10:30pm.
The White Horse, Church Street, Baston, Peterborough PE6 9PE. Call 01778 560923 or see  www.thewhitehorsebaston.co.uk.