With plenty of thriving independent businesses, more than a handful of history plus regular live events and a real sense of community, it's easy to see why Oakham is one of the area's most successful market towns!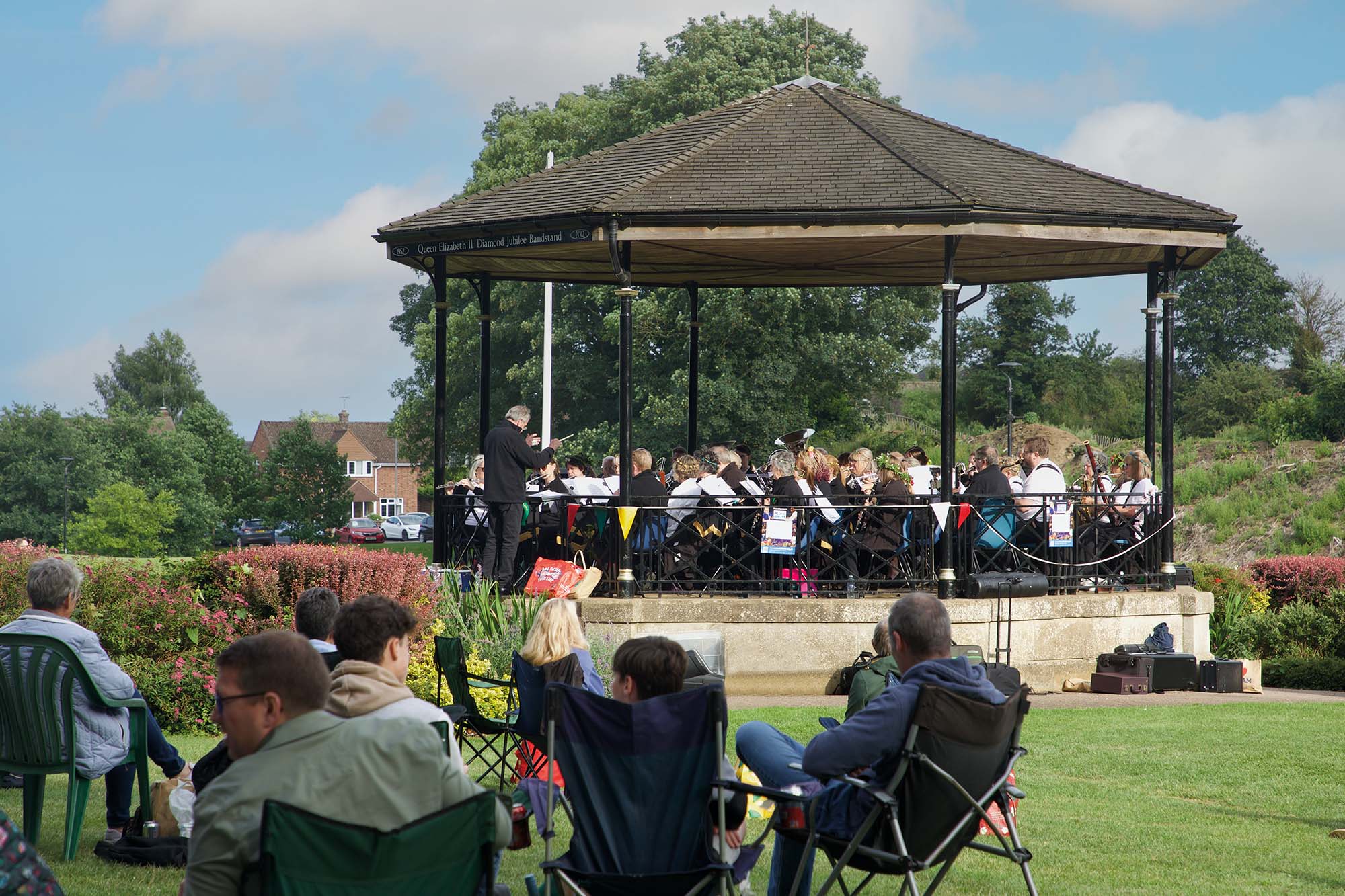 Oakham is rather unusual. When most town centres are struggling, this one is positively thriving. Rutland is generally regarded as being one of the best places in the country in terms of quality of life, and if you consider its largest town, home to about 12,500 people, you'll observe a lively, happy community keen to celebrate the best that the town has to offer residents and visitors. That perhaps illustrates why Rutland as a community, Oakham as a town – and Uppingham and Stamford, for that matter – are all thriving.
Also thriving is Oakham's Town Council, which will celebrate a milestone next year as it reaches its 50th anniversary. Fortunately, back in May, Sally-Anne Wadsworth was re-elected as the town's Mayor… and she's a right party animal!
"I'm really looking forward to celebrating the milestone with the whole town," says Sally-Anne. "I think we all recognise and value the unique sense of community that Oakham has. Oakham Town Council really does make good use of Cutts Close Park and its bandstand, hosting many live music events from Father's Day in June right up until August."
"We host live music on most Sundays in the summer, from brass bands to pop music artists and even full concert bands… although fitting a full concert band onto the bandstand can sometimes prove to be a bit of a squeeze!"
"We're already making plans for a really enjoyable event to celebrate the anniversary, and we really love the fact that the town is always home to activities like food and drink festivals, events like Beating the Retreat or this summer's Oakham Pride event."
"I think it's also important to acknowledge that all of those events are free to enjoy, especially amid the current cost of living crisis," says Sally-Anne.
"Oakham Town Council is keen to ensure that these events and places like Rutland County Museum remain free for visitors, and that the town has attractive features such as bunting in the summer months, well cared-for planters and beautiful Christmas decorations and a magnificent tree in December."
An equally wonderful display is the gardens adjacent to Oakham's library, which are looked after by Oakham in Bloom, and soon it's hoped that the grounds surrounding the library will also celebrate the legacy of the late Queen Elizabeth II with a statue in the grounds that Rutland's Lord Lieutenancy under Dr Sarah Furness is hoping to bring to fruition.
The statue has been designed by sculptor, Hywel Pratley whose foundry is Le Blanc Fine Art in Saxby near Melton Mowbray. It will feature a 13ft likeness of Queen Elizabeth II with several corgis near her feet.
At the heart of Oakham and adjacent to Cutts Close is Oakham Castle with its 230 horseshoes, traditionally gifted to the town by visiting royalty or nobility. It's not clear when the custom began, but the earliest horseshoe dates back to 1470 and was presented to the town by Edward IV.
In the Norman era, Oakham became an administrative centre for the largest diocese in the country. The bishopric of Dorchester saw Remigius de Fécamp moving the see (clerical jurisdiction) to Lincoln.
This relocation and the difficulty in administrating such an enormous region – the diocese reached from the Humber down to the Thames – led to the creation of various palaces for the purposes of episcopal administration including Lyddington Bede House just over eight miles down the road.
From 1159 Rutland was recorded as a separate county and from about 1180 Norman Baron Walkelin de Ferrers turned the old manor into a new fortified dwelling, creating Oakham Castle, from which to administrate the area.
Though the building lacked crenelations it's believed that there were some towers, walls around the building's curtilage and a moat with gatehouse and drawbridge.
The dormer windows and the current entrance are a later addition. It's believed that the door was originally located on what is now the side of the building. A visit from Time Team in 2013 unearthed a little more of the site's history.
In the centre of town there's also a Butter Cross designated Grade I status by Historic England and dating back to at least 1611 when it appeared on John Speed's 1611 map of the town.
At one time dairy products would be sold here and at four other crosses around the town. A nearby water pump dates back to 1469 and was restored, designated with a Grade II listing in 1971. Also in the town centre is the stocks which unusually has five holes instead of the usual four… we won't speculate as to the mechanism of punishment the extra aperture facilitated.
Also worthy of note in the town centre is Oakham School, founded by Archdeadon Robert Johnson at the same time as Uppingham School in 1584. Currently are 1,082 pupils are enrolled with 160 staff employed by the school across about 70 acres.
The stonework of the town's Grade I listed All Saints Church dates backs to the 1200s and 1300s, with a mix of decorated and perpendicular styles it enjoyed a comprehensive restoration in 1858 with a new ringing floor and re-cast bells.
A rather more recent addition to the town is Oakham's Grade II-listed 1899 Signal Box adjacent to the railway station. It was used as the prototype for Airfix's model construction kit which has since graced many enthusiasts' Hornby model railway setups.
Two famous residences also survive in the town, the first belonging to Roger Flore, born in Oakham. Flore served as MP for Rutland no fewer than 12 times and was elected speaker of the House of Common on four separate occasions (1416, 1417, 1419, 1422). His residence on High Street is Grade II* listed and was restored by Will & Lisa Ashmore and David Taylor in 2016.
A little further along the town's High Street is Hudson's Cottage, home to the eponymous 'smallest man from the smallest county' who served as court dwarf to Queen Henrietta Maria of France who was married to King Charles I, the only English monarch to have been tried and executed for treason.
Hudson was presented to the King and Queen in a cold pie, which he jumped out of shouting 'surprise' (probably). We doubt very much whether the unusual stunt will be replicated for the third Carolean monarch.
Oakham, then, is a town with lots going on, plenty of character and with some unusual historic footnotes.
From the independent businesses located on Mill Street, arguably one of the best shopping streets in Rutland, to its coffee shops and restaurants, there's plenty happening in a town which has just cause to celebrate an important anniversary in spring.