Offering a wonderfully warm welcome, a great setting in which to dine and a great new menu, this month we're delighted to pay a visit to Oakham's Wisteria Hotel to celebrate its fifth anniversary under Kristy Carey and Chris Newsham's custodianship…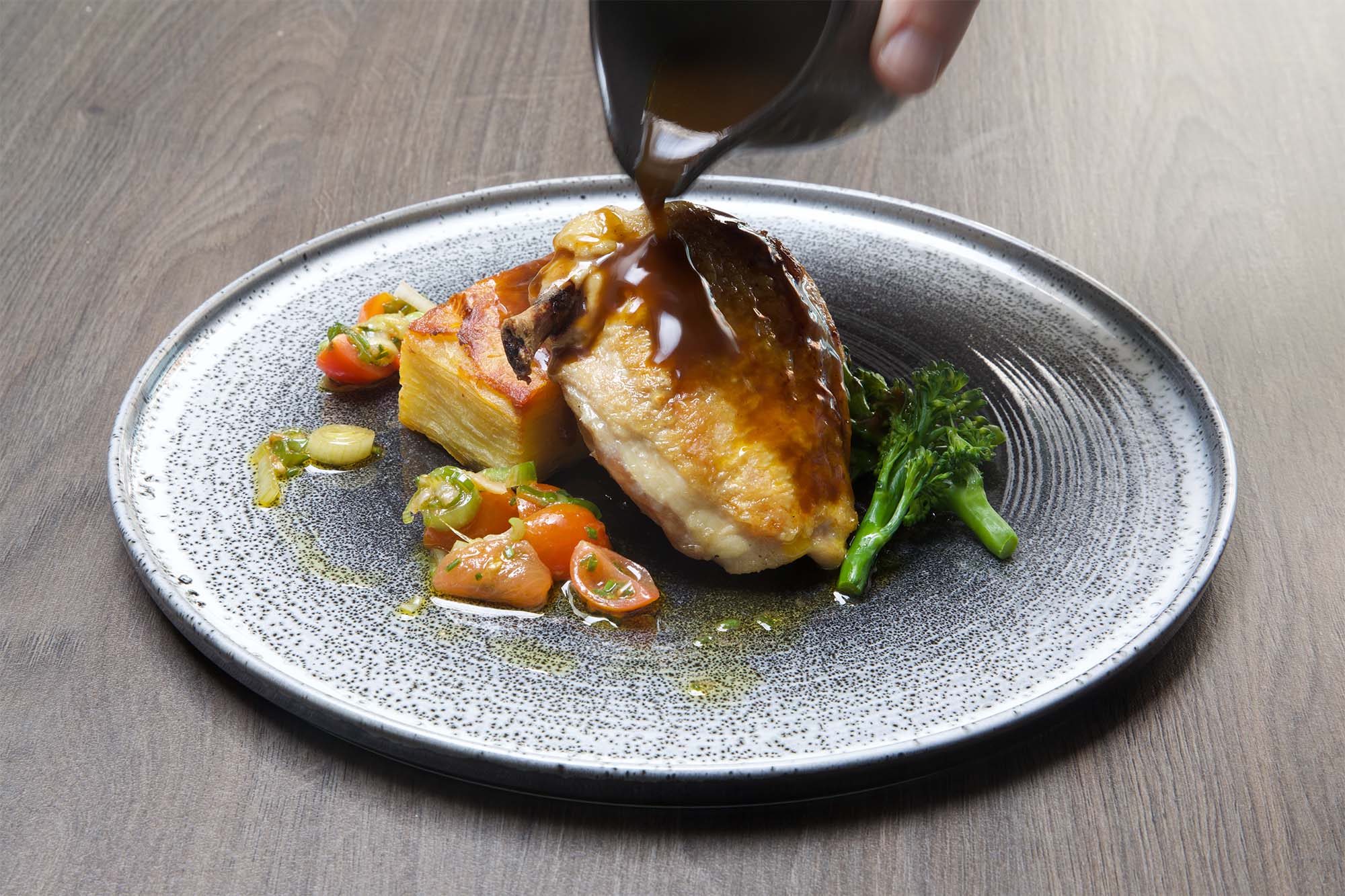 As the saying goes, the best things come to those who wait, and that was certainly the case last month in early June when I finally got the chance to enjoy dining out at the Wisteria Hotel, in the heart of Oakham.
We had planned a visit back in the spring, to coincide with the Wisteria Hotel's fifth anniversary under its third custodians since becoming a hotel back in the 1970s. Alas, life conspired to delay our visit by a few months, but when we did finally get to enjoy the place, it was well worth the wait!
To mark five years under their ownership, Kristy Carey and Chris Newsham have completed a full renovation of the place from the snug and reception in 2018, the Georgian Suite and Barn Suite in 2019, all of the hotel's 25 bedrooms throughout 2020 and 2022, and finally the main restaurant in 2023.
Walk through the doors and it won't be long before you've cause to acknowledge how friendly the team are, both with one another and with guests. Kristy reckons that one of the most fundamental messages she imparts into the team is that customers are supposed to 'arrive as guests and leave as friends.' There's definitely a pervading sense of warmth and a really great working relationship among the team which is then conferred to the hotel's customers, too.
So, with a nice setting and great service, the pressure is on Head Chef Lewis Dickens, and Sous Chef Ashley Darlington, to ensure the standard of dining is commensurate.
Happily, a newly refreshed menu, with a focus on steaks, reflects the team's intention to provide modern, refined dining with beautiful presentation in keeping with the thoughtfully contemporary style of the place.
Daytime customers can enjoy their morning coffee at the Wisteria courtesy of beans roasted just down the road at Oakham's Two Chimps. Joyful freshly-made cakes are created by the town's Cakehead Bakery, and there are fresh warm scones and tiered afternoon teas available too, with Prosecco and G&T upgrades available. It's likely that daytime dining will return later in 2023 with a new menu concept currently under consideration by the team.
Sunday lunch service runs from noon until 8pm, and there's a bar menu too, served Monday to Saturday and comprising dishes like an open steak sandwich, sausages 'n' mash and a robust burger offering too.
For evening diners, service is via an à la carte menu from 5.30pm to 9pm with a choice of five starters, six main courses plus a newly enhanced grill selection comprising four really good steaks, from a good value French bistro classic in the form of steak frites to a côte de boeuf cut designed for two people to share over a decent bottle of red.
Finally there's a choice of five desserts plus a cheese board comprising Cote Hill Blue, Rutland Red Leicester, Snowdonia Black Bomber Cheddar, homemade blackberry and port jam plus biscuits and grapes.
Quality suppliers include Derbyshire-based Price & Fretwell with their 30-day dry-aged beef, plus Fish Rich a supplier which delivers from dock to door, day in, day out, and then Veg Factor, who farm across Leicestershire.
The hotel's provision of drinks hasn't been neglected either, with a range of signature cocktails including The Wisteria – flagship of the bar – comprising lime juice, passion fruit vodka, lemonade and blackcurrant… very refreshening! Other cocktail options include an English Garden, Magnificent Lady, a Fizzy Cosmopolitan or a Paloma.
Alternatively, if your preference is a really good bottle of wine, there's a list of about 35 bins. We'll nudge those enjoying a steak towards a Château Pont de Guîres from Bordeaux at a reasonable £42/bottle.
The newly-redesigned dining room is in the oldest part of the building and it shows, with the wonky beams, whitewashed walls and timber floor tastefully offset by its modern furniture, artwork and mood lighting. It's all very smart and rather romantic looking.
Aside from the 24 restaurant covers there's also the Georgian suite of rooms for private dining or for hotel guests enjoying breakfast, plus the bar with its 19-cover capacity and a lovely leafy terrace which was very sunny and pleasant during our visit.
For those seeking a wedding venue or to host a private event it's worth pointing out that there's a dedicated wing of the hotel with both upper and lower function suites for up to 80 guests, plus the option of hiring the entire hotel for exclusive use. The hotel is licensed for civil ceremonies and its 25 bedrooms means there's much to offer those seeking a smart wedding venue.
The Wisteria has a  lovely appearance, a great new menu, and true talent in the kitchen. Above all though, it feels like a fantastically warm, welcoming and friendly place that we're sure diners will want to return to, time and again.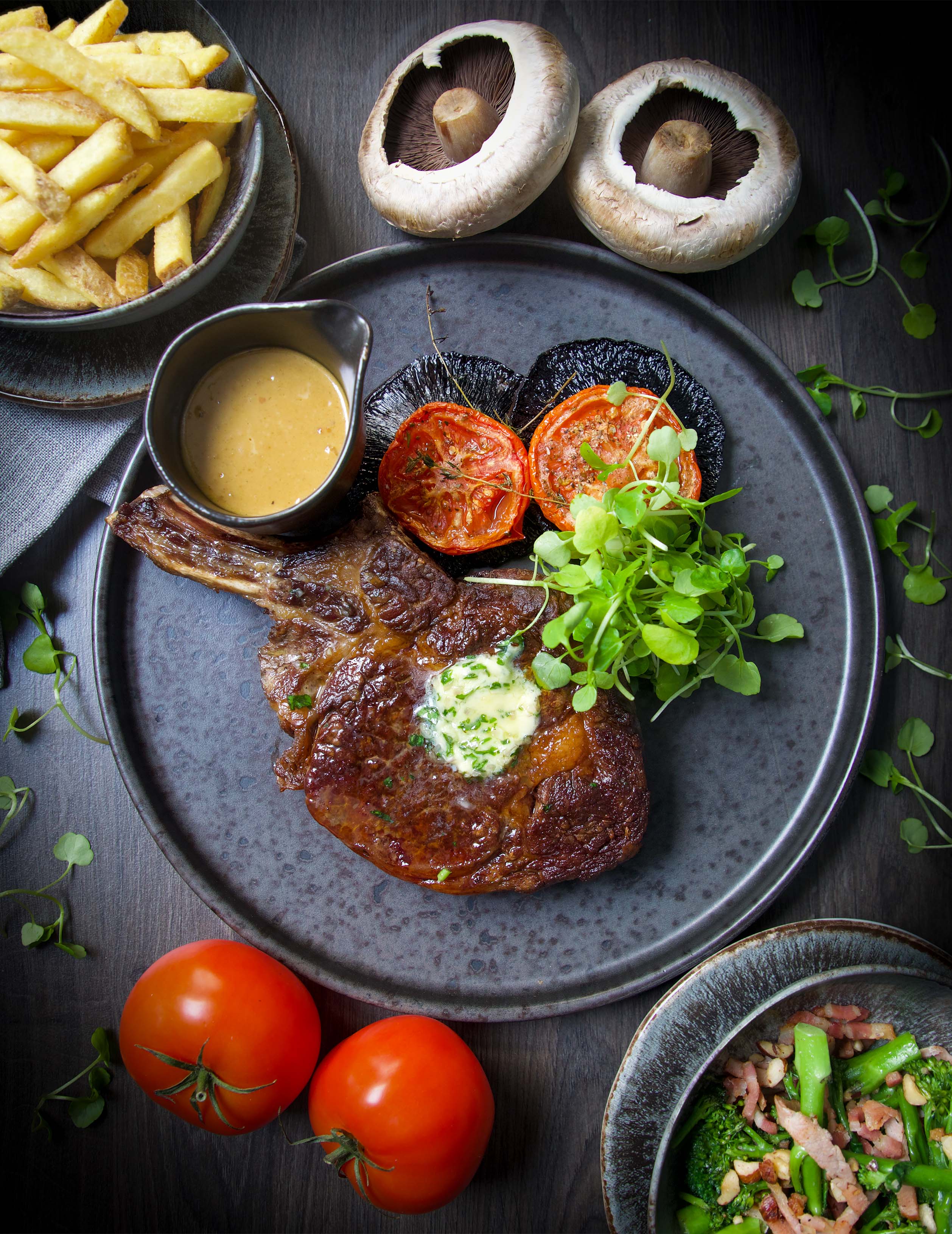 On the Menu
Starters
Citrus-cured salmon with apple and cucumber salsa, celeriac remoulade with lemon balm.
Pressed ham hock with glazed pineapple, pineapple, chilli dressing and crostini.
Main Courses
Pan seared sea bass with roasted new potatoes, poached baby vegetables, and pea purée.
Thyme and garlic chicken supreme with dauphinoise potatoes, tenderstem broccoli, and confit tomato salsa.
Moroccan spiced cauliflower with vegetable cous cous and chilli citrus dressing.
From The Grill
Steak Frites with peppercorn sauce, fries and watercress.
8oz hand cut sirloin (or 10oz hand cut rib-eye) steak with house butter, sautéed mushroom, grilled tomatoes and fries.
Wisteria Côte du beouf with grilled tomatoes, field mushrooms, watercress, two sides and two sauces.
Desserts
Brown sugar-roasted pineapple with biscuit crumb, and mango sorbet.
Vanilla and almond panna cotta with strawberry compote and shortbread.
Egg custard tart with poached rhubarb and rhubarb gel.
Dining Out at… The Wisteria Hotel, Catmos Street, Oakham
The Pitch: "Locally sourced, seasonal food, prepared by our talented team in a Grade II listed former hunting lodge built from 1604 onwards, now boasting 25 beautifully appointed rooms."
Dining Times:  Monday to Saturday, 5.30pm to 9pm, Sunday, 12 noon to 8pm.
The Wisteria Hotel, 4 Catmos Street, Oakham, Leicestershire LE15 6HW
Call  01572 722844 or see www.wisteriahotel.co.uk.