September sees the most extraordinary story come to Curve Theatre as The Book Thief, the novel by Markus Zusak's which has sold over 17m copies, is transformed into an epic and exhilarating live production…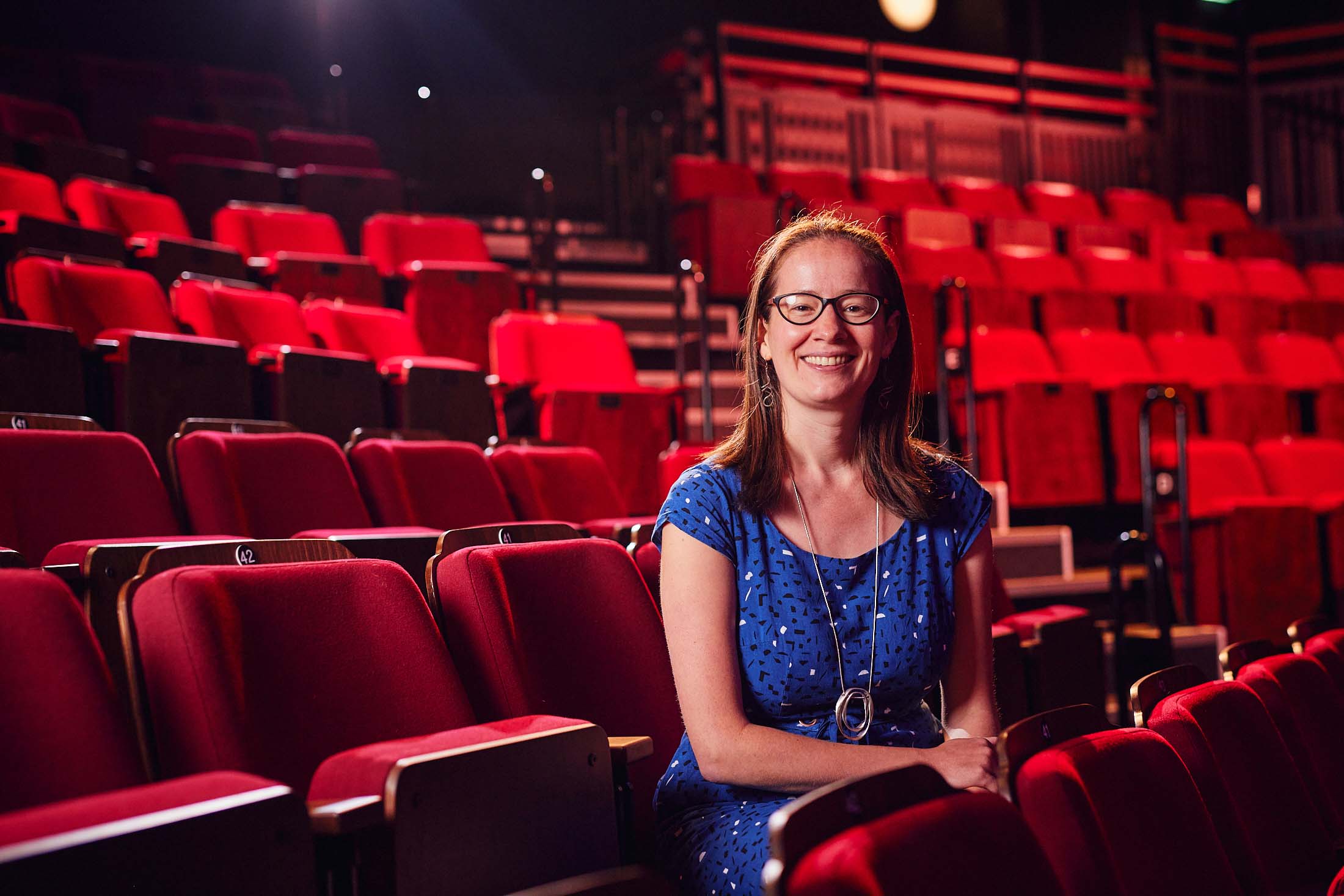 Good Theatre leaves an audience engaged, but great theatre leaves an audience exhilarated. A new adaptation of Markus Zusak's best-selling novel The Book Thief, coming to Curve Theatre in Leicester this month, will prove to be a truly epic performance that leaves theatregoers uplifted.
Its Director Lotte Wakeham couldn't be more thrilled with the response that the production has enjoyed so far, and she is full of praise especially for the production's young cast members as they combine acting, singing and dancing, but also engage with the production's sometimes dark subject matter.
"We're incredibly fortunate to have such wonderful source material," says Lotte. "Set in Nazi Germany in 1940, it's not an obvious setting for uplifting musical theatre, but over the course of the production we come to appreciate the power of words and we see the world from the perspective of its young protagonist Liesel."
Markus's story sees illiterate pre-adolescent Liesel abandoned by her parents as they flee persecution and their daughter is fostered by Hans and Rosa Hubermann. Whilst adapting to her new home, and having just buried her brother, Liesel steals one of several books and becomes fascinated by the power of words.
Her foster parents also conceal Jewish boxer Max, who befriends Liesel and teaches her to love language, leading the youngster to begin writing a manuscript of her own to process her experience of life under the Nazi regime.
"Probably half of the audience are familiar with the story already, and many more are unfamiliar with the story itself but are fans of Jodi Picoult who has co-adapted the book for the stage alongside Timothy Allen McDonald," says Lotte.
"We've seen many families, too, with secondary-school aged youngsters who have been studying the Second World War and can relate to Liesel's age. They develop a great empathy for the way such a young person processes and come to terms with the trauma that's unfolding around her."
"I think there's an important message for youngsters, too, in the fact that words can have such power and can be used in many ways, from disseminating everything from propaganda to positive messages."
The Book Thief's stage debut at the Octagon, Bolton, in Autumn 2022 was a sell-out production, commanding standing ovations and tears from the audience.
It sees three youngsters aged between 10 and 14 each taking turns to play Liesel and three more playing her on-stage confidant, Rudy.
Since then, and on the back of audience engagement, the production has been given a few tweaks and refinements to ensure that when it comes to Coventry's Belgrade Theatre in early September, then Leicester's Curve Theatre from Friday 29th September to Saturday 14th October, it promises to inspire an even greater response.
Alongside a strong story plus a great adaptation, its talented cast of youngsters and its ensemble of 18 adults, the production's 20 musical numbers have been written by Kate Anderson and Elyssa Samsel whose previous work includes creating music for Apple TV and Disney productions.
"It's a big soundscape commensurate with the power of the story," says Lotte. "There are some epic musical textures with inventive lyrics and melodies."
"And the creative team has been just as inventive with the stage too, with big set pieces, period-accurate details and the use of puppetry and video all incorporated into the design too. We've also played with the use of colour as a narrative metaphor using hues like inky blue to represent writing."
"I'm thrilled to be part of the team which is bringing the story to the stage, and I'm thrilled that as more and more audiences see it, the story will become even more familiar."I think we all have West End aspirations for the production, but we're also really looking forward to bringing it to Curve Theatre."
"I've had the joy of directing at the theatre before, including Sweet Charity in 2015, so I know the team are really very dedicated and committed to ensuring audiences enjoy the very best productions."
"I've been back to the theatre a number of times since, and it has always been a pleasure. I think we'll all be thrilled to bring The Book Thief to Curve this autumn and we hope that our audiences will be as proud of the production as we are!"
Find Out More: The musical adaptation of Markus Zusak's best-selling novel The Book Thief comes to Curve Theatre from Friday 29th September to Saturday 14th October, tickets available from £10. Call 0116 242 3595 or see www.curveonline.co.uk.
Autumn 2023 at Curve Theatre
Tuesday 19th September – Saturday 23rd September
FRANTIC ASSEMBLY'S METAMORPHOSIS
One morning Gregor Samsa awakes to find himself changed. To those around him he is dangerous, untouchable vermin. Worse than that, he is a burden. This promises to be an unmissable retelling of Franz Kafka's shocking tale of cruelty and kindness.
Tuesday 17th October – Saturday 21st October 
SHREK: THE MUSICAL
Based on the Oscar winning DreamWorks film, the Broadway and West End smash hit Shrek the Musical is a fun filled and hilarious musical comedy with a cast of vibrant characters and a 'Shrektackular' score.
Monday 23rd October – Saturday 28th October
GREATEST DAYS
Relight Your Fire with this sensational new production of Take That's smash hit musical Greatest Days, featuring more than 15 record-breaking Take That songs. The musical follows five boy band-obsessed best friends in the 1990s, who reunite over 20 years later to see their heartthrobs one last time in what could be the Greatest Days of their life. n
Monday 27th November – Saturday 13th January
EVITA: A CURVE PRODUCTION
This year, Nikolai Foster directs an unmissable new Made at Curve production of Tim Rice and Andrew Lloyd Webber's legendary musical, Evita. Eva Duarte, a child born into poverty, follows her dreams of becoming an actress. only to break new ground and became the most powerful woman in Latin America.
Curve Theatre is based on Rutland Street, Leicester, LE1 1SB. Call 0116 242 3595 or see www.curveonline.co.uk.