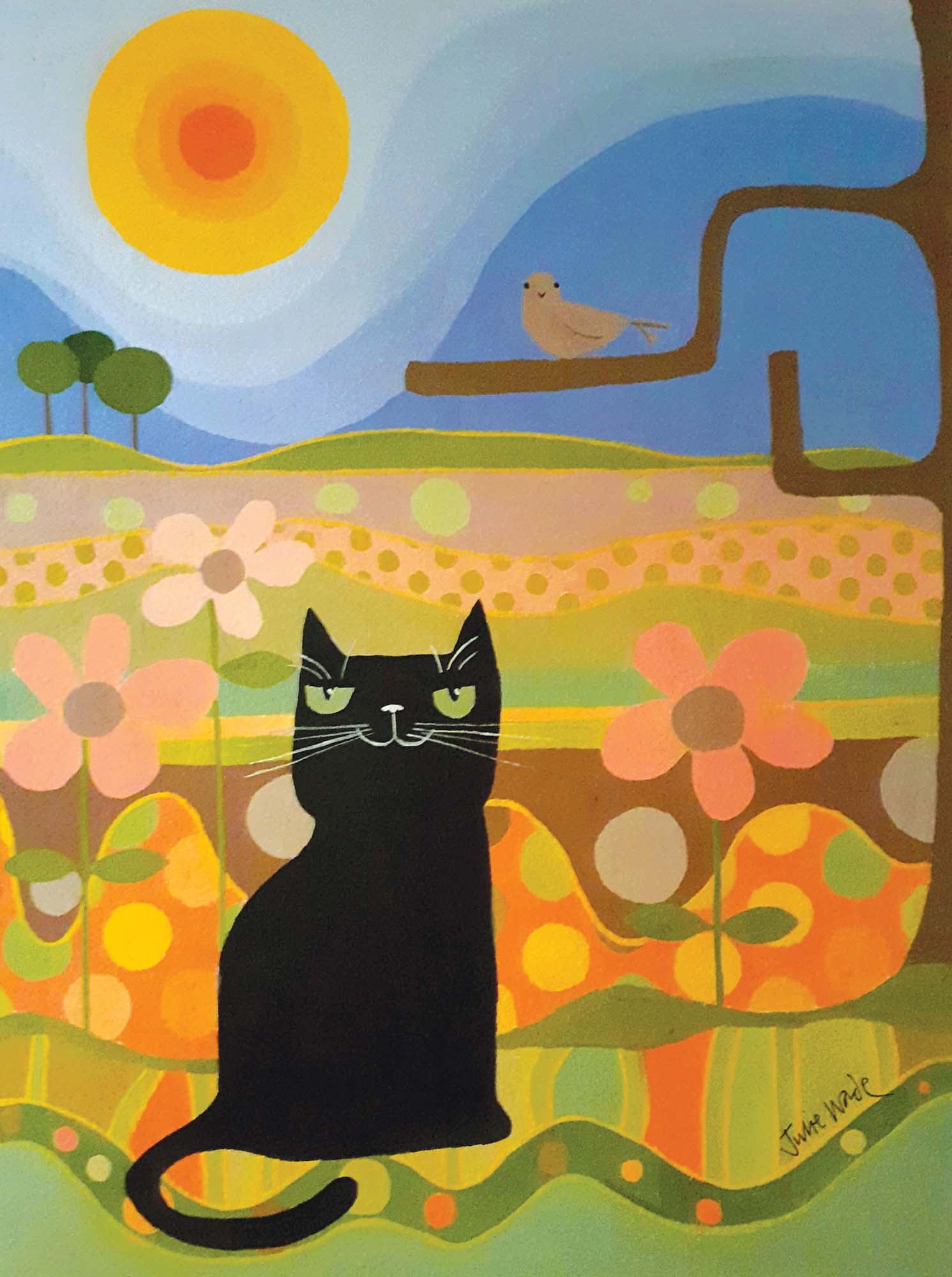 Julie Wade: "I absolutely love colour!"
"I love colour!" says Julie Wade, a painter, as if it wasn't clear from her beautifully bright contemporary canvases. Julie has served as the chair for this year's Rutland Open Studios for 2023, having completed an Art Foundation course before progressing to complete a Fashion & Textile Design.
"I was diagnosed with MS in 2007 and decided to concentrate on painting," adds Julie. "I joined the Rutland Open Studios approx 15 years ago exhibiting in Wing Village Hall with a group of people I hardly knew but the Open Studios artists have become since, a valued group of friends. I now have my studio at home and I've been exhibiting my work from there, in Uppingham ever since."
"My usual work has been described as joyful. It is bright, colourful and eclectic always painted in gouache paint because I love the colour saturation this paint gives.  I have had to use my creativity differently this year. My MS has made it difficult to control a brush, but I'm working on it!"
Find Out More: Call 01572 821104 or view Julie's work online at www.juliewade.co.uk.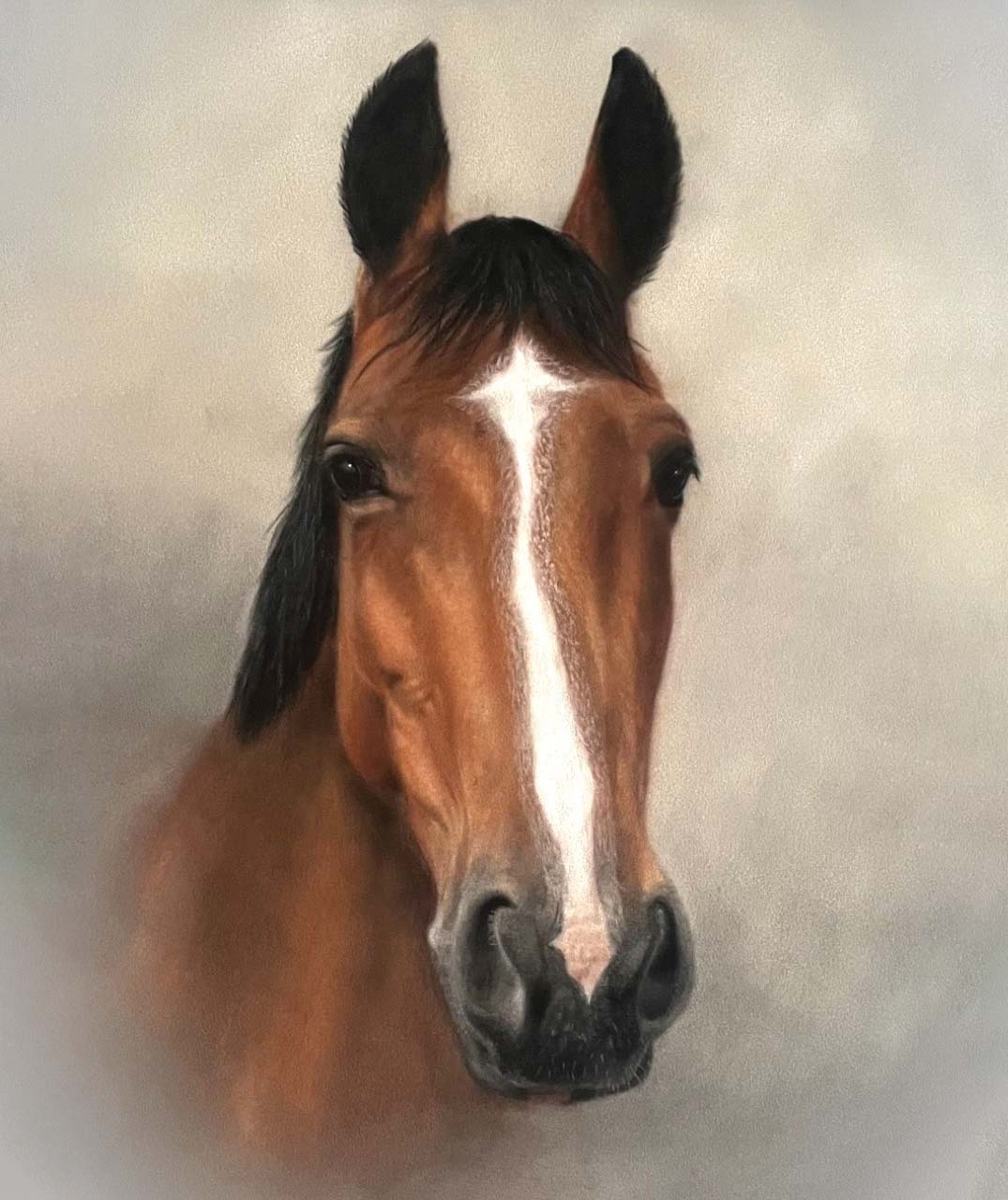 Andrea Naylor: Professional pastel artist…
Cottesmore's Andrea Naylor is a self-taught professional portrait artist specialising in pets, people and wildlife. After 20 years of experimenting, observing, drawing, painting and now teaching, she is very passionate about her work.  She says, "I feel compelled to pass on my knowledge to help others by promoting confidence, courage and inspiring people to simply have a go."
Andrea predominantly works in pastel, a very subtle medium that is great for creating the reality of fur and skin. Working in a 'realistic' style ensures that she captures the likeness and character of her subjects – dogs, cats, horses and of course people.
She also runs several workshops, private lessons and demonstrations to pass on her own knowledge and passion for working with pastels.
Find Out More: Call 07590 678468 or see www.andreanaylor.co.uk.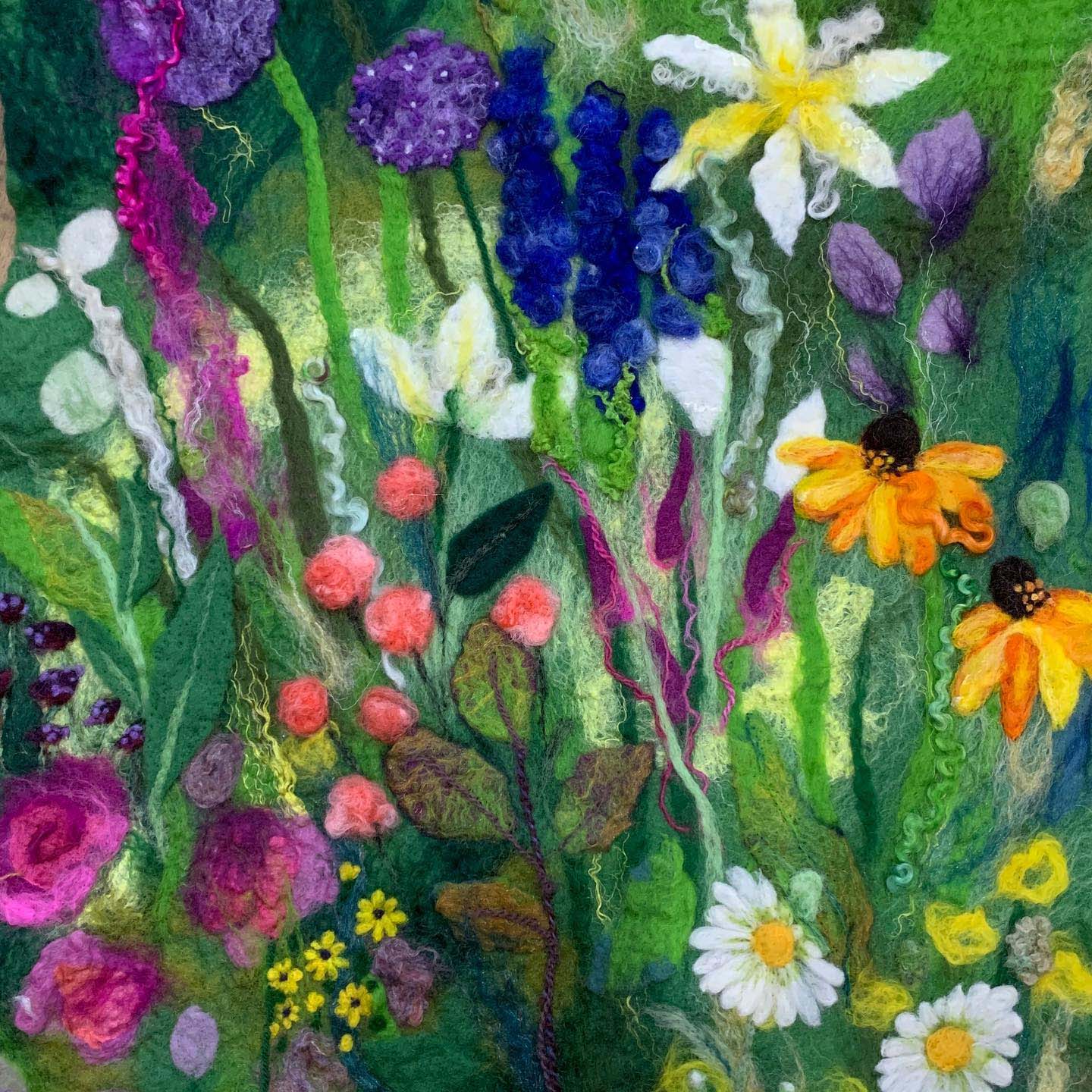 Eve Marshall: Artisan Felter & Teacher
Eve Marshall loves to take photos of her wanders and then recreates those ideas using her palette of wools and silks. She has been felting for over 17 years and has been teaching workshops since 2010.
Eve teaches regularly at Barnsdale Garden's Studio in Rutland and is continually inspired by the colours and shapes of the plants when she visits. For her framed artwork, Eve uses both wet and needle felting techniques, creating large bold textural wet felted backgrounds using a mix of merino wool, yarn, silk threads, skeleton leaves and wool curls. She then adds tiny details like animals, flowers and birds using her single felting needle.
Eve has some of her work professionally photographed and made into giclée prints, greeting cards, cushions and more.During Rutland Open Studios, Eve will present her work as part of an exhibition, Faffing with Fluff, at Victoria Hall in Oakham.
Find Out More: See www.evemarshall.co.uk.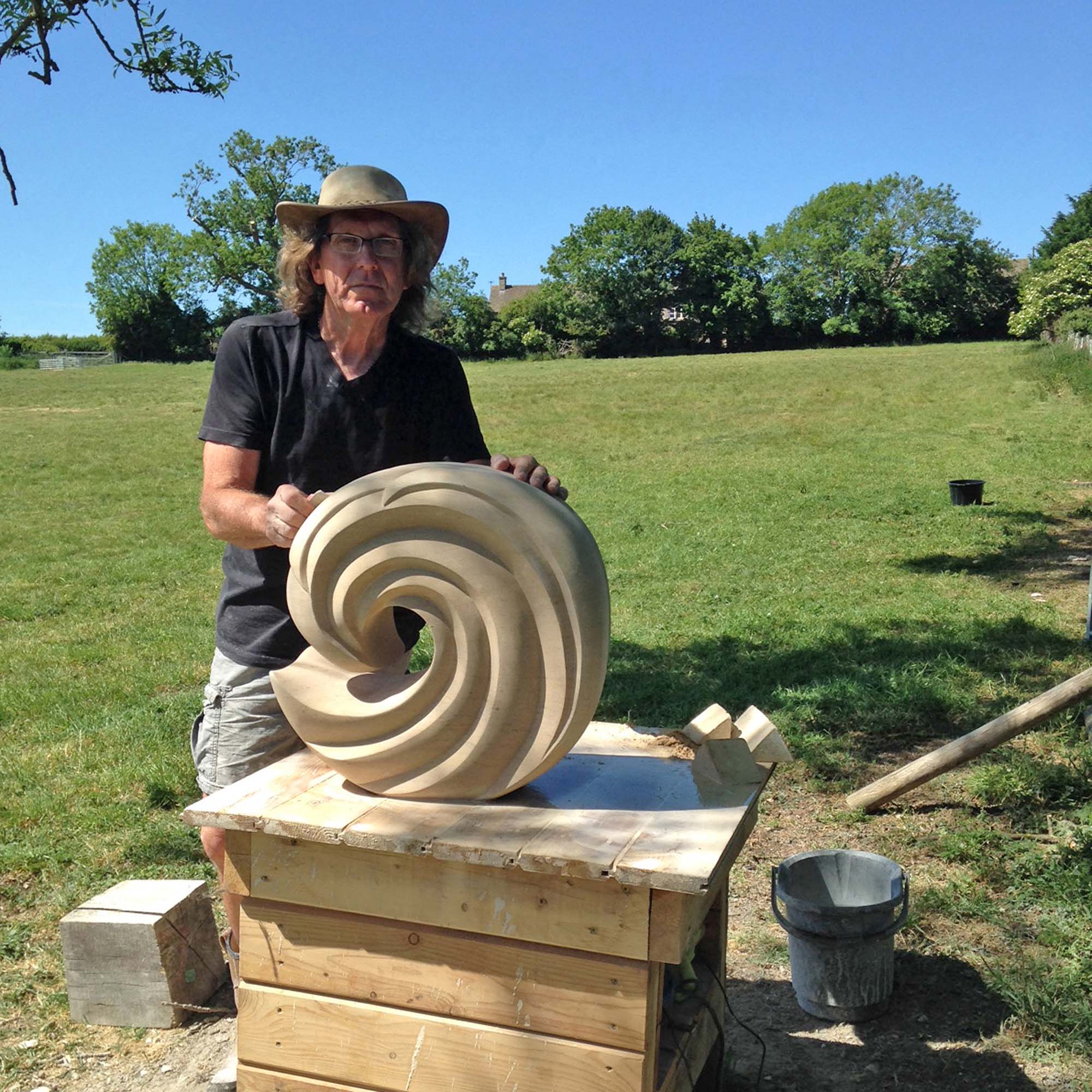 Michael Moralee: Photographer and Sculptor…
Michael Moralee is an established professional photographer based in Rutland, working both in the studio and on location. He has travelled extensively, finding inspiration and recording images from around the world. Michael's passion for landscape photography and the world in which we live is evident throughout his work, which is both creative and contemporary in style. He discovered the joy of stone carving over fifteen years ago and found it to be a natural extension to photography and an alternative means of self-expression.
Find Out More: Call 07850 936147 or see www.moraleephoto.co.uk.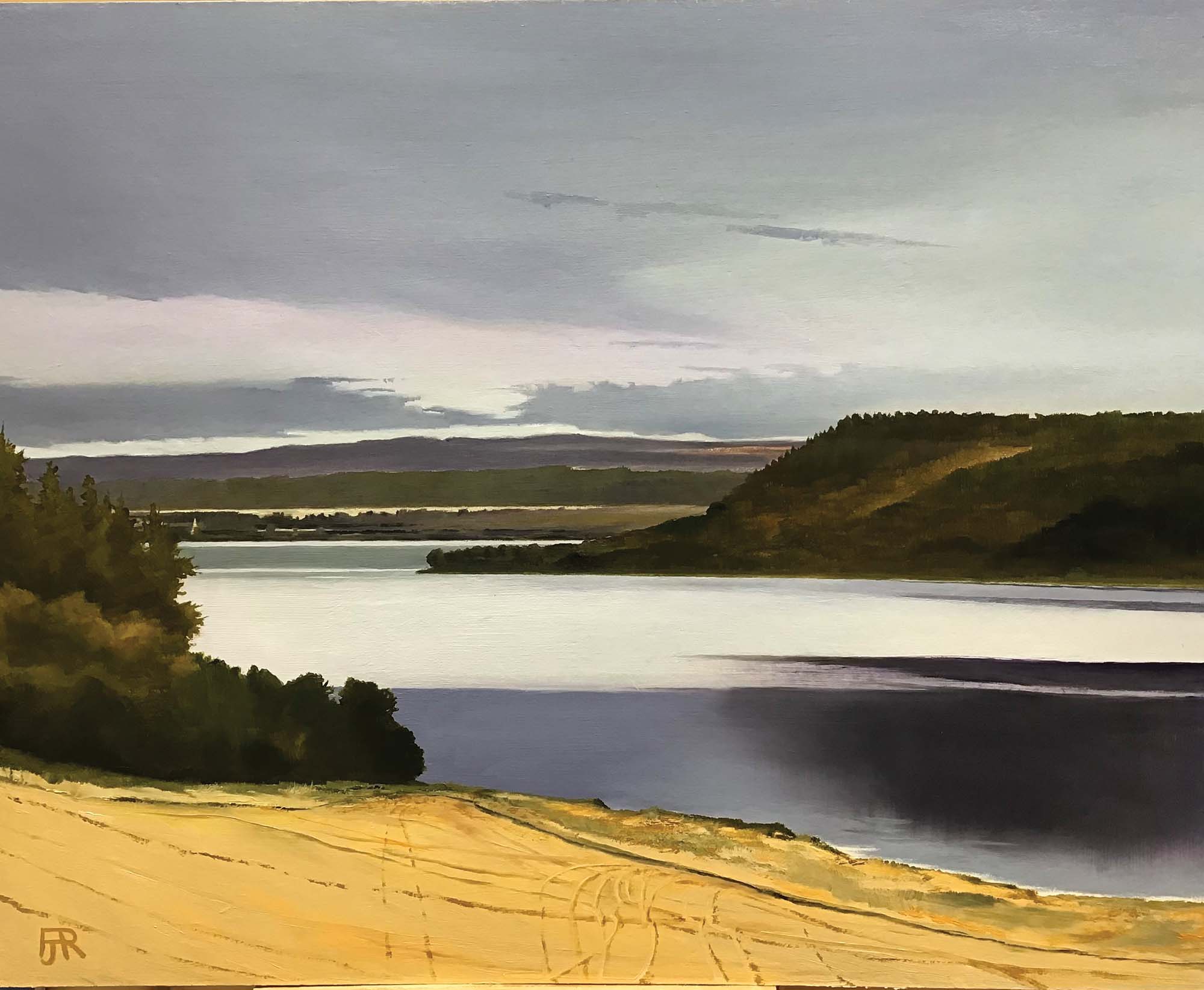 Frank Rogers: Artist…
Frank Rogers is a totally self-taught artist who enjoys painting from his garden studio in Oakham.  Frank spent 17 years living in south west France with his wife, where he started painting after renovating their farmhouse. Whilst in France he joined several workshops, painting with like-minded friends, both English and French. Frank has hosted several exhibitions and sold many paintings, exhibiting his work on Saatchi Art and Pinterest websites. He has a shop on Etsy, TheArtShedByFrank and is now enjoying a weekly life drawing workshop in Stamford. He's a member of the Welland Valley art group and Rutland Open Studios.
Find Out More: Call 01572 755965.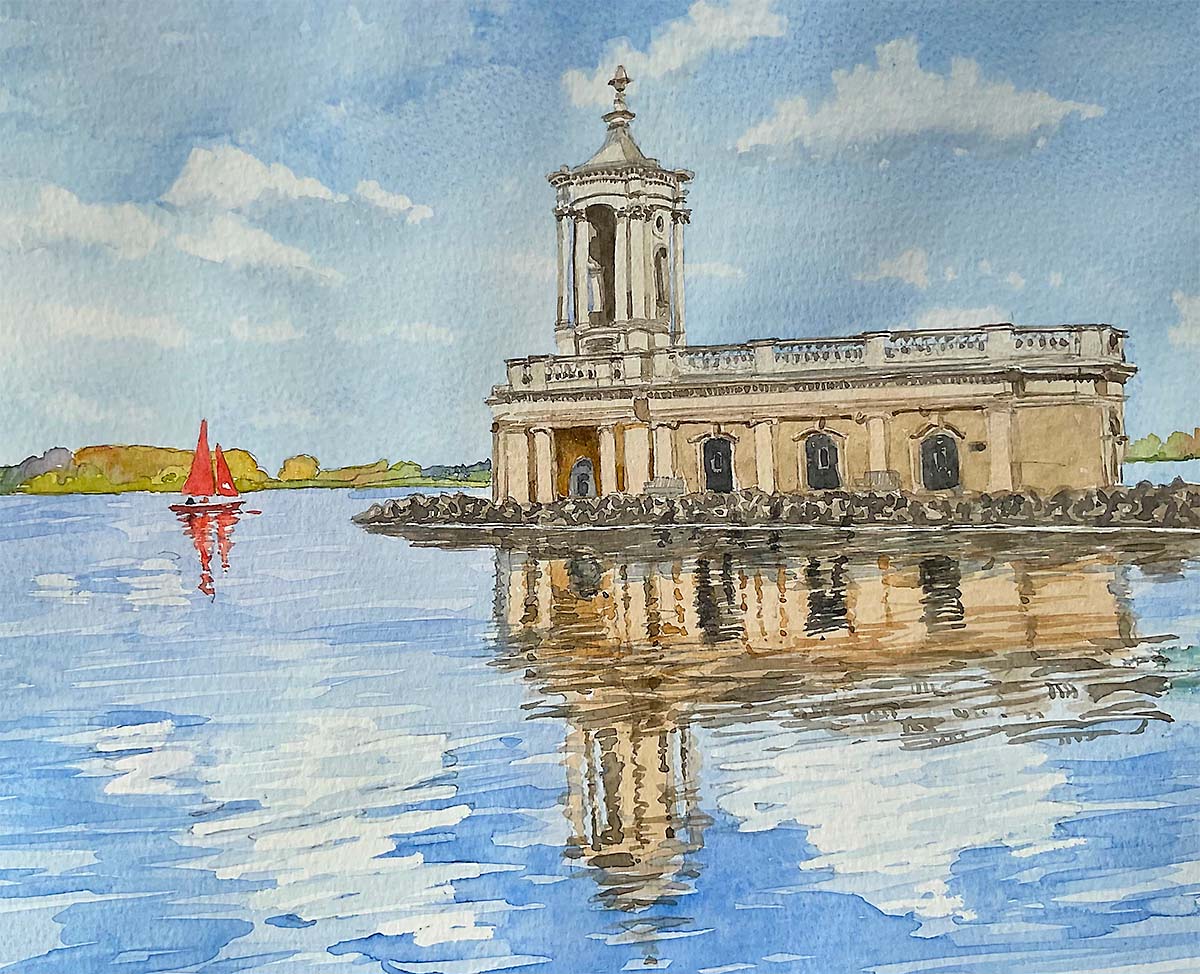 Mary Rodgers: Watercolours, pastels & oils…
Wing artist Mary Rodgers studied fine art and textiles at High Wycombe College of Art and Design before pursuing a career as a textile designer for leading national and international companies. Mary now has a studio overlooking the Chater Valley and has established a reputation for a wide variety of subjects in watercolour, oils and pastels. Her work demonstrates an understanding of painting and drawing skills applied with the acute perception of colour and light.
She travels extensively throughout Europe with visits to the USA and South Africa, and exhibitions in the UK, France and Italy where her work is held in collections both in the UK and overseas. Mary is also a visiting tutor to local  art societies, historic houses and is an active member of regional and local art organisations. On her website you'll find sketch books, prints and original paintings including botanicals, scenes of gardens and allotments, scenes from her travels to countries like Italy, and work inspired by local landscapes too from Rutland Water to Cambridgeshire's Peckover House. All of her work is colourful, calming and inspiring, making the very best of her scenic,  botanical and architectural inspiration.
Find Out More: Call 01572 737475,  07711 348706. Alternatively, visit www.maryrodgers.co.uk.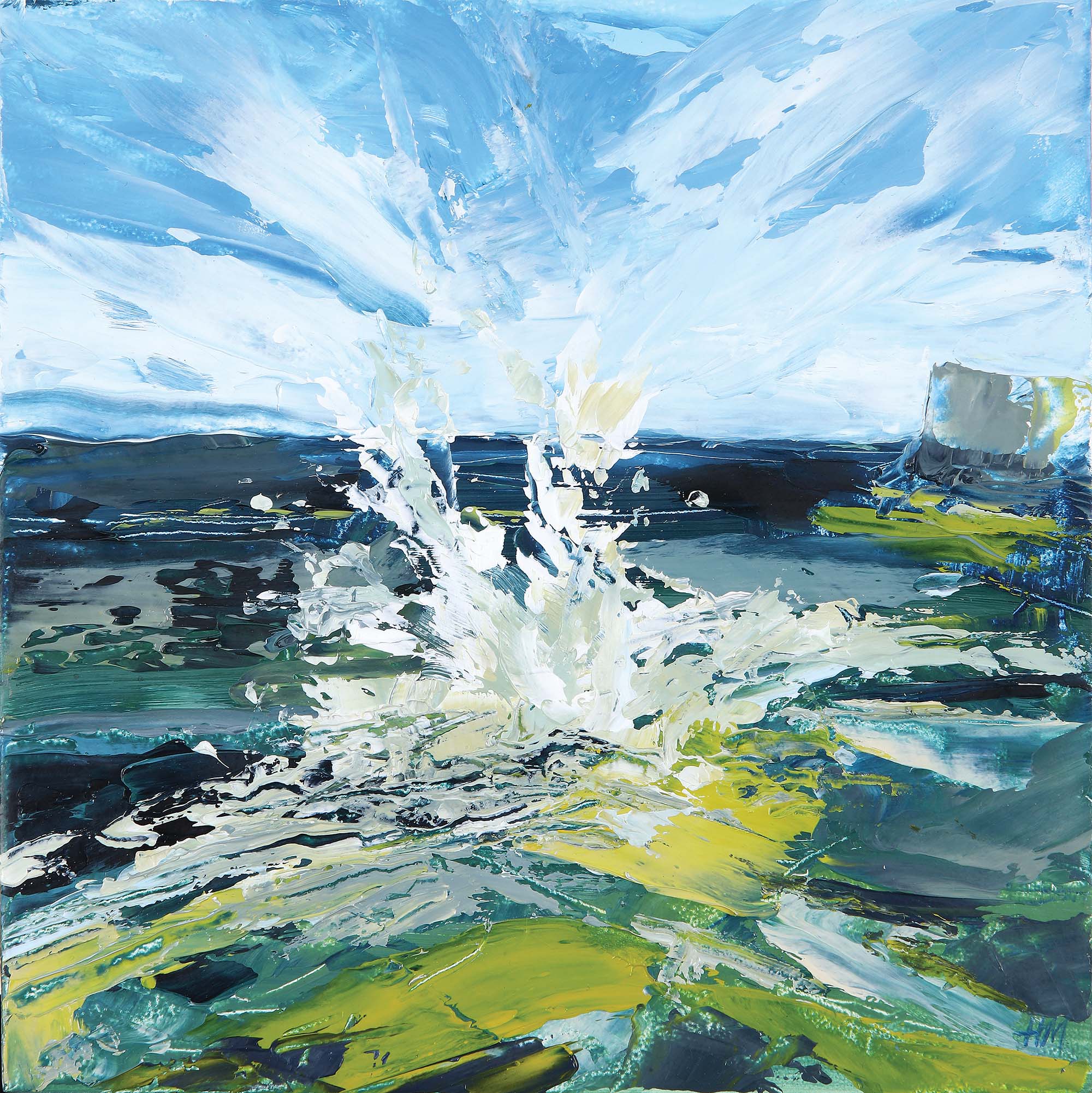 Hilary Moralee: Inspired by landscapes, wildlife & people…
Hilary Moralee's love for illustration and design has taken her in many directions from working as a graphic designer and illustrator creating countless logos, brochures, advertising campaigns and product designs for clients around the world. Now though, her focus is on painting and creating art from the subjects that inspire her in the natural world.
"Because of my working background I find myself experimenting with different mediums and styles," she says. "So when ask 'what do you paint,' it's best to just invite people to visit my studio! They will see paintings in oils, acrylic and line drawings, illustrations of wildlife that are also on ceramics and mosaic art."
"I love detail in my paintings and illustrations but occasionally I will get the pallete knife out or attach a brush to the end of a bamboo stick and enjoy the freedom that it brings to my work… that's the joy of art!"
Find Out More: Call 01572 747155 or 07768478736.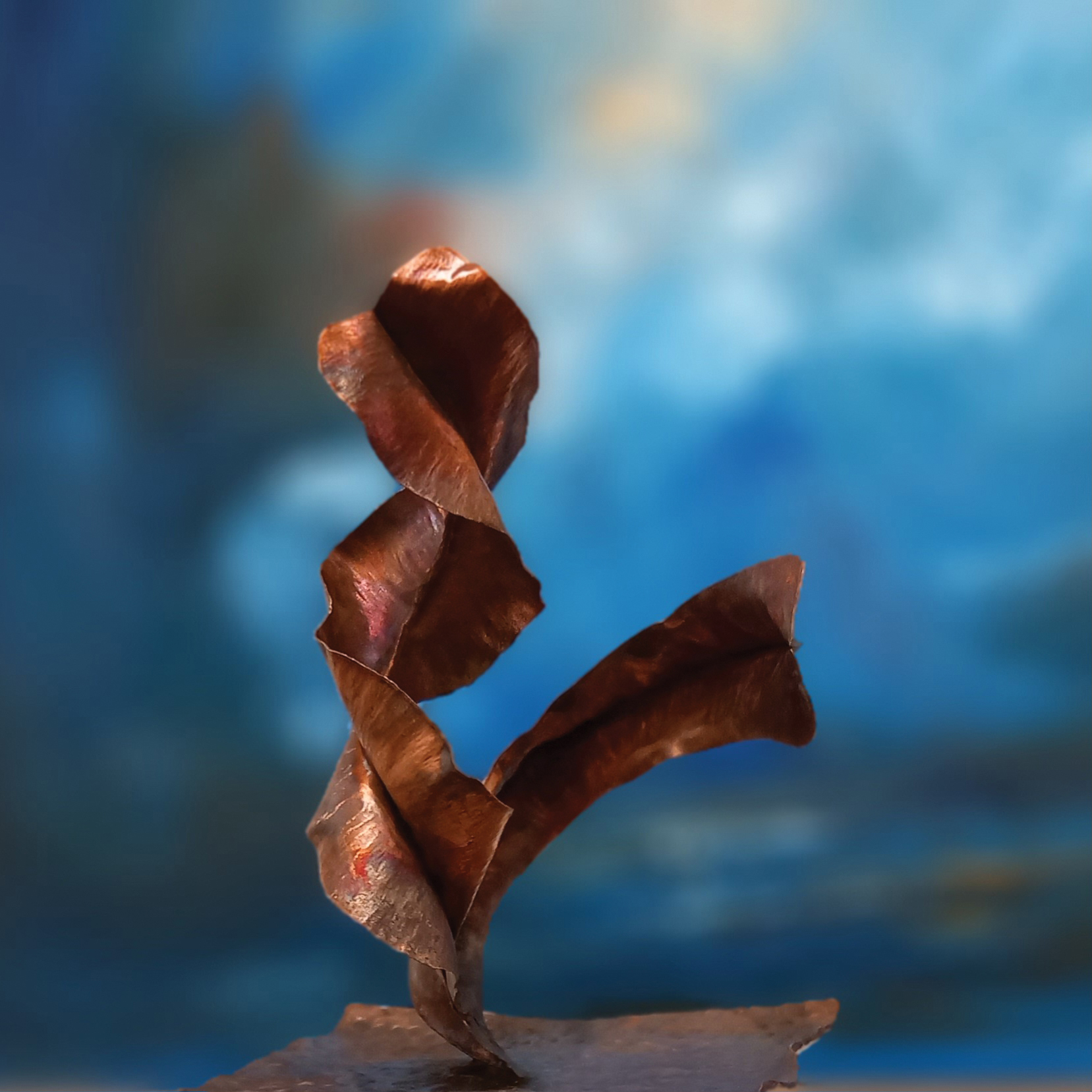 Shalini Austin: A self-taught metalsmith and designer…
Shalini Austin is originally from New Delhi and now lives in Stamford with her husband and two rescue dogs, named Taj and Manali. It would be an idyllic life… but for the pounding of metal! The artist's work includes copper pieces like coasters, mats, bowls, wall and desk clocks, plus jewellery in copper and enamel.
"When I am not beating copper or volunteering for a couple of dog rescues, I am also part of a small art group ESC Artists based in Lincolnshire," says Shalini. "We organise artist-led markets and exhibitions showcasing local talent. I have recently become a director of a new local project Stamford Diversity Group, too, which is a community interest company to make Stamford an even more inclusive and welcoming place."
Find Out More: Call 01780 766151 or 07941 324 928, or visit www.shaliniaustin.com.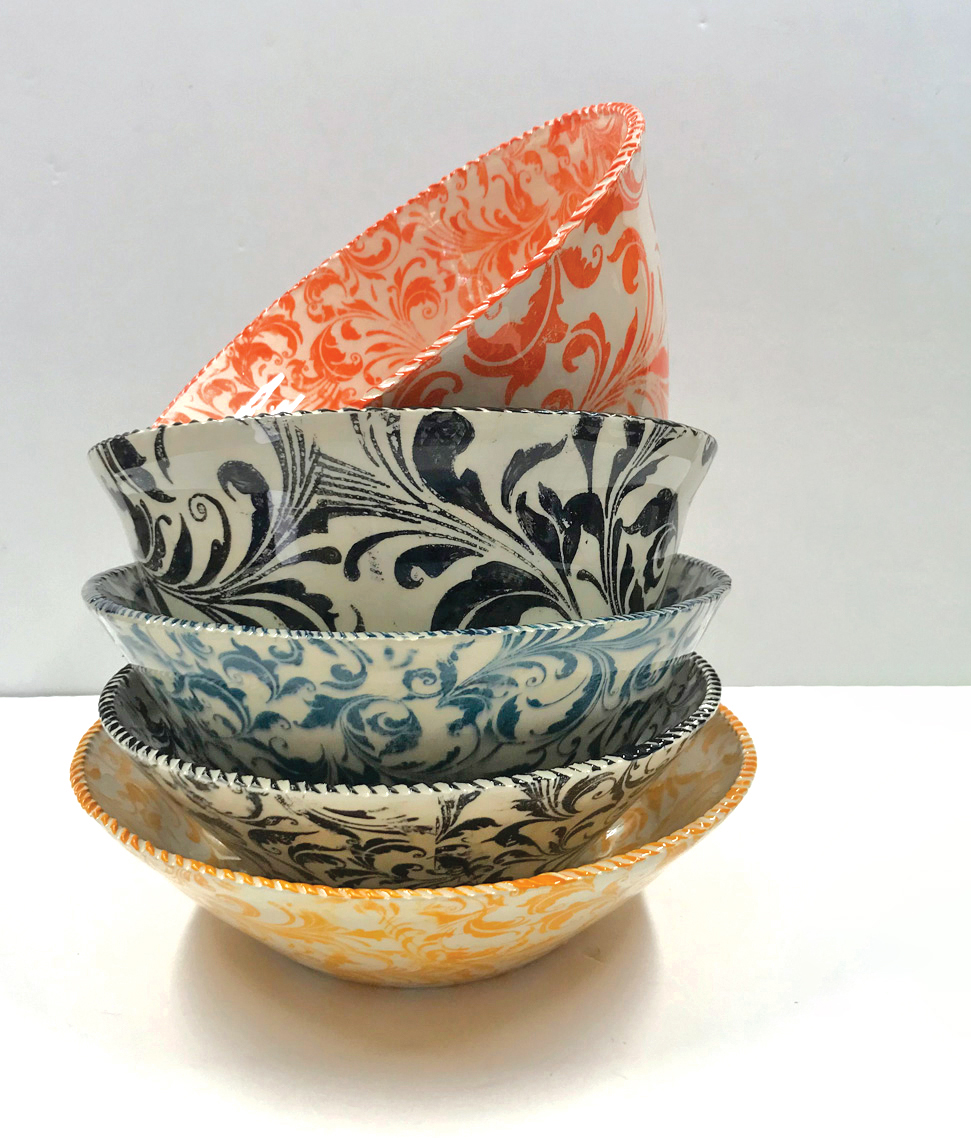 Ingrid Hunter: Potter…
Ingrid Hunter has been a potter for nearly 30 years and works with a variety of clay techniques, especially throwing and slip casting. "Decorating ceramics is fascinating and endless for design," she says. "I'm particularly interested in silk-screen printing, applied sprigs and pierced ware. I take a lot of my inspiration from textiles and ancient pottery forms."
"Ceramics has also led me to working in glass and for the past fifteen years have been kiln casting and fusing glass using my pottery kiln. Glass casting is an exciting and versatile process involving chunks of glass melted into a mould, where it solidifies – the mould is then broken to reveal the glass – followed by a lot of polishing – making every piece unique."
"My studio is at my home in Cotterstock, near Oundle.  I offer one-to-one tuition in ceramics and glass – tailored to suit students' needs."
Find Out More: Call 07720 347957 or see www.ingridhunter.com.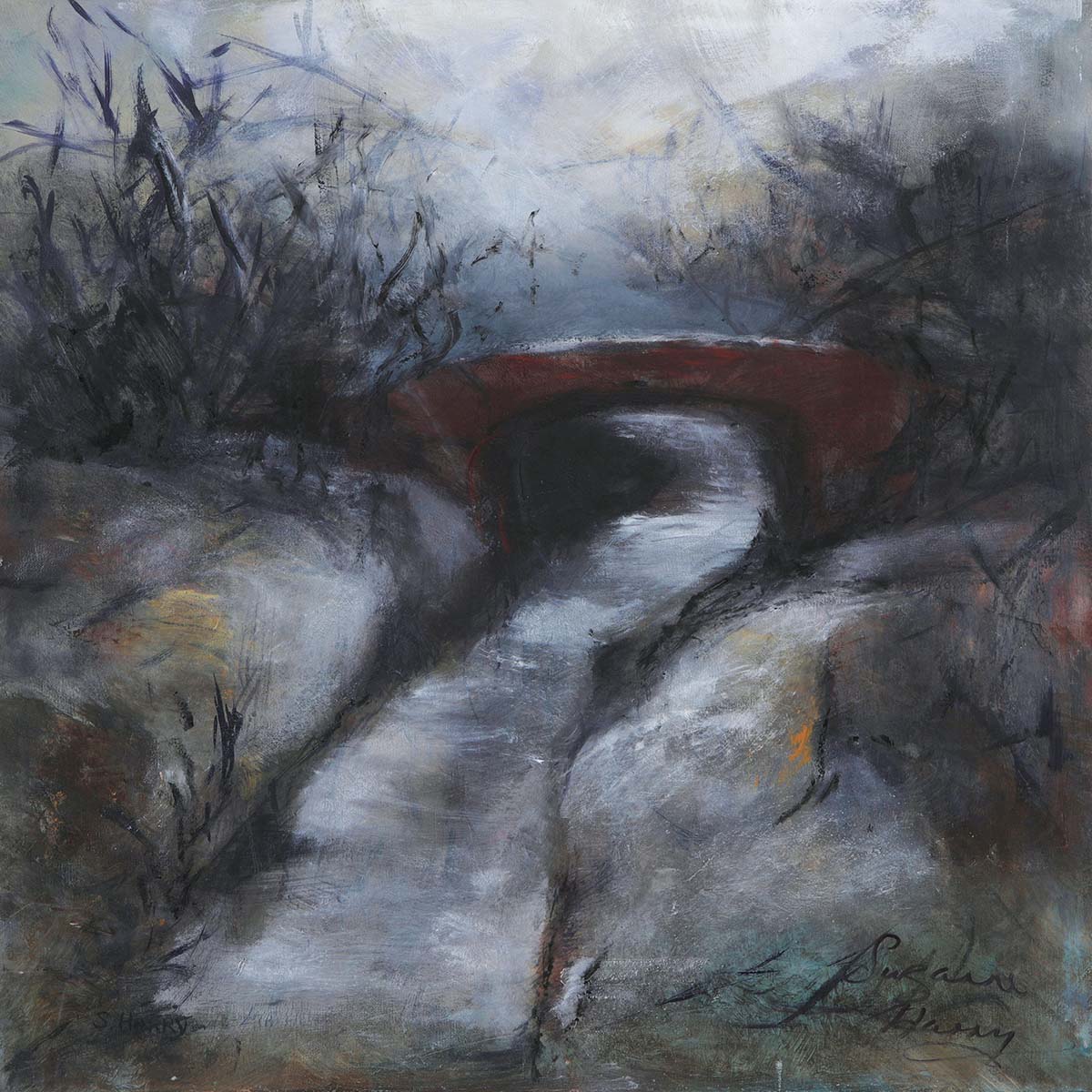 Suzanne Harry: Landscape paintings evoking the essence of a place, rather than the literal…
Suzanne Harry's subject matter is the Great British landscape, particularly Rutland and the vast skies and beaches of North Norfolk, although she does travel a little further afield. "I am drawn to inland wilderness areas such as Cumbria and North Yorkshire," says Suzanne. "I paint landscapes in oils from small studies made en plein air, evoking the essence of place rather than the biographical. I'm influenced by the work of JMW Turner, and particularly by my search for sfumato (softening the transition between colours)."
Suzanne is also a member of Leicester Society of Artists and is the Secretary of Welland Valley's Art Society.
To view more of Suzanne's work, call 01572 757604 or see www.suzanneharry.wixsite.com.