Superb dining within the beautifully refurbished Rutland Hall estate. This month we're championing a superb waterside restaurant for locals!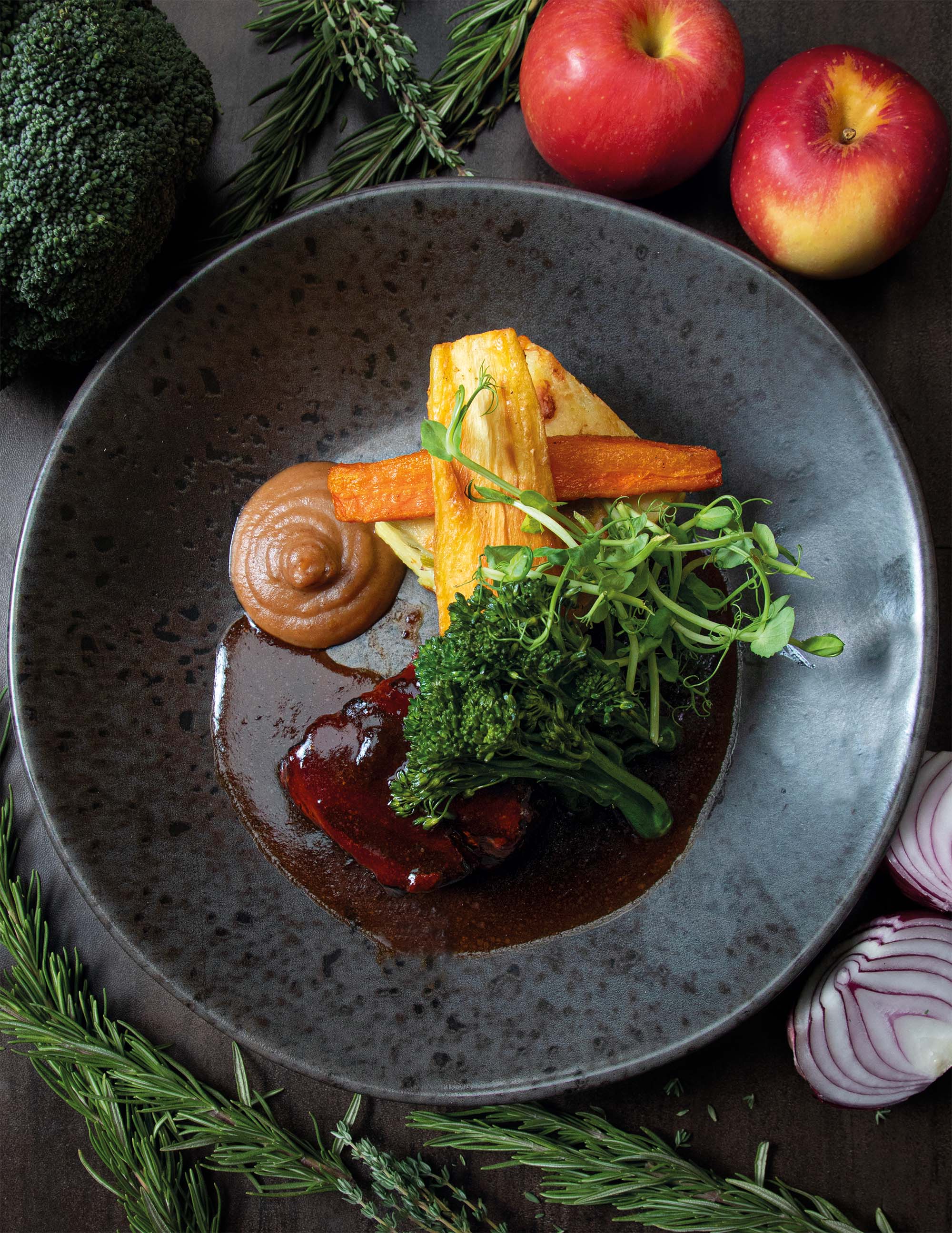 'To improve is to change,' said Winston Churchill. 'And to be perfect, is to change often.' Since June 2020 barely a day has gone by that Rutland Hall hasn't sneaked a little closer to perfection with every incremental improvement.
Prior to 2020 the place was looking a bit dated, but the arrival of brothers Dineshbhai & Savitaben Patel – and a whopping investment both in capital and effort – have improved the place beyond all recognition.
We're delighted to  report that there's more to come, too, but for now, there's already plenty to interest locals not least in the way of food and drink at the hotel's Blossoms brasserie.
Originally constructed in 1890 as a hunting lodge for the 6th Earl Fitzwilliam and his eponymous pack, Rutland Hall (née Barnsdale Hall) was visited by many an aristocrat down the years including Edward, Duke of Windsor and Mrs Wallis Simpson prior to Edward's abdication in the 1930s.
Following the creation of Rutland Water in the 1970s the place fell into disrepair under several owners until its purchase and its conversion into a country house hotel in 1989, which also saw the creation of a number of lodges on site, sold on a 'timeshare' basis. This led to the misconception that the place was a members' only site, and together with a lack of modernisation, meant that the estate was a little overlooked.
Happily, that's no longer true. The brothers took on the estate and immediately began to show it a great deal of love. The plan was to purchase the business, make a few observations and then decide how to proceed with a full refurbishment.
But when Covid took hold of the country and the hospitality industry was shut down, June 2020 seemed an ideal opportunity to proceed at a pace with a refurbishment.
Cosmetically, the brothers' effort – and the effort of their team – has been  nothing short of transformative, but the changes go beyond  appearances, with the creation of Blossoms,  which we stress is very much available to everyone… not just to the hotel's residents!
Executive Head Chef Sumit leads a brigade of nine chefs and as is the fashion, his kitchen can be viewed from the open-plan dining room, which has plush fabrics, a piano bar, a coffee lounge, and wonderful views from the  restaurant's elevated position right across Rutland Water.
Sumit's ambitious vision for Blossoms was to create a dining space that would satisfy everyone from harassed school-run mums popping in for coffee and a bit of peace and quiet, to those seeking afternoon tea, to its residential guests – working or conferencing in the area – to those seeking lunchtime dining… and of course, to both hotel and non-residential diners seeking beautifully-presented dishes, akin to those you'll find in the area's fine dining-oriented restaurants.
Despite such a broad remit, it's a terrific success. A single menu satisfies daytime and evening service, with everything from five sandwiches and four pizzas to six small plates/starters, 11 large plate choices and five grill options plus nibbles, sharers, and sides. There's a separate Sunday lunch menu too and even a dedicated menu for children.
Sumit and the team are also really keen to partner with local suppliers. Among the list of farmers and food producers whose hard work contributes to the kitchen's dishes, Farmer Lou in nearby Exton, Grasmere Farm and Hambleton Bakery provide their butchery and baked goods respectively.
For such a large space, Blossoms definitely has a lovely feel. It's neither monolithic and vast, nor broken up into small fussy spaces. There's plenty of natural light, a stylish bar and an outside terrace with pizza oven which has proved popular during summer.
It's commendable too that the team is looking at how customers are already using the spaces and considering ways to develop them in the future; the creation of an outdoor gin bar is one idea on the table, but it's by no means a foregone conclusion.
As the festive season approaches, the team has also been considering how to help locals celebrate Christmas. A festive edition of Blossoms' afternoon tea, for example is available throughout December for £49/person and includes a glass of fizz: an ideal Christmas gift or a way to get together with friends or family.
Festive lunches and dinners plus a festive Sunday lunch menu are also available throughout December as are party nights with entertainment, which is good to know if you're the poor soul carrying the burden of organising the office party.
What won't burden you, though, is enjoying Christmas Day lunch at Blossoms, with three courses plus amuse bouche and palate cleanser for £99/head. Factor in the cost and effort of cooking for the family, and a tonne of washing up afterwards and we think that's an absolute bargain! Likewise, you can also join in a rousing chorus of Auld Lang Syne at a New Year's Eve Glitz & Glamour Ball for £129/head with a Champagne and canapé reception, and entertainment too.
Rutland Hall is deeply impressive and Blossoms, at its very heart, is a reflection of how the hotel's new (newish) owners  have carefully considered how every element of the hotel can be improved not just for the benefit of residential guests, but for locals.
"We really want to make sure that everyone feels welcome," says Sumit. "From morning coffee to evening dining, we want to give everyone a warm welcome and a really great experience."
On the Menu
Small Plates
Glazed goat cheese salad with pear and walnut salad, balsamic glaze, £9.45.
Crispy katsu king prawn with kimchi slaw, wasabi, seaweed aioli, £11.95.
Chicken terrine with caramelised red onion chutney, brioche toast, £9.50.
Large Plates
Slow cooked Grasmere pork belly with champ potato, apple compote, glazed carrot, tender stem broccoli, cider jus, £24.95.
Braised steak and ale pie with creamy mash, root vegetables, tender stem broccoli, £21.95.
Battered cod with mushy peas, tartar sauce, chunky chips, £21.95.
Chicken tikka masala steamed rice, naan bread, £21.95.
Open Flame Grill
8oz Himalayan salt 28-day dry aged sirloin steak with balsamic shallots, grilled cherry tomato, stealth fries, peppercorn sauce, £35.50.
Desserts
Madagascan vanilla roasted pineapple with lemon granita, sesame tuile, mango gel and lemon balm, £8.50.
Sticky toffee pudding with caramel sauce and vanilla ice cream, £8.95.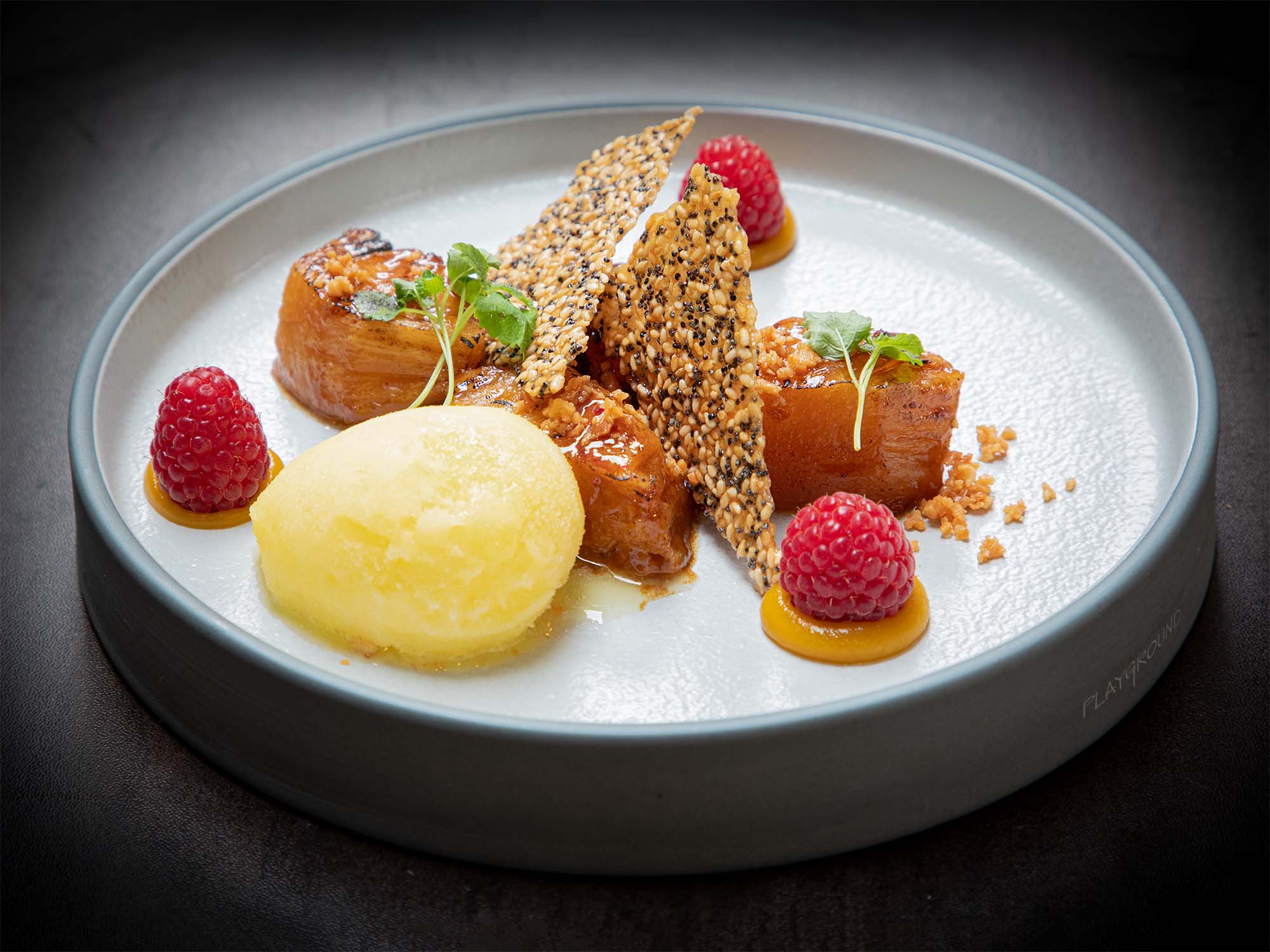 Dining Out at…
Blossoms Restaurant & Bar at Rutland Hall Hotel
The Pitch: "A fantastic dining experience offering something for all tastes, from a bite to eat to truly special occasions and indulgent Sunday roasts…"
Food Served: Open seven days from 12 noon to 9pm.
Blossoms Restaurant & Bar at Rutland Hall Hotel, Oakham LE15 8AB. Call 01572 757901 or see www.rutlandhall.co.uk.