Highlights
Rutland's Tribute to Queen Elizabeth II
It's been a busy autumn for Hywel Pratley, working hard in his studio to bring to life a likeness of the late Queen Elizabeth II. As Pride goes to press the process of casting Hywel's work in bronze is taking place with his partners at Le Blanc Fine Art Foundry helping to create a permanent memorial to Britain's longest reigning monarch…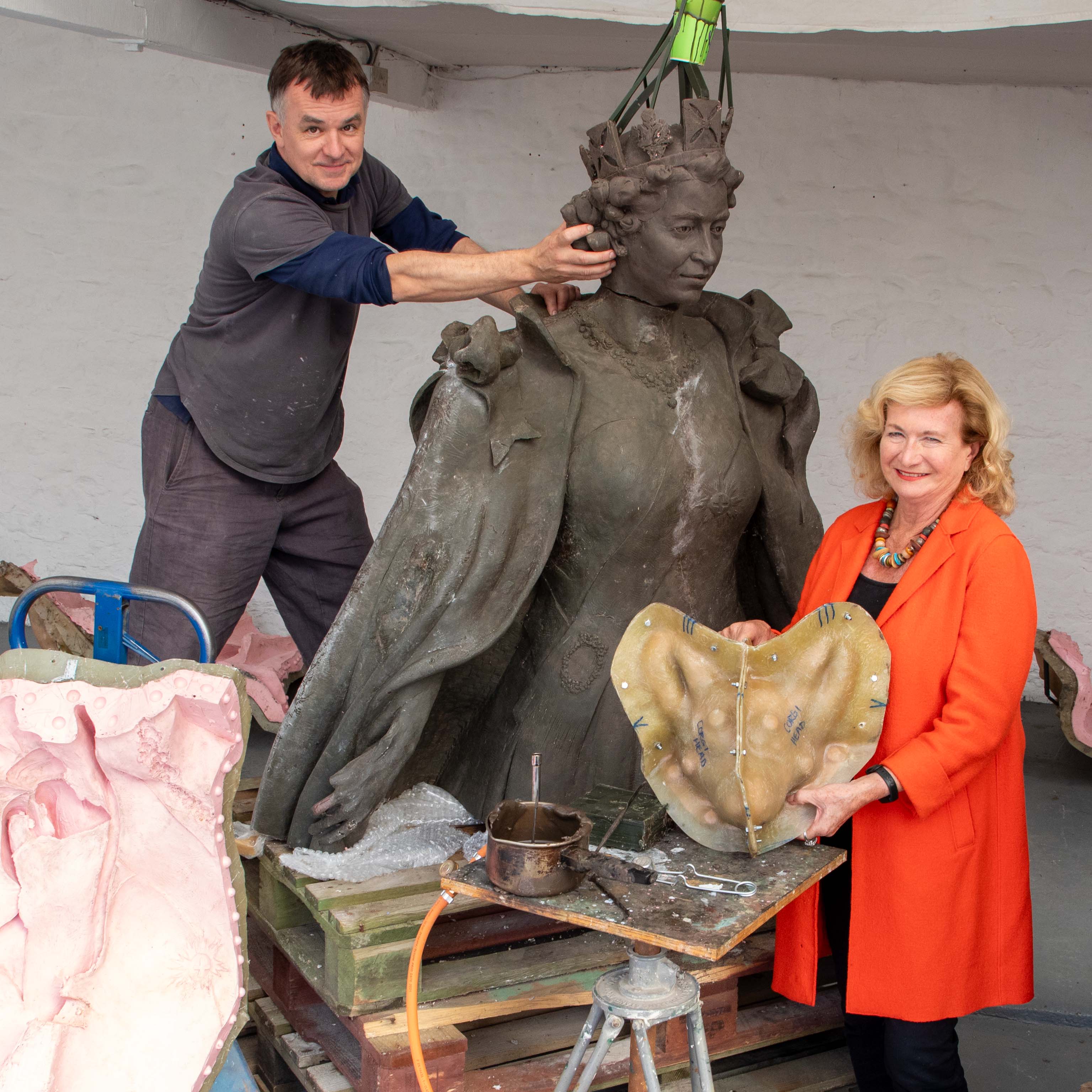 Working with almost a tonne of glowing, orange, molten bronze as it reaches 1,140°c, the team at Le Blanc Fine Art Foundry near Melton Mowbray certainly won't be chilly this winter as the rest of us wrap up warm.
The Lord-Lieutenant of Rutland, Dr Sarah Furness had the idea for a memorial to the late Queen as a result of the strength of response in Rutland to her death on 8th September 2022.
Dr Furness then formed a project team. There were no public funds or pot of money. The hope was that individuals, institutions and businesses would be inspired by the idea and contribute. They were! In less than a year the money has been raised – the bulk of it in less than six months facilitating a real tribute to Her Majesty, Rutland and the Sculptor.
By March 2023 Dr Furness had sufficient funds to know that she could give the project the go-ahead. The brief was to present Her Late Majesty as monarch, in young middle age but to make the statue engaging and to show Her Majesty's warmth and humanity. In discussion with Hywel it was decided to show her in robes with a crown but to have Corgis at her feet and at the base of the plinth.
From March 2023 Hywel was able to work, from his first maquette, on constructing the sculpture's armature – the frame which would support the clay, created from expanded metal wire, and filled with expanding foam and polystyrene. From that point, layers of clay two to three inches in depth were modelled to create the likeness, reflecting a Queen Elizabeth II of the 1950s/1960s dressed in formal robes and surrounded by three of her beloved dogs.
"Her Majesty was possibly the most famous person in the world," says Hywel. "With that comes a degree of difficulty because everybody will have a particular image of her in mind and a particular expression of the late Queen from a particular time of her life."
"While anatomy and representation are important, capturing somebody in sculpture is always an interpretation of the subject. An influential teacher of mine once advised me that 'if what you're trying to do is reproduce a human being, perhaps you should go and procreate.'"
"With hindsight, that was very wise because portraiture – whether on canvas or in the form of sculpture – is about making a thousand decisions based on ten thousand observations. So while visual accuracy is important, I hope that the finished piece will reflect the spirit of warmth, power, poise, and compassion that ensured the late Queen was so well-respected."
Born in Wales, Hywel's early career saw him teaching English in secondary schools into his late twenties, taking an evening course in sculpture under Jan Buckley, resurrecting a childhood interest in the subject – his mother and father being among his early models.
"I fell in love with the process and enrolled in the Florence Academy of Art to further my studies under Robert Bodem. The plan was to stay for a year, but I actually stuck around for four years. Today I say that I'm in year twenty of my five-year plan!"
"I was always fascinated by portrait sculpture and by facial expressions" says Hywel. "An understanding of anatomy is important, but  figurative sculpture offers other expressive       possibilities including playing around with the scale of a piece or even the proportions of an ear or a nose."
From April – July, Hywel worked to recreate the Queen in detail and at the start of August was ready to begin the moulding process. This involves layers of silicone rubber covering the clay, reaching into every detail of the forms with successively thicker layers of silicone.
That mould is the first part of a process known as the lost wax method and is a good deal more complex than our abridged description, here.
A 5mm-6mm wax cast is taken from the silicone rubber mould. A further ceramic mould is then made around this wax cast, then fired, enabling the wax to melt and run out, leaving a cavity precisely the shape, size and detail of the lost wax. This cavity is then filled with molten bronze, and that ceramic mould is smashed off.
"The complete piece is made up of more than twenty of these ceramic 'shells,'" says Hywel. "About 10 for the figure of the Queen herself. She will be roughly 700 kg in weight and stand 7ft tall, positioned on a 5ft plinth upon installation." In the coming weeks, the bronze will be poured and for the first time Hywel, Le Blanc Fine Art Foundry and Dr Sarah Furness will see the likeness of Her Majesty in bronze.
"It's hoped that installation will take place this winter but there are many things to consider before that's definite," says Sarah. "Whenever we welcome members of the Royal Family to Rutland we can show our tribute with pride."
We think it'll be a way of remembering the late monarch and celebrate her 70-year legacy which will prove fit for a Queen.
Generosity & Passion…
Dr Sarah Furness thanks Hywel for producing something that is a beautiful tribute and will become a memorable and much-loved Rutland landmark
"Hywel has really done us proud," says Dr Sarah Furness, Lord Lieutenant of Rutland and one of the people who have helped to make Rutland's statue of the late Queen a reality.
"But the people of Rutland really do deserve recognition for their tremendously strong support of our statue campaign. We've had donations from many individuals and businesses and right from the beginning of the project the response really has been tremendous."
"We began the project with no funding, but it soon became apparent that the support we had for a permanent expression of gratitude towards Her Majesty was tremendous."
"We're very proud that the statue will be the first planned memorial statue of the late Queen in the UK. Following national and international press coverage of Rutland's statue there are now moves for a national memorial. What is planned nationally will only be revealed to 2026."
www.rutlandlordlieutenant.org.