Clipsham's super Olive Branch is still, first and foremost a pub: friendly, pretty, rustic and relaxed… but with wonderful new dishes too, courtesy of new Head Chef Ben's brigade…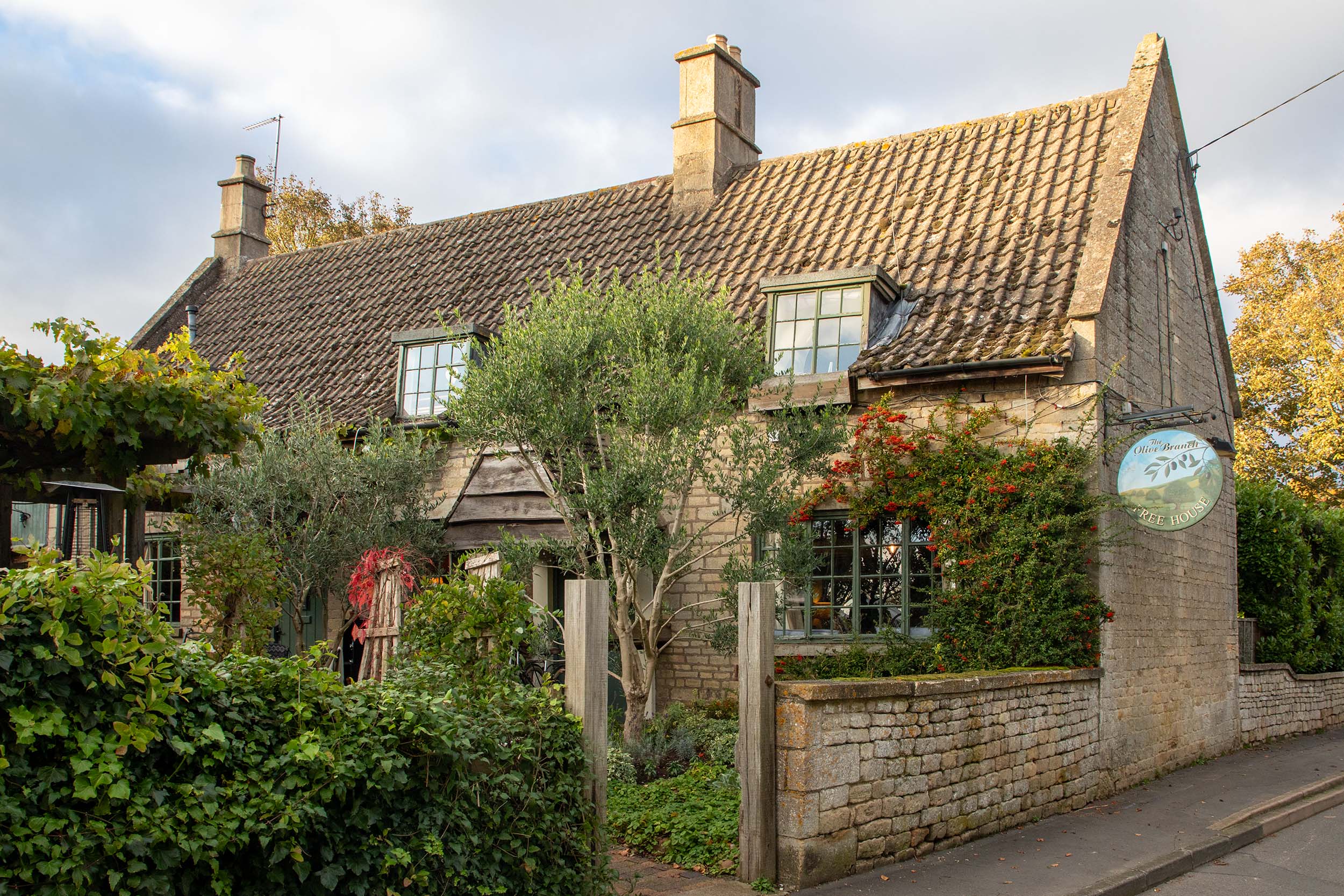 The Olive Branch in Clipsham isn't just for Christmas… it's for life, even though there's plenty going on at the pub over the festive season. Stepping into the place for the first time in a while, I scolded myself for having left it so long. It's one of those places I keep up my sleeve for when friends come to stay or for special occasions; a sort of ace card to play when someone expects you to make a really good dining out recommendation.
To regard the pub as the preserve of high days and holidays would be remiss. It's a place that deserves to be enjoyed both greatly and often, especially now there are a host of fresh dishes to enjoy this winter, courtesy of new Head Chef Ben Fisher.
A village pub since 1890, the place was rescued from obsolescence upon its closure in 1997 by a trio of friends, backed by locals. It reopened in November 1999 and hosted a millennium-eve (and thank you for your patience) party for the community that remains the stuff of legends nearly 24 years on.
The idea of The Olive Branch was that it would be a pub first and foremost. Friendly, pretty, rustic, comfortable and relaxed. However, none of the three co-founders – including Ben Jones who still leads the team – accepted that its identity would mean having to compromise either on the quality or the flair of the pub's food.
And so, the place became the first gastropub before the term was invented – then popularised, and before it was employed ad nauseam to the point where it finally became meaningless.
Still today The Olive Branch remains one of the most well-respected restaurants not just in Rutland, but in the country and one which, as well as retaining its ethos for a quarter of a century, has also picked up myriad accolades along the way from Michelin awards to two AA rosettes and mentions in The Good Pub Guide, Hardens and The Good Food Guide as well as awards in Rutland Pride's own Good Food Awards.
"It's a bit of a daunting prospect taking over the kitchen one of the area's best loved pubs," says Ben Fisher, originally from Surrey. He walked into a kitchen at the age of 15 to work as a pot washer and worked his way up to the position of Head Chef. Ben moved to the area in 2017 and enjoyed five years in the kitchens of Hambleton Hall, before joining the team in Clipsham, post-pandemic.
As well as a new Head Chef, 2023 has also seen the brigade enjoying a shiny, state-of-the-art kitchen after spending 2022 in temporary digs following a fire in December 2021.
A year on from the commissioning of their light, comfortable and fit-for-purpose kitchen – a space that's a necessity given the complexity of the brigade's food and the extent of the team's creativity – and with Ben heading up the kitchen, the dishes at The Olive Branch remain imaginative, beautifully presented and innovative in their flavours.
There's a set lunch menu and an à la carte lunch menu, plus a dinner menu and a seven-course tasting menu too (for which booking is certainly recommended, but not always a necessity). The dinner menu comprises six starters, nine main courses and six desserts plus a British cheese and Eccles cake option.
In terms of suppliers, the reverse of the menu features a 'who's who' of local suppliers, recognising the restaurant's approach to using local produce wherever possible without compromise. The chefs butcher their own meat on site utilising a Stretton producer of hogget, Launde lamb and Essendine fallow deer as well as Price & Fretwell of Derbyshire. The Olive Branch also has a productive kitchen garden, The Paddock, located opposite and pub (adjacent to its boutique B&B) which produces herbs and heritage varieties of vegetables throughout the year.
Pickles, preserves, ice creams and petit fours are made in house, as are breakfast muffins for guests in the six bedrooms in Beech House opposite. However, the team wisely acquiesces to Julian Carter and the team at Hambleton Bakery for their supply of sourdough bread.
Working alongside Ben are Matthew Benton, Ian Goodison, Aaron Ella and young chefs Sasha and George. The pastry section of the kitchen, meanwhile, is the preserve of Jordan Evans, who in addition to producing some spectacular desserts is also Ben's other half, proving that the way to a man's heart really is through his belly… Ben reckons he has a really sweet tooth and having tried Jordan's tonka bean panna cotta with homemade honeycomb, we can see why it was love at first bite.
The team's new winter menu features some real highlights, such as our partridge with salt-baked turnip and pickled bramble, as well as retained favourites like a slow-cooked beef rib dish which remains one of the most popular dishes on the menu.
Highlights for December include the pub's popular Christmas parties, ideal for groups of up to 22, plus Ben's Festive Cookery Demonstration on  Thursday 7th December, with three courses demonstrated plus lunch and wine for £80/head, plus Boxing Day Lunch for £55/head and dining on New Year's day.
One final mention for the festive season though: the Pub Shop within The Olive Branch is renowned for offering its own homemade pickles, preserves and chutneys, as well as decent wine and Hambleton bread.
During the season though, it'll also offer homemade canapés, truffles and petit fours to pass off as your own efforts, plus turkey gravy, braised red cabbage and homemade cranberry sauce all available to purchase and enjoy at home, enabling you to give your own Christmas Day lunch a touch of Olive Branch excellence!
On The Menu
Starters
Mooli 'scallops,' smoked kohlrabi broth, ponzu, chervil £9.50
Marinated heritage beetroot, goat's curd, fresh cream, dill nasturtium £11.50.
Local roe deer tartare, juniper, oak-smoked mayonnaise, 100% vanuatu malekula chocolate £15.50.
Main Courses
Olive Branch haddock and chips, pub peas, tartare sauce £23.50.
Local red leg partridge, salt baked turnip, pickled bramble, dauphinoise foam £28.50.
Launde Farm Lamb, variations of onion, swiss chard, boulangère potatoes £33.50.
Slow cooked Beef Rib, smoked mustard, fermented cabbage, sour cream, Lincolnshire Poacher, pub chips £35.50.
Desserts
Crème brûlée tartlet, amaretto, pear, morello cherry £9.95.
Dark chocolate torte, variations of raspberry £10.50.
Mascarpone & white chocolate parfait, red grape, brown butter biscuit, micro celery £9.95.
Selection of three English cheese £9.95 (incl: Sparkenhoe Vintage Red Leicester, Vintage Lincolnshire Poacher, Cropwell Bishop, Barkham Blue. Eccles cake, Barkham Blue, Earl Grey £9.95.
Dining Out at The Olive Branch at Clipsham
The Pitch: "An award-winning village inn with friendly and knowledgeable staff, passionate about food and drink…"
Lunchtime Service:  Wednesday-Friday, 12pm to 2pm. Saturday, 12pm to 2.30pm. Sunday, 12pm to 4.30pm.
Evening Service: Wednesday to Saturday: 6pm to 9:15pm.
The Olive Branch Pub, Main Street, Clipsham, Rutland LE15 7SH. Telephone: 01780 410355, www.theolivebranchpub.com.