In last month's magazine we met Hywel Pratley, who has created Oakham's statue of HM Queen Elizabeth II. A few weeks after that edition was in print, we returned to see the statue cast in molten bronze…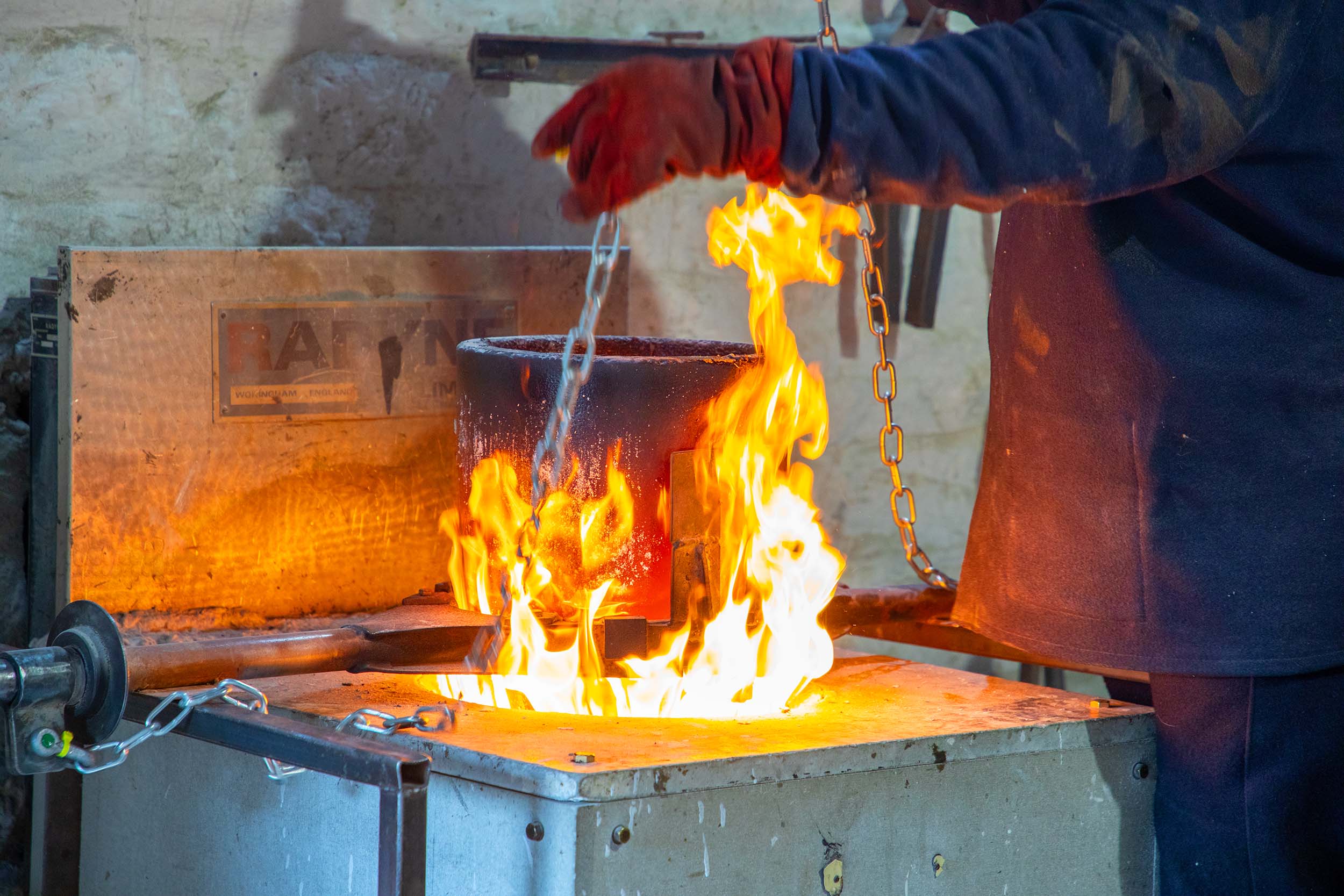 In last month's magazine we reported on the completion by sculptor Hywel Pratley of the design for his statue of HM Queen Elizabeth II. A few weeks after Pride was published, we received a call with the date and time for Hywel's design to be cast in bronze.
Monday 23rd October saw an excited group gather at Le Blanc Fine Art Foundry to see the final stage of the lost wax process completed, and to see for the first time the actual statue which will be installed in Oakham, adjacent to the town's library.
Among those present at the pouring was The Lord Lieutenant of Rutland, Dr Sarah Furness, who led the campaign to raise money for a permanent commemoration of the late Queen.
Hywel had already completed the statue in clay, and then covered it in a rubber negative, which was then encased in fibreglass for protection. Molten wax is then poured into the silicone and left to cool before the piece is divided up into sections and gated – this is the process by which wax runners, vents and a pouring cup are used to ensure the molten bronze will run right to the bottom of each piece during the casting process.
The prepared waxes are dipped into a ceramic liquid six times to create a white ceramic shell. Once each shell has dried, they're placed into a furnace and heated to 850°c so that the wax inside melts and is flushed out, leaving behind a cavity.
It's into this cavity that the bronze will be poured. The shells are inverted and placed in a sand box, then an electric induction forge heats up a crucible of bronze to 1,140°c. The molten bronze is poured in and left to cool.
Once cooled, each shell is taken out of the sand box and chipped out, the ceramic bashed away, exposing the bronze within. The last of the ceramic is sandblasted away.
After sandblasting, the runners and vents will be cut off and the pieces assembled and welded together. Oxidisation with heat and acid will give the final assembled statue its patina, which will be enhanced with a coat of wax and polishing.