Highlights
Grand National Trophy Designed by Stamfordian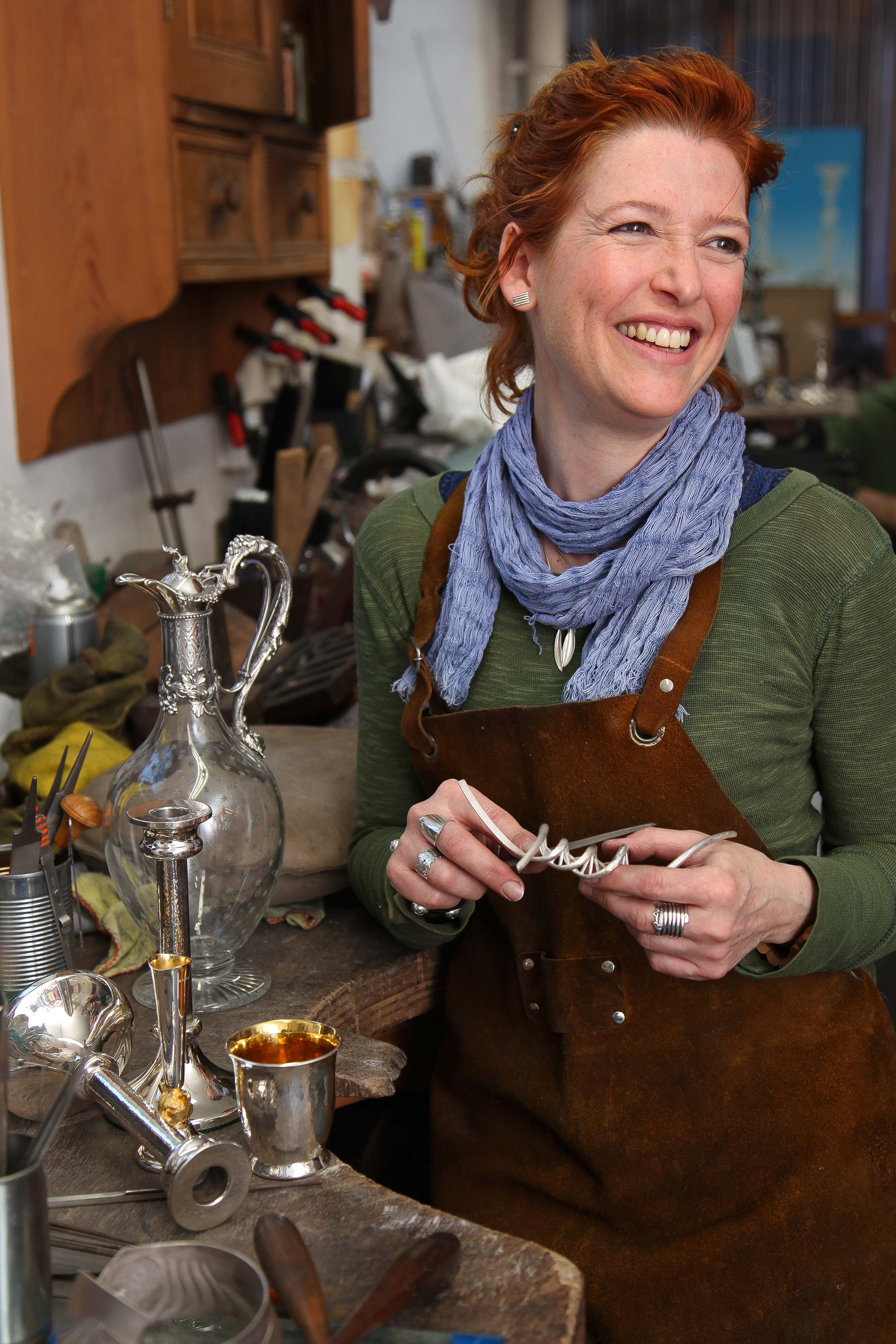 Did you watch The Randox Health Grand National this year? Perhaps you even won some money on Tiger Roll, the brave little horse who won.
During the prize giving, you'll have noticed the stunning trophy but did you give it more thought than, 'what a work of art that is, good on that jockey Davy Russell he rode beautifully;' did it occur to you that those perfectly sculpted helix curves were made by hand?
The next day, that same trophy is all over the newspapers being kissed, held in the air and shown to the world but what you may not know, is that very trophy and last year's was designed by a silversmith at Burghley House. It's unusual for the same designer to design The Randox Health Grand National trophy but this was the case for Shannon O'Neill.
Originally coming from Liverpool, Shannon found herself at Burghley House after a period of her life where you could say she was hiding from her true passion.
"Every time I came close to  working for myself I would jump at a new job opportunity," says  Shannon who boasts a very  impressive CV in the world of animation. Under the watchful eye of Burghley's Barry Witmond, who has been a self-employed Silversmith on the premises for almost 30 years.
Shannon was mentored, moulded and Barry says slightly manipulated into taking back up a craft she hadn't laid hands on for almost four years.
It's not difficult to see how Shannon was diverted down a different path several times.
After completing a design led education, she found herself working on a Tim Burton animation, a relatively well paid extraordinary first job.
"I fell into animation and fell in love with the people," says Shannon. After this she worked on Corpse Bride, the head mechanics and animation specifically all while partying hard and working even harder in the big smoke. But still, even with London's magnetic force of fun, in the back of Shannon's mind she was thinking about silver.
The animation took off and Shannon's next position was 'more of a 9-5' she laughs, in the Cotswolds on Timmy Time. It was in this period where she started designing again, her hands picking up a skill they new so well until they were picked up again and thrown into another mad world in Oregon, America.
"I had a wild time, but even when I was at these hot tub parties I'd turn around and think, hang on, am I at the wrong party?"
The passion Shannon was no longer feeding haunted her but she just couldn't see how she could make money as a Silversmith, especially on her own. Then along came Barry, the manipulation, the bitter smell of silver cleaning products, a twitch for chasing and a chance to finally take up the dream.
Just as before, Shannon was being handed her dream on a plate but no real financial stability. She was also in contact with animation companies who wanted her on the set of the new Star Wars film after she'd worked with Warner on King Arthur. Shannon threw caution to the wind and stuck with Barry and just two weeks later, Randox Health called saying she'd been selected, the rest is history!
The selection process for the designer is no mean feat. Randox Health begin by contacting Goldsmiths who put together a showcase for them of the contemporary silversmiths they can choose from. They start with 65 and will be given some sort of silver piece to study by each designer before they whittle this list down to 21.
At this stage, they get in touch with each chosen Silversmith and ask them to provide an idea, what do they think the trophy should look like?
Then, they will choose a final three who will receive the brief and work on a design that meets their requirements.
After this stage, Shannon's beautiful helix structure stood out and so she had from August to create the trophy from scratch, which is not long at all!
From the design, there are lots of lovely little touches that nod towards Randox Health.
The base of the trophy with their name on it has the drop of blood in the form of the stone. Then of course there's the stem which is a wonderful spiral helix of DNA to represent the thoroughbred racing lines.
There are little horse shoes within and around the spiral to give the DNA some biological structure, they've been carefully positioned to hold onto that mystic Irish luck. When you get up to the bowl you'll see carvings of brain synapses, fat cells which also replicate champagne bubbles, red blood cells and a magnificent heart beat of a racehorse borders the top of the trophy. The trophy is Stirling silver and the DNA helix has been gilded in gold. All of these different components help represent what it means for Randox Health to sponsor such a prestigious event.
They're very passionate about what they do and hope that this will transpire into the racing crowd to be more aware of their health options.
You can visit the studio at Burghley but only if you make an appointment. Shannon is open to commissions all year round with prices starting at just £50 and as is clearly demonstrated here, no commission too ambitious!
It's the perfect way to give someone a unique gift or perhaps create a memory in solid form.