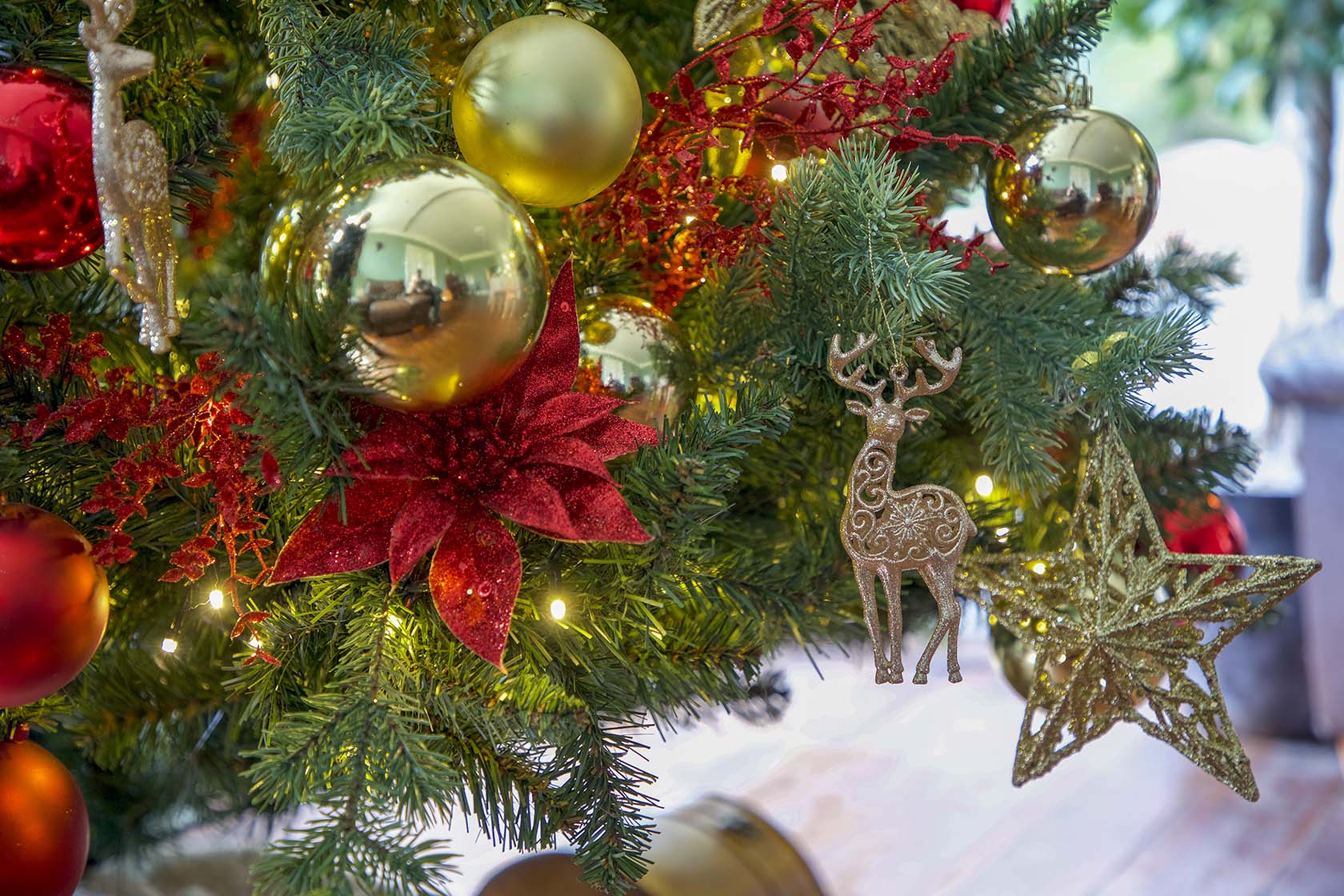 Meet Sam Fox, the local Christmas tree artist who designs, installs and decorates festive trees for her clients… a veritable Christmas angel, we think!
To some it's an enjoyable experience for the whole family. For others – like me – it's the bane of the festive season. Sourcing the perfect tree, getting the decorations down from the loft, untangling the lights from the lead, then untangling the cat from the tinsel and my child from the rest of the decorations.
Imagine, then, if you could commission a bespoke tree, delivered to your door, with decorations, then trimmed up before being disassembled and taken away in the new year. Imagine no longer, as we introduce the festive angel intent on reminding you of the true joy of Christmas; having a really stunning tree that wipes the floor with whatever tacky abomination your friends and neighbours have put up. Don't let anyone tell you it isn't a competition. It is… very much so.
Sam Fox, then, is your competitive advantage in the battle to have the best tree. She's a professional Christmas designer whose client list is so prestigious that we can't even name some of them. But she told us and really, it made us go 'Oooh!'
When you and I are snoozing in a comfy chair, slipping in and out of an After Eight coma in that festive no man's land between Christmas and New Year, Sam has already started planning her clients' trees for next year. Like local retailers of festive decoration retailers, Sam attends spring trade fairs to investigate the coming year's festive trends, then sets about creating colour schemes, presenting mood boards, and costing the whole thing out for her 50-ish corporate clients and an exclusive list of clients who commission Sam for their own homes.
We say exclusive – Sam's work is of course entirely bespoke to each client – but in fact the designer typically charges between £250 and £500 for a 7ft Christmas tree sourced, supplied, decorated and then taken down for her clients after the festive season.
Given that real trees are £80-ish and that the ubiquitous purchase of new lights can cost the same once you've ascertained that last year's purchase has gone awry, that's not much of a premium for someone to create a new look each year, with a professional looking tree and to have the whole lot taken away afterwards.
Some of Sam's clients even have two trees in their home, one they purchase and decorate themselves – one the kids can ruin, as it were – then a 'best' tree they commission from Sam for their drawing room. Whilst a six or seven-foot tree is average for domestic clients, things tend to scale up for the corporate market.
One of Sam's clients for example is London's St Pancras Station. The decorations there? All Sam. Well, with some help from Bruno, her partner and second in command. The station has 33,500,000 commuters each year, and its busiest time is rush hour. That's why Sam and Bruno spend nine solid nights decorating the station, using scissor lifts, scaffolding and all sorts of other paraphernalia… not to mention no fewer than 14,000 baubles.
So, what's the secret of creating a really great looking tree… apart from the obvious tactic of cheating by using a professional Christmas artist? Sam's first tip is to use an artificial tree. To some that's sacrilege, after all who doesn't love the scent of a real tree?
"That's a surmountable issue," says Sam, revealing that she uses – gasp! – artisan scents to emulate the perfume of a real tree. "I always feel a bit guilty about discarding a real tree when the festive season is over, and when corporate clients request something large, like a 20ft tree, that guilt is especially palpable given that trees grow at just 1ft each year, after the first couple of feet, so that's a 25-30 year legacy you're destroying."
"Aside from the ecological argument, artificial trees are manufactured to be symmetrical, they don't shed needles and they're the perfect shape. Aside from hugely expensive 'manicured' real trees – which are hand-trimmed every month or so throughout their growth to be trained into the perfect shape and carry a huge premium over conventional trees – an artificial tree is the only solution for a really evenly proportioned starting point. What's more, artificial trees aren't subject to leaning or moving as they dry out, which can cause decorations to slip or move about.
Sam's other secret is that she commissions many of the elements for her clients' trees herself. Expensive decorations, she cautions, don't automatically make a great tree, and her decorations aren't necessarily sourced from designer names like Gisela Graham.
However, an investment in quality where it counts is often wise. The lights Sam uses, for example, have bulbs spaced 5cm apart, not the usual 10cm, for a fuller look and a more 'lit' appearance. They also link together sequentially, so just one socket and one cable from the tree can power a more or less infinite number of lights without a humongous tangle. Also, on the subject of lights, one of Sam's pet hates is the use of inappropriate coloured lights – ice white lights with red and gold trees, or warm white lights with blue and silver tree schemes, for example. It's like festive kryptonite to a professional tree artist. Also, Sam doesn't use tinsel. Why? She can't say for sure, perhaps it's personal preference, it's just a bit dated, a bit ordinary…?
In any case ribbon, she finds, provides more flexibility and somehow looks more polished. Having cut her teeth working for a couple of decades as a florist, Sam later joined a large garden centre, as their Christmas project manager and stylist. Two years ago, she left behind the city and moved to the area, retaining much of her client base (casinos; motor dealerships; corporate headquarters), but finding herself able to squeeze in both corporate and domestic clients down here.
Sam never switches off from the festive season, and with five children and two grandchildren, still loves to make her own home as festive as possible each year. Even though she reckons to have created over 1,000 trees in her career, the artist still has creativity to go and flair to spare. So, if you're looking to create a festive tree, garlands, wreath and any other decorations for your home or business this year, we'll happily endorse our saviour of the season, and implore you to spare yourself the hassle of creating your tree, enlisting Sam… your very own festive elf!
Find Out More: Sam Fox is a professional Christmas Artist who designs, supplies, decorates and installs trees for her clients. Her company, Decorative Events, can be found at www.decorativeevents.org. Call 01406 701912 or 07484 225360.