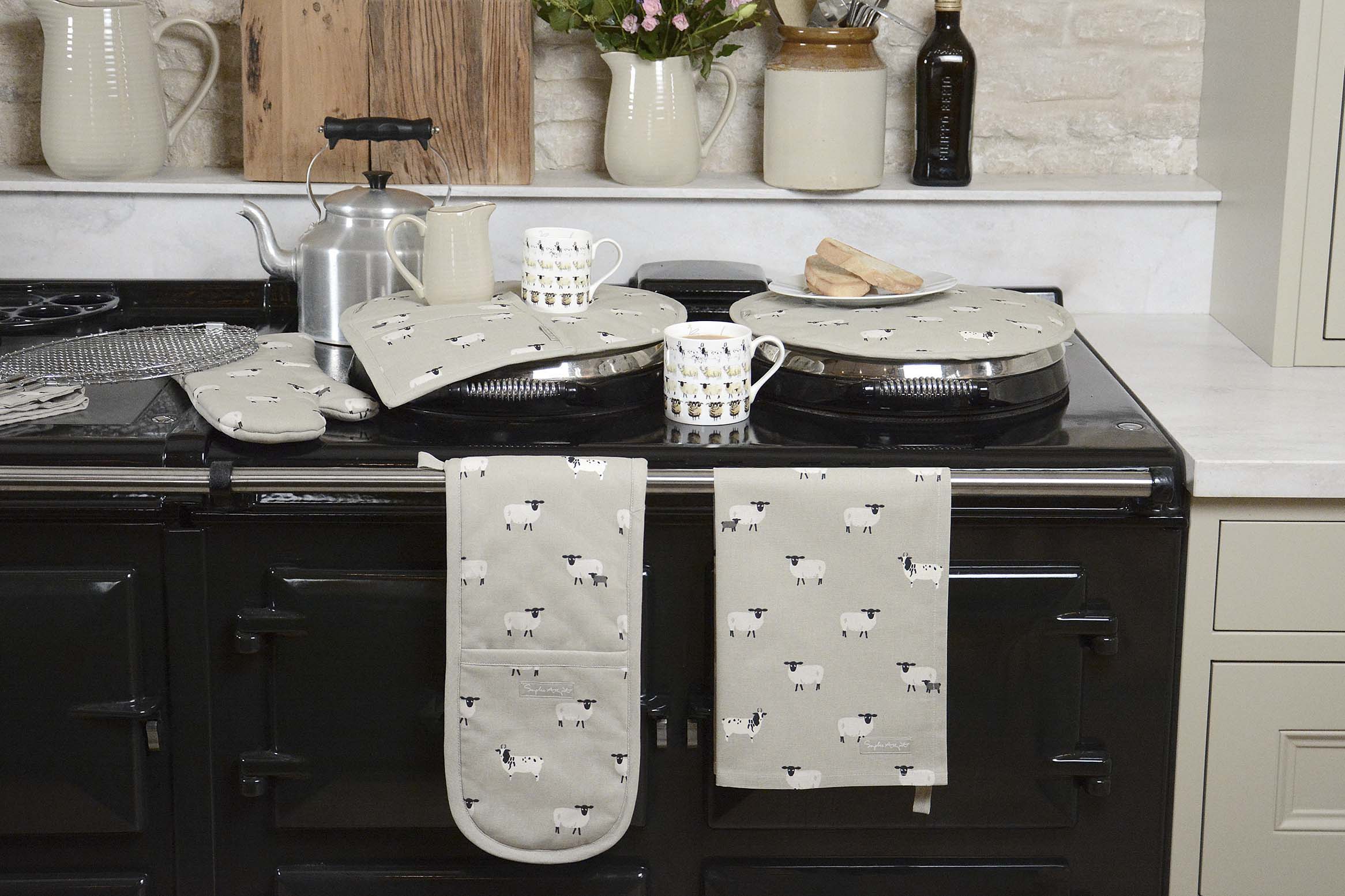 An exclusive interview with Sophie Allport, the mum who really understands why quality matters in the kitchen…
You have a favourite tea towel, right? Everyone has a favourite tea towel. I certainly have a favourite tea towel. It's a Sophie Allport one, from the Stamford based designer's Pheasant Collection.
Not just because it's a great looking product. Nor because it's commensurate with the look and feel of the countryside in this part of the world. Rather, it's a favourite of mine because it's such a high quality product. Our kitchen is routinely a place where cookware, utensils and linens come to die. And yet, despite the best efforts of the present Mrs Davis to stain, shred, immolate and extirpate this fine example of kitchen linenhood, still it soldiers on.
Like a 45cm x 65cm Royal Marine – or an SAS soldier hewn from 100% cotton – it survives culinary disaster after boil wash after near miss with a gas hob and comes back for more every time, retaining its colour, its absorbency and remaining free of holes, frays and other battle scars.
Sophie herself insists on quality, and it's not surprising given that her expectations are the same as ours; a product that will survive family life. Each year Sophie launches about ten new ranges – five for spring/summer, five for autumn/winter – give or take a range or two. So, when we were invited for a preview of the designer's spring 2019 designs we couldn't resist a look… especially as this year will offer some exciting new developments for the Bourne business, which moved into new premises around a year ago.
You're an international business, but still very much based in the area? 
Yes. I was raised in Potterhanworth – a little village in Lincolnshire – and attended Lincoln Minster School before moving to pursue a Graphic Art & Design degree at Leeds Metropolitan University. I left in 1994 and moved to London where I met my husband Chris.
And you began your career as a freelance illustrator?       
I loved to paint and would take on the odd commission to fund my way through university. I even sat on pavements in central London sketching and selling the odd piece to tourists. That was in-between trying to get my work in front of illustrative agents and publishing companies. I had a friend who worked at the Country Living Show and in 1996, she asked me to be a demonstrator. I produced a few cards to sell at the show and it all began from there.
Eventually they were selling before I'd even produced them, and I was picking up work in advertising. One of my most memorable early commissions was for Harrods and they used my illustrations in their window displays. Working from the spare room of my London home I began producing a few mug and card designs of my own, as well as for royalties.
But it was a family tragedy that was the turning point?     
In 2004 my father suffered a stroke. We're a close family and it felt like our world came tumbling down. My brother Jem and I were devastated. It acted as a catalyst to set up our family business and Sophie Allport Limited was born.
That was when was Sophie Allport was founded?  
Yes, in 2007. And then the world… just… exploded! I'm still the creative element behind the business and Jem is happy to be behind the scenes but honestly, he's terrific and I can't sing his praises enough. His role in the finances, logistics, sales and distribution of our ranges enables me to just concentrate on what I love… creating beautiful products.
How difficult is it to grow the business?      
The popularity of our ranges has helped to grow the business naturally and steadily. What has been more of a challenge, though, is to keep the family feel of the business intact, to remain true to our core values. And also, to produce volume without sacrificing quality. It wouldn't sit comfortably with us, for example, if we produced products featuring animal motifs without enfranchising ourselves in the protection of the natural world.
That's why we're exploring alternatives to leather for our new bags and pet products, and why ranges like our Cheetah and Elephant collections – inspired by our childhood holiday to Africa – include a donation to the Zoological Society of London (ZSL) with each sale. Likewise, our Woodland collection was produced in collaboration with the National Trust with financial support to help them to support their ongoing conservation projects.
We're mindful of recycling too, and that it's better for the environment and for our customers to make products which are made to last, rather than being designed as disposable items.
How large is Sophie Allport as a company? 
In October 2017 we had to move from our old premises where eight small individual warehouses were causing a real logistical headache. We moved to a former brewery in Bourne which provided 35,000sq ft of consolidated space.
We moved just before Christmas which was a real nightmare at the busiest time of year for us, but it was necessary to ensure we could work efficiently. We've 60 members of staff now, with six creatives in our design studio and over 40 ranges. Each range has between 70 and 120 different products – so there are about 3,000 different lines across the company.
We have over 1,300 stockists which makes us proud, but not as proud as the knowledge that we're retaining our family culture in the company. We host a Tuesday morning meeting for the whole company and everyone is included. That's because no department works in isolation, everyone is enfranchised; we're a complete team.
But despite the company's growth, you still design in the same way?     
Yes! I have to ensure my time is well-spent, but I timetable in opportunities for me to go home and sit in front of the wood burner with the dogs at my feet and a mug of coffee. That's still the way our ranges are designed. I love the process; it's like the cream on top of the milk in an already really enjoyable role.
I bring my designs in and they gradually evolve into a finished piece created in pen and watercolours which are digitised onto the computer and composited. The whiteware – our mugs and so on – are then hand-finished in Stoke-on-Trent which is fiddly but gives them a quality finish.
Have you tried your hand at that?   
Oh yes… it was so difficult, it takes real skill to get the finished product perfect. I've tonnes of respect for the steady hands who can produce perfect products over and over again, I was all fingers and thumbs!
Is hand-finishing necessary for quality?      
Definitely. Many products are mass-produced now, and it would be easy to scrimp on things like materials, but I'm a mum and a wife myself, so I know how well a mug has to be made in order to stand up to breakfast each morning; to endless dishwasher cycles and the occasional knock or tumble.
Likewise, the quality of our cottons and laminated oilcloths and our canvas bags are such that they're designed to be used first and to look great thereafter.
What are your newest products?     
Brand new and in shops by the end of February, we're launching a range of dog toys, leads and beds. We've two labradors – a black lab called Mabel and a fox red lab called Florrie – who have tested them to the point that other products would have been destroyed.
Again, we're still a small enough company that the dogs or children you see in our images are members of our family or those of our friends. We love our dogs. They're a part of the family, so we've made sure that our dog leads will last a lifetime, with a neoprene-like rubber on the inside of the collars to ensure they're as comfortable as possible too.
What other ranges are you launching this spring?  
We've five adorable new collections. My favourite is Peony. They're easily my favourite flowers and I really miss gardening throughout the winter months, so it was a bit of a treat to myself to remind myself of spring and to produce a range with voluminous floral motifs and magnificent swirls of pink and white.
Dragonfly is a collection on a dark blue background. I think we're moving away from beiges and taupe backgrounds and back towards  some strong colours, so I really like the collection's deep dramatic backgrounds. There's also a unicorn collection which is designed for little girls who love rainbows and pretty things!
The two final ranges we're really looking forward to launching, though, are Speedy Dogs (whippets, greyhounds and lurchers) – and Spaniels (springers, cocker spaniels and King Charles spaniels).
Are you inundated with suggestions for new subjects to paint?   
Absolutely. We receive so many requests and pictures of people's pets. I can't just create collections with animals I've no connection to though. Spaniels was inspired by a neighbour's King Charles puppy I used to walk as a girl. We didn't have dogs when we were young and I doted on this puppy.
Do you design for a particular market?       
Never. I don't paint to satisfy a market, I only ever use what I like as a barometer and gauge the team's opinion. I've gained experience only through listening and improving, and you gain a gut feel for what will work not just in general terms but within each range as well. Certain ranges suit certain products too, so we're anticipating the pet products line will be really popular in our two new dog-themed ranges.
Are you expanding the number of products within each range?   
For the first time we're launching a range of hand washes and hand lotions, which will be sold exclusively through Waitrose, from our own website and in our Stamford shop.
We've also started to produce our own jumpers with simple motifs on the back and bags in a manmade leather substitute with blocks of bolder colour like mustard yellow and coral. Our most popular products are mugs, tea towels, oven gloves and aprons, but we've diversified a great deal with each range we've produced.
Which ranges are the most popular?           
It changes from season to season, but we created Bees 10 years ago and that has remained a best seller. Hare and Flamingo are very popular, but in the winter months Highland Stag and Pheasant are really popular too.
And there's another new arrival this month?         
Hopefully. We've created a beautiful range to celebrate the birth of the Duke & Duchess of Sussex's first child. It's a lovely design with teddies and little footprints! The birth of a royal baby is always something the whole country can celebrate.
Which of your own products couldn't you live without?    
I can't fall asleep without wearing an eye mask! They're a bit Marmite – you either love them or hate them, but as someone who can only sleep in total darkness it's a comfort thing; very much my must-have product!
I'm also delighted to be putting our pet ranges to the test and even I've been surprised by just how much rough treatment they'll stand up to. Mable is renowned as a destroyer of dog toys, yet our new ones stand up well, with a squeak built into them plus a rope through them too so your dogs can play tug-of-war with each other.
What other changes will you be making in 2019?  
Having moved to our new premises last year we finally have the warehousing space and office space we need for the scale of business we've reached. But the other reason for relocating was to create a new showroom here to show off as many products as possible both for our retail but also our trade customers.
Presumably you're a keen cook too?           
I do love cooking but nothing too elaborate. I'm a wife and mum to boys who are all rugby and cricket mad, so Sunday roasts are a family ritual. We have a lot of casseroles and stews in the winter too. Warm puddings are a must, too. My signature puds or desserts are a chocolate bread 'n' butter pudding and when it's warmer, Nutella tiramisu, which the whole family adores.
Everyone knows your name, but do you still have a bit of anonymity in this part of the world?
My name is better known than my face. I was amused on a trip to Stamford once when I took my purse out of my bag and a lady commented how nice it was. I politely acknowledged the compliment and blushed with pride inside because she obviously didn't know that I was the designer!
I'm quite glad to remain anonymous though. I think I'd find it rather disconcerting if I was recognised everywhere I went, and the reward for me isn't celebrity, it's simply the fact that so many people love our products and designs, and enjoying having them in their home and using them every day.
• Based in Bourne with a retail boutique on High Street, Stamford, Sophie Allport is a designer of products for the home and for families. Her new ranges are Peony, Dragonfly, Unicorn, Speedy Dogs and Spaniels which will appear in store, at retailers and on www.sophieallport.com as Pride goes to press. For product information call 01780 751044.