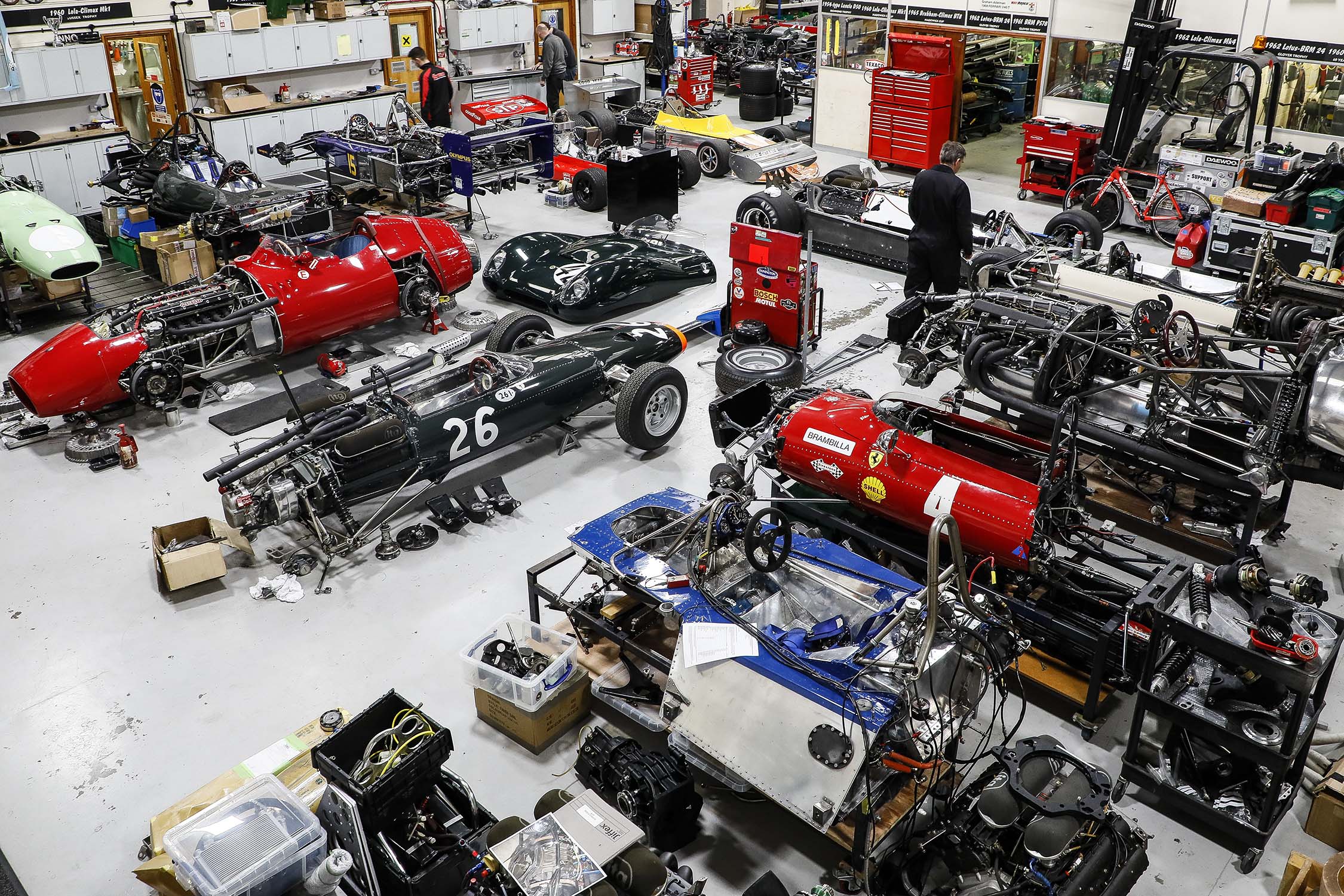 If you're in the market for a new car, it's unlikely the examples we're looking at this month will dispatch the school run and supermarket shop with any degree of anonymity. Nor are they likely to return good miles per gallon or have decent boot space… they are, however, a real part of motoring history!
"I'll get the lights." Chunk. Chunk. Chunk. Successive fluorescent tubes clunk into life and each one gradually unveils at an increasing distance from us the contents of Rob Hall's premises a modest journey from his workshops. As each bank of cool blue strip light spreads out into the distance, a little more of motor racing history is revealed.
The place is then eerily quiet except for my own gasps as famous Formula 1 cars, a Ferrari 250, and a brace of Lamborghini Countachs sleep among an AMG Mercedes, a Xenos, numerous BRMs, a lot of Lotuses and a couple of Cobras. Rob is a very calm and matter of fact counterbalance to my obvious excitation as my eyes grow wide and my mouth falls open at the sight of this pride of sleeping lions.
Rob's laconic is juxtaposed by the iconic. We're in a secret location surrounded by… how many? "A hundred and thirty… thirty-two… no, three. One hundred and thirty three," of the world's most expensive, exotic and precious motor cars. Dormant and immaculately kept in the dark, in a silence broken only by my footsteps over the pale grey painted concrete floor, each one is worth between £50,000 and £10,000,000.
Some are for sale, some are being stored for clients. They're remarkably silent given that any of the engines surrounding us could potentially be called upon to roar into life and tear away from the starting grid of Silverstone or around the highest of apexes of the Nürburgring.
Bourne's affiliation with motor racing began with the establishment of BRM – British Racing Motors – in 1949. The firm endured until 1977 but finally folded under the name of Stanley BRM following financial difficulties. It was the firm Rob's father Rick Hall worked for.
He and Rob Fowler then established their new business, Hall & Fowler, in 1977. It eventually became Hall & Hall in 1999 when Rob Hall brought Rob Fowler out.
To call Rob Hall a 'car dealer' would be like describing Michelangelo's role in creating the Sistine chapel as 'painter and decorator.'
In fact, the local motor racing enthusiast and mechanic oversees a team responsible for keeping grand old girls alive for their well-heeled owners all over the world.
The team at Hall & Hall specialises in the storage, race preparation, maintenance and repair of historic racing cars, sports cars and in particular Formula 1 cars.
Rob also serves as a sort of concierge service for his racing customers, arranging transport to races, booking hotels or yachts and transporting cars to races where he'll then provide trackside technical support. Hall & Hall's main premises are back in Bourne and that's where the firm's workshops are based.
They're not open to the public, partly because of the rarity of the cars, partly because the team are too busy working on customers' cars and partly because there's nothing to see except a busy workshop where a team of around six mechanics are surrounded by about 12 cars in various states of undress.
Each mechanic is quietly working on very specific engineering challenges, some work paused awaiting the fabrication of bespoke components. This isn't a workshop as you know it; nothing is standard except for the basic principle of an engine.
Underneath Rob's office is the dynamometer, where newly refurbished engines are powered up and calibrated. Opposite the engine room is a fabrication facility where custom parts can be made according to specifications from the firm's in-house library.
The team also has the ability to commission a completely new engine block to their specifications. Typically, it would be cast in steel or aluminium off-site but still, the ability to perform a heart transplant on some of the world's most valuable cars is something to be admired.
From November until March, the team is especially busy with race preparations, getting each client's car ready for a racing season. Whilst some of the cars that roll in and out of the company's workshops are 'just for show,' the majority are in race-worthy condition and are actively used on UK tracks. Others are used in film and TV work.
"Our main market is cars from the 1950s to the 1970s," says Rob. "We're just beginning to see cars from the 1980s. Predominantly we specialise in Formula 1 racers, but the work we receive is quite varied."
Rob spends about 32 weekends trackside each year. He glances at his wall planner. "Goodwood. Three member meetings; Festival; Revival. Masters; F1 Series; Monza; Silverstone; Brands Hatch; Nürburgring."
The majority of Rob's clients used to be UK customers, but now about half of all his business comes from outside the UK. US and Continental customers – Italians especially – make up a significant quantity, with many of his cars' owners seeking to drive their pride and joy on the very tracks upon which they made history the first time around.
What about modern F1 cars, or the new breed of Formula E vehicles? "You can't hate it. And you won't halt it," says Rob, philosophically. But you can sense that he's a fan of mechanicals, not electronics. "1998, the Festival of Speed," he recalls.
"A McLaren Peugeot stalled on the starting line. 10 people were trying to get it going; one engineer and three people on computers. It's becoming too clinical, more electronics and fewer mechanics, smaller tolerances and people looking for hairline improvements."
"As for electrification, one of the things I love is the sound. There's something about the sound of a car's engine that connects you, viscerally, to its power."
Whilst the majority of Hall & Hall vehicles are post-war examples, they see their fair share of pre-war vehicles with lots of power, little braking and skinny tyres. You had to be made of stern stuff, Rob observes.
"Later Formula 1 cars were different. They still gave you a workout but in a different way," he says. "It's easy to make a car fast in a straight line but making a car that's fast around corners is much more difficult."
"Rules on what is permitted in motorsport have gradually been tightened up, but there was a time in the 1980s when there were bigger grids and more diverse cars. V12s; V6s; flat 12s."
So what has been Rob's most memorable motor? "A 5.8 litre straight-eight supercharged Mercedes W125 from 1935."
"When the average car was doing 30mph – 60 if you were lucky – this thing did 180mph. It must have seemed like a space rocket!"
As for the value of each car under Hall & Hall's charge, they vary enormously. A car's livery, previous driver and any previous wins in the vehicle can all separate two otherwise mechanically identical cars of the same type and age.
Needless to say, the engineering challenges are reflected in the cost of maintaining such vehicles, too. A strip and service of an engine? You're looking at £15-£25k. New tyres? Well the good news is that they are available from stock. The bad news is you're looking at £1,000 for a tyre.
But for the cars' owners, money is of little concern when set against the pleasure of racing such machines and set against the knowledge that the cars are being preserved for the future, appreciating in value certainly intrinsically… but hopefully financially too.
Business, Rob says, is quieter than usual for the time of year. Doesn't seem like it in the workshop, but apparently some customers are keeping their precious assets on the continent just in case Brexit hinders their ability to transport their assets without tariffs.
With such a specialist service though and with few firms around the UK able to offer such a high standard of care for their clients' priceless assets, Hall & Hall will endure for decades yet, regardless of what happens with Europe, with electrification or with motorsport.
And as for Rob and his team, their business is neither a job nor a career; it's a vocation.
Without experts like Rob and his team, the latter half of the 20th century would be an era of mechanical achievement which fades into obscurity, rather than remaining a part of British sporting history, when the roar of a turbocharged V16 Formula 1 engine served as a clarion call to champion the good old days of mechanics over electronics.