Highlights
Supporting Children from Stamford to Kenya…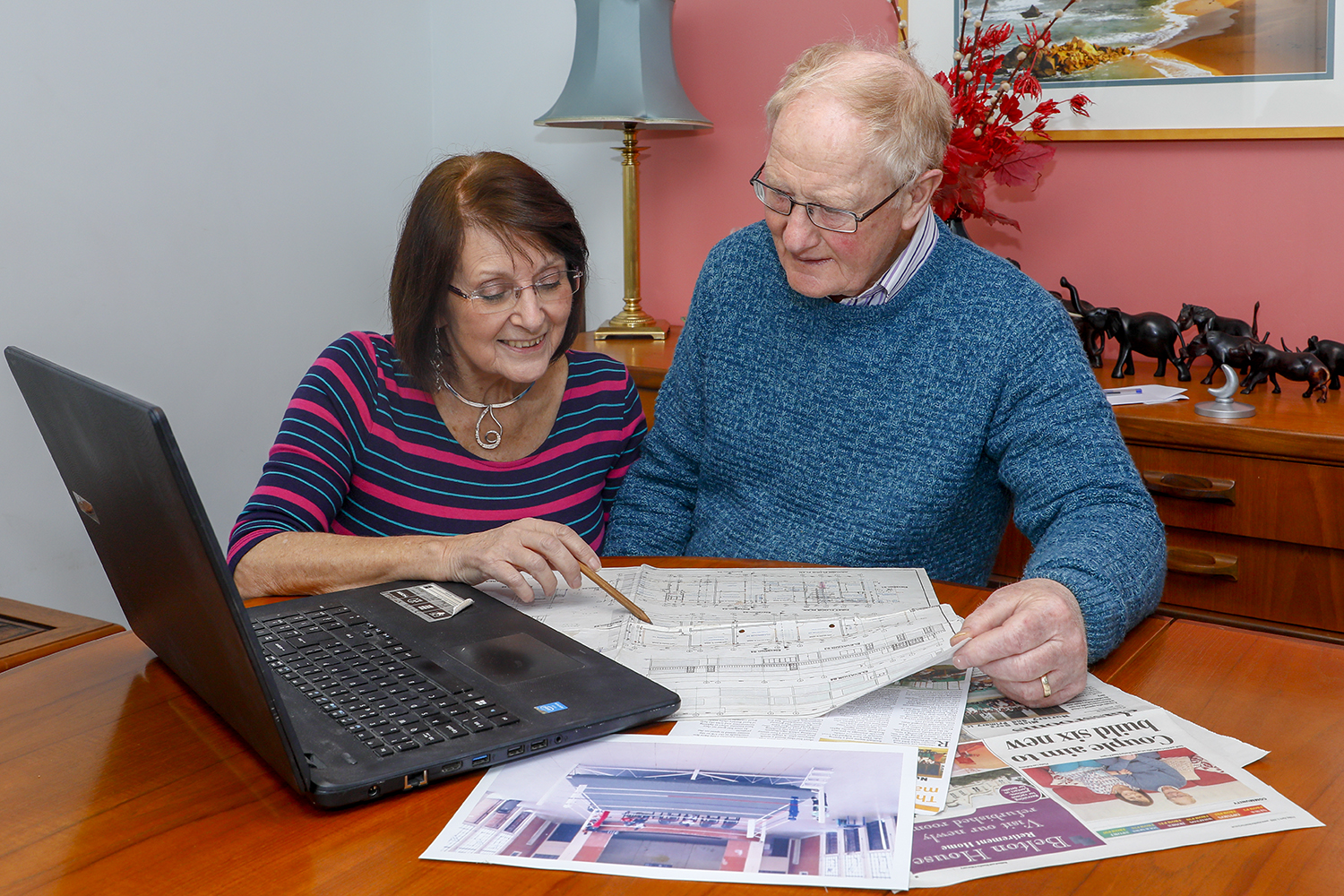 "It's not fair." As any parent knows, it's the most infuriating statement a child utters. My own seven-year old boy uses the expression with infuriating regularity when asked to put down his iPad, eat his vegetables or – horror of horror – bathe. Like all parents I've tried pointing out that some children elsewhere in the world don't have electronic devices. Some go hungry and would love a proper meal in the evening. Indeed, some don't have water to drink, let alone a whole bath full of the stuff – warm and clean with a squidge of bubble bath – in which to bathe.
And that's the thing. How do you explain to a child the fortunate circumstances they've arbitrarily been born into? Indeed, do we as adults realise how fortunate we are to live in a developed country in the western world, either? Rita and Geoff were hardly ignorant to how hard a life some children have, being an ex-teacher and the former trustee of a number of various local charities respectively. But after a safari trip to Kenya shortly after they retired, the Deeping St James couple wanted to see for themselves how some children have to live.
It was that experience ten years ago that would stay with them, lead them to found a charity to create a school for Kenyan children living in poverty and accidentally establish a new post-retirement vocation to keep them both very busy.
"I feel 20 years younger when I'm out there," says Geoff, reflecting on the charity that they founded in 2009. "It's not an easy place to work but we have a lot of fun and get a lot out of making a difference."
The couple initially wanted to resource an existing school and supported the Mustard Seed School – Mgongeni – in Bombolulu, a suburb around 10 minutes from Mombasa, the second largest city in Kenya after Nairobi and home to 1,500,000 people.
"We had our first meeting in February 2009 to see what we could do to help the school, but we were perhaps a bit naive in our approach," says Rita. "We didn't realise the import duties on materials we took into the country were so steep, and that we'd have no control on how the resources were used in the school."
"From a teaching perspective too, education was very much about rote learning – parrot fashion teaching – so our influence was limited. The school was being run by two young, unqualified teachers, so we knew we had the skills to offer and couldn't walk away."
Bombolulu Kenyans typically live in Swahili homes, with eight tenements sharing a communal corridor and often a single toilet. Most have electricity; televisions and an internet connection are also common but the provision of running water is often limited. Few people vote because they'd have to pay steep taxes and there are few proper roads of cars. Medical care is free in respect of diagnosis, but medicines (other than those for state-funded immunisation) and operations must be paid for, so even when illnesses are diagnosed, they can't necessarily be treated.
Employment prospects are poor and most children leave school at 14 with limited literacy and do whatever they can to fund the means to feed themselves. Women sometimes fall pregnant and are often abandoned by their partners, necessitating children in the family working as soon as they're able to do so and preventing them from pursuing further education.
It's a cycle of poverty which is predicated by lack of food, and a historic failure to encourage schoolchildren to pursue education and create good, permanent jobs for themselves. Suddenly, issues which concern education bleed into issues of welfare, creating a sustainable community and the need to ensure there are careers for schoolleavers to pursue.
Whilst each of the above represents significant challenges in their own right, many can be addressed at least in part from the development of the couple's school. A year after Rita and Geoff worked with the existing school, they soon realised that the educational and social problems that the area faced were greater than they realised. In September 2009 they moved into a rented building and moved into a second rented building in September 2010, creating a school in a new which they named Miche Bora Primary; the name in Swahili means Precious Shoots. The couple soon realised that with each intake they were becoming increasingly short of space. In January 2015 the charity completed the first phase of its own school – a single storey building with separate toilets for boys and girl, dedicated toilets for older girls, a medical clinic which opened in 2016 to address vaccination, contraception and other health needs, and a kitchen to provide meals.
"In addition to the school itself we set up a feeding programme in 2010 providing breakfast and in the following year breakfast and a balanced meal at lunchtime. To feed a child two meals a day for an entire week costs just £1.50. Parents appreciate the quality of education seeing it as way to future opportunities. Children would probably prefer to be at home but all need the feeding programme and see the advantage of having their children properly fed, so this also serves as an inducement to ensure their children attend school daily."
"Last year 2018 the government made holidays nine weeks long and we started a feeding programme for a few families as they would otherwise starve. We also dug a well and bore hole to provide drinking water, set up adult education classes, teacher training to ensure we have our own staff members, and we provided shoes, which are otherwise prohibitively expensive for children."
Children in Kenya are schooled from the age of six years to 14, by which time they graduate with the state KCPE education qualification. Those who can afford this go to secondary school for four years and take their KCSE (Kenyan Certificate of Secondary Education). The couple have also created a nursery school, so they now have the whole age range in the school.
The first intakes of pupils from when the couple founded their school are now reaching the age when they need to be in new classrooms to continue their education. So, Rita and Geoff have launched a bid to create an upper floor to the school accommodating six new classrooms. Unlike the ground floor, which could be built in four stages, the upper floor classrooms must be constructed in two stages – the classrooms followed by a hall. Each classroom will cost £15,000.
The couple hope to have £60,000 by September in order to begin construction, so they'll be able to accommodate the current school population of over 250 pupils. "It costs just £15 a month to keep a child in our school. Parents pay just £6 – more to ensure the continuity of attendance than anything else; they're more likely to attend if they're contributing to it financially."
"But regular donations have now become the lifeblood of the charity," says Rita. "Everyone who gets involved with the charity finds that the happiness of the children, warms their hearts. This year we've a place in the London Marathon and Smith Eliot has adopted us as their annual charity. We're very grateful because what we want to achieve goes well beyond just education. We don't just want to teach our children, we want to change their lives forever."
Find Out More: Geoff and Rita Fowler's charity is The Mustard Seed Foundation which has funded the Miche Bora school. Find out more, arrange a talk for your group or contribute by visiting www.mustardseedproject.co.uk, or call 01778 341855.
Smith Eliot's Chosen Charity
Financial services provider Smith Eliot has adopted The Mustard Seed Foundation as its chosen charity for 2019. The company was founded over 30 years ago and now has offices in Oakham and as of three years ago, a second office in Stamford too.
The firm offers pension advice and retirement planning, mortgages, investment planning and tax & trust management. Whilst many businesses can profess to be family firms, Smith Eliot is run by Stephen Smith with his son Oliver working as a director and advisor, daughter Charlotte, and wife Lisa plus son-in-law Craig as advisors too, alongside family friend Sean Connolly.
Johnny Smith and his partner Rosie also work in the business! In total the firm has six advisors who collectively possess a significant breadth of knowledge across the whole financial sector. More importantly, though, as a family they recognise the importance of helping to plan and structure your financial affairs to ensure not just short-term security but long-term peace of mind too, forming a lasting relationship that adapts as your life and circumstances change.
The company is helping The Mustard Seed Foundation towards its goal of raising £60,000 to complete the second storey of its Miche Bora school in Bombolulu Kenya, and will be hosting events throughout the year for its valued clients.