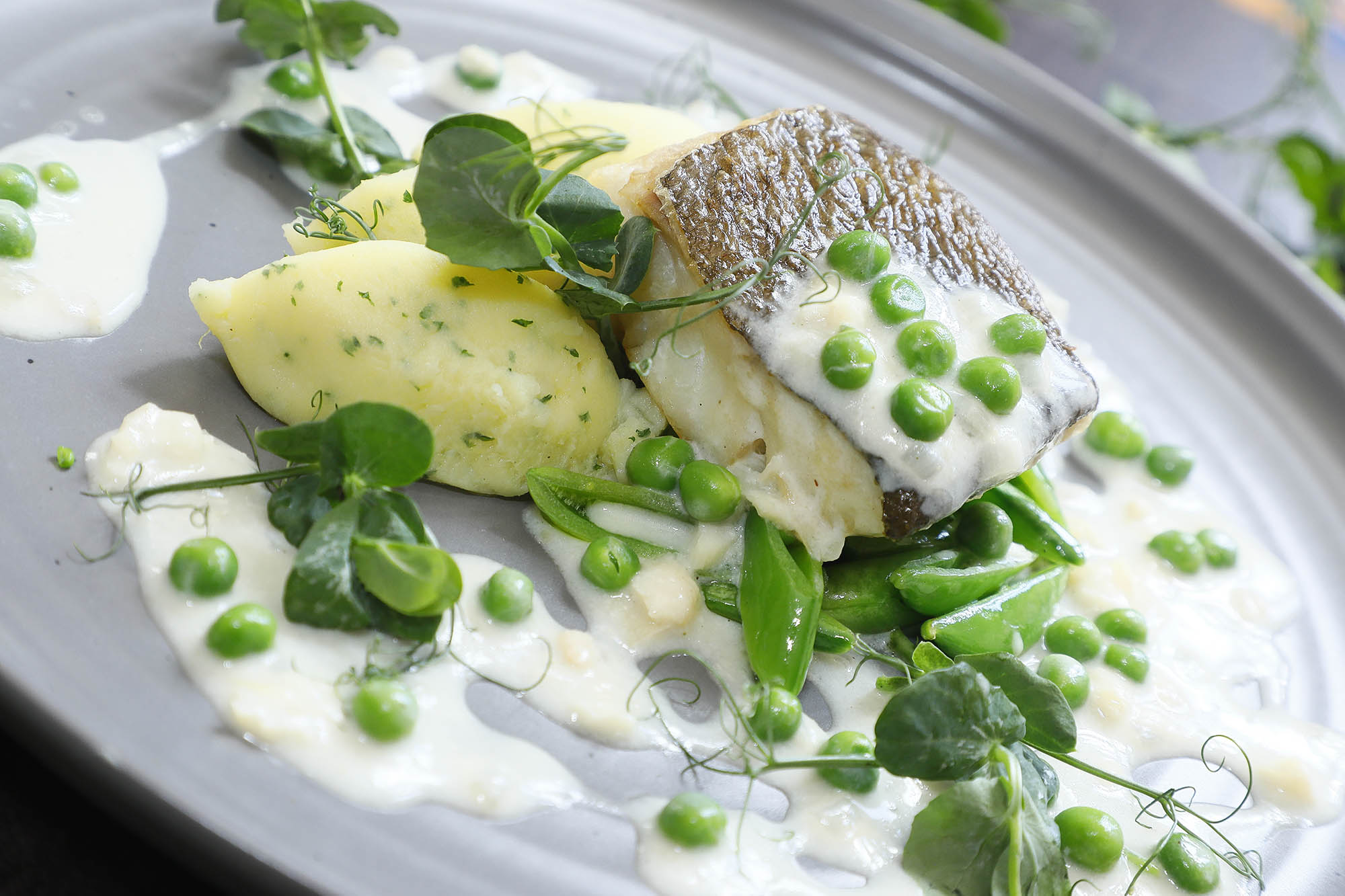 You can dine like a king or queen this month at Huntly Restaurant in Orton Hall, located in the Peterborough suburb of Orton Longueville. Elegant, beautifully situated and close to some stunning walks and scenery, it's a perfect Autumn recommendation…
Mary, Queen of Scots, lost her head at Oundle's Fotheringhay Castle. Part of that building was 'reclaimed' (pilfered) to create the fabric of Orton Hall in the leafy, posh suburb of the city of Peterborough's Orton Longueville.
The arched stone doorway that Mary walked through prior to joining the great majority is pretty low and now has a sign above saying, without irony, 'mind your head,' proving conclusively that sometimes it's a good idea to take good advice… so in that very same spirit, we've some good advice for you. Visit this month's wonderful restaurant.
Located in one of Peterborough's six Orton villages, the hotel is one of a trio in the Abacus Hotel group, alongside Knights Hill in Kings Lynn and the enigmatically named Le Strange Arms in the North Norfolk town of Old Hunstanton.
It's set in 20 acres of mature and lovely parkland, and dates back to the 17th century, with later additions in 1835. It remained in the family of the Marquess of Huntly, George Gordon – synonymous with the Gordon's Gin brand – until financial whoopsies in the 1880s, rambling estates elsewhere in the UK and the usual trials and tribulations of familial succession meant it was less beloved by the family, who offloaded it in 1954, whereupon it became a girls' school.
Abacus Hotels purchased it back in 1990, refurbished it and subsequently opened for business in 1991. The country house hotel now has 70 bedrooms, eight conference or private dining rooms, a spa and an adjacent pub, the Ramblewood Inn. The latter is open day and night, offering steaks; burgers; sausage 'n' mash et al.
That leaves the Huntly Restaurant in the hotel itself to concentrate on smarter, more formal dining, during evening service only, from 6pm-9pm, seven days. There are six pan-rattlers, working alongside Head Chef Kevin Wood, a veteran of Orton Hall, having been in post for 20 years. His philosophy is admirably simple; good ingredients, a key ingredient that's allowed to do its job and smart presentation.
Kevin's menu is admirably simple too; a couple of pre-starters; eight starters; 10 main courses; seven desserts plus a local cheese option. No specials, tasting menus, just decent choice and some appealing dishes. It's all very well priced, too.
For those who love a bit of crenellation on their hotels – and who doesn't – the building won't disappoint. There's an eclectic mish-mash of different ages of stones, battlements, plus a round tower and fancy stained glass windows all working together to give the building a grand old feel.
Inside the hotel, soaring ceilings, elaborate carved wood and a proper old school country mansion look all give the place a smart, formal, traditional feel, a nice antidote to the slew of 'Farrow & Ballsed-up' country pubs that pervade the city's surrounding villages.
Local suppliers include R&P Meats who source local beef and Norfolk pork, fish comes from Coles of King's Lynn – near Orton Hall's sister hotels – and there's veg from a local supplier, Barsby's, as well.
Bread is made in house, desserts, ice creams and sorbets are, too. Even the petit fours served with coffee are made by the team. Presentation of each dish is stunning and each dish is a class act of technical chefcraft as well as creativity.
If you need an additional incentive to the very high quality of dining on offer, consider the possibility of a spa day at the hotel with an overnight stay, or just spend time at Peterborough's Ferry Meadows, just two minutes down the road, for nature, walks, cycle rides, or a trip on Nene Valley's steam trains. That's in addition to Peterborough's wealth of events at the East of England Arena, again just five minutes from the city.
August 29th sees Equifest 2019 – an amuse bouche to the great Burghley Horse Trials – as well as the Land Rover Owner International Show and the Festival of Antiques show on 27th September. Peterborough Cathedral, meanwhile, hosts artist's Luke Jerram's Gaia, a seven metre, 1.8m scale model of the earth in dazzling 120dpi detail.
Hidden away in its leafy enclave and surrounded by Pizzaborough's surfeit of chain restaurants and village pubs, it's possible you'll have overlooked the availability of dining at Orton Hall. But for those seeking quality autumn dining plus comfort and value, it's a definite recommendation… just remember to mind your head.
On the Menu…
Starters
Ham hock and vegetable terrine, mustard powder mayonnaise and balsamic gel £6.75.
Oak smoked salmon, pickled beetroot, horseradish cream keta and pea shoots £7.75.
Main Courses
Baked North Sea cod, smoked haddock and pea sauce with parsley mash £18.25.
Honey glazed belly pork, warm pickled vegetables and Cajun buttered potatoes £17.95.
Confit of duck leg, crushed potato, chorizo and butterbean cassoulet £17.95.
Desserts
Vegan chocolate and banana brownie, dairy free ice cream and berries £6.75.
Raspberry delice, clotted cream and sour raspberry spheres £6.75.
A trio of English cheeses with house chutney, walnuts, celery and malt loaf £7.25.
Huntly Restaurant is based in Orton Hall, Orton Longueville, Peterborough PE2 7DN. Call 01733 391111 or see www.abacushotels.co.uk.