This month we've created a dizzyingly delicious range of festive treats with our favourite baker Katie Jones. If you're keen to provide the family with some delicious Christmas treats, you'll find festive food for thought here!
Words: Katie Jones. Photos: Pride Magazines' Chief Photographer Dean Fisher.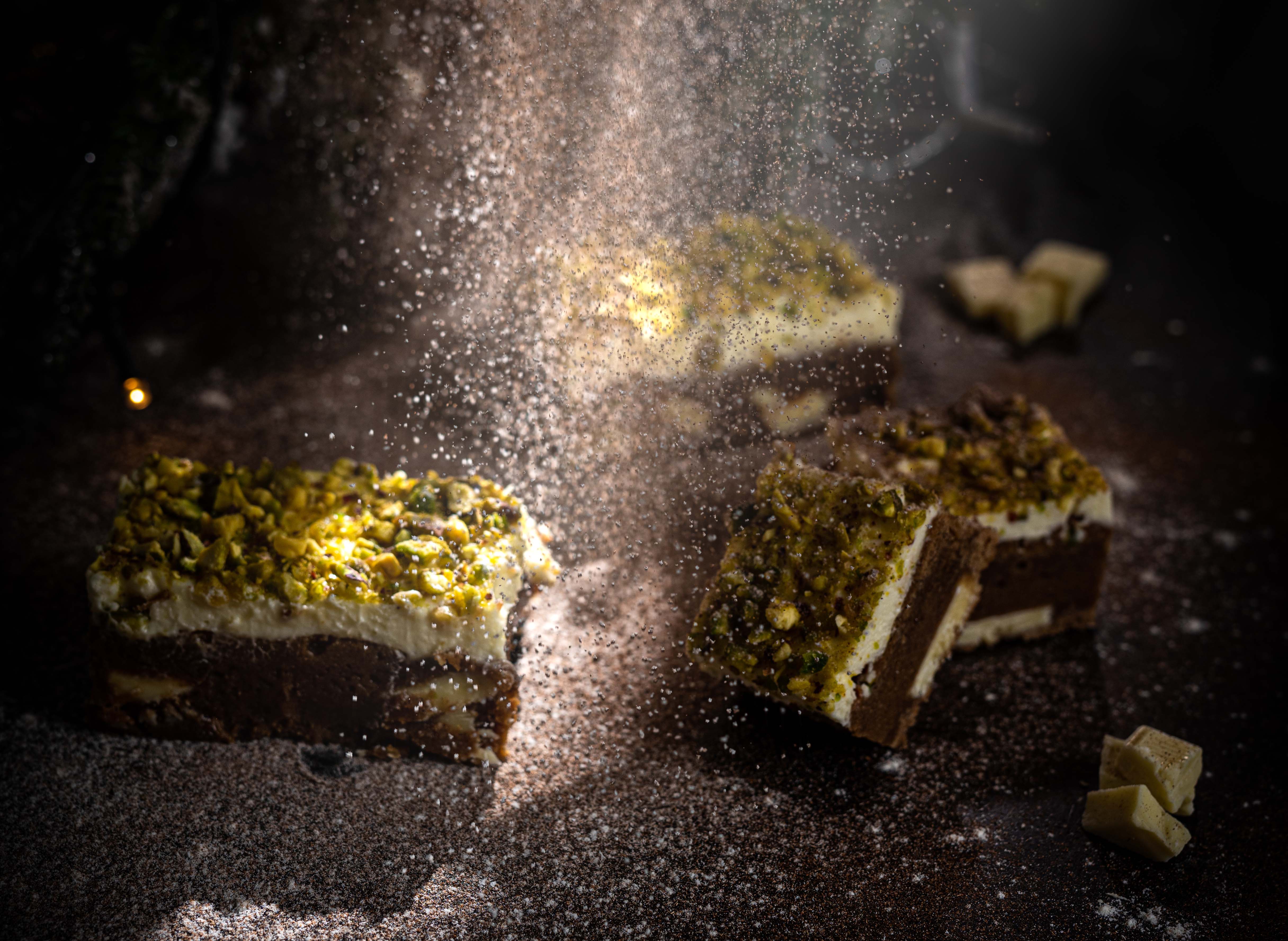 Cinnamon & White Chocolate Blondies
Preparation time: 15 minutes. Cooking time: 25 minutes.
For the Blondies: 255g butter • 340g brown sugar • 320g plain flour • 3 tsp ground cinnamon • 3 eggs • 1 teaspoon salt • 200g chopped white chocolate • For the Cream Cheese Frosting: 125g butter • 400g icing sugar • 340g soft cheese • Pistachios to decorate.
I use disposable foil trays to avoid greasing, lining, etc. Preheat the oven to 180°c. Melt the butter in a saucepan over a medium heat. In a mixing bowl whisk together the sugar and eggs until pale. Add the melting butter and final dry ingredients except the chocolate and mix together with the paddle setting. Once mixed stir in the white chocolate, and pour the batter into your baking tray. This will need anything upwards of 25 minutes depending on your tray and oven. Don't use a knife to check because blondies are naturally fudgy and gooey like brownies, not like cake, so you know when they're done when they no longer wobble in the middle. Leave to cool. For the cream cheese frosting, whisk all together using the whisk paddle on your mixer until combined, pale and fluffy. taste and alter ratios as per your own taste preference. Chop or grind a full pack of pistachios. Add the frosting to the now cooled blondies, then sprinkle the pistachio crumb over.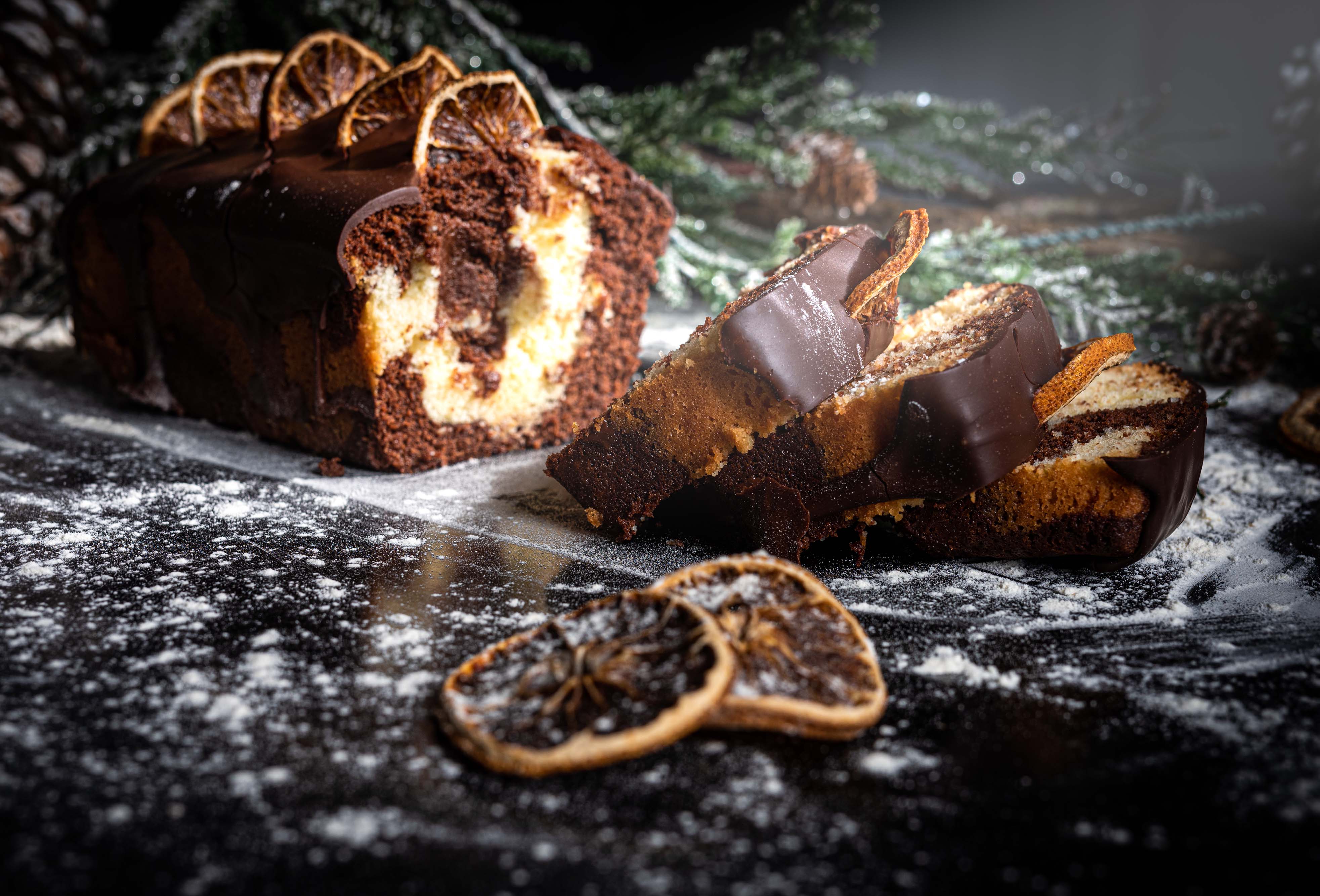 Chocolate Orange & Vanilla Marble Loaf Cake
Preparation time: 15 minutes. Cooking time: 30 minutes.
For the Vanilla Sponge: 115g salted butter • 115g caster sugar • 140g self raising flour • ½ teaspoon baking powder • 2 eggs • For the chocolate cake batter 85g salted butter • 85g caster sugar • 15g cocoa powder • 45g drinking chocolate • 70g self raising flour  • 1/5 teaspoon baking powder • 2 eggs • zest of two oranges (keep the oranges for the juice later).
Grease and line your loaf tin. use a tablespoon to add three scoops of the chocolate batter into the base of the loaf tin, leaving space fore then adding three scoops of the vanilla cake batter next to the chocolate. Do the same for a second layer, alternating chocolate on top of the vanilla and vice versa. Once you have used all your cake batter get your cake tester and swirl the batter about to make it marble, without actually mixing it together to combine it; you want to marble it so you have two separate flavours marbled together, not mix it so you have a weak chocolate cake batter! Pop it in the oven at 170°c, and depending on your oven and tin it will need anything from 30 minutes onwards. Keep checking until a knife comes out clean. Once cooled take it out the tin and use your skewer to poke holes all over the top of the loaf cake. Juice your two oranges and add two heaped tablespoons of caster sugar. spoon the juice over the holes so it seeps through the sponge. I added ganache on this one here, which is the same recipe as the ganache drip for the chocolate cake. I also added some dried orange slices for drama.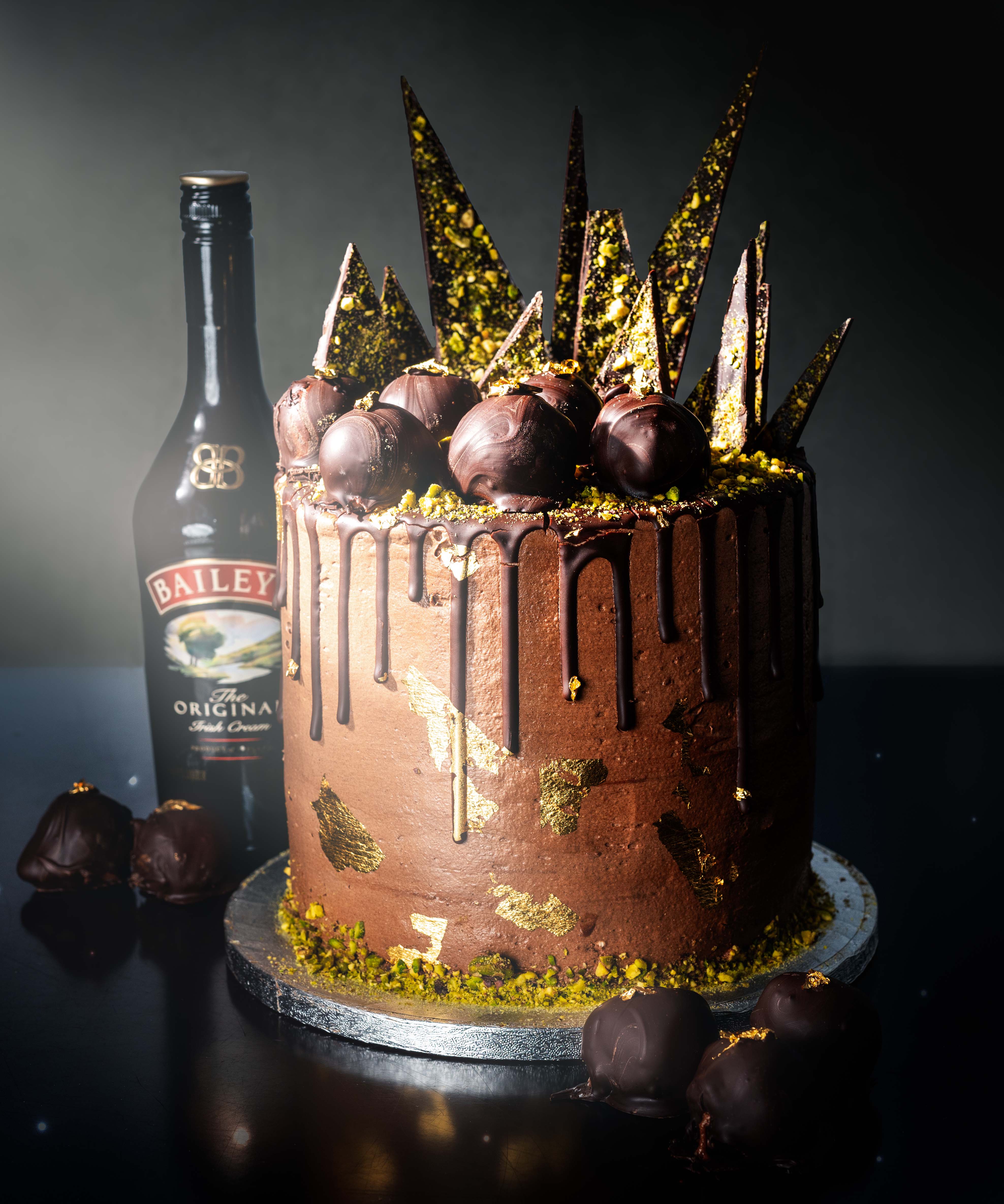 Bailey's Chocolate Fudge Sponge Cake
Preparation time: 15 minutes. Cooking time: 20 minutes.
Butter 170g (I always use salted because it enhances the flavour of everything so don't be afraid of using salted butter in baking) • Caster sugar 170g • Cocoa powder 30g • Drinking chocolate 85g • Self-Raising flour 140g • 3 eggs • 1 tsp baking powder • Half a tin of condensed milk • 350g butter • 125g cocoa powder • 250g icing sugar • Bailey's to your personal taste.
The original recipe will feed roughly 12 people, but as this is the tall show-stopping piece I have multiplied it by three. Grease and line two baking tins, preheat the oven to 170°c. This is an easy recipe where you throw the whole lot in the mixer at once, best using a mixing paddle. Mix until it's creamy and divide into the baking tins, then bake for roughly 20-30 minutes, depending on the depth of the baking tins and your oven, so keep checking every five  minutes after 20 minutes until a knife comes out clean. For the Bailey's buttercream, melt 100g butter in a saucepan on a gentle heat. Once melted immediately take off the heat and add all the cocoa powder by hand whisking. In a mixing bowl cream the 250g butter and icing sugar until really pale and fluffy. Taste to see if you're happy with balance of butter and sugar; add more of either to your own preference. Then whisk in the cocoa-butter, which should be quite a thick mixture. Again, taste to check that you're happy with the balance of flavours; add more cocoa if you prefer it more bitter. Then start adding Baileys slowly until you're happy with the strength. Once the sponges have cooled I would  recommend popping them in the freezer before decorating, as the Bailey buttercream will be relatively loose due to the liquid content, so by having a slightly frozen sponge it will make it much easier to decorate and will help the buttercream to set. The chocolate ganache drip is made of 50/50 70% Belgian chocolate and double cream. You melt the chocolate then hand whisk the cream in, which will be a thick ganache consistency. In order to drip it successfully you need to pop it into a piping bag and heat in the microwave on a gentle heat for just a few seconds until it is a loose, dripping consistency. Do some test drips on the edge of a glass first. Work quickly as the ganache cools quickly!
Find Out More: Katie Jones owns and runs Cocoa & Cane, which creates homemade decadent, quality artisan traybakes supplying to both private customers and wholesale business to business. Katie retails through her online shop as well as attending shows throughout the year. For more information see www.cocoaandcane.com, call 07961612610 or email cocoaandcane@gmail.com.