Claire & Ian Winfrey of Castor House gardens host one of the area's most successful events in the area for the National Garden Scheme, and happily as lockdown is lifted, they're still open to visitors in August and September for visitors to enjoy this exciting 12-acre Italianate garden 10 years after its creation…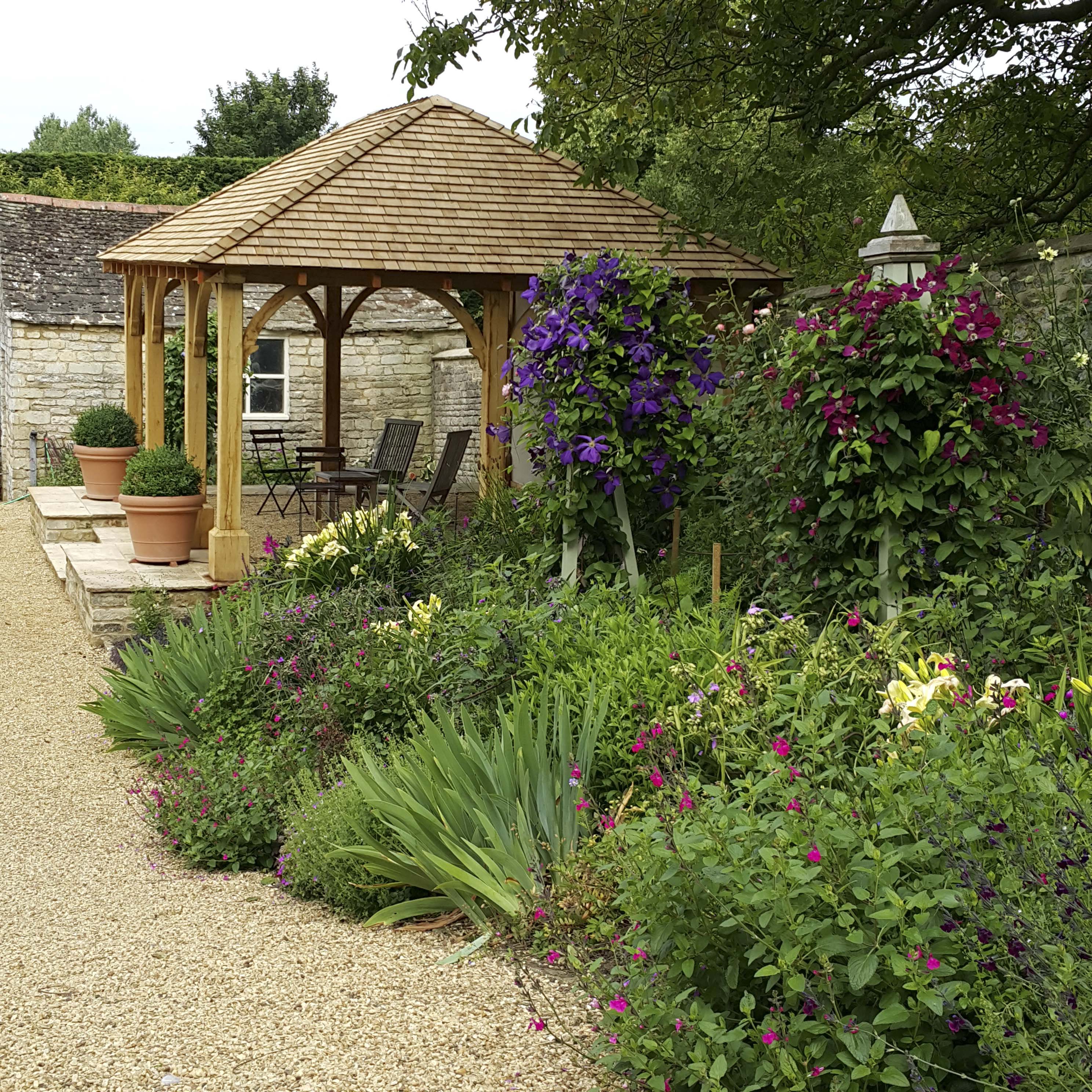 Castor House Garden is one of the most successful NGS openings in the area, attracting huge numbers of visitors and making plenty of money for the charity's beneficiaries. So Covid-19 wasn't going to stop Claire and Ian Winfrey opening in August and September.
The 12 acre plot that the couple has created over the course of their gardening odyssey is 10 years old this month, with a full redesign of the garden in that time ensuring it provides all-year-round interest.
"We've tried to ensure that you can find some colour or something flowering all year round. Even in February the garden looks good, with a profusion of snowdrops," says Claire. "There's plenty of spring colour and in midsummer, lots of roses… in excess of 50 varieties, we believe."
The garden is based in Castor, five miles west of Peterborough just off the A47. It has been the family home of the couple for three decades, but also for five generations of Winfreys. When Claire and Ian moved in, the grounds were configured as they now appear, but with more lawned areas and a much plainer appearance.
There are two to three acres of formal gardens, flanked by woodland comprising specimen trees such as cedars, planted in the 1880s. The whole site slopes some 30 degrees from west to east, creating challenges, but also good drainage and the ability to create some visually impressive banks of visual interest.
Claire and Ian are lucky to benefit from the presence of a nearby natural spring which means that the ponds are gravity fed. Water is also pumped around the garden via a very necessary automated irrigation system. The couple have made the task of weeding easier and improved their planting by being very committed to good soil hygiene. During an intense period of development when they arrived at the property, the couple put down thick black plastic for six months to 'suffocate' any pernicious weeds, a practice known as the 'no-dig' method, resulting in really health soil.
The use of sterilised mulch in the winter months and a general ethos of 'working smart' and keeping on top of the weeds has ensured that 12 hours can ensure the whole garden remains clear of weeds.
We've about five types of soil across the whole site," says Claire. "That includes a band of Blisworth Clay, in fact the only thing we can't quite manage to grow is plants which thrive on acidic soils. Otherwise there are different soil characteristics all across the garden, so we've simply moved plants around to areas which best suit them."
By 'we' Claire is referring to not just to her and Ian, but also her right hand plantswoman Sharon White, and three other part-time gardeners who, together, work hard to maintain the site.
The house is the former home of the Bishops of Peterborough, built in around 1650 but architecturally now exhibiting a style more resembling the Queen Anne period.
The property adjoins Home Farm, where the Diocese's monks resided. A more modest building with fewer, smaller windows, compared to the beautiful views from Castor House itself, Home Farm's part of the gardens features neat beds and various hostas, as well as a rose garden arranged as a colour wheel with all repeat flowering Gold Standard or Rose of the Year varieties, over 50 varieties in total.
In August and September, when the garden is open for the NGS, this area will provide one of the most diverse and impressive displays of roses in the area, thanks, Claire says, to the practice of planting the rose grafts six inches below the surface and even using a very gentle dilution of Jeyes Fluid to keep the invidious black spot at bay. Beyond the rose garden is a peony walk, and borders with salvias and various perennials.
The bottom lawn area of the garden leads to an impressive spring-fed pond which, owing to the constant flow of spring water, doesn't freeze, even during the harshest of winters. It's home to zantedeschia ethiopica 'crowborough' which, thanks to the garden's serendipitous ecology, thrives here as well as it's likely to anywhere else in the UK. Also at the bottom of the garden a loggia was created last year in which to enjoy the views over the ascending stream garden with its Italianate planting. There are 'tropical' beds adjacent to the garden's walls and its glasshouse, and beyond that, an orchard with about 40 trees, including heritage varieties planted in association with Stamford Community Orchard Group with a view to preserving the area's more unusual  varieties.
At the top of the stream garden is a potager with an arbour, at the centre of which is a table with about 10 varieties of succulents. Adjoining this is an area of wildflower meadow, mown into neat squares. This area has been sown with 'yellow rattle' to decrease the soil fertility which will in turn encourage orchids and other wild flowers to grow. It is also a good source of pollen for the bees.  During our visit the garden was already colourful, thanks to Claire's commitment to ensuring that she can pick some flowers with some colour throughout the year. And yet, when the garden opens later this month, visitors will see Castor House at its very best.
Claire and Ian are the most committed gardeners you're ever likely to meet, having just returned from holiday not with sunburn and a few naff souvenirs, but having spent a week camping in Bhutan with a botanist on the trail of rare Himalayan species growing in the wild. Commitment like that is uncommon, but certainly ensures the garden stands out even among the illustrious collection of gardens open for the NGS in our area.
Castor House Garden is owned by Claire & Ian Winfrey. The garden opens for NGS on Sunday 23rd August, and Tuesday 8th September from 1.30pm-5pm. Five miles west of Peterborough, PE5 7AX. Entry by pre-booking via the HGS website. For information please see www.ngs.org.uk or www.castorhousegardens.co.uk.

Castor House.