SOS: Save Our Summer! If bad barbecue food ends up being a burning issue during your summer, enlist England cricketer turned BBQ-guru Matthew 'Hoggy' Hoggard to provide you with a masterclass in al fresco grill cooking!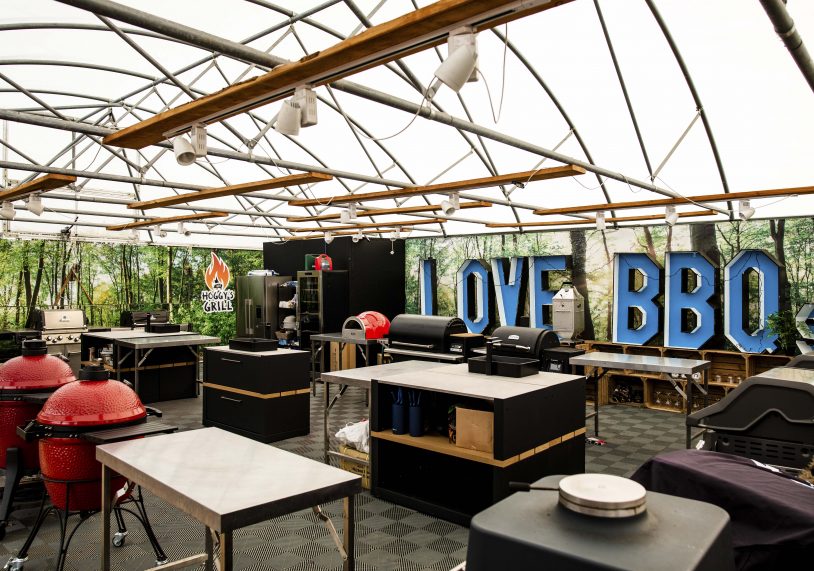 More sinned against than sinning. That's my own assessment of barbecue food prepared by us Brits. Unlike many men who tend towards overconfidence at the grill, I happily acquiesce to my uselessness when it comes to barbecues. Whatever I try to cook al fresco is burnt on the outside, raw in the middle and generally quite miserable.
Barbecue food can, however, be glorious – when its cooking is well-executed – so it's with much happiness we can this month introduce Matthew 'Hoggy' Hoggard, who's here to rescue summer and provide expert advice on the subject at his new al fresco cooking school, Hoggy's Grill.
Recognise the name? You should. Born and bred in Yorkshire, Hoggy proved to be a talented England cricketer having left home at the tender age of 17 to serve as a fast bowler for the Pirates in Johannesburg.
"The British refer to outdoor cooking as barbecuing, but it's more correctly known as cooking on a grill. Cooking al fresco in South Africa over there was common," says Hoggy. "I don't know if it's the climate, or the culture, greater enthusiasm, or more practice… but Australia, South Africa and America are all cultures that enjoy more success when it comes to cooking on a grill. And countries like India have variations on grills like the tandoor oven. During my time travelling the world as a cricketer, I jumped on any chance to cook outdoors, and I had people around me who were equally enthusiastic."
Hoggy made his debut and played professionally for England from 2000 to 2008. During those years he'd spend the summer months here in England and winter overseas, typically in warm climates… which furthered Hoggy's opportunities to hone his outdoor cooking skills.
The physical toll that fast-bowling takes on the body, though, is enormous. Physiotherapists reckon that seven times Hoggy's body weight (about 15 stone) goes through his knee during an 85mph bowl, and so at the age of just 31 – and after a few injuries – he was forced to retire earlier than he would have liked.
"The problem as, I'm a do-er, not a watch-er, though!"  he confesses. "I tried commentary and training but I just couldn't bring myself to pursue a career in cricket unless it was actually playing the sport."
"I've always been a keen cook at home, and in 2013 I appeared on Celebrity Masterchef. I reached the quarter-finals and really loved the experience. So, I had in mind that doing something food related in the next stage of my life would be good, but I didn't want to be tied to just a single restaurant."
"For a while I had the idea that I could teach people how to cook food properly on a grill, but with after dinner speaking functions and appearances still filling up my diary, I always seemed to have a good excuse not to progress the idea."
"2020 came along and I was ready to start the school, but then Covid hit. Philosophically, it was probably a blessing and a curse for the school, in the respect that it was frustrating to open and then close the school amid lockdown, but it did enable us to soft-launch the business."
"With lockdown now easing, and with some experience under our belt, and with the school all set up too, we're now ready to open the school fully and provide our Grill School classes to share my passion with anyone who wants to learn the art."
Hoggy's school is located at Rutland Water Garden Nurseries. Once restrictions are over, between 12 and 20 people at a time will join Matt for either his Basic course and his Gourmet course – which are held on alternate Saturdays – plus his ad hoc courses, which will specialise in creating the ultimate burger, preparing fish or creating vegetarian dishes on your grill.
The Basic and Gourmet courses are four hours in duration, from 10am-2pm, and each sees students creating a three-course menu. Naturally participants can eat what they create, and there's tea, coffee, wine, beer and soft drinks available. The courses take place under cover in case of bad weather, but Hoggy occasionally moves the class out into the open in the event of British sunshine.
The workhorses of the grill courses are Hoggy's Kamado Joe, Broil King, Traeger, and Napoleon grills, which can be used with wood, charcoal or pellets. Gas barbecues are also covered and at the beginning of each course, Hoggy offers his guidance on the benefits and cautionary notes of cooking on each fuel. There are cold and hot smoking vessels at the school too and Hoggy will not only lead a demonstration of the preparation of each three course menu, but offers general advice on how to get the best from your grill, whatever you're cooking.
"Patience is a virtue, and many British people light their grill, get it really hot, then begin to cook immediately," says Hoggy. "The result is food that's singed on the outside and not cooked properly inside. Getting your grill hot before you want to start cooking will ensure you're cooking on coals, not flames, which is more consistent.
"But it depends what you're cooking and on what fuel. It's a misnomer that you need to light a barbecue two hours in advance… in fact, some charcoal grills lit with a chimnea can be ready to cook in 15-20 minutes."
"Conversely, people turn on a gas grill and consider it ready to cook immediately. In fact, you need to let the grill itself heat up, especially if you're cooking steaks, which are best when seared."
"It's a good idea to create different heat zones to provide you with the opportunity to cook over direct or indirect heat. Also a meat thermometer takes the guess work out of cooking, which will enable you to recognise when you're cooking 'high and fast' or 'low and slow. It's a way of cooking to temperature, not to time.'"
"Using a lid wisely, too, is important for ensuring a more even cook. There are so many tips and hints that our courses can impart to help you get the most of from your barbecue."
"Too often we think of grill cooking as being limited to just burger and bangers. In fact, dishes like my grilled lobster tails and my vegetarian and vegan dishes will help you to get more from your grill and enjoy cooking outdoors all summer long! Come along to one of my courses and I promise I'll change the way you think about your grill!"
Husband and wife team Matthew Hoggard and Sarah Hoggard run Hoggy's Grill, the area's outdoor cooking school based at Rutland Water Garden Nursery, LE15 8RN. Basic and Gourmet courses are held on Saturday mornings throughout summer, from £120/person including three course dining. Pre-booking is essential, call 07917 207665 or see www.hoggysgrill.com for details.